Day 2 – Christmas Day – Barbados
Christmas Day dawned another warm and sunny morning. As per the itinerary we were still berthed in Barbados awaiting more passengers. I watched a truck being loaded with suitcases for people who had been on the ship the previous two weeks and were flying to the UK that afternoon. It was an amazingly small number of cases. Breakfast called. I shared with a friendly couple and we chatted over the food. Since the last time I was on board a P&O Cruises ship the breakfast menu in the full-service restaurant has been cut back and omelettes and fried bread have been removed. The excuse is once again "because of Covid". But a snotty catering officer said if I wanted fried bread I could still get it in the cafeteria. I refuse to lower myself to that. I didn't know fried bread caused Covid. Still, a complementary glass of Bucks Fizz helped me get over the disappointment and I had my poached eggs on toast instead. A couple at the breakfast table said I should write a book about this cruise. I said I was doing to write a series of articles on GP and they wanted to know if they would feature.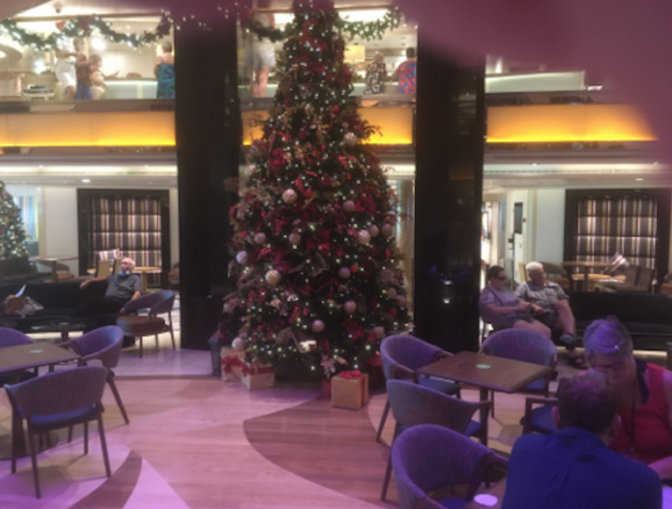 I had a pleasant morning around the pool which was extremely peaceful. I tapped a bit into this tome and started reading a John Grisham book on my Kindle. It was then that I realised I had forgotten its charging cable. I had picked up an additional iOS charging cable, so I had 3 for two devices and nothing for my Kindle. I am getting old and stupid. Still I was able to buy one in the ship's emporium which sells "essential" items. Hotdog and fries for lunch, very pleasant indeed. A bit more reading, a dip in the pool, couple of beers and it was time for a siesta.
Back in my cabin, Santa had been and brought me a Christmas card and little parcel from P&O. The parcel contained a ceramic star with P&O on it, a package of fancy tea and a small bottle of gin! After my snooze I decided I need a shower before the main event of the day. Coming out the shower was when I realised that the complementary P&O slippers were both for right feet. I suspect someone on board as a pair with two left feet. I also opened the present from the Little Girl Next Door and her parents that they had insisted I took with me. A pair of cuff links in the shape of a cruise liner, ideal for tonight's formal dinner.
For tonight and New Years Eve we have been allocated a sitting and table. I found myself on a table for six but only three occupants. Still we all got on well and the food was fabulous. I started with an amuse-bouche, then good old fashioned tiger prawn cocktail, roasted tomato soup, a gin and tonic sorbet, fillet steak and a trio of chocolate desserts. Coffee came with a chocolate truffle. Everything was fabulous. It was nearly 11 o'clock when we left the restaurant so it was time for a quick drink with my dining companions then bed. It was then that I realised we had sailed while we had been dining. The ship was a steady as a rock and I only noticed when I looked out of my balcony doors before retiring!
Day 3 – Boxing Day – St Vincent
Overnight we made the short passage to St Vincent. I like to leave the curtains on my balcony doors partially open so I can see the dawn if I wake early. This morning it was just getting light as we put into St Vincent. I popped out on to the balcony and took a photo of the sun coming up behind the ship's bridge. I then had a look at my onboard account and found that somehow I had spent £130! Checking a little deeper it seems that the internet hasn't been set up correctly and I have had the original package I bought cancelled, but the money has not been returned, the free replacement package has not kicked in and consequently I am being charged per minute. The people on the reception desk are most apologetic but its Christmas and the IT experts in Southampton who have set up the arrangements are on holiday and then they will be working from home "because of Covid". If I hear that excuse again I shall scream!
Breakfast on a table for six. Cereal, followed by fried eggs, bacon, mushrooms and black pudding. Followed by toast and 3 cups of coffee. Everyone had tales of their flights to Barbados. It seems it wasn't just my flight from Birmingham that was a third full. I have heard similar tales of flights on Saturday and Sunday from Birmingham, Manchester, Cardiff and Gatwick. A couple who are doing back to back two week cruises tell me that last week there were only 900 on board.
St Vincent is probably the fussiest of our stops regarding Covid precautions. You are only allowed out of the harbour area if on an official P&O tour and must have proof of being double jabbed on you. NHS app is acceptable. I decided I couldn't be bothered and stayed around the pool. Burger for lunch. I have had a look at tonight's menu, it is not a patch on last night but I just might have an 8oz sirloin steak. I will let you know later.
The bloody P&O MyHoilday app has fallen over again and just gives me a blank screen. Considering that you are supposed to use it for all sorts on board, booking restaurants, booking tours, checking bills, booking shows, ordering cabin service, its just not good enough. Those guys in Southampton need their arses kicking for releasing such flaky software. The receptionist said she hadn't seen a blank screen before and removed the app and set my access up afresh, it was working when I left the desk, but the ship's internet still drops out every few minutes.
I wandered down to dinner and despite having booked a shared table, you go through the same procedure every night of being asked if you mind sharing a table. I was lead to an empty table for six, given a menu, wine list, had a glass of iced water poured, bread rolls were offered and I waited to be joined by other diners. After 10 minutes, during which I had changed my mind over what to order several times, I was joined by two ladies, but the other 3 seats at the table remained unoccupied. They were good company and I enjoyed mushroom and garlic soup, a extremely tender medium-rare sirloin steak and the cheese plate. Then it was off to see the show, a drink or three and bed. I lovely relaxing day if it wasn't for the flaky internet.
Day 4 – Monday 27th December – at Sea
I woke as dawn was breaking, around 06:45. Today we are at sea, which is calm and the weather is showing every sign of being warm and sunny. The ship is chugging along at a very sedate pace, I guess the distance to the next port of call is best handled at an economical speed. A day at sea normally means a fight to find a decent seat on deck, but with the ship only one-third full I anticipate that won't be the case today.
Before getting out of bed I checked my onboard account. I appear to have been credited with the money I spent on internet access in the UK but despite being on the new free package I am still being charged for access by the minute. I can see a huge battle breaking out if this is not put right soon. I am assured it will be sorted during the cruise, but this is crazy. I have also had all my evening meal bookings cancelled, I am in the mood to have a row with the people on the restaurant booking desk. But I shall have breakfast first!
As it's a sea day there are lots of extra things to do around the ship, including several films, a yoga class for beginners, free footprint analysis, quizzes, an archery competition, Catholic Mass, line dancing, deck bowling, several guest speakers, a Salsa class and live football on the huge TV's in the sports bar. The last is the only item I might try, but I do wonder what footprint analysis is.
My shared table for breakfast turned out to be me on my own on a table for two! Still, the couple on the next table were very friendly. They had been on the previous two-week cruise and had been asked if they would like to stay on for another two weeks for £1,000, a fraction of what it would normally have cost. They had jumped at the opportunity of two more weeks in the sun. I wonder if I will get an offer I can't turn down? Cereal and double scrambled egg on toast this morning. Followed by toast and marmalade and three cups of strong coffee.
I showed the list of cancelled meal bookings to the girl on the restaurant reception. She was flummoxed and made me a booking in my normal restaurant for this evening and one in the other main one for exactly the same time! I must be developing a split personality. I am beginning to think that no one on this ship knows how the new computer systems work.
A most enjoyable day at sea spent lazing in the sun, reading and writing this log. It has been gloriously warm with hardly a cloud in the sky. What a pity the internet is so bad, I hardly know what is happening in the world. Poor old Larry must be tearing his fur out in frustration at not being able to sort out his diary with me.
Tonight it was a formal night with all the men in their dress suits. Officially it was a "Celebration Night" but I didn't find out what we were celebrating. But it is nice to see everyone dressed up to the nines at dinner. Tonight I was placed on a table for six, all new people to meet and chat to. I really enjoyed the asparagus and poached egg starter, followed by half a lobster and then vanilla and orange cake. The waiter brought us each a couple of scoops of the ships fabulous vanilla ice cream "in case the cake was a bit dry". We also all had a complimentary glass of Champagne with dinner, a cracking meal.
Day 5 – Tuesday 28th December – Antigua
Good morning from an overcast but warm Antigua. I woke up just after 6 to see a spit of land through the balcony doors. I nipped out and we were approaching an empty port, just a few tour boats. Several new berths have opened since I was last here and looking back down the passage into the harbour I can see at least 3 other cruise liners approaching. It looks like it's going to be busy in Antigua today, the locals will be delighted the ships are back. The next ship back is another P&O vessel, I am not positive yet as it is still too far away but I think it is the last ship I was on, Britannia, which is a 5,200 passenger ship as opposed to 3,100 when all cabins are occupied.
My plan for this early morning is breakfast in the restaurant, then down to the sports bar to watch the Gunners live on the TV, it is a midday kick-off in England but 8 o'clock in the morning here! If they lose I expect to be grumpy all the rest of the day.
Breakfast was taken in a virtually empty dining room. Rice Krispies today, followed by two fried eggs on toast and two rashers of back bacon. The cereal arrived promptly with ice-cold milk and the instant the empty bowl was removed by a waiter my eggs on toast arrived minus the bacon. When I point the error out the waiter rushed off for the bacon, returning with it just as I finished the eggs. I decided to make a sandwich from it with the toast from the rack of 6 slices waiting to have butter and marmalade applied. Delicious. Slightly disappointed to discover the footie was off "because of Covid". Apparently, it has stuck the Wolves players. So I will have a stroll ashore and do a bit of exploring and window shopping. It seems I have to carry proof of double vaccination, paper or electronic, with me ashore, it's a local regulation. The sun is coming out and the cloud is high, another warm day in prospect.
Back for a quick lunch. I fancied checking out the self-service, which is only partially self-service. You collect a tray and plate on the way in and wander among chilled or heated displays of the grub much of which is on little platters which a server adds to your tray on request. They will add a fillet of crispy battered haddock or curry and rice to your plate for you. Then there are bowls of dessert to choose including fresh fruit. I don't eat a big lunch so I had a couple of slices of ham and French fries, followed by an individual toffee tartlet, all washed down by a bottle of Corona. Back out into the sun now to read a little more. I have already finished one book, it's a good job I have loaded lots on my Kindle.
A nice afternoon in the sun and shade in turns as it was rather warm on deck. Popped to the cabin for a short nap then a shave and shower. There seems to be plenty of hot water unlike some ships I have been on. Britannia sailed just before us and lots of loud blasts on the ship's hooter as ships from the same fleet always try to outdo each other on sailing. Off to dinner now, I haven't seen a menu for tonight yet so I hope it is packed with my favourites!
Another enjoyable meal, but this evening I was on a table for 8, four solo travellers, a couple and a mother and spinster daughter. Despite only two people having a drink with their meal the conversation and humour flowed. I had pâté as a starter, tender roast lamb, followed by bread and butter pudding with an individual jug of custard. Then off to the theatre to see the show, Alex Crow who calls himself a "mentalist" but I would call him a mind reader. Not bad, but probably a good job he didn't try to read my mind!
To be continued.

© WorthingGooner 2022