Part One of this postcard looked at the challenges I faced in making this once-in-a-lifetime trip to Cambridge. Boy, what a lot of fun I had but, despite all the angst, I made it. This time round, you'll hear a little more about the Cambridge I saw after an eight-year absence.
I spent Tuesday being very cold, wandering around an icy city, visiting old haunts, aching, and drinking way too much coffee. The city looked lovely with the frost and snow. With the ice-edged old buildings, sullen skies, and the Christmas decorations, parts of it were almost Mediaeval.
As I drifted, happily soaking up the flavour of a city I had once known well, I was pleased to see that many things were as I remembered. It was nice to see that the tradition for building huge snowmen on Parker's Piece was still going strong.
Mill Road is little changed, and quite a few of the smaller shops had thoughtfully cleared the pavements of ice. It still offers the Al-Amin International food store, which I used to love (don't judge—you try finding interesting food elsewhere in Cambridgeshire), and it was nice to see Arjuna, where I used to buy my herbs and spices, still going strong. Sadly, The Hive on Gwydir Street was closed, but at least it's still there. It was great, too, to see some of the quirky Cambridge touches as I wandered.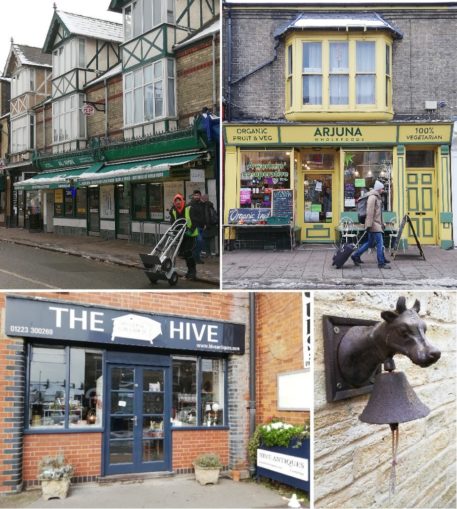 I could see that some things had changed though. Burleigh Street and the Grafton Centre had seen some alterations, with post-scamdemic shop closures here which I'd not expected. But it was in one of the coffee shops that I truly realised that I wasn't in Kansas anymore.
Appearances should have given me a bit of a clue, but as I sat, thawing out with yet another hot drink, I could overhear snatches of the conversation from the three girls at the next table. Student-types, one of them American. They were animatedly discussing something that was 'triggering' them, and how terribly unfair this was. Oh Lord. It took all of my willpower not to turn round and tell them to grow a pair. Thankfully, the rather decent coffee distracted me.
On my meanderings I stopped in to see a pharmacist, as by now I was developing a range of awfully fetching facial colours (picture a blue bruise 'moustache' and Goth lipstick). Spiffing timing, eh what?
He kindly took a look at me and pronounced my pitiable conk not just a bit battered but almost certainly broken. Well, I guess that explains why it isn't happy. I'd have to go to A&E at Addenbrooke's if I wanted it confirming with an x-ray. Er, no thanks. Oh, and he confirmed that paracetamol and a cold compress would help lessen the pain and reduce the swelling. Hmmm, keep taking the tablets— I imagine the outside temperatures of -5º to -8ºC should mean a compress won't be necessary.
I spent a few hours with one of my long-term friends (he was my IT guru and we shared an office and many moans over nearly a decade). We went for lunch, and it was delightful to find that Trockel, Ulmann and Freunde were still going strong in Pembroke Street. They still serve super soups, hearty and home-made. Their tasty, warming chicken and vegetable was just the ticket as chewing was still quite a challenge.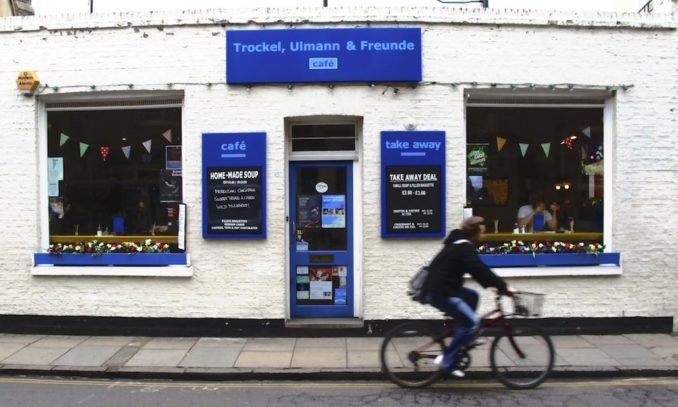 We spent best part of the afternoon nattering and reminiscing. I was able to give him the presents I'd brought for his daughters. Jewellery for the little 'un, but his eldest is now studying medicine, and I'd found a fabulous 1930s book on surgical techniques for her. Gruesome, but fascinating. We had planned on going out to dinner, but neither of us could be bothered in the end. Bless him, as he had his car at work (far too icy for his motorbike) he drove me back to the Y that night, for which I was very grateful.
On Wednesday I went back to the Fitzwilliam museum, which I used to love. It was here that the woke feeling embedded that bit more deeply. I used to work just over the road from there, and I often visited in my lunch breaks. Over the years, I've seen some superb exhibitions, so I was really looking forward to seeing it again. Unfortunately, it was a big disappointment. Partly because it seemed to be looking slightly down-at-heel and unkempt, but more that it's not just gone woke, but super-woke.
Their headline exhibition was entitled 'Defaced! Money, Conflict, Protest', to which I enthusiastically, and in retrospect foolishly, headed. There is a Curator's Tour video so you can enjoy learning about this exhibition for yourself. I have to admit to walking out of there almost as hastily as I'd walked in.
To soothe my fevered brow, I wandered through the wonderful Arms and Armour gallery, which was still as fascinating as I remembered. Then I thought a light lunch might be just the ticket to lift my spirits, so headed for the Courtyard Café for a sit down. Looking at the tables, I rapidly realised that a bevy of babbling breast-feeders had settled into for the duration. The centre of the Fitz's open plan but not capacious café was brimming with boobs and babes. I'm all in favour of it, by the way, but not there, please. If that wasn't off-putting enough, I had forgotten what a pricey place this is. The blasted café has priced their scones (which used to be a wonderful treat) at £5.25 each. For a scone!
All of this wokery was a good introduction to what I would be exposed to when I set foot back in the University for the symposium the next day. I knew that it would be extremely likely that my views and those of my former colleagues would not be in line, so I'd need to employ a zen-like calm and keep my swollen lip firmly zipped.
But before I would get to that, I needed to pick up my rucksack from the Y and head across the city to where my old colleague lived, as I would be staying with her tonight. Prior to doing so, I wanted to pick up a little 'thank you' for her and her husband. I had already made some little presents for their young daughters, in the form of pretty fantasy fly-tied brooches. I didn't make these little suede coin purses myself, but having bought them, I now can see that they wouldn't be beyond me should I choose to give it a go in future.
I ambled through the Grand Arcade, and John Lewis, once their flagship store, looking for something nice to take them, but nothing seemed to fit the bill. Oh, the hardship! I guess I'll just have to make a trip to the little wine shop on King's Parade. Thankfully, it is still there, and still wonderful. Mind you, I'll admit that I didn't expect to see the ghastly black and yellow eyesores that are the 'barriers of peace' which have been installed (permanently) across the road right outside Cambridge Wine Merchants, one of my favourite shops. I'll bet old the King Henrys (VI, VII and VIII) would just love this new aesthetic addition.
Present in hand, I chose to get the bus back to the railway station (no lift tonight) and the YHA. Stupidly, it turned out, having had the conversation about the dire state of Cambridge traffic and congestion only the day before.
It had been a long day, I was footsore and most other bits-sore. As the temperature dropped well below zero again, the ground was getting lethal. I didn't want to risk falling again, and it should only be a ten-minute journey. It took just under an hour! Worse still, once I had my luggage, I had to catch another freezing bus right across the city to Arbury. Suffice it to say I didn't arrive until well after I'd planned.
Arbury is an interesting area, although is now largely residential. At one point it was a brick-making area, and common land where peasants were allowed to graze sheep between Lammas and Lady Day. People have lived there since Roman times. The remains of structures dating back to the 2nd century AD were excavated in the 1950s, together with pots and animal bones. A female inhabitant of one of the stone coffins found nearby inspired one of Sylvia Plath's poems. The skeleton's anklebone had been nibbled by a mouse, who then keeled over and whose bones were also found in the coffin. This oddity was on display at the Museum of Archaeology and Anthropology for a while, and Plath (a Fulbright Scholar who studied at Newnham College), detailed it thus, in 'All the Dead Dears':
Rigged poker-stiff on her back
With a granite grin
This antique museum-cased lady
Lies, companioned by the gimcrack
Relics of a mouse and a shrew
That battened for a day on her ankle-bone.
I saw none of this but was extremely grateful to see my friend and her lovely family. A nice surprise was another colleague who was also there for the symposium and staying the night. We all tucked in to heaped plates of delicious broccoli pasta, with lashings of freshly grated Parmesan. Proper winter comfort food. The conversation was wide-ranging and convivial, so we all enjoyed an extremely pleasant evening. Falling into a comfortable bed, in a quiet room, all on my own was bliss that night.
Thursday dawned, the day of the symposium. It was up early, dressed smartly and warmly, to head off for a day of talks. The girls had loved their presents, and there was some discussion as the older one wanted to take hers with her to school to show her friends. We waited for another old colleague to arrive, and for the taxi we'd booked to come. The first of those things happened without a hitch, but the taxi? Nope. It seems the weather, for all it was no worse, had put the blockers on this too. It can't have been the road conditions as even buses and cyclists were sailing past. There would be a 90-minute wait for a driver 'to be located' we were told.
That would have meant arriving very late indeed, so at this point, my friend's husband kindly started scraping the ice off their car… both inside as well as out. We managed to get most of the way to the centre before getting completely snarled in the Cambridge traffic chaos, before out we got and 'walked' the rest of the way. It was more cross-country ice-skating if the truth be told. Most uncomfortable so I was glad of my sturdy boots. To hell with being ladylike in these conditions.
From then on, the day was brilliant. I was slightly concerned that masks might be on the ascendancy again as I'd seem a surprising number out and about in the city, but I needn't have worried. I think I was wrapped in more heartfelt hugs from friends I've not seen in years in that one day than I'd had in the last three years. It was a joy.
The talks were really interesting, and there were touches of humour and reminiscences throughout. The coffee and lunch breaks were wall-to-wall catch up with people I still have the greatest affection for. No potentially contentious subjects were raised, and everyone seemed genuinely pleased to see one another. A champagne reception to finish the day, then it was off to The Hall at St John's College for a formal dinner.
If I sound excited here, it's because I was. I'd been to a few of the Colleges as a visitor but didn't study at Cambridge, so the idea of attending a formal College dinner was quite new to me.
St John's is simply beautiful, sitting proudly on the banks of the River Cam. In fact, it straddles the river. It has to be said, some of the alumni of St John's College are pretty amazing. There's actually a Wiki page listing the most notable. I would imagine this College was chosen for the dinner on the basis that it has a central location, and a large dining hall, but also that one of the alumni is the eminent biochemist, Frederick Sanger. An extraordinary man who was awarded the Nobel Prize in Chemistry, not once, but twice.
Founded in 1511 with an endowment from Lady Margaret Beaufort (King Henry VII's mum), it's a sprawling jumble of buildings mixing different architectural styles, which somehow works to form a whole. It is generally arranged around enclosed squares known as Courts. The New Court, seen below is linked by the iconic Bridge of Sighs with the Third Court on the east side of the Cam.
As you step through the Great Gate, opposite the Old Divinity School, into the First Court, not only do you pass under the horned and spotted mythical heraldic creatures (yales or centicores) flanking Lady Margaret's coat of arms, but you seem to step back into another time.
Ahead of you is the Dining Hall, a tall, brooding 16th century Harry Potteresque building, with stained glass windows in its glorious deep bay alcoves (in one of which stood a massive Christmas tree). The linen-fold panelling, walls lined with portraits, and high hammerbeam roof, gold highlights glinting in the candlelight against the black painted beams, made my jaw drop. A cavernous hall, but not the warmest so, rather pragmatically, the College had set up large radiant space heaters to dispel the chill.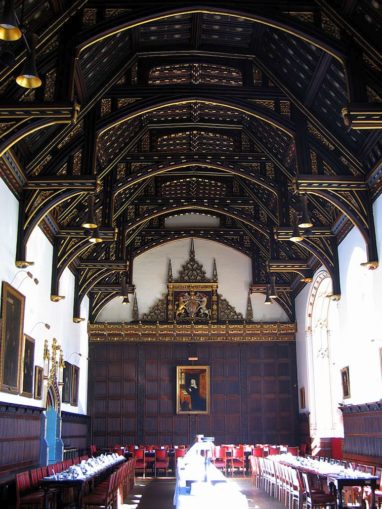 In such a setting, it could easily have felt intimidating to be there. Thankfully, most of the guests were quite accustomed to this sort of dining so, as they were laid back, I soon relaxed. It was lovely to see everyone mingling and sipping champagne as we stood around and chatted in the glorious surroundings.
After a while a uniformed maître d' struck huge brass gong. A sign that we should take our (labelled) places at the long tables with their crisp white linens… and what can I say about the menu, except wow. Silver-service, naturally. First, we were served warm rolls to be spread with the butter pats in lovely glass dishes, scattered along the table.
Then a ham hock terrine roundel, with dabs of wasabi mayonnaise and a chicory marmalade. This came with a baton of toasted soda bread and was delicious. Next, beautifully fresh steamed hake, with a slightly odd tower of celeriac fondant, plus roast potatoes, and glazed baby gem, with a hazelnut butter sauce. It was wise to keep a little room for dessert, as this was a melt-in-the-middle chocolate fondant with the most fantastically fresh-tasting raspberry sorbet. Afterwards, coffee was served in tiny cups bearing the College crest, accompanied by freshly made St John's chocolate truffles.
Throughout, wine glasses, whether Adobe Chardonnay Reserva or Zuccardi Malbec, never had a chance to run dry. Sadly, I didn't really have the chance to participate as paracetamol were still of greater importance to me. Interspersed with a few speeches, it was a lengthy but wonderful evening. We finally wove our way out around eleven thirty, having arrived at seven. Getting a taxi home again proved as problematic as the morning's fun and games. We eventually made it back around half past one, after way too long a wait in the bitter cold. By then I really did need my bed.
The next morning my colleague and I were going our separate ways. She was off to work while I was going to meet my sister. I'd carefully planned my route, but it used the same bus that had taken so long a few nights before. No problem, I'd just go as far as the centre then walk. It was only a couple of miles and it'd be quicker.
Sometimes, Sharpie is a bear of very little brain. I soon realised I needed to take things gently when I stood waiting for the bus. The temperature when I left my friend's house had risen, but was still -5º C. The pavements underfoot were slick, and I was hauling a wheeled rucksack. When I got off in the city centre things weren't too bad. Decent footfall and some of the traders clearing pavements meant it was possible to avoid the most slippery patches.
However, as I started trudging up Trumpington Road the thick ice and compacted snow was less disturbed and became hard going. I stopped to take some photos of the most extraordinarily beautiful ice crystals, just at the side of the road. OK, I also stopped for a breather. I had never seen anything quite like it—very similar structures to the selenite 'desert rose'. In fact, I found myself stopping several times and wondered if the poor wheels on my rucksack would make it.
Actually, at one point I wondered if I would make it too. What should, nominally, have been half an hour's walk took me considerably longer. By the time I got to where we'd be staying, I was knackered. Thankfully my sister is a practical and resourceful woman and, at least in part because of the weather (we didn't know whether we might get snowed in), she had the foresight to stop off at a supermarket on her way to Cambridge. When she arrived, having driven up from south of London, she came bearing shopping, including the makings of dinner. Bless her, we didn't need to go out anywhere for the rest of the day.
There we were, toasty warm, nicely comfortable, with plenty of sustenance (and a bottle of wine), and we had each other. Perfect. We both remarked at how strange it was that this was the first time we'd ever taken the opportunity to have a few days together, just the two of us. We've been on family holidays, of course, and spent time together with our respective husbands, but this was just us. We had a great time.
On the Saturday we headed into the city to see what there was to offer, ostensibly to buy Christmas presents, but more to indulge ourselves if the truth be told. It was still bitterly cold and icy, so we were content to potter from warm shop to warm shop. The biggest draw for us both were the bookshops. We spent more time in these than anywhere else. She really liked the children's section at Heffers. For me, it was nice to introduce her to my favourite, G. David in St Edward's Passage (a rather spooky ancient, narrow alleyway off the King's Parade). The shop, with its shelves of antiquarian & second-hand books was always a treat. I came close to buying a delightful Folio collection of John Buchan books for Mr S, but they were just too heavy to carry home on the train.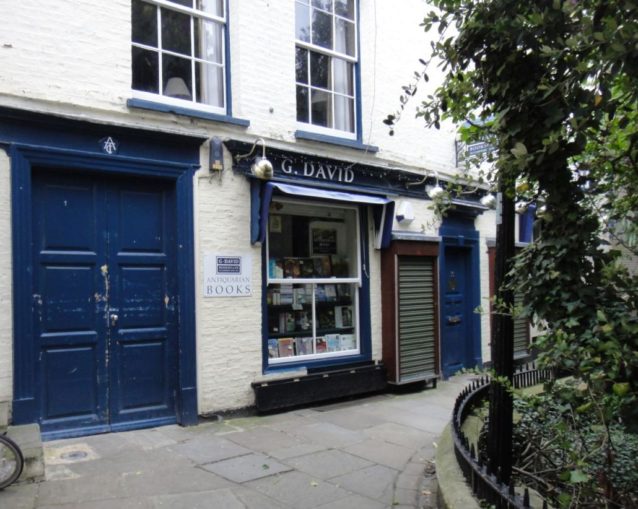 We agreed that since the temperatures were falling again, we would not stay in the city to have dinner out, as we'd initially planned. It would be too cold when it came to heading home. Instead, we hunted for 'yellow sticker' reductions in the M&S food hall, rather successfully. We would eat like royalty again that night. Feet up and well fed, we happily played Bananagrams (a vague relation of Scrabble) and chatted through the evening.
By Sunday the temperature had risen a little, though when we went out for a walk, it was still minus figures and very slippery underfoot. Then it started to snow. Oh. Maybe we would get snowed in, after all? But no. These were not big fat fluffy flakes, but sharp, icy, uninviting snow. We weren't impressed so went home and settled down instead to watch The Lady in the Van, having first battled with the TV/DVD thingy to chivvy it into life. There were no instructions, and it's not really our forte, so it was a bit like the blind leading the blind! A quiet evening reading, chatting, and finishing off the wine and whatever nibbles we had left. It wasn't a late night, as we both had long journeys home the next day.
Amazingly, overnight saw a huge rise in temperature, from minus heaven knows what to thirteen degrees Centigrade! When we went to sleep the world outside was white with ice and snow. When we woke, every scrap was gone. When we said our goodbyes, the car park, which had been an inch thick sheet of solid ice was back to normal, almost as if we'd dreamed all the winter woes.
I was still rather concerned about my journey home though. What between the aftermath of days of industrial action and the weather I wasn't sure when the trains would run, or indeed if they would. I'd checked online, more than once, and all seemed to be well, but I set off for the station early. That way I'd have the whole day to travel if needs be, so if the journey home turned into another magical mystery tour, I had time to do it. I checked once again when I got to the station, and everything still seemed OK.
Great. I had plenty of time for a sustaining bacon butty at one of the cafés around the station's new communist style plaza before I set off. As I was heading there, my phone rang. My lovely IT colleague, who I'd spent a good part of Tuesday with was in town and wanted to come to see me off. Bless him, he didn't say that he would come bearing gifts, and I headed home with a beautiful bottle of Aberlour. If the train broke down in the middle of nowhere, I'd be fine, and probably quite popular too.
As it transpired, the journey home was no problem at all. My train was on time, and if slightly delayed when we got to Birmingham, I still had time to get the connecting train. OK, the view was less spectacularly beautiful than it had been on the outbound leg, but at least I was homeward bound. It had been a long, and in some ways quite a difficult week, and I was eager to see Mr S. I think UB40's 'The Train Is Coming' sums up my feelings pretty well.
This is a trip which will not be forgotten in a hurry. Hopefully the next time I set of for this fair city it will be a little less exciting.

© SharpieType301 2023