Day -1 – Saturday 25th June '22
Today I have a few little jobs to do before I am ready for my drive to Southampton tomorrow morning and my cruise, nothing too taxing but if I fail the antigen test at 11:30 the whole cruise goes down the pan. I have noticed the car is dirty, it got a load of sandy rain on it on Thursday so I intend to put it through a car wash. If I am going on the cruise I need to cancel my daily newspaper delivery, so I am putting that off until after the antigen test. Equally if I fail it, I need to phone P&O and tell them. If that happens I won't lose the cost of the cruise they will refund 100% of the cost in Future Cruise Credits that, as the name implies, I can set against the cost of a cruise in the future. The cost of any extras I have paid for like onboard Wi-Fi, excursions and speciality dining will be refunded to my bank account. However, I will be out of pocket for the insurance as they will argue I have had the benefit of that ever since I took it out, with it covering things like P&O going bust or me getting run over by a bus! If I fail the test I will also have to go and buy food as I have run the fridge right down. I don't think 4 eggs and half a loaf of bread are going to last me very long.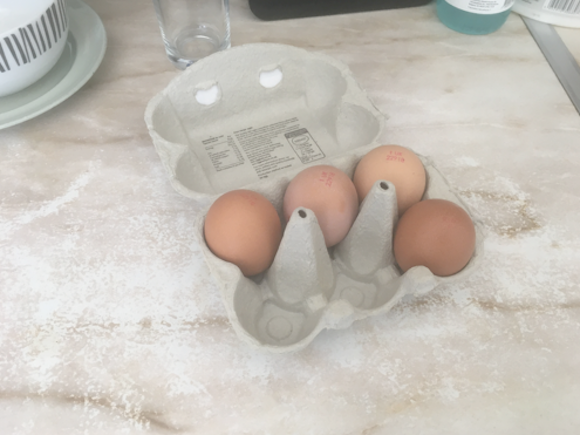 Yah, test is negative and I have a 'fit to fly' certificate. Now I can lock my suitcase and not feel I am tempting fate. I have cancelled the paper delivery from Monday, the boy comes early enough for me to take the paper with me. Larry has sent me his diary for up to and including today so I can add the pictures and get it off to Swiss Bob who already has tomorrow's entry to post. I bumped into a couple in the chemist who were following me in testing. They are off on MSC Virtuosa this afternoon and had only realised yesterday they needed an antigen test. They were 'Cruise Virgins' and looking forward to their break. I have never been keen on taking an MSC Cruise, I don't know if is because they are Italian, or their history of the hijacked Achille Lauro or the burnt-out Angelina Lauro.
I have got nearly everything sorted now but I have had a couple of last-minute communications from P&O. Firstly a slight alteration to the ship's itinerary, we are no longer going to visit Marseille, instead, we will dock in Toulon. I understand that is the main port for the French Navy. All Marseille excursions have been cancelled and the money I paid for a tour of the town and old port has already been paid into my bank account according to my banking app. The second note tells me there is likely to be a taxi problem in Southampton on the day we return, apparently it's Eid. As I am driving there it shouldn't affect me.
Also, I learn that it is Goodwood Festival of Speed this weekend, something I had overlooked, and yesterday the queues along the A27 were 4 miles long and it took an extra 30 minutes to get past Goodwood. Still, I have a 12:15 check-in and it's normally about 1 hour 15 minutes so I will just leave at 10:30 instead of 11:00. Of course, it doesn't matter really as long as I get there before 16:30 but I would like to grab lunch on board, starting the day as I intend to finish.
I must remember to tell the Little Girl Next Door's parents they can park on my drive while I'm away, they have 4 cars. Although the LGND's daddy has a booking for a gig on P&O Arcadia in a week's time. He is leading the ship's orchestra on a two cruise to Norway and Iceland (4 ports) then stopping in Belfast on the way back to Southampton. Not quite my ideal cruise, I prefer the sun, but some people must enjoy it as the Arcadia is sold out. I was watering my hanging baskets when the LGND came home with her 'Auntie Becka'. She came over to chat and I asked her what she would like me to bring her as a present from my cruise. She thought for a moment then said "chocolate". I think that could be arranged.
Day 1 – Sunday 26th June 2022 – Southampton
I woke early this morning, worried I had forgotten something, but decided it was only the remnants of a dream. As I mentioned yesterday, I intend to have a nice easy drive to Southampton, I had a leisurely breakfast, before taking an unopened 2-pint bottle of milk to the LGND's mummy for her to use up. The LGND asked if she could have a chocolate milkshake! Anyway, when it got to 10:30 she came out to say goodbye and after setting up my Sat Nav, off I trundled. An uneventful journey with a minimum of traffic and I joined the queue for the car parking check-in just after noon. At about 12:15 a girl turned up and took photos of the car, put a label on the key and gave me a receipt and off I went wheeling my baggage across the road to a hole in the wall where a huge man put it on a conveyor belt.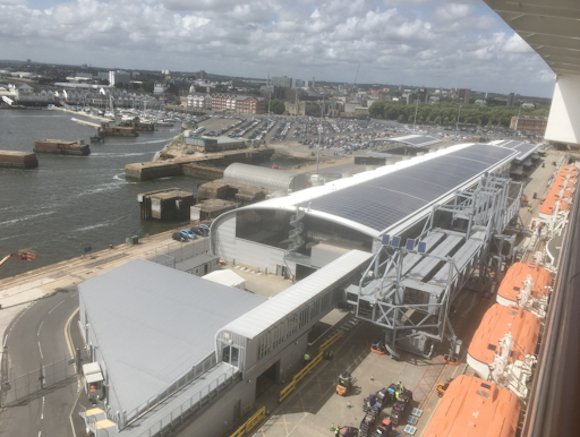 I joined the check-in queue and, after an escalator to the next level, was soon at a desk where a girl checked my vaccination status and passport, next to another desk where my boarding pass was checked and my photo taken. Then off to wait on a bank of seats before joining the queue to have my hand luggage x-rayed. But they also want you to put iPhone, iPad, small change, watch, glasses, belt and keys in another tray to be x-rayed. Though without a belt I managed to stop my trousers from falling down (just) and I could finally board the ship going down a thing like an airbridge.
Then the boarding pass is scanned and you are directed to your muster station. They just want to be sure you know where to go. I have to head for the theatre, so at least I will have a comfy seat in the event of an emergency! Then I was directed up to deck 16 where the buffet restaurant is open for lunch and to wait for a tannoy announcement that the cabins were ready. As I came out of the lift a young lady was checking boarding passes again and pointing the way to the buffet restaurant, but she whispered to me, "I think you will find the single cabins are all ready," and I turned left instead of right and found my cabin was ready.
The cabin was just as I remembered it from a previous cruise but my suitcase hadn't arrived yet. I was just going to grab a snack lunch when the cabin stewardess turned up to check everything was OK and if I needed anything. So a gave her a tip and said that there would be more at the end of the cruise if everything was satisfactory. She was delighted and asked what time I went to breakfast in the morning so she could do the cabin then. I headed for my favourite hot dog and chips snack lunch and by the time I was back, my bag had arrived so it was time to unpack.
Right, that's my chores done. It's amazing how much quicker it is to unpack than pack. I can have a nice rest now until it's time for the sail away 'party' on deck. Actually a load of the entertainment staff dancing on the stage between the two pools on the lido deck. Sometimes I wish they would fall in. Maybe that thought was induced by the complimentary Champagne. Anyway, we sail on time at six on the dot. Only another 2 1/2 hours till dinner!
I was shown to my allocated table in the restaurant to find four ladies already seated there. It was a table for eight but only seven places were laid. Shortly after, a married couple arrived. All about the same age as me. Anyway, the meal was much enjoyed and everyone seemed to get on, maybe the wine helped! Prawn cocktail for starter, followed by sole on the bone (delish) and sticky toffee pudding for dessert with a vanilla cream sauce which some misread as vanilla ice cream. Anyway, that was soon remedied as the waiter fetched loads of ice cream so we all had ice cream and sauce! A quick beer or two then bed as we lose an hour tonight as we move to European time.
Day 2 – Monday 27th June 2022 – Sea day in the Bay of Biscay
Somehow, in adjusting my travel clock to CET +1, I had managed to set the alarm to go off at 6 o'clock (it must have been Champagne plus wine plus beer). It made me jump out of bed to turn it off as it was on the dressing table at the other side of the cabin. Just dozed back off and it went off again, idiot that I am I had hit the snooze button! It was a bit grey in the Bay of Biscay with a chilly wind over the open deck.
I popped down to the restaurant for breakfast and was put on a table for six. So I tucked into Rice Krispies, followed by two fried eggs, bacon and black pudding and several pieces of hot buttered toast and marmalade. All washed down with three cups of coffee. Interesting company and one of the couples found that the other couple on the table were their daughter's next-door neighbours. It's a small world. It's a bit too cool to sit around too long on deck so I found a comfy armchair and settled in to read a book on my Kindle.
Lunch loomed and I chanced sitting in a sheltered spot on the lido deck and had a burger. It wasn't too bad as it was out of the wind but there were only a few hardy children in the pools (there are two next to each other with a stage between them). I took a leaf from Larry the Cat's book and had a little snooze and a bit more reading. It is a formal night tonight so it's my dress suit and bow tie.
My cabin is located on deck 16 near the forward lifts, to get to my allocated restaurant and table for dining I have to walk nearly the full length of the ship and get the lift down to deck 6. The walk entails passing through the buffet restaurant from one end to the other. It was packed. It is not the number eating there that surprised me, but the number who don't appear to have bothered to change into something a little smarter for the evening. I know it's the buffet and you don't have to wear formal clothes but some people have made no effort at all, torn jeans, a rugby shirt and flip-flops is not even smart/casual.
Mind, the restaurant is much better even if some of the men have only put a dark suit on. But many dress suits, dress shirts and colourful bow ties around – even a few kilts. To a one, the ladies have all made an effort and the restaurant is an oasis of elegance. Lovely dinner, I chose a mango juice amuse-bouche, asparagus and a poached egg, duo of fillets of beef and lamb, blueberry soufflé with ice cream and coffee and chocolate truffles to finish off. Every mouthful was delicious. After dinner, I wander back to the bow of the ship where the theatre is and watched the 10:30 show, a ventriloquist whose name I can't remember, but he was reasonable. Apparently, for those of you old enough to remember it, he was a runner-up on New Faces, the talent show that discovered Lenny Henry. And so to bed.
Day 3 – Tuesday 28th June 2022 – La Coruña, Spain
I woke about 06:30, I think it was the change of movement of the ship. It had slowed right down and was entering the port of La Coruña, on the northwest tip of Spain. The ship spun 180° on the spot and backed into the port and then used its thrusters to move sideways into its berth. It never ceases to amaze me just how manoeuvrable such a big ship is. I am booked on a morning tour (called Leisurely Coruña) leaving at 09:15, so it is an early breakfast for me today.
Again a lot of people in the buffet restaurant as I walked through to the 'proper' restaurant. The girl on the desk greeted me with a bright 'good morning' and said, 'You like to share a table don't you?' I am amazed that of the hundreds of people who use that restaurant she should remember me. Anyway, I was allocated a place on a six but there were only three of us. A very pleasant couple who said they had eaten breakfast in the buffet the previous morning and weren't impressed. The service restaurant was much more to their liking and they said they would be breakfasting there in future.
Anyway, after Rice Krispies, scrambled eggs and bacon, toast and coffee it was time for my coach ride. As soon as I stepped out of the air-conditioned interior onto the gangway, the lovely warmth in the air was obvious. A short strole to the coach and we were off. A very informative guide pointing out places of interest and the beautiful 19th-century architecture, ornate buildings with columns, carvings and enclosed balconies. We drove along the promenade which is said to stretch over 18 km and past several of the town's eight beaches, some quite small but others reasonably large.
We stopped at the 'Tower of Hercules' where the head of a giant killed by Hercules as one of his seven tasks is supposed to be buried. It is now a lighthouse!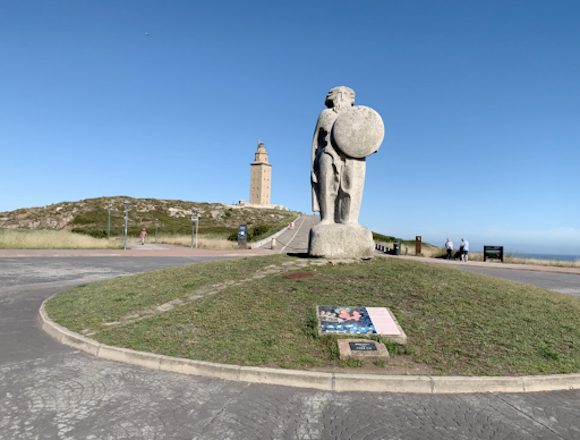 Then on to a restaurant on a hill overlooking the city where the views were quite magnificent. Into the one-star Michelin restaurant for a complimentary snack, including a glass of wine, and tiny bite-size bits of Spanish omelette, potato croquette, fishy thing in pastry, crisps, cake and various other things that I have no idea what they were! One odd thing about the restaurant, there was a table football machine in the gents! Then back on the coach to the ship in time for a hot dog lunch. I think it's now time to sit on the balcony in the sun and read, and maybe snooze before it's time for a pre-dinner shower and shave.
A nice lazy afternoon, I sat in the sun and read until I decided to make a mug of tea (PG Tips supplied) and eat a nice caramel cookie, even if it was French! Then a shave, shower and back to my book. I must have dozed off because it was suddenly time for dinner. Tonight I picked tomato soup, a medium rare sirloin steak and treacle tart and custard. To my great surprise, steak was perfect and the chips were fresh out of the pan and really hot. Once again the waiter brought extra bowls of vanilla ice cream. I thoroughly enjoyed my dinner. Then off for a nightcap before bed. It is two days at sea now as we make a good 20 knots around Spain to Valencia on Friday.
In Part 3 – The Facebook group meets.

© WorthingGooner 2022