!! Warning: this article contains images of a "shameless clickbait" nature !!
According to Wikipedia,
"The Dog (Canis Familiaris) is a domesticated descendant of the wolf which is characterized by an upturning tail. It derived from an ancient, extinct wolf and the modern grey wolf is it's nearest living relative. It was the first species to be domesticated by hunter-gatherers over 15,000 years ago, before the development of agriculture."
"Due to their long association with humans, dogs have expanded to a large number of domestic individuals and gained the ability to thrive on a starch-rich diet that would be inadequate for other canids. Over the millennia, they became uniquely adapted to human behaviour, and the human-canine bond has been a topic of frequent study."
"The dog has been selectively bred over millennia for various behaviours, sensory capabilities and physical attributes. Dog breeds vary widely in shape, size and colour. They perform many roles for humans, such as hunting, herding, pulling loads, protection, assisting police and the military, companionship, therapy and aiding disabled people. This influence on human society has given them the sobriquet of 'man's best friend'."
Right, that's the science out of the way – on with the clickbait.
I have had dogs in my life for most of it. And I consider myself very lucky to have done so – they have provided boundless companionship, entertainment, consolation, education and uncritical devotion at all times throughout the last 65 years.
There is something about sharing one's life with what is essentially an alien intelligence that I find deeply humbling, and I still couldn't say for sure which is the more intelligent species; them or us.
Lassie
The first dog I remember was Lassie. I was about 5 and she was a nondescript yellow/tan-coated bitch of whom my main memory is her regularly being pregnant and giving birth to 8 pups in the cupboard under the stairs. This seems to have been quite profitable as my dad would regularly load them up in a holdall and take them to the pet stall on Leicester Market where they fetched 5/- for a dog and 2/6 for a bitch.
When we moved out into the country when I was about 7 she didn't really settle in the wide open countryside and quickly got herself (and my dad) into trouble when she broke into a henhouse. I didn't see her after that and wasn't told what happened to her, although I suspect I know.
Bruce
Not long afterwards, my dad came home with a small black thing in a holdall in the saddlebag on his bike. This was Bruce; the first dog that was truly my own and the first one of which I have a picture.
I have no idea what breed he was based on, but was certain that he was the perfect companion for me as we explored the fields and the woods and the rivers and the farms near our cottage.
This blissful existence seemed to come to an end one day when I was about 14 and my parents and my brother were all out at work and I was on summer holiday alone in the cottage.
I had taken to leaving the doors open and letting him come and go as he pleased safe in the knowledge that he would come back when I called. He was out in the garden (or so I thought) doing what dogs do when I suddenly heard a screech of brakes followed by a sickening thud. I ran out to see Bruce lying motionless and a car disappearing rapidly down the road.
This was it! Bruce was dead and it was my fault! After a few moments of blind panic I pulled myself together, picked him up and carried him to the outhouse where I covered him with a large sack and set off for the phone box in the village to call my mum to break the news. Being a good, down-to-earth 1960's mum, she told me to leave him where he was until she got home that evening.
After a couple of hours spent frantically trying to think about something else, I gave in and went to the outhouse to be near him. My shock when I opened the door and saw him slowly rising from under the sacks and staggering slowly towards me is difficult to describe without calling on 1950's B-movie horror films for help.
It seems that he'd only been stunned and, once he saw me again, he was ready for more fun. I chose not to believe that he'd been unnecessarily melodramatic in order to scare me, but there was always that tiny, niggling doubt. . . .
Nevertheless, we remained good friends until I left home three years later.
Bess
I spent the next few years in London and was not able to have a dog myself, but I was able to content myself with occasional meetings with my brother's dog Bess.
He had her for the whole of her life, from a tiny pup until she died at the age of 19. I can only imagine how he felt.
She got both of us through the death of our parents during the 1970's and went on to meet my daughter and both of the first two dogs I had as an adult – Bryn and Taffy.
Bryn
The first dog I owned and was fully responsible for was Bryn, a Blue Merle Border Collie which we bought as a very young pup from a house in Swindon for £20 in 1979.
We had decided that our 9-year old daughter needed something other than us, school and the TV in her life to teach her valuable life lessons about caring for others, companionship and, generally, how not to become an insufferable only child. It turns out to have been a very wise decision.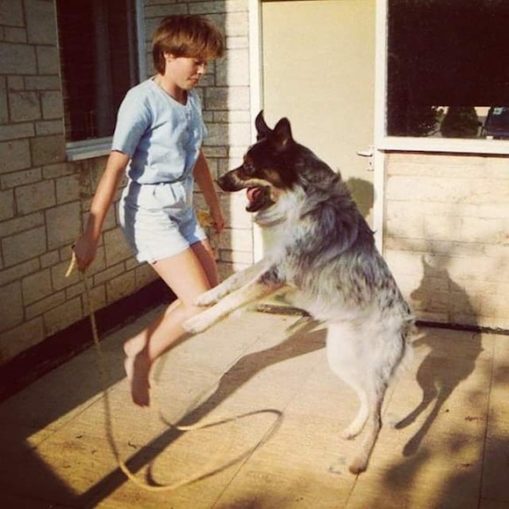 We had always liked Border Collies, but had been told that they were not ideal pets as they needed frequent, prolonged exercise and would not settle in a family home. That could not have been further from the truth – Bryn was the most amenable, friendly and intelligent of dogs. He also could take exercise or leave it.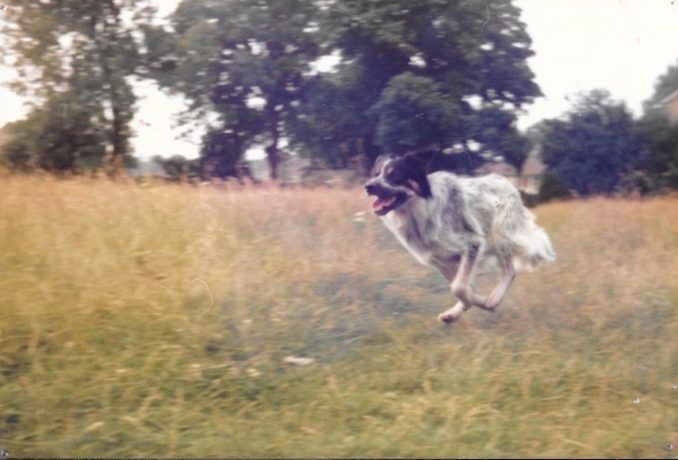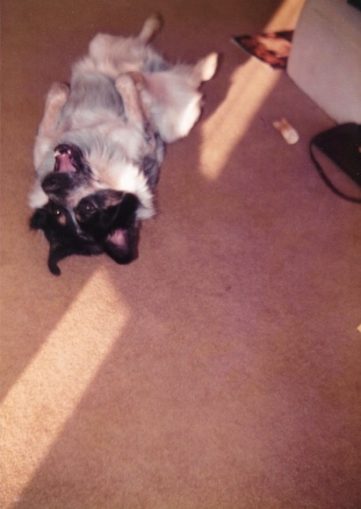 He and my daughter hit it off immediately – they both quickly learned much from each other and it's no coincidence that, forty years later, she has never been without a dog in her home.
For reasons which I cannot now remember, we never got round to having him neutered and, as it turns out, we needn't have worried as he was so docile that, in the whole of his life, he only got into two fights – one with a German Pointer twice his size and once on the beach at Ogmore-by-Sea when he took a particular dislike to a Rottweiler with a metal-studded collar by the name of Rommel. I bravely broke up each bout, but I think Bryn lost both on points.
He was very clearly my daughter's dog (apart from the walking and the feeding and the taking to the vets) and they spent almost all of her teenage years in each other's company. And so, when my marital circumstances changed in the early 90s, I could at least leave knowing that he would be in good hands.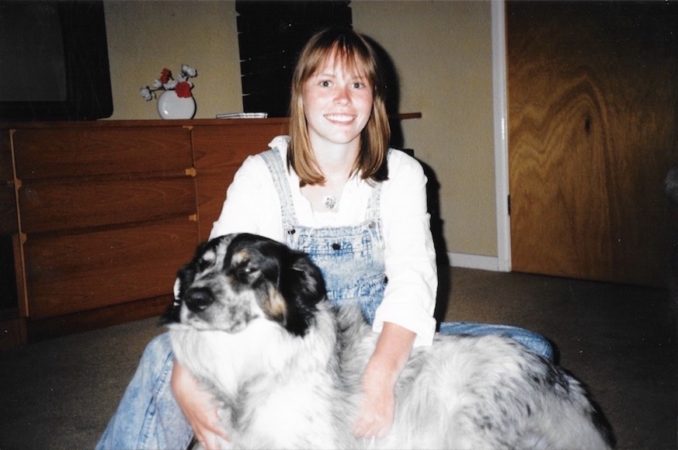 I then began one of the few periods of my life without a dog. However, as my daughter entered her 20s and began to make an independent life of her own, it was soon suggested that it would be better for all of us if Bryn came to live with me and my new partner; I agreed willingly.
In time, nature took its course and I found I was to become a father again. When the due day arrived, and I was woken up at 6am, we set off for the local hospital with Bryn on the back seat having been promised a walk when I got the time.
Now, when my daughter was born in 1970, hospital policy was that giving birth was no concern of the father. Having got my then wife to the hospital, I was told to go away and to ring twice a day for a progress report.
But by the time my son was born to my new partner some 22 years later, and unbeknown to me, things had changed somewhat – when we arrived at the hospital, I was welcomed and shown, with my partner, through to the delivery room where we met the midwife, who turned out to be one of the regulars at our local pub.
To my surprise, I wasn't dismissed as surplus to requirement and after a bit of pub-based banter and a couple of false alarms, I began getting worried that there didn't seem to be any other staff in the delivery room. I reassured myself that things would get better when the assistant midwife arrived. Only when the main event began to happen for real did I realise that the assistant midwife was going to be me.
As matters came, literally, to a head the midwife threw my partner's ankles on my shoulders and, as casually as if she was pointing out that it was my round, told me to do my bit. I resisted the temptation to say "that's what got me into this situation" and embarked on the most emotionally draining ninety minutes of my life.
When it was all over and mother and son were doing fine, I beat a hasty retreat to my car where Bryn had been all this time. Once there I sat down beside him, burst into tears and chain-smoked three cigarettes. After a couple of minutes of this emotional display, Bryn put his head on my knee and looked at me with those beautiful Border Collie eyes which said, "I understand, Boss, I understand".
This is an especially bittersweet memory for me as, having been with me for the beginning of a new life, he himself died unexpectedly five weeks later.
Nearly 30 years later I still miss him.
Taffy
My partner soon decided that, as she was at home all day with our new son, there would never be a better time to get another dog to fill the gap in my life left by Bryn. I had to agree, although, in truth, she'd already made the arrangements with the local RSPCA home.
And so Taffy, a charming-looking puppy who grew into a thoroughly disreputable-looking dog, joined us. He was great fun and considered himself to be part of a litter consisting of himself, our son, and my stepson. I never did find out which of them was the pack leader!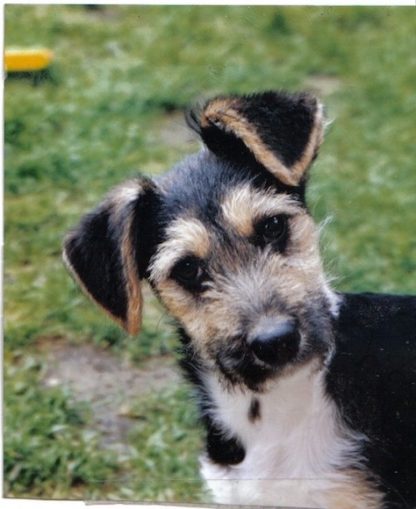 Fly
My next dog was another Border Collie – this time Tricolour – from the same RSPCA home as Taffy.
I soon discovered that whereas my other Collie, Bryn, had been a wonderfully even-tempered beast, Fly was different in almost every respect. I suspect that he had had a troubled early life as he was less than comfortable in the company of strangers – a problem that was compounded by the fact that, being a very handsome dog and an unusual colour for the breed, he attracted a lot of attention when we were out, with people rushing up to him wanting to cuddle him. This he responded to by snapping, fortunately only as a warning rather than an attempt to inflict damage, but it still made walks very tense as I could never relax, having to keep an eye on him at all times in case someone ignored my requests not to approach him. The worst mistake one could make when approaching Fly was to make eye contact. This annoyed him intensely and he responded in his own particular way – he would stand still and submit to the attention until the second the contact was broken, at which point he would strike like a cobra.
His anti-social behaviour notwithstanding, he was a great companion when he was with just me and it was heartbreaking to watch his gradual decline over a period of 8 months until it became obvious that he was no longer enjoying life and there was only one remaining thing I could do for him.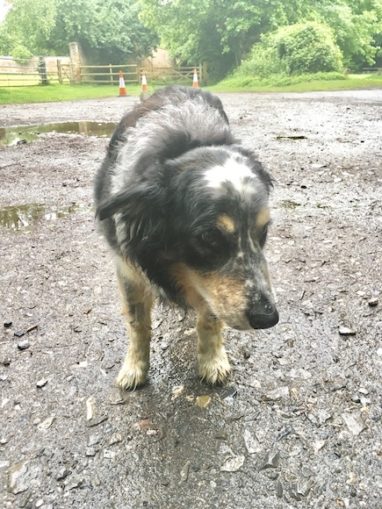 Ted
Ted joined us when I retired and realised that we had room in our lives for another dog. He came from the RSPCA home in Bristol and we were told he had been living on the streets for a number of months. Despite not being socialised with humans he put on the most appealing display of all the dogs we saw in the home that day and won our hearts.
This was while Fly was still reasonably sociable and they got on well, once they had established their respective personal space.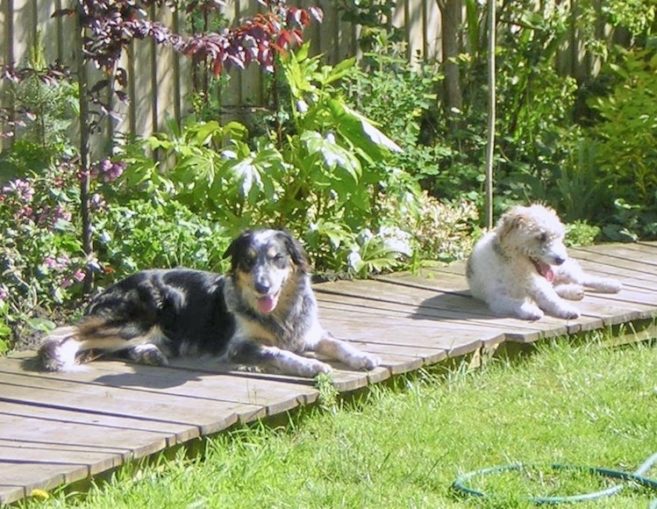 Ted's only problem was that he was completely untrained; he wasn't naturally disobedient, he just couldn't see why he couldn't do what he wanted and go where he wanted. And so he did. This meant that he spent increasing amounts of time on an extender lead when out on a walk and I well remember the many occasions when he would suddenly stop in the middle of a walk and stare into the distance forlornly watching Fly crashing through the undergrowth having a whale of a time. After a while he would shrug his shoulders and walk on, keeping his lead slack so that he could pretend he wasn't connected to it. It was heartbreaking.
The last time we let him off the lead on a walk was at 3pm on a rainy October afternoon on the Roundway Downs above Devizes. He immediately disappeared into the woods from which he finally emerged at 7pm. Thereafter he was on his lead for all walks. Luckily we had a large garden so he was able to get at least some exercise.
Fly and Ted's ashes are scattered together on the field where I walk the current dogs and I pay my respects to them most days; two dogs both now free – one from his personal demons, one from the constraints of his lead.
Woody
My other half decided that what Fly was missing in life was a canine companion to knock the anti-social rough edges off his behaviour towards humans. And so, when she spotted a post on Facebook advertising a one-year-old terrier cross for sale, wheels were set in motion. The poster explained that Woody was causing problems between her and her husband who had told her that "it's me or the dog".
The problems manifested themselves in almost non-existent bladder control. When we arrived to collect him, the reason soon became apparent – he was terrified of the husband. I too took a dislike to him – and a strong liking for the dog when the husband carried him into the room to meet us and Woody promptly unleashed a stream of urine all down his tee-shirt. In the ten or fifteen minutes we were there, he asked to go into the garden for a wee another five times.
It turned out that Woody lived in a cage under the stairs overnight and throughout the working day, being released for what must have been a precious few hours in the evening. I can never understand how people can treat a dog (or any other living creature) this way and cannot deny that a few weeks later we felt some satisfaction when we read on Facebook that the husband had left the marital home.
We thought we would have our work cut out getting Woody socialised, but it couldn't have been easier – taking cues from Fly he soon worked out what was expected of him as a family dog and settled down to his new life. A large garden, frequent walks and the absence of an intimidating human meant that he quickly learnt the joys of running free – and bladder control!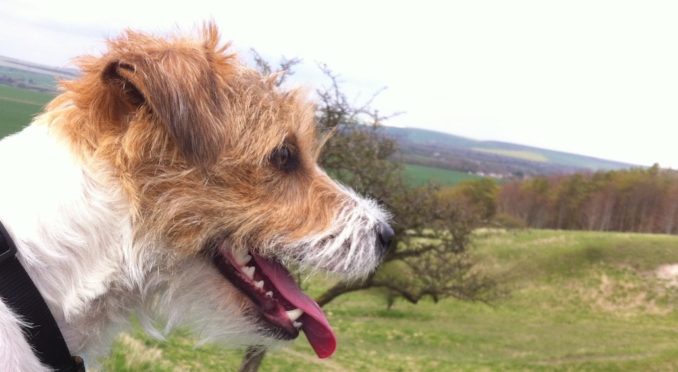 He was also good for Fly who, after the initial standoff and threatening displays, soon came to accept that Woody was here to stay and they became, if not firm friends at least firm acquaintances.
When Fly died, Woody saw that the role of King was now vacant but decided instead to take on the role of Court Jester and now takes every opportunity to make all the other dog walkers we meet laugh. He does this through a mixture of being naturally endearing, unselfconsciously pompous and incurably clumsy. After a distressing start, he's grown into a wonderful, even-tempered dog.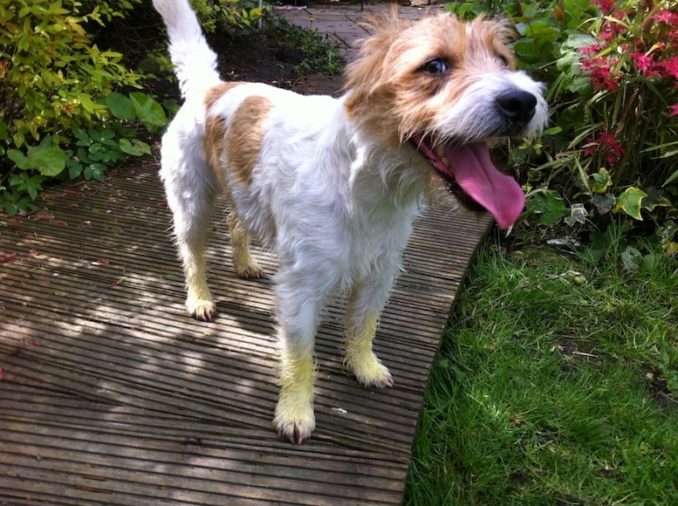 Jasper
When my son and daughter in law decided they wanted a dog so that the family they were planning would be complete, the question of what would happen to it while they were at work came up and they had the answer ready – I was already at home all day with Fly and Ted – surely one more wouldn't make much difference? And so Jasper – the cutest, smallest and least troublesome Jack Russell Terrier you could hope to meet joined me 9am-5pm Monday to Friday.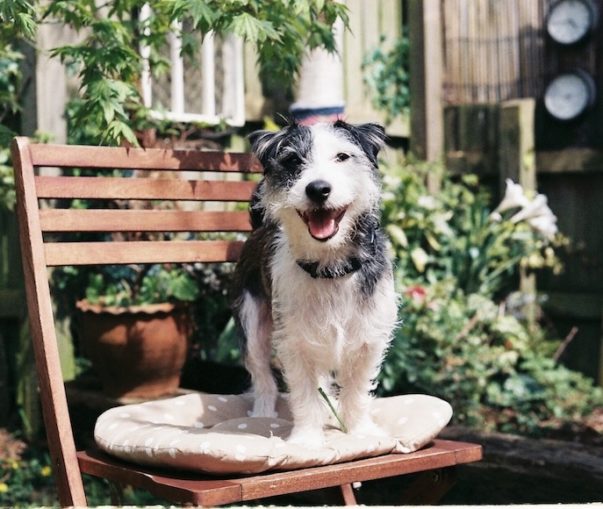 He was only a few weeks old and, by a long way, the youngest dog I have had, and I was, I admit, slightly daunted by the responsibility I was taking on. I needn't have worried – he was an intelligent chap and, ably assisted by Fly and Ted, he very quickly learned how to be a dog and what was expected of him.
He was a delight to have at such a crucial stage in his life. I see him regularly and I always feel a sense of pride in what a wonderful dog he has turned out to be. He now shares his home with my two grandchildren and brings them even more pleasure than he did me. Which is probably the definition of the role of a dog.
Jack
I filled the hole left by Fly with another Border Collie, this time a Red (ie Brown) Merle from a rescue centre near Llanelli. He had been born a few months earlier in Ireland where he had been given the name Brownie and a few weeks later was brought to the rescue centre in Wales and given the name Tully. I saw his picture on the rescue centre's website and was smitten – a couple of days later, on 3 August 2017, I went to see him, realised he was for me, brought him home and renamed him Jack.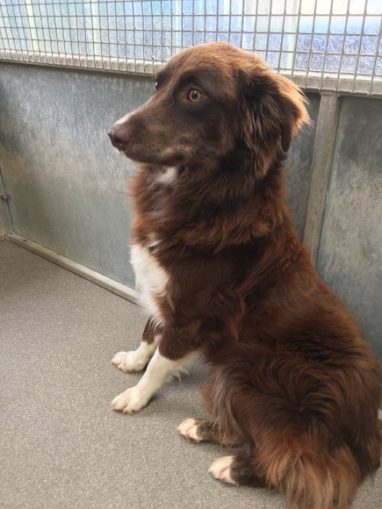 When I looked at his documentation, I realised that he had had a pretty eventful time over the previous two weeks –
14-7-17 Sore left eye
31-7-17 Diarrhoea
02-8-17 Castrated
Fortunately, his troubles were behind him and he quickly adapted to his new home and lifestyle.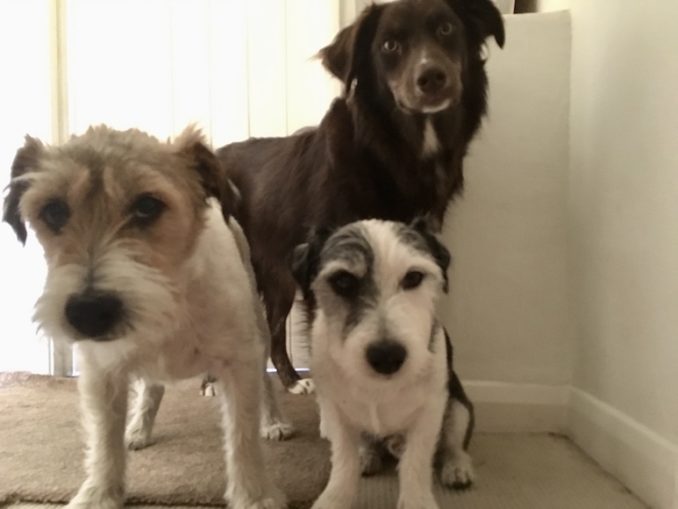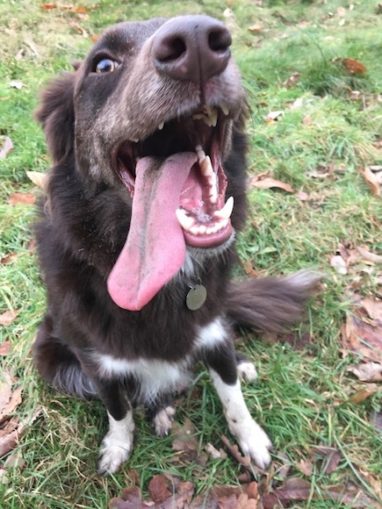 He has since become one of the gentlest, most loving dogs I have ever known and demonstrated to me yet again the Joy of Dogs.
Thank you all, you wonderful animals.
© Jerry F 2022