PREFACE
The draft for this issue of SMLA was completed on Thursday 23 February 2022 and afterwards I explained in an email to the eldest of my granddaughters that to understand the Ukrainian situation one had to view relations between the USA and Russia over the 77  year period from the end of WWII when the the map of Europe and regions to the east looked like this.
I explained there was a struggle for ascendancy over Central and Eastern Europe between 1945 and 1988 known as the Cold War when the USA  and Russia as leaders of their respective empires both became Nuclear Powers.    The MAD threat (Mutually Assured Destruction) forced them to ease tensions.    In 1962 they respectively agreed to withdraw Nuclear Missiles from Turkey and Cuba and in 1975 tried to eliminate the chances of war in Europe through the Helsinki Accords.
The US thought its own Global dominance was assured by the dissolution of the USSR between 1988 and 1991 and used the opportunity to encourage development of a United States of Europe with an eastern boundary with Russia and a Military Agreement with itself.  The US hoped that by these means it would be free to focus its own attention on the Middle East (because of the oil there) and make a pivot to the Pacific where they were becoming increasingly concerned about China's growing power and influence.
That plan was severely set back in 2014 when Western oriented factions in Ukraine created a violent revolution (aided and abetted by the USA and EU?) that deposed the elected President of the country and prompted the Russian annexation of Crimea and expressions of support for Independence Movements in the Donbass Region.
It is now clear the USA and EU overplayed their hands from 1991 onwards and created the opportunity for Russia to take the action presently underway.      Individual European countries, including the UK, are bit players in all of this, caught through their own weak policies for Energy and Defence between an urgent need for physical resources controlled by Russia (particularly Oil and Gas) and the Military Might of the two protagonists.
I write this Preface on Saturday 25 February when the UK's irrelevance to current events is illustrated by Johnson's inability to get Germany and other European countries to agree Russia's expulsion from the SWIFT international payments system.
But, I think most readers who have liked my articles have done so because I have described a freer and more enjoyable world,  so I won't present any more political analysis and opinion of my own and get on with revealing the results of my amateur market survey.
SURVEY RESULTS
There were just over 3,500 comments attached to the last article in this series and that's a lot to scan. The vast majority are from people saying hello to one another, expressing an opinion on the news of the day, posting a joke or meme, describing a performance of music or film that pleased them, or communicating to others what the author thinks is an insightful remark of general interest.
In that vein I particularly enjoyed this one from Chrissie –
JOHNNY, FINDING LIFE A BORE
DRANK SOME H2SO4.
JOHNNY'S FATHER, AN MD,
GAVE HIM CaCO3.
NOW HE'S NEUTRALISED IT'S TRUE,
BUT HE'S FULL OF CO2
I scanned the comments under my last article more carefully than I sometimes do as I had explicitly asked whether readers would like me to attempt a second series.
I was delighted by the response which numbered about twice as many as usual with several from people who had not previously commented.
Preferences for a second series were very closely balanced and a majority said they would like more and didn't mind which voyage I chose or the frequency with which new articles appeared.
SB has emailed to say he can go along with that so the result is –
I WILL TRY TO PRODUCE A SECOND SERIES.
IT WILL BE ABOUT THE AZORES ISLANDS AND WESTERN IRELAND
EPISODES WILL APPEAR AT IRREGULAR INTERVALS
I have chosen the Azores Islands and Western Ireland because it will be about my first Ocean Sailing experience one year later than this series describing my life-style change and first Coastal Sailing voyage of significant length.  It will also provide brief descriptions of all nine Azores Islands which are beautiful destinations in their own right and I might be able to mix in some more essays on Colonialism and Piracy.
I respond next to some specific remarks.
RESPONSES
The first comment was from Ambient Drone who asked –
Why is John's face blurred..is he in the witness protection programme, or wanted?
The short answer is "I don't know John's present circumstances but I decided to place him in my own "Privacy Protection Programme".
That was a result of recently coming across a story about how some poor woman's life was turned topsy-turvy after reading on a social media site of her own death in a post that included a photo of her face.
It turned out the woman who made the post had seen an obituary of a different person with the same name and scoured the internet for a photo. She used one she found without knowing either person and the poor victim was then harassed for weeks afterwards by notices, letters and emails from pension schemes, banks, utility providers, relatives and friends, conveying demands, commiserations, and enquiries about the cause of death etc. Social media have benefits but they have disadvantages too.
For the same reason I'm not going to disclose the names of folk who emailed me direct but was pleased they did.
One of them, who had been sailing for longer than I, had also broadened his activity after retiring and spent 4 years on a catamaran in the Caribbean. He said – "Please carry on with your writing, It takes the rest of us away in our dreams."
I found that very rewarding and a partial answer to Mrs Raft's question when she wondered why an octogenarian should be motivated to put in the effort to write this sort of article at all. That's a very deep question along the lines of "How should we best spend our remaining time in this world?"
Too old to sail, too "Locked down" in 2020 and 2021 to go European touring in my caravan and still prevented this year from doing that by travel restrictions on the 'Unvaccinated', I have enjoyed re-creating the excitement and fun of my early sailing years."
I found another clue to a more complete answer in February 15ths issue of the Slog.   John Ward's theme was that we need to preserve memories of past Freedoms and prevent them from being erased by those who now want to curtail them.   I particularly liked his recall of the old cockney saying "nostalgia ain't wot it used ter be".
Whilst providing links to other sites here's one to a recent issue of a column written regularly by Bill Blain. He's employed by an Investment Bank but writes independently about financial affairs in a way I find sensible and sometimes amusing. He has the additional advantage in my eyes of also being interested in sailing.
Bertram Gilfoyle thought that if you want to sail the world it would be best to start way before retirement and referred to a friend who had bought a 46 foot ketch to do that. I don't disagree but there are many considerations, not least the cost of buying and maintaining such a yacht, finding enough crew to handle it and how you will finance ordinary living expenses. Some young people did solve the last of those dilemmas through casual work in my day.   I applauded that but am less comfortable with the semi-professional generation of You-Tube video makers.   Perhaps my values are too old-fashioned and I admire individualism and amateur status too highly.
As recorded in Part 1 of my story there was a sudden hiatus in my life that triggered the decision in my own case, I didn't feel sufficiently knowledgeable or skilful to buy and work on a second hand craft, didn't have the years ahead of me to do that anyway, and prioritised equipment over size in finding one I could afford. I had a reasonable pension from my life-long employment to cope with the daily living cost issue – more expensive in Scandinavia and overseas Tourist Hot Spots but cheaper in many tropical destinations.
Slobotham commented on Bertram's post that he had observed owners in a nearby boatyard spending time and money buying and maintaining their yachts and only rarely, if ever, actually sailing them.
That's true for a lot of other people too. I'm sure there's no single answer that is universally valid. In another Old English saying – "You pay your money and makes your choice". (That's less true these days of course when its common to find "You pay your money and "Others" choose for you".)
Maximum Overdrive complemented the description of my visit to Dun Laoghaire and Dublin with descriptions and old family photographs I would have loved to post here if copyright rules permitted.
They don't, so the best I can do is to explain two of them were taken in the immediate aftermath of the 1916 Rising, probably by MO's great-grandfather. They show a damaged GPO building and others farther along O'Connell Street that were almost destroyed.
MO also took a modern photograph of a silver cup presented to a relation by marriage over 100 years ago for his part in the "Defence of Trinity College Dublin, Sinn Fein Rebellion, Easter 1916"
These are wonderful and historically significant mementoes and made me think yet again that the Politics and Aggression of the Human Species seem inseparable from its more admirable characteristics.
THE 1997 VOYAGE
Here again is the map for this last leg of the cruise.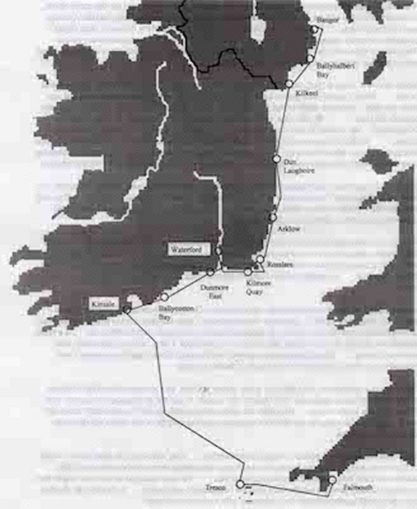 Dun Laighaoire to Kilmore Quay
It was overcast and dull as we gently motored out of Dublin Bay. A light easterly breeze sprang up as we approached Wicklow Head and we made good speed over a calm sea by deploying the cruising chute.
The almanac described Wicklow as a port better suited than Arklow to sailing yachts but our friends at the Royal Irish had told us about a new pontoon 200 yards upriver from the entrance to the Arklow fishing harbour. Sure enough, there it was as we came gently up the river.
Walking around town made me think I was back in one of the small and poor towns in Somerset in the early 1950's. It seemed to consist of one long street of grey stone buildings, most of which were betting shops or pubs. I didn't take a photo of my own and nearly all those I've found on the internet seem to emphasise its modern prosperity.
If you can mentally take away from this image the cars and road-markings you'll get some idea of what it was like in a more residential street.
We sampled the very good beer at one pub but though the staff were civil we didn't find the atmosphere at all joyful – perhaps they resented more prosperous English visitors.
We thought the mooring at Arklow had positioned us well for a long sail around the coast to Kilmore Quay. Dream-on. A lack of wind and adverse tidal currents resulted in the light beginning to fade as we approached the Tuskar Rock so we diverted to Rosslare.
That was and still is a very busy ferry port. There were no facilities for yachts, and no town to speak of near the docks so we ended up against a high and unprotected concrete wall with no bollards at the top and a building site beyond (construction is probably finished by now!). We protected the hull with the ladder used as a fender board and also for its originally conceived duty as that was the only way we could get off the yacht onto dry land!
The short passage to Kilmore Quay on Friday saw us successfully pass between the North and South Saltee Islands and sail into a new and smart marina in time to replenish supplies and book a table for dinner at the Silver Fox restaurant.
The restaurant was recommended by Egon Ronay for its fish cuisine and I found it amazing it could thrive in such a small place. But thrive it did and we had to eat early because it was fully booked later in the evening – what a contrast to Arklow, less than 50 miles away. The Silver Fox still seems to be in business and if it's current Chef is as good as his or her predecessor its well worth a visit – but, be warned, modern reviews range from "Classy" to "Vastly Overrated".
Waterford
The weather changed as we left Kilmore Quay and we had a hard beat upwind followed by a rolling downwind sail as we entered the wide estuary of the River Sur and followed it to a pontoon laid by the Council right in the centre of Waterford City. All berths were occupied but tied to one of them was a Swiss yacht I had last seen in Oban. Cruisers Camaraderie quickly saw us rafted up alongside them, chatting about our experiences since we last met.
A Town Official turned-up to charge us for the mooring and suggest we might like to attend a performance of the Waterford Show that night where we would see him again in his capacity as doorman for the event. We followed his advice and had a wonderful evening. The Show was performed in the Town Hall which started life as an eighteenth Century Theatre.
We were met in the Foyer by three attractive young ladies in green velvet who offered us samples of Irish Liqueurs whilst three actors in 18th C costumes descended the stairs with a violinist to describe the Show we were about to witness.
Sat at one of about 20 tables in the spacious room upstairs, with 15-20 people on each, we were entertained by the actors who sang and narrated the History of Waterford from its founding by the Vikings (Vatten Fjord) through their displacement by the Normans, succeeded by the Tudors, to Cromwell and the famine of the 1840's to the present day.
Interspersed with this performance, the velvet clad ladies of the Foyer treated us to breathtakingly precise and fast movements of legs and feet with their upper bodies and heads stationary as required by the classic Irish Stepdance popularised just three years earlier (when Riverdance was broadcast as an entre'act during the 1994 Eurovision Song Contest).
This splendid evening was rounded off back at the yachts when Lutz and Rose Marie Opitz invited us on-board Alatariel for wine and whisky whilst going over the evening's entertainment and chatting about sailing and other matters.
Sailing as a life-style brings a huge variety of enjoyable experiences and the evening in Waterford was one of the best that I remember.
In a lower key the following day we had a good walk round town and in the afternoon discovered the fascinating Viking Heritage Centre. The latter was so interesting we went back again the following morning to see all the exhibits and to visit Reginald's Tower.
Reginald was a Norse King of Northumbria who also made time to raid Ireland and found a settlement there. The tower named after him was an unusually strong pre-Norman fortification which served the town's defences well through many centuries and still draws the eye when viewed from the river – as seen in the photo above.
Waterford to Kinsale
The coast west of Waterford has few harbours at which a yacht can stay until reaching Youghal some 40 miles away.
Anticipating adverse winds when we turned west at the mouth of the estuary we just motored downriver to Dunmore East after leaving Waterford. Sure enough, we were met by wind right on the nose, a nasty short wavelength chop and dense fog as we approached the small harbour packed with fishing vessels.
There were unoccupied Yacht Club moorings just outside the harbour walls. They were still reasonably sheltered. so we picked up the largest but failed to legitimise our stay because there was no answer at the 'phone number provided in the Pilot Book.
A good and long sail the next day took us past Youghal to Ballycotton and though the harbour was too small for us we found good anchorage between its breakwater and the nearby island.From here it was a short motor-driven passage against a west wind to Kinsale the next day.
I fondly remembered the town from my first "foreign" voyage the previous year and that experience was refreshed by a pub meal in the evening enlivened by a couple of guitarists playing and singing pop songs from earlier years.
The town was again full of bustle and a complete contrast to some of the ones on the East Coast such as Arklow. Indeed, we invented a new economic index to give an indication of a town's prosperity. We couldn't think of a catchy name for it but its value was the ratio of the number of restaurants divided by the number of betting shops.
I wrote in part 9 about the Spanish capture of the town in 1601 and won't repeat what I said there, but a new and strong fort was built 76 years later to strengthen the town's defences in case the Spanish (and/or the French) tried again. The fort was named after Charles II and here's a good photo of it and the Bandon estuary beyond.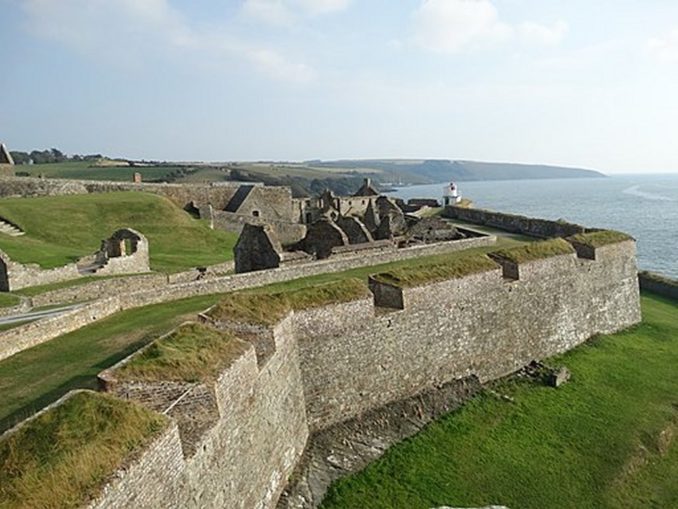 Kinsale to the Scilly Isles
My original journal goes on at some length about the passage from Kinsale to the Scilly Isles so I have picked out  just two aspects for this account.
The first describes an episode in the late afternoon of the first day when we were overtaken by a large school of what I described at the time as porpoises. I'm not sure I was right in doing that and they might have been dolphins. What's the difference? I hear you ask.
I didn't know so I looked it up on Wikipedia and found –
Porpoises are a group of fully aquatic marine animals similar in appearance to a dolphin … and are distinguished from them by the shape of their teeth ……
Both are notoriously difficult to photograph by an amateur on a rocking and rolling yacht because they move so fast and light refraction through the water/air boundary confuses the image unless you're lucky or skilful enough to take a shot whilst they are entirely in the air.
I didn't get an opportunity at the time to take such a photograph or to perform a close dental examination so I've tried to resolve the matter now by looking up relative sizes.
Porpoises usually measure between 1.4 m and 2.3m and Dolphins between 1.7m and 9.5m. The largest of the Dolphins is often called a Killer Whale and I knew the creatures we saw on this voyage didn't belong to that type. They could have been small dolphins but whichever they were this is how I described them in my journal.
A large school of porpoises soared along in the water on either side,sometimes diving under the hull on one side to reappear immediately on the other. The water was very clear and we could see them many feet down with sight of their dark backs occasionally being replaced by a view of gleaming white undersides as they twisted and turned below. We were still sailing at more than 5 knots but they had no difficulty in overtaking us at what seemed like three times that speed.
Aha, I thought, as I reproduced that – another clue to the difference between porpoises and dolphins. Foiled again, as Wikipedia tells us porpoises typically swim at 5-15 mph and dolphins at 7 -17 mph. Anyway, there were a lot of them, they were very acrobatic and fun to watch.
To introduce the second item of special notice on this passage I need to remind you of John's Ocean Yachtmaster qualification and interest in classical Navigation.
In the days before lat/long position via GPS was immediately available Navigators had to estimate their position by calculating the distance and direction they had travelled from a last known position.
That process is known as dead-reckoning and is still undertaken in applications using inertial methods of measuring average speed and direction – using accelerometers and the gyroscopes Dr Mike Finlay has been telling us about in his recent articles. Of course, the accurate guidance needed to get space-craft, aeroplanes and missiles to go where their operators desire requires a lot of computing power as well.
Neither the computers, nor the modern instruments were available to classical Yachtmasters, nor to John and I in 1997 and the GPS fitted on the boat wasn't working.
Our last accurately known position was midway between the headlands at the mouth of the Bandon river and as a result of John's interest we hadn't been using the hand-held GPS during this passage, either during the first day or overnight and had instead been using dead-reckoning.
That entailed estimating our average speed for each hour, the average direction the wind-vane self-steering had achieved, the effect of currents as shown on the paper charts and an estimate of leeway (sideways movement since yachts don't actually go in the direction in which they are heading). Once estimated in that way we had been plotting our position on the chart with a pencilled cross.
Our enthusiasm for classical navigation waned when we thought we were 16 miles north of New Grimsby Sound in the Scilly Isles and figured it would take us another 5-6 hours to reach it if we carried on tacking as we had to do with the wind about SSW. But there were only three hours of daylight left.
Wow!!!   When we switched on the hand-held GPS we were only one mile away from where we thought we were. John thought this result was due to our skill and judgement but I thought it was mostly luck!
In any event we didn't feel like approaching in the dark or spending another night at sea so we took down the sails and motored in until we could pick up one of the buoys between Tresco and Bryher, visited once before on Alchemi's maiden voyage.
It ended up taking us an hour and a half to moor to our satisfaction. The problem was that strong winds and tidal streams in opposite directions meant we couldn't get the yacht to lie away from the buoy. In the end we used a short lenth of chain at the buoy and floated a necklace of floating fenders around it to prevent a constant banging of the buoy against the hull.      One other yacht nearby avoided the banging problem by lifting the buoy from the water but that resulted in them pitching a lot more than we did.    In later years, and after being scared once when the yacht floated towards rocks because an apparently secure mooring was not attached to the seabed, I usually preferred to rely on Alchemi's own anchor and chain – but that required much more swinging room and free space than was available in the Tresco/Bryher Sound.
Tresco and back to Falmouth
One of the reasons for coming to Scilly was that John had been a bio-chemist before he retired and he wanted to visit the Abbey Gardens. Even though it was so late in the season a few plants were still in flower, albeit in a rather bedraggled state due to the rain and wind.
Abbey Gardens are a world-renowned centre of excellence for sub-tropical plants with hundreds of varieties flourishing in the specially favourable conditions of the island.  Persistent rain defeated any idea of taking my own photos but here's one I found on the internet showing suitably robust ferns – there are many more on the Gardens' website.
The Estate was created by Augustus Smith, member of a long-established banking family (don't people with that occupation do well in life) who acquired a lease on the Scilly Isles from the Duchy of Cornwall and took up residence there in 1834.
For any readers interested in those times and adventure stories with a sailing and mystery twist I can recommend the novel "Hell Bay" by Sam LLewellyn (a prolific writer of sailing thrillers).
After seeing as much of the Gardens as we wanted and having got rather wet and chilly in the process we walked around the headland to see King Charles' Castle on the Tresco shore of New Grimsby Sound, erected by the Tudors as a defence against French invasion.
The tide was low for most of this walk revealing many of the rocks and sands that make sailing around these islands so hazardous for the unwary.
The weather became worse overnight and remained like that for the next 3 nights with 30 knot winds and further difficulties with mooring in the wind and tidal conditions. Another steep learning curve.
When we finally escaped from Scilly the passage back to Falmouth was uneventful until we had passed the Cardinal Buoy at the entrance to Falmouth harbour.
Then, just as we were taking down the mainsail as dusk approached, we saw a fast inflatable with a number of oil-skinned figures standing in the thwarts and shouting at us. Taken by surprise and remembering tales of traditional Cornish Pirates and Wreckers, unable to see forward because of the lowered and still flapping mainsail, I allowed the jib to become backed (still tied on one side but with the wind blowing on the other, forcing it to lie "wrong way round" between the front stay and the mainmast).
This naturally caused the bow to swing rather swiftly – and towards the inflatable – from which I could at last make out individual words – "Customs, maintain a steady course" – to which I replied "I'm trying, I'm trying" – as yellow clad figures swarmed aboard and went all over the boat, with one going down into the cabin being advised by another to "Look at the Log" – whilst John and I fought the sails and mass of flapping reefing lines into some sort of submission.
When we had re-established control and all was quiet a spokesman for the boarding party asked a number of rapid-fire questions – "What's the boat's name? Are you the owner? What is your name? What is the Crewman's name? Where have you come from? How long have you been away? Where are you going? – and so on.
I was quite pleased to be able to tell them I had registered my departure from Ipswich and return via Lerwick with their colleagues and they departed again as swiftly as they arrived.      Afterwards, I wasn't sure whether to be affronted at such an aggressive way of working or relieved to think our shores were so well protected.
We were still in time to enjoy a celebratory beer in the bar at Falmouth Marina and that seemed a fitting thing to do after circumnavigating most of the British Isles and nearly all the United Kingdom during a six month voyage of 4,500 miles and visiting Holland, Germany, Denmark, Sweden and Norway en-route.
EPILOGUE TO MY LOG
Alchemi has now sailed close to 7,500 miles in 18 months.
In December 1997 when this epilogue is being written all faults have been corrected or the process is underway. Pacific Seacraft, their UK Agent and Component Suppliers are honouring their Warranty obligations to the full.
The GPS fault was traced to a problem with the antenna and cannot have been unique since I was told Brookes and Gatehouse have now changed their antenna supplier and Alchemi has been fitted with one of the new models.
It is a truism that all yacht owners really need a craft three feet longer than the one they presently own.   As the months have passed so have further purchases seemed essential – storm jib, cruising chute, trysail (a very small mainsail for use in severe gales), a third anchor ….. Where to put all this gear?
Alchemi would be hard to beat for sea-worthiness and sea-kindliness. Another three feet wouldn't make much difference in those respects.
In short, had I possessed earlier my new-found knowledge and appreciation of the issues involved in boat design my initial choice would have been more difficult but, given my circumstances and the age-limited life ahead of me, I would not have reached a different purchasing decision. I'm delighted with Alchemi and her performance.
EPILOGUE TO THIS SERIES
I feel much the same way about this series of articles.      As explained before, I felt satisfied it would be safe and enjoyable to make further coastal voyages after 1997, but decided I needed to get equivalent experience before I could feel the same way about trans-oceanic ones.
My 1998 Voyage to the Azores Islands had that purpose and my next series of articles, to be written at a more relaxed pace than this one, will recount what happened.  I shall entitle it – "Sailing my life away (II)".
However, its still winter and too cold, wet and windy right now to go off on a Caravan Expedition to any part of the UK I 'd like to visit again, so I hope the first episode will appear before too long.
Until then …………

© Ancient Mariner 2022