Day 10 – Sunday 2nd January – At Sea
I woke for a pee in the early hours, must have been the beer, and for the first time this cruise I could feel the ship moving and rattling as it hit a larger wave. Mind it was not what I would call rough and it didn't stop me going back to sleep and dreaming a very odd dream. It was about going back to work for an old boss who was one of the few people who I would never have chosen to work for again. He has actually been dead for years but in the dream he was walking around the office with balloons stuffed down his trouser legs and bicycle clips around his ankles to stop them falling out. I have no idea if it means anything.
I think the ship is sailing round in circles to eat up this time at sea. Yesterday the sun on my balcony indicated we were heading south. Today the sun is on the other side of the ship so we are heading north. At breakfast this morning I was given exactly the same seat as yesterday, I don't know how that works in a 350 seat restaurant. Anyway, I had my usual bowl of Rice Krispies. The waiters come back from the galley with those mini boxes of cereal that are in the Kellogg's variety packs, but there are only some of the variety options on offer. Fried eggs, bacon and sausage to follow today with brown sauce, of course, for the sausage. As is becoming a habit, I forgot to take my Metformin tablets with me to the restaurant, they should be taken after food, so I have to go and get them from my cabin
I think it's time to decamp to the sun deck for a bit more of my book and to watch the sea slip past slowly. I understand from one of the captain's announcements that we are making a steady 10 knots, much less than half the ship's usual speed, so there is little wind over the decks or balcony. It is supposed to be up to 27° today and at the moment is very pleasant, the sea is a beautiful shade of blue with spots of white where the swell is cresting and hardly a cloud in the sky.
I had one of the ships home burgers for lunch. The meat is about 3/4" thick and all minced beef. The bog-standard burger comes with cheese, lettuce, onion, tomato and French fries. If you want it you can add a bowl of fresh salad and/or a bowl of coleslaw. Very nice when washed down with a cold bottle of Corona. By mid-afternoon it was getting extremely warm on deck so I retreated to my cabin for 40 winks where I found a message shoved under my door. It explained that due to some essential maintenance that involved the cabins receiving this note all water was being cut off to them until 18:00 this evening and a complimentary bottle of water would be delivered to make tea or coffee with. Then it added please do not flush the WC until after 18:00 this evening. Well, as I have an 18:00 booking for dinner bang goes my shower and shave!
Anyway, I finished book 3 and started book 4, a Chris Ryan, Danny Black thriller before getting changed into decent trousers and shirt for dinner. I will do my best to look decent even if I can't wash and shave. I went to check-in for my evening meal and the girl on the desk said, "I've put you on your usual table, Sir." So I dined with several people who I have dined with before which is quite pleasant but it makes a mockery of not having a fixed dining table as most of us were supposed to have. Asparagus and hard-boiled egg for my starter, then boiled gammon, carrots, cabbage, peas and creamed potatoes, finally marmalade frangipane tart and custard for dessert. It was really good. I must say the menu choices are really designed with the British cruiser in mind, I'm not sure what a European or American would make of the menu. After a couple of beers while watching the girl acrobats, who are very good, I headed up to my cabin and was delighted to find the water was back on.
Day 11 – Monday 3rd January – Tortola, BVI
Finally berthed after 3 sea days. I think Tortola is one of my favourite Caribbean islands, small, peaceful and pretty, with lots to do and see. Its fellow tiny islands in the British Virgin Islands are equally lovely and well worth a visit if you are ever in this part of the world.
A lot of early trips out today, so when I went down to the restaurant for breakfast at 08:00 there was hardly anyone there. The waiter explained that on the days when the excursions started early many passengers breakfasted in the buffet restaurant as it opened a full hour earlier than the full-service restaurant I was using. Anyway, service was slick and my Rice Krispies was followed with a mushroom omelette and hash browns. The waiter told me that on a sea day when the restaurant was busy the chefs were reluctant to produce omelettes but today many were standing around doing nothing so I was lucky.
I also learnt that the real reason the fixed table "Club Dining" wasn't available on this cruise was so that they could close one of the three main restaurants and save staffing costs with the ship only 1/3rd full. There were supposed to be 1,600 onboard but there had been loads of last-minute dropouts, "due to Covid" and only around 900 of us had joined the ship in Barbados, the other 200 passengers were 50 who had originally booked back to back cruises and another 150 who had also been on the last cruise and had accepted extremely cheap offers to stay on over Christmas and the New Year. I understand that if I want to stay on for another two weeks it is only £600 for an inside cabin, £700 for an outside cabin and £900 for a balcony cabin like mine. I was tempted but have decided not to take up the offer at the moment.
We are berthed alongside the Azamara Quest this morning. It is only a small ship but 5*, catering mainly for rich Americans. Many are breakfasting on their balconies with a white tablecloth and shiny silver cutlery laid out, being served by white-gloved flunkies. As I write this I am sat on a lounger on the open deck overlooking the adult-only Oasis pool. The only other person in sight is a crewman painting a bulkhead with a three-inch roller on a ten-foot pole! Someone ought to tell him he could do the job in half the time with a six inch roller but maybe that's the idea.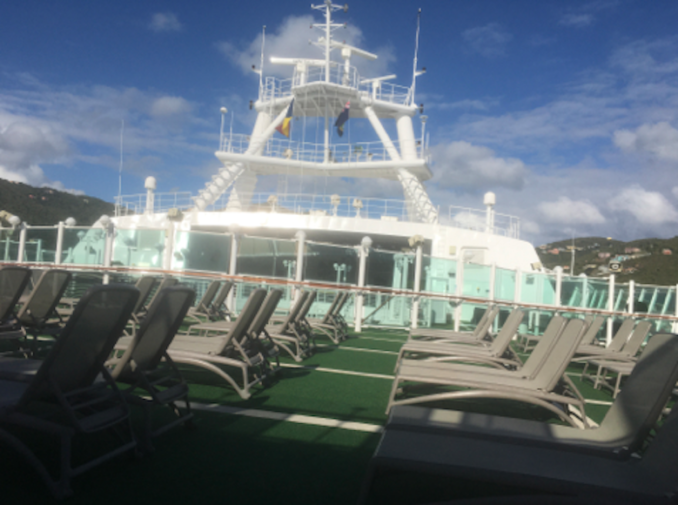 I'm off to stroll into town, do a bit of window shopping and find a bar for a beer before I walk back. It's a five-minute walk to get out of the cruise port and then 15 to 20 minutes to Road Town and I want to do it before it gets too warm. By the time I got into the shops, I was getting a little hot so I stopped and got a cold drink, no ice in drink, in a little place like this as you never know where the water comes from. A stroll round the shops, all expensive jewellery or perfumeries and cheap tourist tat. As it was beginning to get warm I headed back to the bar for a cold Red Strip before trudging back to Azura. I was gasping for a drink of cold water, fortunately I have plenty in the fridge.
Next it was lunch, hot dog and French fries today. There was hardly a soul around and there were loads of places to sit and waiters trying to look busy so service was excellent, but then when isn't it? I headed back to my sunny balcony to read, but soon found sitting in the sun, even with the protection of factor 30 sunscreen, I was beginning to fry so I moved into the shade. I must have nodded off for a few seconds because the next time I glanced at my watch it was 15:30 and I was parched. I made a mug of PG Tips and opened a packet of the biscuits that are on the cabin tea/coffee tray. Why do we have to have French cookies on a British ship? What's wrong with good old digestives or custard creams? Anyway, back to the book until it was time to shower away the Factor 30 before dinner. I stuck Sky News on the TV while getting ready, I know it's crap but it is the only source of UK news other than the ship's newspaper that is always one or two days behind. 150,000 positive Covid cases reported today, but the girl said it was a blip caused by a computer problem over the weekend. What was intriguing was that the number of people in intensive care was constant for the last 5 months and the number of cases in London was falling. Has this outbreak started to peak?
Off to dinner and I was put on a shared table for eight with exactly the same people as last night. I think the "hosts" on the restaurant desk are trying to compensate for the lack of Club dining. Prawn cocktail, medium rare sirloin steak and a coconut and lemongrass Panacotta. Excellent. I found a new bar this evening, the Planet Bar on deck 18 right at the ship's stern. Big windows giving a view out over the ships wake luminescent in the moonlight, an electronic wall of constantly changing views over world cities and landmarks, a man on a piano playing gently and DoomBar on draught.
Day 12 – Tuesday 4th January – At Sea
Some unpleasant reminders this morning that I only have a few days of my cruise left. A note saying that all passengers leaving the ship on Friday have to submit to an antigen test on Thursday morning or we can't set foot in Barbados. I wonder what happens if we fail the test? Then first thing Friday morning we have to be screened by Barbados Customs and Immigration in the big shed at the side of the boat in Bridgetown they call a cruise terminal. If previous experiences are anything to go by, a sweating immigration man glances at your passport and stamps it with an extravagant flourish to show how important he is.
Next came an envelope, filled with luggage labels, airline tickets and instructions. According to the instructions, my flight boards at 15:40 so I bet we leave the ship around midday. I'm glad I haven't wasted my money on a day cabin on leaving day. All this before I even headed down for breakfast (Rice Krispies, eggs, bacon and sausage, thickly buttered toast and coffee). I think I will see if I can pick up a copy of the ship's newspaper before settling down to my fifth book, another Chris Ryan. A follow up on the Danny Black thriller I finished before going to sleep last night. I lost count of the number of people killed in the last book but it has reached 114 by chapter two of the latest one.
Another pleasant morning in and out of the sun and the pool and consuming my book until it was time for a bit of lunch. I mustn't have too much to eat as it's a big black-tie do this evening with a multi-course meal. So I nipped into the buffet restaurant for a bite to eat and got myself a ham salad. I went back to the cabin so I could have a sit on the balcony and retreat indoors if I needed a snooze. I found a voucher for a free drink tonight awaiting me. The P&O Peninsula Club normally hosts a cocktail party for returning passengers who have reached a certain number of days at sea. This cruise there is no party, "because of Covid" and the free drink is an attempt to make up for it. I suppose it will save me having to buy a glass of wine with tonight dinner.
About 16:00 the captain came on the Tannoy to tell us we are going to make a short stop, for about 90 minutes, off the island of St.Lucia to swap over some crewmen. It seems that the Cunard ship Queen Victoria, is acting as a mother ship for all the Carnival group lines sailing the Caribbean and freshly arrived crewmen from all over the world isolate on her for two weeks before joining their ships. They will only take double jabbed sailors, as well as passengers, but some of them have had Chinese or Russian vaccines and they can't be too careful. We aren't actually going into port, the crew exchange will be made via ship's tenders. I wonder if the action will be on my side of the ship, Port, or on the Starboard side? Anyway, it's a good job the sea is pretty calm this afternoon.
Once again I was put on the same table for dinner this evening. I had my back to the window when suddenly the woman sitting opposite me nearly had a fit and pointed at the window. A ship's tender was being lifted into its davits and was swaying past. Everyone else had a quick glance and carried on eating and chatting. Tonight I had cream of cauliflower soup, smoked haddock and a trio of chocolate desserts which the waiter served with extra ice cream for everyone. They seem to have run out of the mini mince pies or Christmas rum truffles to serve with the coffee, tonight it was chocolate peppermint creams and jolly nice they were too.
Day 13 – Wednesday 5th January – St Lucia
It was cloudy and raining as we docked this morning in the early gloom, but by the time I got back from my early morning ablutions the rain had stopped and the sun was being to put in an appearance. The captain's early morning announcement said it was going to be 28° with the possibility of showers and we could venture ashore but we would all be given a white wrist band to indicate to the authorities that we had been double jabbed. Will this be coming to the UK soon?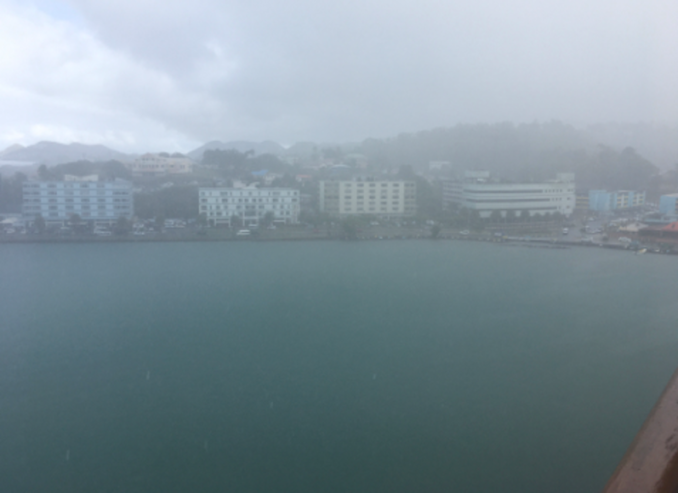 More instructions this morning, the first one the regular short note of where and when to assemble for the coaches to the airport on Friday. The second was a set of instructions 4 x A4 pages long of when and how to fill in the passenger locator form. I will study it after breakfast (Rice Krispies, 2 fried eggs on toast, buttered toast and several cups of coffee). Back on the balcony, where it is warm despite the sun being behind some dark clouds, I settled down to read the PLF instructions, it was a real idiots guide, but interestingly it basically says if you followed the joining instructions before the cruise which said to start filling in the form, don't try to reconnect to it as it is almost impossible. Even if you have a PLF account, forget it and make a one-off application. When you get the validation take a photo of it as you will need it at Barbados airport and the WiFi there is rubbish.
The only other ship in today is the TUI German boat, the Mein Schaff 2, it still says Gute Farht on its stern! I decided to take my morning stroll before settling in for a read and to start my packing, hold baggage has to be outside the door before midnight tomorrow for it to be taken to the aircraft for you. Otherwise you have to lug it yourself to check-in and I don't fancy that. However, it has started to drizzle so my walk is off for the time being, I think it's my book instead.
Well, the Captain was right we have had several showers today. Fortunately, I have been able to dodge them all. I walked to the shopping centre and had a look around and then popped in for a coffee and sat out front, under an awning people watching when a heavy shower occurred. Then I was on deck 14 having a burger at lunch time and it rained again, but I was under the overhang from deck 16. Then I was sunbathing on the balcony when it came over dark and rained again but I was under the shelter of the balcony above. I finished my book and started another so I am now on number 6 this time it's Robert Harris 'Conclave'. It was recommended to me by a friend who will be told if I don't like it.
I had a quick look on the internet, which worked for once, and I have 223 unread emails! A quick look at the subjects revealed that 90% were adverts, a few were jokes from a friend and the remainder were bills that get paid by direct debit. Nothing that can't wait until I get home. Then I checked my messages, the Little Girl Next Door's dad is offering to pick me up at the station and says the LGND is missing me and keeps asking how many sleeps is it till I get back.
I put Sky News on while getting ready for dinner and heard that Djokovic has had his Australian visa revoked for not being jabbed. Then that Kier Stoma is having to self isolate for the sixth time, allowing Bozzie to walk all over Crayons at PMQs. Stoma must know some dodgy people. Then a bit of good news the government is changing the rule from 0400 Friday morning so that people arriving in the UK no longer need a negative antigen test. As my flight lands at 0435 on Saturday morning, I now only need a Day 2 PCR test. They announced it over the ship's tannoy and I think the officer sounded a little disappointed. They had made all the arrangements to do the tests on board tomorrow morning at £18 a time. Now they are stuck with a load of unused tests, still I expect they will use them on the crew who get tested twice a week.
Joined my usual dining crowd for dinner, very pleasant conversation and good food. Tonight I chose tomato soup, corn fed chicken breast and roasted peach with meringue and cream (with extra ice cream). Most enjoyable. I think I will pop up to the bar and spend my £18 windfall.
Day 14 – Thursday 6th January – Grenada
Awoke this morning as we slipped alongside the jetty in Grenada. We left St. Lucia late last night and chugged very slowly to the nearby island of Grenada arriving just after 6:45 am. A lovely still morning with the sun just coming up behind the town. As the heaving lines were being thrown to the rope handlers, the church clocks all started chiming seven. I could see at least 3 churches and the bongs of the clocks were all a different tone, a different rhythm and a bit out from each other. The town bus station is dead opposite my balcony and the ground floor is busy with minibuses bringing in the workers from all over the island. However, the top floor is hardly in use, I can only see a few passengers and 3 minibuses at stands.
The last full day of my holiday so I shall have to do my packing later. It is always easier packing to go home as you can sling the dirty clothes in the case and not worry about things getting creased. I also have to fill in my PLF. It can wait until after breakfast and my walk into town, when there is supposed to be a lounge put aside with good Wi-Fi, I shall see.
The officer of the watch came on the Tannoy at about 07:45 to say that we were safely tied up, formalities had been cleared and we could now go ashore. Then he announced that if you were on a organised tour they would be departing as previously published, but the island government had banned independent travellers and if they wanted to go ashore they would be limited to the confines of the cruise port. I bet the taxi drivers and the local shops are up in arms. Well, that means I could only visit the tiny terminal building with its rip-off shops and bars. Bang does my walk around the market and a beer in a local bar, I think I'll stay on board and sort out my PLF and packing.
It was a grumpy old WG who headed down to breakfast. The cheery waiters and my usual Rice Krispies and coffee soon had me in a better mood. By the time I had finished two fried eggs, bacon and sausage, buttered toast and 3 cups of coffee, I was much happier, then I realised I had forgotten my pills, so had to head back to the cabin for them. The girl had been in and cleaned the cabin, restocked the towels and made the bed in the 45 minutes I had been missing. There was also a note from P&O on the bed reminding me I didn't need to go for the antigen test. A bit late as it was well past my appointment time of 8 o'clock!
Well, what a farce submitting a PLF. God help any little old ladies who are not tech-savvy. The ship has set up a special free Wi-Fi link that only works with the Gov.UK web site but it is impossible to use it as it is overloaded and crashes every minute or so! A load of people have gone to a bar in the terminal buildings that has a very strong free Wi-Fi signal if you buy a drink. Instead, I tried the free Wi-Fi package I had and got through immediately. However, filling in the form took me nearly an hour and at the end it says did I want to be sent an email with a PDF of the completed form, so I said yes. I got the email OK but no PDF attachments. I read the small print at the bottom of it and it said, "If you are using an iPhone or iPad, due to security settings the PDF will not be available." Great.
Back in the body of the email, there was a link back to the PDF. So I thought right I'll screenshot the 6 pages. Have you ever tried doing a screenshot on an iPad Pro? It entails pressing 2 buttons at the same time and then releasing them at the same time, not easy. Still, I got the first two pages done before my iPad decided not to play ball and kept turning itself off! So I thought what else can I do? I know, take photos of the pages using my iPhone. This was a success. Then a man said to me you only really need the first page as that has a QR code which is all immigration need if you are the unlucky 1 in 100 to be stopped and questioned. Still, I've got it done and only 1 1/2 hours wasted when I could have been enjoying the sun. Now it's off for a hot dog lunch before wasting more time packing.
Well, I must say packing to go home is a doddle, you just throw everything in the suitcase not worrying if it gets creased as it goes in the wash at home! Remembering to leave out stuff to wear this evening and tomorrow and a few things like pills, iPad, Kindle, pullover, jacket and spare face masks to go in my carry-on bag. I reckon it took me 45 minutes tops. I can now have a read in the sun and possibly a nap. Last couple of items to shove in the case after dinner tonight and it can go outside my door well before midnight. That leaves Barbados immigration at eight tomorrow morning as the only formality, I hope.
When I joined my usual table for dinner this evening, there were very few diners in the restaurant. The head waiter said that the ship's internal internet was down and he thought that meant lots of passengers hadn't turn up because it was currently impossible to make a booking for dinner. Everyone on our table had booked yesterday so we were unaffected. Just as we started our main course the head waiter walked over and told us the ship's internet was back up and the restaurant reception desk was reporting a rush of bookings. By the time we left there was a queue of people waiting to be shown to their tables. Tonight my starter was a double-baked crab soufflé, followed by medium-rare roast beef, Yorkshire pudding, roast potatoes and four vegetables while dessert was rhubarb and ginger crumble and custard. It was completed by coffee and chocolate lemon creams. I didn't leave a scrap on my plates.
A couple of beers in one of the bars (the one that sells DoomBar and Thatchers Gold) with my table to say farewell to them before heading to the cabin. I put the last couple of things in my suitcase and it was outside my cabin door about 23:00 well before the midnight deadline. I heard it being collected about 5 minutes later, the trolly being used squeaks like mad,
Day 15 – Friday 7th January – Barbados and Home
The boat was moving about a bit in the night, more than at any other time in the last fortnight, I wonder if anyone was seasick? We slid gently into Bridgetown at six am passing a container ship that was being unloaded and crept up to our berth. By six-thirty, the rope handlers had the ship secured and the crew leapt into their well-oiled routine of getting the gangways out tarted up with Azura awnings. As I watched, a ship's officer and two lackeys carrying bundles of paperwork walked up to the immigration office in the converted warehouse that passes for a cruise terminal. However it was still locked up and it was 15 minutes later that the first official arrived. Nothing happens quickly in the West Indies.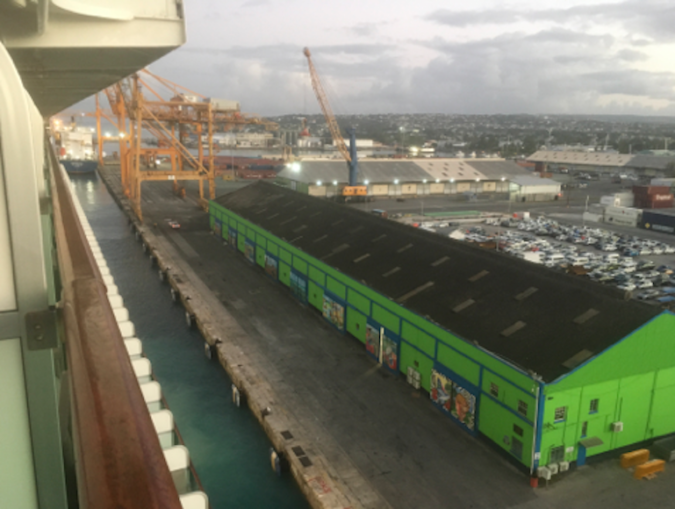 My time for Barbados immigration is 08:00 to 08:30. I expect they might have got the paperwork sorted by then. I intend to be at the start of that time period as I want to leave my hand baggage in the cabin while I see immigration then come back and pick up my stuff before breakfast. I am supposed to be out of the cabin by 09:00. If I have a leisurely breakfast I won't have too long to hang around before gathering in the lounge for the buses to the airport. We are supposed to be leaving the ship at 12:40. My flight is the first out of three today.
I hear they expect 1800 passengers on board for the next cruise what with the people flying out from the UK and those who have taken up the offer of a cheap second fortnight. With the numbers going down with Covid in the UK, I somehow don't think they will make that many, but I doubt I will ever know. Sailing with the ship only a third full has been a pleasant experience, the service on board has been excellent and it has always been possible to get a seat or lounger even on sea days. Mind I can't see P&O making a profit with so few paying customers on board. I wouldn't mind betting they have been advertising cheap deals like mad in the media while I have been away. P&O have wasted no time in settling my onboard account, the statement of my spending was delivered to my cabin overnight and the credit card already charged. They seem to have finally sorted it out and I owe £45.30 after my rebate and cabin credit.
07:15 and an army of dockers have arrived with half a dozen forklift trucks to move the luggage onto trucks for the airport, while another group put up barriers to guide people into the immigration check. 07:20 the men turn up to replenish the ship's water by setting up two hydrants and hoses. 07:25 the first luggage truck has arrived, followed swiftly by the first chilled container of fresh food and several car loads of immigration officers. More dockers arriving on their bikes and two more fork lifts but no unloading is underway yet.
Immigration took about 30 seconds, once you had walked down one gangway, across the dock and into the terminal. The immigration officer asks people to hold their passport, open at the details page, against the plexiglass screen and ticks you off on a paper list and that was that. Over to another desk where you collect a paper pass that reads, "I have been through Barbados immigration". The only stupid thing is that to get back on board you have to go through a metal detector and have the contents of your pockets X-rayed. I'm not sure how they think you have picked up contraband while in a sealed-off shed.
Up to breakfast, Rice Krispies followed by two fried eggs, bacon and hash browns then toast. By the time I took a seat on the promenade deck to wait for my bus to the airport, it was 09:45 so I only have 3 hours to waste! Looking over the side, the trucks collecting the luggage have all gone and have been replaced by 4 x 40-foot containers of fresh food. However, dozens of rolls of new carpet and underlay are being unloaded, looks like someone has over-ordered and it looks like a couple of hundred new TV sets are being loaded on board. There go the ship's Christmas decorations all boxed and bagged up and going into the container the TVs were in.
We gathered in the lounge as directed and were called to disembark. A short walk along the dockside to the waiting coaches where I was asked if I was traveling on my own. When I said yes I was asked to wait a moment until I was joined by a single lady of about my age. We were then led to a BMW taxi for our ride to the airport. We shot off and beat all the coaches, At the airport the P&O staff glanced at our boarding cards before directing us through a metal detector and X-ray machine. This time we even had to put our shoes through the X-rays.
I checked the departure board and our plane was already on the apron having arrived early and was set to depart on time. We pushed back bang on time and I settled for a 7 hour 20 minute flight, according to the pilot. We were served free drinks as soon as we took off followed by a roast chicken dinner that was accompanied by a half-decent red or white wine. I then had about 4 hours sleep only to be woken up when the lights came on when a hot breakfast was served. Omelette, sausage, mini hash browns and baked beans, with orange juice and tea or coffee.
We landed bang on time at 04:35, went through the automatic passport readers into the baggage reclaim where, despite being the only arrival, we waited 75 minutes for our luggage. Through the green channel where there was not a customs officer to be seen and out onto the shuttle to the station. A forty-minute wait for a London train as the next one was cancelled but I caught the 07:41 and there were only 4 other passengers in the carriage. Again bang on time into Euston and I grabbed a cab to London Bridge as the Worthing trains are departing from there today. The cab dropped me with 4 minutes to spare for the next train and I jumped in the last carriage and found I was on my own!
Finally, I arrived in Worthing at 10:10 grabbed a taxi and was home by 10:25. My day two PCR test was awaiting me so I have done it and posted it in a priority post box. I am now officially in quarantine until I get the result probably on Tuesday knowing the state of Royal Mail. All in all a lovely holiday even if the paperwork and masks have been an absolute pain in the posterior.

© WorthingGooner 2022