Being single and with no very close family, Christmas is not an easy holiday. I get invited to stay with cousins, but I have often felt like an outsider as they all have children and grandchildren of their own who I hardly know, only meeting at christenings, marriages and funerals. If I stay at home, I suffer awful TV programmes and have the choice of eating alone, booking a restaurant or accepting a lunch invite from well-meaning neighbours. Some years ago I decided the answer was to go away on holiday. I looked at hotels in the U.K., but thought if I stay in the U.K. the weather is likely to be bad. So, I started looking at going to a hotel in the sun.
Where should I go? Spain and Cyprus were looked at and dismissed. I started looking at the Caribbean and had almost settled on spending Christmas and the New Year in Barbados when I thought about a Christmas cruise. P&O usually station two ships in the Caribbean over the winter and offer fly cruises from several U.K. airports to Barbados where you join and leave the ship. I had done that trip several times before when my mother and brother had been alive. But it had never been at Christmas, always in November or March and I had loved it.
I looked at Christmas cruises and found I could fly out on Christmas Eve, join the P&O Britannia in Barbados, spend Christmas and New Year sailing from island to island, eating, drinking, enjoying the hot sun, catching up on my reading, having my cabin cleaned and bed made. It was not cheap but I booked and it was fabulous. I met some lovely people. The food was amazing. I went on some tremendous excursions, I wandered around some interesting towns, drank rather too much cold beer and rum punches and was sorry to fly home.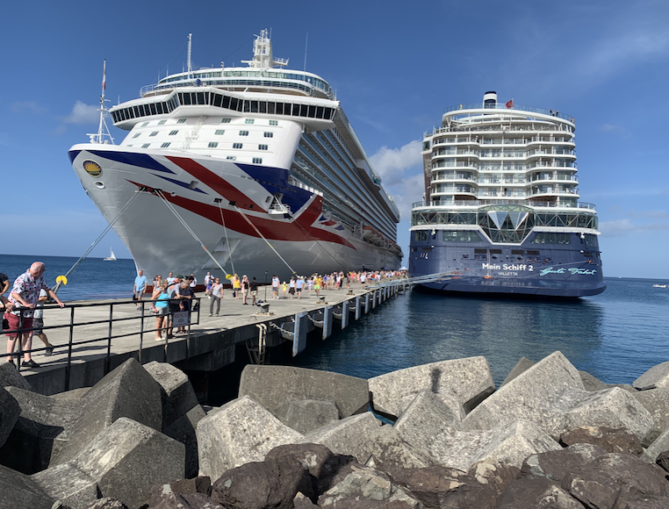 That was Christmas 2019. I booked again for Christmas 2020 but it was cancelled 'because of Covid'. I rebooked for Christmas 2021. This time on the slightly smaller P&O Azura as I could fit both Christmas and the New Year. I couldn't go on Britannia, the two-week holidays were timed for either Christmas or the New Year but not both. Once again it was fabulous.
On returning home I immediately looked at booking for this Christmas / New Year and found a bit of a problem. P&O are to welcome a new ship into its fleet, Arvia a sister to their largest ship Iona and were having a shuffle around of ships. Britannia was staying in the Caribbean but, as the previous year, I couldn't at that time book for a holiday that included both Christmas and New Year. The Azura was moving to the Med and doing fly cruises based on the Canaries. OK but not quite the Caribbean. Arvia was arriving in early December and doing a maiden cruise from Southampton to the Canaries and then a repeat cruise over Christmas and the New Year before joining Britannia in the Caribbean in January.
I tried to book on Arvia for the Christmas cruise to the Canaries but a year in advance it was already sold out. The girl at Cruise118 could offer me a fly cruise on Azura but I didn't fancy that. I really wanted the hot sun of the West Indies but the dates just didn't work. Suddenly she said have you considered a longer cruise, the Ventura (sister ship to Azura) leaves Southampton for the Caribbean on 1st December returning on 5th January the following year. Thirty-five nights on board visiting Madeira on the way out, twelve Caribbean islands and the Azores on the way back.
There followed a discussion on price. Initially I thought, I can't afford this, the brochure price was rather large. But as a previous cruiser with P&O I got a 10% discount from the cruise line. Then Cruise118 chipped in with their discount, I also got a £250 cabin credit, and free parking at Southampton. Suddenly it was affordable for a single balcony cabin. I was on the verge of booking when the girl said, "I wonder how much more a double balcony cabin for one is?" After listening to the click-clack of her keyboard for a while she said, "Would you believe we can do that for an extra £20," and that is what I booked.
Every so often though the year I have received emails from P&O counting down to 1st December saying things like 'only 40 weeks to go, have you booked your excursions yet?' They also reminded me of the companies ever changing Covid policy which has been made simpler as the year progressed. Initially, it was fully vaccinated, a PCR test and a 'Fit to Fly' certificate, but I was confident this would be relaxed as the year passed. Last week it changed yet again, I wonder if for the last time? I now need to have had both initial vaccinations and a single booster (which I had last Christmas) and to take a home Lateral Flow Test in the 48 hours before 1st December. To prove this you had to do a LFT and take a photo of it including proof of date and the photo page of your passport. As if that wasn't open to fiddling.
With a week to go, I have booked my excursions; I have started to assemble my stuff for packing. Just how much do I need for 35 nights? How many suitcases do I need? (I can take as many as I want provided none weigh over 28 kgs. Can I get everything in one case if I make use of the ship's free laundrette? You have to supply your own washing powder. So I have purchased some 'washing sheets', dissolvable sheets of washing detergent that are easy to pack and light to carry. My aim is to get everything into one case but I have a second smaller one on standby!
Then of course I had cards to write and presents to buy and wrap. It seemed very odd to be doing this in November but in some ways it was good. I avoided the Christmas rush and I managed to get everything I planned to buy. My cards were posted in mid-November with a note scribbled in each explaining why I was so early. My parcels are all bought. I have wrapped and sent those that have to be posted, luckily avoiding the Royal Mail industrial action. I have organised a couple to be delivered by the selling company. I still have to wrap a few things including the LGND's presents. I will drop them in the day before I go. She is going to be an angel in her class nativity play and she wanted me to come and watch her but I will be at sea, so I have had to disappoint her.
A week to go and I am nearly there. I have started a list of things I still need. At the moment it only has one item; a new face cloth. P&O used to leave them in the bathroom but they have stopped that as well as the chocolate on your pillow each evening. Still, I understand that if you ask your cabin steward for a face cloth they are still available, but I think I prefer my own. One other thing I have just thought of, I must remember to cancel the papers. The LGND's mummy has already asked if she can make use of my fridge while I'm away. She is expecting a crowd on Christmas Day and is worried she won't have space for everything she needs.
I am sorry that Larry's Diary will be taking a break while I am away. However, Jinnie's Story will be continuing. Swiss Bob has all 32 chapters of the current book four and the last chapter published was number 18 so that's 14 weeks to go at the current rate of a chapter a week. I am well on with book 5, chapter 24 is nearly complete. I have promised to send him the first 10 or 12 chapters before I go away so that if he gets really short of contributions he could publish 2 chapters a week.
Well, I think that's my preparations detailed. I can now sit back and watch the World Cup on TV and pick up this tale on 1st December when I head to Southampton. Oh, I didn't mention I have printed off my luggage labels, and boarding pass. God help the little old ladies and the computer illiterate who don't have a computer and colour printer. I have been allocated a 13:30 boarding time so I hope it will be a nice easy morning and I will still be in time for a light lunch after boarding.

© WorthingGooner 2023