In this instalment of Mystery Album, some of our wealthy mystery family are off for a walk in the Swaledale countryside. While the ladies are elsewhere doing lady things, stout shoes (rather than walking boots) are the order of the day. One stick may be shared between four walkers. Three are posing and one taking the photo, remember.
No matter what the weather, collars and ties are worn. Dispensation is allowed for one of the party to remove his jacket. Plus fours held up by braces adorn the lower limbs. Further north, plumb line partings and swept-back hair decorate the top of the head.
But I don't know where they are.
Judging by the steepness of the landscape and possible mine workings on the right-hand side, it might be well up Gunnerside Gill or Gunnerside Beck. Above the tree line, notice the dry stone walls, one in the distance at an angle. A wooden fence approaches the force after which a chain sags across the tumbling water. The pool in front of the falls is deep enough for a swim.
Up towards the tops, we reach grouse shooting moor which in the 1920s was Peel family land. Your author is agnostic when it comes to country sports. Not really a twin-bore type, he prefers to be indoors and out of the weather shooting at targets. He has shot wildlife (or rather shot at it) with little effect, doing more harm to his shoulders and ears than to furry or feathered things that dwell in field, moor or marsh.
As for the present-day Gunnerside Estate, The Field describes it as the obvious venue for grouse shooting were it an Olympic sport,
Half-marathons have been run in the time some drives last on this trophy estate of more than 30,000 acres. It has been described as a Highland estate in England. The shooting is exhilarating across a breadth of moors and the low ground shooting is worth texting home about – if you can get reception. A mighty fine lodge, too
The Tatler adds,
[The owner's] love of the sport and his considerable funds have meant he has created probably one of the finest grouse moors in England. Known for its challenging birds and its incredibly professional team of keepers, Gunnerside is a serious success story. If you are lucky enough to be invited say yes instantly.
In the 1920s, the Peel family were the big local landowners, and still are albeit further down the valley, but the lion's share of the Gunnerside Estate has been sold for an eight-figure sum. Controversially, it is owned via a company in the British Virgin Islands, and even more controversially it attracts taxpayer-funded subsidies.
Via the BVI vehicle, the landowner is the interesting Mr Robert Warren Miller. This largest single piece of offshore-owned land in England has attracted the interest of Private Eye magazine.
The Eye tells us that 87-year-old Mr Miller is a UK citizen but at the time of publication was non-domiciled and residing tax-efficiently in Hong Kong. As a non-dom, the Eye thought Mr Miller well placed to benefit from inheritance tax breaks and suspected no stamp duty will have been paid when the estate was acquired.
The Eye calculates a decade's worth of EU subsidies to have been worth E430,000 but were unsure of the precise structure of the companies involved because they are offshore.
Although Private Eye received no reply from Mr Millar in response to their requests for information, your humble author is a bit more of a schmoozer and is better connected than the oiks at Ian Hislop's Carlisle Street flaccid organ. Added to which myself and Robert Millar have mutual friends – just.
The retired Quincy, Massachusetts businessman made his money through DFS. In this context, not Discount Furniture Stores or even Desperate For Sex, but Hong Kong based money making gold mine Duty Free Shoppers, a high-end retail business sold for a cool $2.4 billion as the colony was handed over to China in 1996.
DFS started in 1960 as Tourists International with Robert in partnership with the frugal Chuck Feeney. A friend who was in Honkers about the time of the handover, tells me that Mr Feeney was famed for his parsimony.
He travelled everywhere second class, wore a $10 watch and, rather than waste money on photographs and frames, Googled his family and friends, printed out their likenesses with his inkjet printer and stuck them to his modest rented apartment's living room wall with Blu Tack.
What did he do with all the money he saved? Steven Bertoni of business magazine Forbes explains,
It took decades, but Chuck Feeney, the former billionaire cofounder of retail giant Duty Free Shoppers has finally given all his money away to charity. He has nothing left now — and he couldn't be happier.
Chuck is known as the James Bond of philanthropy. If you've ever visited A&E in Vietnam, admired the new builds on Roosevelt Island, or benefitted from an anger management course in Northern Ireland – thank Chuck.
Mr Warren and his wife, the slightly younger Chantal Pesantes Becerra, are the proud parents of three daughters. They married well. Pia's husband is one of the Gettys. Younger sister, the nice to look at Marie-Chantel, Crown Princess of Greece, is married to Pavlos, Crown Prince of Greece, a cousin of the late Duke of Edinburgh as well as a New York hedge fund entrepreneur and accomplished bluewater yachtsman.
The third sister is Alexandra von Fürstenberg, previously the wife of the confusingly named Prince Alexander von Fürstenberg, American scion of the von Fürstenberg global luxury lifestyle brand.
As regular readers must realise by now, in much the same way that '42' explains life, the universe and everything, so does our 100-year-old mystery posh family's mystery album.
Listen very carefully, I will say this only once.
In 1996, DFS was sold to luxury goods empire LVMH, whose brands include Louis Vuitton, Dior and Tiffany & Co. The proprietor is Bernard Arnault, the father of Delphine Arnault, partner of telecoms billionaire Xavier Neil and mother of his daughter. Mr Neil is part owner of Le Monde newspaper, France's publication of record.
Mrs AWS's friend's Godson being a journalist at the pale Gallic imitation of Going Postal, in 2016 your humble author found himself the French organ's Mr Brexit in much the same way that Mr Simon Calder is London media's Mr Late Trains & Cancelled Flights.
My connection to the plutocrats.
As for Gunnerside Lodge, it lies a mile to the west of Gunerside village, on the north side of the River Swale along a secondary road and just past Shore Gill. Built on a raised stone platform, it allows magnificent views of the valley in all directions while facing slightly to the southeast.
At the front of the property are lawns, at the rear a tennis court cum car park. Before the lawns, distinct square fields with individual cow houses fill the valley down to the river.
According to Yorkshire-dales-fly-fishing.com, the Swale is reputed to be the fastest flowing river in England. Its name is thought to derive from the Anglo Saxon word 'sualuae' meaning rapid and liable to deluge. The rocky flow makes the waters an ideal habitat for brown trout with grayling present in large numbers too.
The Reeth And District Angling Club currently lease the fishing around Gunnerside village on that part of the Gunnerside Estate. Fishing costs between £20 and £40 a year. The successful fisherman is allowed to take home up to two fish a day, not less than 10 inches from fork to tail. I know nothing about fishing, like the proverbial scaly thing with gills, I am now well out of my water. Therefore, I shall leave you with a selection of hundred-year-old photos of fishermen and of the encampment they constructed to help them with their purpose.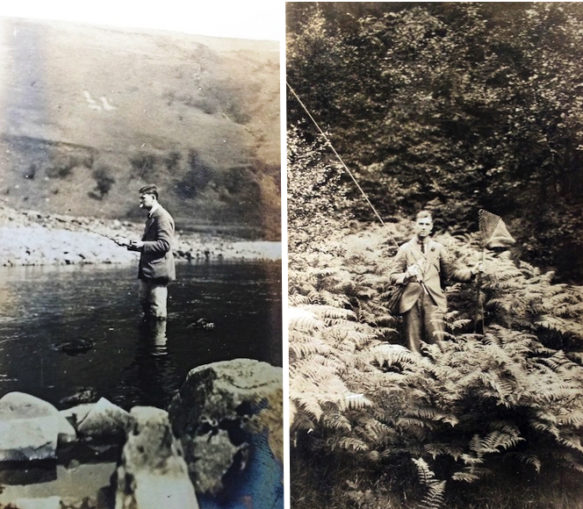 © Text and photographs unless otherwise credited 2021 Always Worth Saying