Day 4 – Wednesday 29th June 2022 – At sea
I woke up and struggled to focus on my little clock, 07:30, late for me as I like to breakfast at 8 o'clock. Anyway I made it for a few minutes past and the receptionist put me on the same table as yesterday morning where I was quickly joined by a couple, then a single lady and then another couple whom I had breakfasted with on Monday morning. I had my normal Rice Krispies, followed by a 'P&O Breakfast', fried egg, bacon, sausage, hash browns and black pudding, I left off the grilled tomatoes – not my favourite. As it's a sea day I think I shall find a sunny spot on deck with my Kindle, out of the breeze, until 11 when I might attend the Facebook group meet in the Sunset Bar.
Well I found a decent spot on deck and settled down with my Kindle. It was quite warm and the surprisingly large number of children on board for a term time cruise were making full use of the pools. I couldn't help but notice that there are already a lot of sunburnt bodies, some of which look pretty painful. The Facebook group for the cruise add organised a get together for 11:00 in the Sunset Bar and the couple on my dinner table, who were also group members, talked me into going so I headed along to see what was happening. There were a lot of people in the bar, but as it is one of the few places on board where you can smoke that is often the case. Well, I recognised the couple I knew and the lady who had set up the group but apart from them and 3 others who spoke to us that was it. 273 members of the group and only 7 bothered to turn up!
After the meeting it was lunchtime and today I decided to change things around and had a cheeseburger! After lunch the sun had reached my balcony so I headed there to read. I finished my first book and started another, good job I have plenty loaded on my Kindle. A lovely, easy afternoon on the balcony shifting between sun and shade, with the occasional doze mixed in.
On my way to dinner I wandered around the shops. I have spotted the chocolate requested by the LGND, a giant Kinder bar, the wrapper of which is a colouring picture. It's not as expensive as I expected so it's either a cuddly colourful unicorn or a P&O Cruises colouring book. I will have to decide later. Dinner was again excellent, apricot terrine with salad, roast lamb and bread and butter pudding with custard. There seems to be a traditional British dessert on the menu every evening and jolly good they are too! Just time for a night cap before bed.
Day 5 – Thursday 30th June 2022 – At sea.
I awoke at about 7 o'clock and could see land through my balcony doors. My cabin being on the starboard side of the ship I knew it had to be North Africa and that we were in the Straits of Gibraltar. The sun was just coming up and there was a pink glow over the land. The sea was like a mill pond, but a very busy mill pond as I could see at least half a dozen tankers and container ships heading, like us, into the Mediterranean. By the time I had washed, dressed and got on deck we were just coming upon Gibraltar on the port side, pity the Rock was cloaked in early morning mist.
Back to relax on the balcony, get this postcard up to date and a little more reading.
For the third day running I was on the same table for breakfast where I was initially on my own. I had hardly sat down when the waiter arrived with the coffee pot and said, "White coffee as usual sir." Then he asked if I was going to have Rice Krispies and the P&O Breakfast again! It is nice to be remembered, I was joined by a couple from the last two days, another single lady and single man who had suffered a stroke some years ago and couldn't use his left arm and leg but he managed extremely well. Then the waiter from my fixed evening table came across. Apparently the single lady and the single man were on the same table as me but for first sitting while I am on second sitting.
A very gentle day at sea, but it's lucky I'm not one for baking my body on a sun lounger all day by the main pool as the towels were down by 08:00. I much prefer a comfy seat in the semi shade by the adults only serenity pool. No screaming kids or loud music, bliss and a waiter on hand when a drink is required. I strolled over to the snack bar for lunch and had what is fast becoming my regular lunch of hot dog and chips. Before popping back to my cabin where the balcony was in half sun. Perfect for me to sit and read and doze.
Almost before I realised, it was time for a shave, shower and dress for dinner. Tonight is a formal evening so it's dressing up in all the good gear! The menu was excellent this evening, amuse bouche to start (Greek yogurt and apple juice). Then a choice of 6 starters. It was a toss up between the wild mushroom tartlet or the prawn cocktail and the mushrooms won. Next was a choice of cock-a-leekie or minestrone soup. I went for the Chicken. The main featured, beef Wellington, rack of lamb and cruste turbot plus other things I can't remember but included the regular vegan offering, I went for the turbot and it was superb. Nearly everyone went for cherries jubilee for their dessert, but not me, I just had ice cream. As usual a nightcap in the Crows Nest Bar and bed.
Day 6 – Friday 1st July 2022 – Valencia.
It is overcast here in Valencia but warm. It's forecast to be like this all day, but no rain. As it's a port day all the restaurants open for breakfast 30 minutes earlier than on sea days to accommodate people going on excursions. I have booked a half day panoramic tour having never made it to Valencia before.
Going into breakfast I was seated on a different table from normal but I was soon surrounded by the four of the people I have eaten breakfast with the last couple of days. It seems that the normal breakfast tables waiter was on a day off! Of course I had Rice Krispies and a P&O Breakfast and was ready in ample time for my coach trip. Valencia is a strange city, some is ultra modern like the science area with a planetarium and science museum shaped like a whale's skeleton and some really old like the cathedral that was originally a mosque when the Moors ruled most of Spain.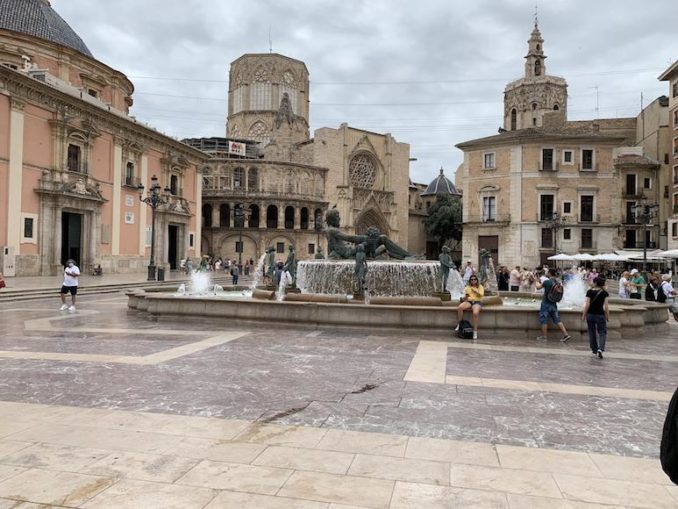 I got back at 1 o'clock, just in time for lunch and for a change I decided not to have a hot dog. Instead I ventured into the buffet restaurant for a change and had pâté, hard boiled egg and salad. There was plum cobbler and custard for dessert and it was going like hot cakes. Not being a pig I just had my salad. Now it's back to the balcony to see if I can get on the ship internet this afternoon. It is extremely patchy and will last for a bit and the throw a wobbly. It's Jinnie afternoon on GP and I would like to read the story, it's so long since I wrote it I need reminding of what comes next! Then I think it will be relaxing on the balcony, I might even venture back to the buffet later for a cup of tea and a cake. Dinner isn't until 20:30 and that's ages yet without food.
It was a casual dress evening tonight, but this means trousers and an open neck shirt for men, no shorts or flip-flops for men or women. As I arrived to join my table a man dressed in shorts was being turned away. He was arguing that they were 'dress shorts' and he had worn them on a Royal Caribbean cruise. I heard the restaurant manager say, "Well they are not acceptable on P&O, if you return suitably attired you are welcome to join the rest of your party." I was past them and heading for my table so I don't know how hard the man argued but I saw him later wearing long trousers.
Five out of seven of us went for a prawn cocktail for our starter this evening, it is really very good, comes with a fair serving of prawns and even the buttered crust-less brown bread is lovely. I followed that with roast pork, roast potatoes, stuffing, peas, carrots and parsnips. Absolutely delicious, the pork was really tasty and melt-in-your-mouth tender. The 'British dessert' tonight was summer pudding, served with scoop of vanilla ice cream. Summer pudding is not something I enjoy so I went for the ice cream option, a mixture of vanilla and salted caramel. Only 3 courses on the menu tonight but I enjoyed them all, I must say the food on board has been excellent.
Day 7 – Saturday 2nd July 2022 – At sea.
I awoke at about 06:45 just as it was getting light outside. The sea is calm and the ship is not in a hurry today, it is chugging along at fuel saving speed. Another different table for breakfast but I think they like to put the same people together! Anyway I enjoyed my Rice Krispies and P&O Breakfast (fried egg, bacon, sausage, hash brown and grilled tomato) washed down with many cups of coffee (they are only tiny). I wish I knew who's idea it was to put 3 individual pots of preserve (orange marmalade, strawberry and honey) on a table for 6. Every morning we have to ask for more marmalade!
I wandered off to a presentation on the new P&O ship Arvia. It was very interesting and it looks to be a beautiful ship. The presenter asked if anyone had already booked to go on it and 3 people, including me, put a hand up. One lady was on the maiden cruise to the Canaries in December and a couple had booked to go on a Caribbean fly cruise in February 2023. Then he asked me and I could tell him I was on a Western Mediterranean cruise out of Southampton in June 2023 and a Christmas/New Year fly cruise for 23/24. At the end of the chat he promised every cabin at the presentation a P&O bag but he had run out by the time I was leaving with a couple I know. He said to come along to the Future Cruise booking desk later where he had a pile of bags. So I am now the proud possessor of a P&O cruises bag which I may take with me at Christmas as I don't think I will be using it to put my Tesco shopping in. I suppose I could always donate it to Swiss Bob, along with a pair of P&O slippers as competition prize!
I headed back to my cabin, where the sun was on my balcony, to read for an hour before lunch. I have now finished my second book and started number three. I walked down to the pool area fully intending to get a hot dog and chips, but there was something going on on the pool stage with half a dozen people peddling furiously on exercise bikes, a girl shouting at them and painfully loud music. Not for me, so I strolled into the buffet and picked up beer battered cod and chips and a cup of tea. Sitting eating it I suddenly thought of Aljnr's concoctions. I was sorely tempted by jam roly-poly and custard but I mustn't be a pig! Now it's back to my third book and possibly a snooze.
According to the info on the TV we have slowed to 10 knots, I guess we can't get to Toulon before our allotted time. The sea is like a mill pond and it is really quite warm with hardly a breeze. I desperately need a shower to get rid of this suntan cream. Ah that's better, nothing beats a nice warm powerful shower. Now it's time for dinner. Tonight's offering as selected from tonight's menu by me was vegetable soup, lamb shank and lemoncello panna cotta. Very, very, nice, I am a sucker for a lamb shank with the meat falling off the bone. A couple on the table had been so impressed with this morning's talk on Arvia that they announced they had booked for 11th June next year. I had to tell them I am on the same trip!
Day 8 – Sunday 3rd July 2022 – Toulon.
I woke up about 06:45 as we were edging into Toulon. Well not really, we are actually the other side of the bay in at the cruise terminal in La Seyne. There is a free ferry service across to Toulon town and port proper where a number of French warships are tied up including their aircraft carrier. It is sunny and very warm, expect 85°F today was the warning. Anyway I want breakfast before venturing out. Rice Krispies followed by 2 poached eggs on toast and bacon today.
I took one look at the queue for the ferry into town and decided that wasn't for me. Instead I looked at my little map and set off on the 20 minute walk to the nearest beach. Quite delightful, quiet and sandy. I found a little cafe for a cold one and then grabbed a taxi for the short ride back to the boat and lunch. I made myself a prawn and egg salad today with grated carrot, tomato, lettuce and cucumber that should keep me going until afternoon tea! Mind I just watched a fat woman consume a plateful of meatballs and spaghetti with a side of chips, now she has three desserts and an apple lined up. I guess she thinks the apple is healthy!
According to my Kindle I am 38% of the way through my 3rd book so I might just have to sit on the balcony and read a bit more until I get too hot and have to retreat to the shade, it is very warm out there today. Heck it's warm out here, even in the shade, I need a cold beer, it's off to the Crows Nest bar where the chairs are extra comfy, even Larry the Cat would approve!
Next on the agenda is a shave and a shower in plenty to time to recover from all the effort before dinner. Nice menu tonight, well it suits me. Mushroom pâté starter, then slow cooked rump of beef with crushed potatoes, carrots, cabbage and mushrooms, the beef was tender and very tasty. Then tonight's British dessert apple crumble with custard. Of course the waiter brought extra ice cream. Back to the Crows Nest for a nightcap. This particular bar is about 50 feet from my cabin, nice and convenient to get back from after a beer or three.
In Part 4 – Two days in Barcelona.

© WorthingGooner 2022