The Road goes ever on and on
Down from the door where it began.
Now far ahead the Road has gone,
And I must follow, if I can

J.R.R. Tolkien, The Fellowship of the Ring.
In Part Two, I regaled you with the delights of a holiday on the beautiful Hafod Estate in the Ystwyth Valley. This lovely break intervened between having sculptor Tony Meadows create a Jesmonite sculpture of our linked hands, an original piece of art we had commissioned to celebrate our 10th wedding anniversary, and going to collect the finished piece.
Our idyll was over, and my sister and brother-in-law left the cottage first, to begin to wend their long way home to the South East of England. It was sad to see them go, but we'd had a marvellous holiday, and an exciting day awaited us. Just how exciting we, thankfully, didn't know! We had a last check round, bid a fond fare-thee-well to Pwll Pendre cottage, locked up and hit the road.
The first stage of our journey, from Cwmystwyth to Rhayader, we knew well. One of our favourite routes, the road winds through a deep valley carved by the River Ystwyth, with steep slopes and escarpments either side, and plentiful evidence of mining activity. The mining here was primarily lead, but with some silver and zinc mining too. The lead was extracted as galena ore and, at the Cwm Ystwyth Mine, this ore benefited from a high silver content. Mining here has a long history, with workings dating from the Early Bronze Age, right up to its decline in the late 19th century.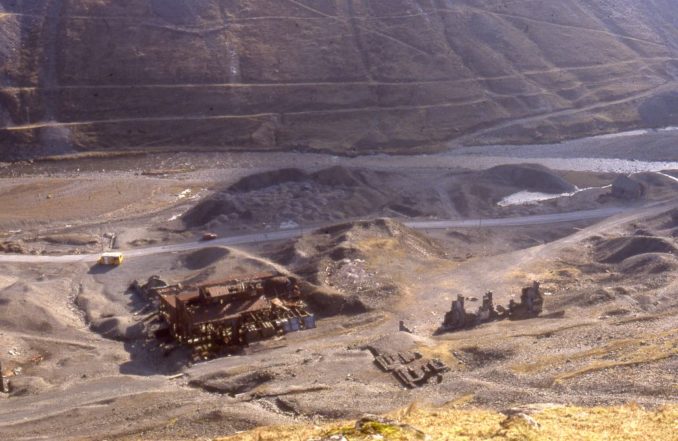 Now a Scheduled Ancient Monument, the enigmatic remains of buildings and structures line the hillside quite close to the road, and heaps of mining spoil are piled high towards the river. This was not a place for those lacking in courage, like much mining. It's thought that the average age at death at Cwmystwyth was just 32 years, primarily due to acute lead poisoning, but there was often little else for a man to do to support his family.
The contrast between the bustle and noise of the mine at its peak in the 18th century, with the attendant dangers from the metals and the mining processes, and the tranquility encountered now is barely imaginable. Desolate to some, this is a truly stunning landscape, where you'll often see red kites circling above the high land to each side like vultures in a spaghetti western. It's rare to see more than one or two cars as you traverse this wild place.
If you do, it's quite likely that they're going to visit Duncan and Karen Browning's pottery, a cheery little haven of a studio next to a bright pink cottage, which stands out like a petal in this barren-looking landscape. Their traditional wheel-thrown and hand-built stoneware is both beautiful and practical. Our soup bowls, which have been very well used indeed, were made by them.
Onwards to Rhayader, the source of the Rivers Wye, Severn and Ystwyth, and gateway to the Elan Valley, sometimes referred to as the Welsh Lake District for the stunning scenery around the reservoirs supplying water to Birmingham. On this occasion, there isn't really time so we don't stop. A shame, as this market town has long been a major crossroads and stopping point for travellers, from the Romans to monks and drovers. It's often been a stopping place for us too, with some great butchers (there's still a weekly livestock market), grocers and cafes, including Tŷ Morgan on the corner by the Town Clock war memorial, perfect for a break or to stock up with goodies on the way to a holiday cottage.
Rhayader was the site of considerable unrest during the Rebecca Riots, which lasted from 1839 to 1843, protesting the unfair levy of tax and tolls. The main trigger for the riots was having to pay high tolls to use the roads, although there were other reasons causing general discontent, such as Poor Laws, tithes, economic depression and poor harvests. Numerous toll-gates were erected to guard the roads in and out of Rhayader and a fee, the 'toll', was payable at each of them. No less than seven of these hated toll-gates were destroyed by the bitterly resentful 'Rebeccaites' in October and November of 1843, when local farmers and agricultural workers disguised in women's clothing took action.
The events leading to the Rebecca Riots were fictionalised in Alexander Cordell's 'Hosts of Rebecca', the second book of his original Mortymer Trilogy. If you haven't read these, or his other books, they are well worth looking out for, as they detail the grim, often turbulent history of early industrial Wales in a very accessible manner.
Back to our journey and, because we didn't want to take the main A470 route northwards to Moelfre, we took ourselves down a tiny road off the B4518, following the path of the River Wye. This road, apparently, is part of National Cycle Route 81.
Great, and very scenic indeed. We passed through a number of hamlets and villages, and finally got to Newtown, the capital of the Welsh Flannel industry, where we stopped for a break and a welcome cup of coffee. Welsh flannel, as opposed to English flannel, is a tough, hard-wearing, comfortable woollen cloth, woven from carded wool, and often brushed on one side (sometimes both sides) to lift some of the fibres, giving it a lovely soft feel. Not a cheap, fashion material, but one you'd wear for years on end, a real old-fashioned, traditional fabric.
From Newtown, as we were making pretty good time, we set the sat nav (Kate, she of the 'British' voice) to follow the 'shortest' route. This, in hindsight, was our mistake. All went well until we were around six miles from our destination, Tony and Dawn's lovely home and studio. Then Kate, a little unexpectedly, instructed us to turn right. OK, the road isn't big, but some of the ones we'd been on earlier were the 'grass down the middle' type, so we weren't overly concerned.
Right we turned, and the windy lane, with the obligatory grass down the middle, started going uphill and started to get narrower and rougher, with steep-sided, tree-lined banks to our left and right. It turned into more of a track, but there wasn't anywhere we could turn the car around to go back. Reversing seemed out of the question too, so we persevered. Our little Yaris was managing fairly well though, and we assumed the road would open up again, maybe after the next bend? After all, Kate knew where she were going… didn't she?
It was slow, cautious going, and it got worse. The track now developed quite noticeable ruts, which meant the centre of the track was rather higher than where the wheels ran. The 'road surface' deteriorated further, with a broken, gravelly surface and some horrendous potholes. A small rivulet, which ran down off a field to meander next to the high banks didn't help, making the footing even more slippery. But by now we were truly committed, and we had no choice but to carry on.
We realised we had been led into one of the old places – a holloway. I have a copy of Robert Macfarlane's lovely book about these ancient ways, and he describes them thus:
Holloway – the hollow way. A sunken path, a deep and shady lane. A route that centuries of foot-fall, hoof-hit, wheel-roll & rain-run have harrowed into the land. A track worn down by the traffic of ages & the fretting of water…
Holloways were often drovers paths, and bear many different local names, but there were two which seemed most appropriate now: fearways , dangerways!
We heard various bangs and scrapes from the underside of the poor car, and my husband did a splendid job of attempting to find the smoothest, least damaging path through this crap. Now and again, a curious sheep would pop its head over the bank from its field above to see what the devil was going on, and the crows in the treetops were most amused by our misadventures.
By now, there was an ominous smell emanating from a severely stressed clutch and unhappy brakes. I'll admit I was scared stiff, especially since my phone had no signal—if the car gave up altogether I had no idea how to cry for help, nor even where we were. We couldn't even ring Tony to let him know we were stuck, just a stone's throw away from him. Then we saw it. Hooray, there was a junction ahead, and a proper road. Salvation!
All we had to do was get through these last few yards… and, with a last struggle, we made it. Phew! Shaking, I carefully climbed out of the car, bent down and, best I could on this still rough ground, looked to see if anything vital was dripping from underneath. Thankfully not—nothing but muddy water. I checked all around and lifted the bonnet to let the poor Yaris cool down.
Even though time was getting on, we stopped for a bit to recover our nerves and equanimity. Loathe to get back into the passenger seat for a while, as I gazed around at this end of that nightmare track, I spotted it. A bloody prominent blue metal sign on a pole, the twin of which should have been positioned, clearly visible, at the far end of this rocky highway from hell… but wasn't!
OK, time to get back on the road. Literally. The fact that this 'proper' road still had grass down the middle didn't bother us one bit. We had one more hairy moment when the bloody sat nav tried to get us to turn up another rocky track, but we spotted it while we still had time to back out, and Kate was firmly over-ruled.
We reached the safety of Moelfre a little after midday, pretty much on time, to a lovely welcome from Tony, Dawn and Jasper the dog. The finished 'Hands' look absolutely wonderful—every bit as good as we'd hoped. As promised, Tony'd given 'my' hand a manicure, so those long fingernails that were damaged in the mould-making were now perfect. He'd even engraved a small 'X' at the base, telling us to come back after another ten years and he'd update it to 'XX'. We might just take him up on that!
We stopped for a cuppa and a chat, and they were most concerned, though unsurprised, to think we'd been caught out by the local road signs, or lack of them. We reassured them that everything was fine, and the 'Hands' were carefully packed, well protected and secured in the back of the long-suffering Yaris to be taken on the long journey home.
Off we set again, this time using a paper map to get us to somewhere less remote, as Kate was in the dog house. Everything went swimmingly, until we were close to Welshpool. From underneath the car, there was suddenly a tremendous banging and clattering as something metallic worked loose and fell off. In the wing mirrors, we saw it bounce. Of course, it landed so that it came to rest right in the middle of the carriageway. My husband pulled over onto a grassy verge and I legged it back up the A483 to pick up whatever this thing was. Thank heavens the road wasn't terribly busy, so I didn't need to play 'chicken' with the lorries.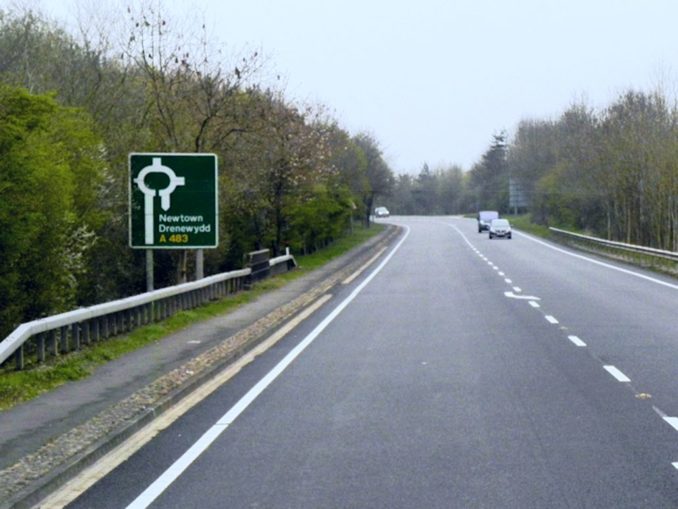 It appeared to be an aluminium cover of some sort, about eighteen inches by ten and shaped to fit over something specific. There were holes which presumably had bolts through them, but these were stretched and misshapen. Peering at the underside of the car I couldn't see where it could have come from. Hey ho, we popped it in the boot and decided to head into Welshpool and park in a car park to have a better look. This we did, driving with exaggerated care in case something else decided to do the same thing, but when both of us tried laying underneath to see where this piece may have come from (getting some funny looks in the process) we were none the wiser.
Oh well, we'll cross our fingers and take it easy. For now though, since we're in Welshpool, we might as well have a cup of coffee and something to eat. It seems like a hell of a long time since we set off from Hafod this morning. We enjoyed the break with a sarnie and a decent Illy coffee at the Daffodil Tea Room, and explored the tool stall in the market before we resumed our journey.
The rest of the way was fairly uneventful, thankfully, and the only challenge was finding somewhere to have something hot to eat after we'd got the misery of Birmingham out of the way, as we knew we wouldn't feel like cooking when we got home. It seems we'd hit just the wrong time of day—too late for the lunchtime service and too early for the evening one. OK, plan B, let's find a supermarket selling hot cooked meat. Er, nope. Seems there's nowt left.
By now it's dark (sunset comes early at the end of October), it's wet and windy, and we're tired. We contemplate trying to find somewhere to stay overnight, but decide it isn't worth the effort, so push on. Of course there are traffic problems on the A14, so we end up being diverted off to the north somewhere near Kettering in darkness, following diversion signs placed in such a way to confuse and frustrate. Perfect. Just what we need, and it means we don't get home until ten at night. There's no way we'll unpack tonight so we take the precious 'Hands' indoors and leave the rest.
I don't actually remember going to bed, but we woke up there the next morning so I suppose we must have. Today, amongst all the post-holiday jobs, we have a special task—to put the 'Hands' up on the wall. The spot is already chosen, and we've arranged the lamps so it'll be nicely lit. Measure (twice!), and get the fixing on the wall, and we can finally stand back and admire this beautiful piece just where we'd envisioned it would be.
Even amongst our other artwork (yes, we have a lot), it isn't overwhelmed and we think it's perfect. This will bring us a lot of pleasure in years to come, and we'll be holding hands forever, so it's been worth every second of the worries. In the evening, with the lights down low, the 'Hands' look more lovely still.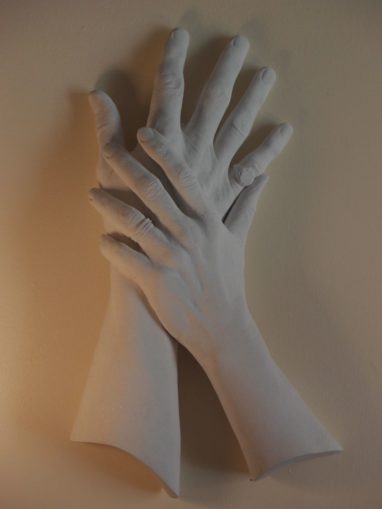 Thomas Hardy had the right of it, when in 'Tess of the D'Urbervilles' he wrote:
Beauty lay not in the thing, but in what the thing symbolised.
© SharpieType301 2020

The Goodnight Vienna Audio file