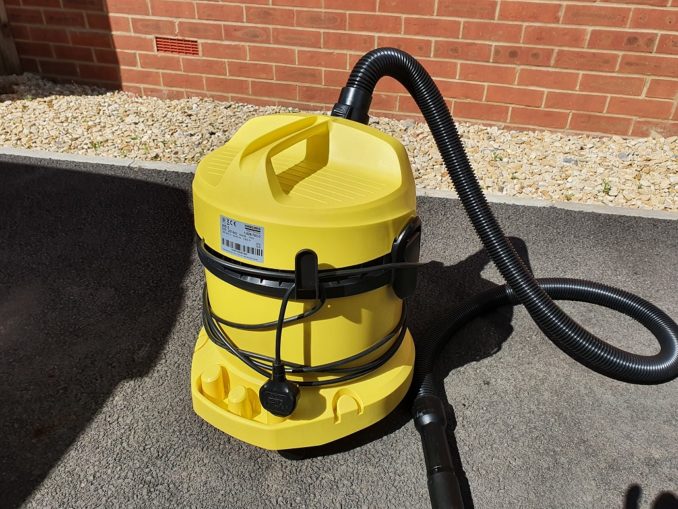 I'm not someone who usually suffers from FOMO but having purchased a new wet & dry vacuum recently and seeing as it is de rigueur to post reviews of vacuum cleaners on GP I thought I'd better submit a short article to SB pronto.
I originally purchased this to perform two tasks; vacuum the interior of the fleet of vehicles in the Reggie household and to give the car mats a deep clean with the aid of some cleaning solution, hence the requirement for something that could act in the traditional sense and also suck up liquids.
Having spent some time comparing reviews and recommendations I opted for the WD2 Wet and Dry Vacuum from Karcher. At £54.99 on Amazon I thought it excellent value for money.
The WD2 is light weight but sturdy construction and moves around very easily on four swivel wheels. It comes with a crevice type tool and an attachment to vacuum floors and carpets along with a hose which is about 2 meters long. The cable is not particularly long at about 3 meters but I use an extension lead so it hasn't been an issue for me.
So far I haven't yet tried out it's capabilities at sucking up liquid, but it does a fantastic job of getting up all the stones, mud and other detritus within the Reggie fleet. The WD2 has a powerful 1000w motor, which isn't too noisy in operation.
You have the option to use a bag inside the machine to collect the dirt or it can be used without. When using the WD2 to suck up liquids you should not use the bag for obvious reasons.
Overall, I would say that it is great value for money and does the job it was purchased for with ease. It's certainly the best car vacuum I've ever used.

Text & images © Reggie's Mind of Evil 2020


The Goodnight Vienna Audio file