Last year, in the spirit of the series of travelogue postcards often presented on this site, I wrote first timer's guide to going on a cruise.
The one in question was a TUI/Marella cruise around the Med for a fortnight. TUI are near the lower end of the market, providing simple, relatively cheap cruises with lots of alcohol for brits – what I suggested could be regarded as Wetherspoons on sea.
With the family having judged the trip a success, it was decided that we'd repeat the process, but this time aim from somewhere a little cooler – the trip had been during a heatwave in the Med, being even too hot for Grandma who usually loves the high heat.
This time a Baltic cruise was booked – 12 nights with connecting flights to Amsterdam, for about the same price as the 14 nights the year before. It was with Celebrity Cruises, a branch of Royal Caribbean the huge US cruise company.
There are two types of cruises, those that are to relax and drink on a ship – usually somewhere hot such as the Caribbean or Med, with days at sea, and those that are to visit destinations. The Baltic one fell into the second category.
The trip over to Amsterdam was uneventful, As a party of 8 (three teens, us two, Grandma and the kids Uncle and Aunt) it was a pleasant surprise to find they'd split the party over two flights (no specific mention other than myself and Mrs SD were on the 6am, the rest of them on the 9am). Once they'd got over the shock it simply meant we had an early start and three hours of peace to wander around Amsterdam before the rest arrived – bonus!
The ship was huge – holding 3100 passengers, over 1000 staff, 16 decks and 1/3rd of a mile long. Just like Greta's boat, carbon footprint was key, with it only needing 1 million gallons of fuel (low sulphur) every two weeks or so. Built in 2012, it was still in good condition, a floating hotel with suites, restaurants, swimming pools, cinema and theatre – all you'd expect.
Good things? The food, the staff – all excellent. The solarium was a boon – one adult only area with pool that was always at the right temperature and out of the weather. On cooler days it was in high demand.
Bad things – where to begin.
Charges – As a US company they follow the Ryanair model of charging you extra at every possible opportunity. The small print was comprehensive and yet didn't cover some of the costs. The last thing you want when going on holiday is to stress about expense – I'd rather pay £1000 more up front and not have to worry about what I'm drinking/eating/doing.

Mandatory gratuities were the biggest bugbear – only $14.50 per person per day (pppd). 5 people, 12 days, that's nearing $900 over the trip – do you ever tip $900 in less than a fortnight?
Additional gratuities – you buy anything in addition to the package you have and it incurs a gratuitiy, usually 20%. Anything in the spa (haircut for $81 plus 20% gratuity) or even going on a spinning class.
Drinks package – we had the 'classic' one included in the price (usually $59pppd). It took me three days to find out which drinks were on that list and which were not. A glass of wine A? Yes that's on the package, but want a bottle of the same? No that's not and will cost you $$s plus an additional 20% gratuity charge on top. Still water? Yes that brand, not that brand, fizzy water – that's extra. The same water from the fridge in your room – that's extra.
There were 9 or 10 dining venues of which three were included. Every other one incurred an additional fee. I had to ask Customer services what those fees were as they weren't published anywhere – usually $55 per head to dine in said restaurants – having the same food from the same kitchens as the main places. Strangely enough they were empty, some nights not even getting one booking. They had our star waiter trying to offer us discounts to the premium resturants, after he'd been spinning a line about he gave the best service – so we just said, how could we possibly miss out on your service?'. He was stumped at that one.
Charges not as promised – $33pp for the bus to town (free with TUI), look at your bill it's $40. How much of that tip do you think the driver got?

Space – with 3100 on board, during colder weather, everyone was indoors. There were a number of 'at sea' days to get between ports. Most events were carried out in the public spaces – basically the foyer and corridors as so much space was taken up by those premium restaurants. Get to the coffee shop or solarium early if you want a seat.
The destinations were the reason for going on the cruise and they did not disappoint.
Amsterdam – not what it was – busy, being there mid-morning meant tramping through the dirt of the previous night – flyers, broken glass and worse. The cleaning teams were out but a couple of hours away from getting on top of things. The city stinks of weed, and had a lot of spaced out young males wandering around, some stag dos, some just there and not all that friendly. Dutch people we met on the cruise said to the US passengers to visit Utrecht, Leiden, Den Haag or Delft rather than Amsterdam.
Rostock – after a day at sea getting around Denmark we berthed in the German town of Rostock – a gateway port for trips to Berlin a few hours away. Avoiding the hundreds of dollars to do that trip we got the 20 minute bus (fee applies) to town. It turned out to be very pleasant, clean and bin-bag free with some medieval buildings that had survived the war and a decent main street to stretch the legs.
Helsinki – After an overnight run we arrived in Helsinki. A really nice capital city with some excellent architecture and seemingly populated by a happy and stable people, proud of their history and environment – no bin bags spotted all day. Worth a repeat visit for a weekend.
St. Petersburg – The visit to Russia was expected to be a highlight – the ship docking in port for two nights with two day trips for some. You couldn't leave the ship without being on an organised trip with an approved agency or a visa. It was the full immigration with a stamp in the passport from surly agent. All the other destinations was simply a case of wave your ship-card to get on and off. We did the one day Peterhof and Hermitage trip with lunch included (about £150 each as far as I remember).
Once we'd left the high-rise slums of the port the countryside was very much like any other Nordic area – excellent roads and very pretty in the summer, though I'd expect it to be bleak in winter.
Peterhof palace was beautiful, extremely lavish and ornate as you'd expect, but surprising to find it had been completely rebuilt after the Nazis occupied the area and razed it to the ground as they retreated.
Getting there early was a boon as once 1030 arrived and the 350 fountains were turned on, the place was stuffed to bursting with tourists.
After lunch was another expected highlight – the Hermitage Museum – the world's largest. Of the 10 buildings included we were shepherded through six, seeing amazing opulence and overwhelmed by the artifacts, to the extent that say a 1bc item from Pompeii or an Egyptian Mummy would be passed with barely a glance. The place was heaving, queues everywhere. It amused me to think of a comment frequently stated on here that the Japanese look down upon Europeans as inferior. If that is the case then why is half of Japan in this museum with me today?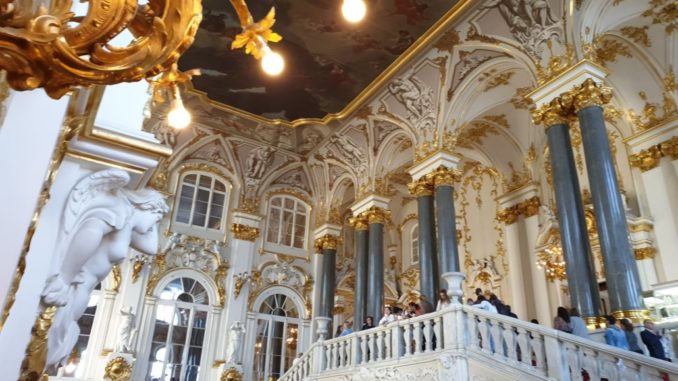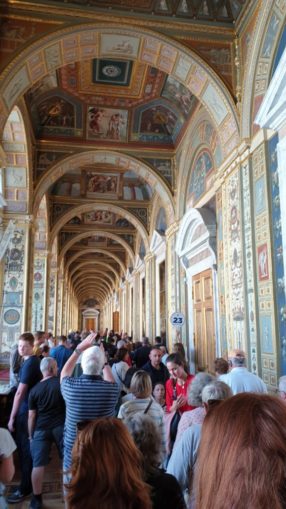 The one spoiler on the day was the pickpockets preying on people quite openly outside as people queued for buses. We had been warned repeatedly but it was a shock to see how blatant it was. Mrs SD took exception to one working on a pensioner who was oblivious, taking my 6ft 4in brick-shithouse son she said something. Immediately three Russians were up hovering around aggressively. Despite myself and two sons standing there (we're all 6ft 4 to 6ft 9) they argued we were affecting their business (thievery) until the rep came along, screamed at them in Russian and only melted away when she got her phone out to call the police.
Tallin – A wonderful beautiful, peaceful place. Definitely worth another visit, lots of medaevial buildings in a centre akin to York shambles on a huge scale. It all felt very friendly, no thieving or enrichment.
Stockholm – Having listened to the views of how Sweden has fallen, grenade attacks, etc. etc. I was expecting to be disappointed by Stockholm but was ignorant of the run in. When you arrive by ship you have to weave through a narrow course between some 3000 islands of the Swedish Archipelago. For four hours we glided between idyllic wooded islands of all shapes and sizes with small brightly painted wooden houses. At a couple of points it was so tight that the ship had to come to a dead stop, spin 90 degrees and then move on again, with as little as 50 yards to the shore. People were commuting by boat to the Capital half an hour away – when you live in such perfect surroundings you can see how they can be smug and complacent, there was no sign whatsoever of the problems of other Swedish cities.
Stockholm was built around the harbour with many grand buildings. We did the usual hop on, hop off bus but in the end stayed on it all the way around then back to the ship. Having been spoiled by Tallin and the cruise in, going round another modern expensive city was ok but meh…
Copenhagen was the final destination before return to Amsterdam. The cityscape from the ship wasn't all the enticing – looking remarkably similar to Newcastle on Tyne – a stadium, some new buildings some old. I was expecting a bit more history in this city, again getting the hop on hop off bus ($40 each). We did get off this time and took the teenagers to the Tivoli gardens – the well known city park.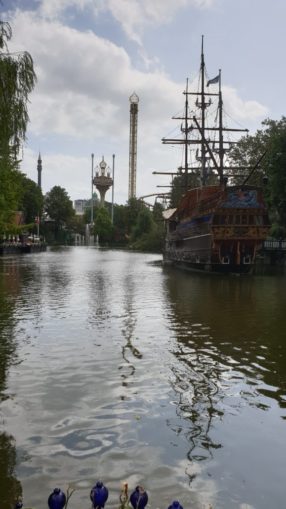 It was only £200 to get us in with two off to have a go at the rides and rollercoasters, the other three of us looking around the gardens. A quick coffee and cake for the three – just over £40, yes Denmark is pricey. We were there on a Sunday and the people of the city were promenading. There was a 40s revival event with many in costume and the gardens were in full bloom. More enriched than the previous destinations it wasn't at UK levels but noticeable after so many days east. So pricey, and slightly disappointing but the kids had a good time.
Then finally a day at sea to get back to Amsterdam – 4 metre swell and we were obviously dawdling so as not to get there too early – getting into the North Sea a full 24 hours before arrival – we could easily have popped to England and back in the time. Luckily the ship was very stable, the only movement being at worst as if you were on a bus on a motorway, if you did feel bad by it, get to a lower deck as it was exaggerated up on the top decks.
Back to Amsterdam, off to the airport and home – with 3000 guests and often 30 to 50 coaches of different tours, the logistics of the whole thing is impressive, just spoiled by the constant gouging for cash.
Next year? I've told the kids we'll go on a canal holiday in Scotland – hopefully it'd be rubbish enough in their eyes that they'll decline.

© Text & images Sweaty Dave 2019

The Goodnight Vienna Audio file