Monday
A good Monday morning to you all. Very dull and chilly this morning, I thought it was supposed to be meteorological spring! The talk of the office this weekend has been the Rich Boy's plan to stop small boats bringing in illegal immigrants by banning them from claiming asylum and giving them a lifetime ban. The consensus in the office is that if it works it is a good idea, but few think the lefty lawyers and judges will allow it to work without a fight.
The big news of the weekend is that Toblerone is to drop the depiction of the Matterhorn on its boxes. The Swiss have some very protective laws, and it seems that one of them is that anything that contains milk must be 100% made in Switzerland if it has any iconic Swiss item on its packaging. The makers of Toblerone are planning to move some production to Slovakia as they have run out of capacity in Switzerland. In the future 40% of production will come from Slovakia and this means they can't use the Matterhorn on the box. Someone somewhere is currently drawing a generic mountain for the new packaging!
I hear that an Indian student flying home from New York to Delhi for a holiday was arrested on arrival at Delhi for peeing on a traveller in Business Class. The incident occurred on an American Airlines Boeing 777-300ER late last week. Apparently, the student was steaming drunk and refused to sit down or do as instructed by the cabin crew. American has cancelled the return part of the ticket and banned him from ever flying with them again. I hear that there have been two similar incidents on Air India recently, what is it with Indians and peeing on people?
The Ukrainian Ambassador to London has announced that we are to double the number of Challenger 2 tanks we are sending to the Ukraine to 24. The tanks are likely to equip two Airborne Brigades as soldiers from those brigades have been seen training on the Challenger 2 in Dorset. In the Ukraine an airborne brigade is an elite mobile unit, and not a paratroop unit as in the U.K. Each Ukraine Airborne Brigade operates 10 Main Battle Tanks, normally the T-80BV. The idea here seems to be to replace two brigades of T-80BVs with Challenger 2s, four spares and to be able to use the replaced T-80BVs to equip a newly formed Airborne Brigade and to supply spares. Mind you no one in government has confirmed this so is it Ukrainian propaganda?
Talking of Ukraine, I hear all sorts of tales, none of which I can verify. For example, the head of the Wagner Group is reported to have appealed for more ammunition for his private army saying that the Russian generals are directing it all to Russian units. Then I hear that the Russian 1st Tank Army has lost so many of its tanks that it is being re-equipped with 60-year-old T62 tanks drawn from the reserve. The tank is only considered to be a medium tank and is massively outgunned by many of the Ukrainian tanks. The other story I keep hearing is, the one I reported last week, that nearly 65-year-old BTR60s are appearing on the front line. I really don't know if this is true or propaganda, but I suppose time will tell.
A bit of good news this morning. The latest numbers for the construction industry showed a big jump in February, despite the house-building sector remaining weak. The monthly Construction Managers Index for January was 48.4 and had leapt to 54.6 in February. Anything over 50 indicates growth and below 50 contraction. This is the best rate of growth since May last year and comes from a marked rebound in commercial work and a positive contribution from civil engineering activity.
I hear that the world's biggest cruise ship, Wonder of the Seas, has been overbooked for a "Spring Break" 5-day trip later this month. Spring Break is a big thing in the States where students go on holiday and get drunk. Royal Caribbean International have offered passengers three alternatives. They can have a full refund of the cruise fare and any extras they have booked, plus expenses for airfares, hotels etc. The second alternative is to swap to another trip departing a day later on a much smaller, older ship which is sailing a very different itinerary. It is also a 6-day trip so will cost more. The final alternative is to swap to similar cruises on the Wonder of the Seas in July or August which rather defeats the object of the spring break.
Tuesday
Another grey chilly damp morning. I didn't hang around in the garden today, I was up and down the garden like a rat up a run pipe. The Rich Boy seems to be happy that this Sue Gray business appears to have dragged Sir Beer Korma into the mire. Ten times yesterday Sir Beer refused to say when he first started talking to her about his chief of staff job. Makes me think that he has something to hide.
I have been reading about a Boeing 787-9 owned by American Airways that was flying from Tokyo to Dallas/Fort Worth taking a lightning strike. It is not unusual for planes to be struck by lightning. Statistics say every plane will be hit at least once a year, this one was a bit different in that it was hit on the upper fuselage and a hole in the outer skin was made meaning the plane was taken out of service for repairs. Most strikes are on the nose, wing tips or tail and these have extra protection, rarer are fuselage hits and damage taking the plane out of service for 10 days are rare. Strikes are most common on take-off and landing and are almost unknown above 20,000ft as the plane is above the cloud.
British CO2 emissions dropped by 3.4% last year and coal use is at the lowest level since 1757. With us using more and more 'green power' I keep hearing of many more people suffering power cuts. I see that the Shadow Energy Secretary, Ed Millipede, says that under Labour the U.K. power supply will be generated from 100% renewables or nuclear by 2030. I fail to see how this will be possible. This morning we are supplying only 18% of electricity demand from wind and solar, even if you added in the 10% from nuclear the vast majority is still coming from gas. Ed Millipede is still a gormless idiot.
Last week I told you that P&O Ferries had taken delivery of its new double-ended Chinese-built cross-channel ferry 'Pioneer'. Of course, this ship has displaced one of the fleet's older ships, Pride of Boulogne, which is half the size of its replacement. So, P&O has sold the ship to a Turkish shipbreaker, which is EU-approved according to the article I read. What the hell does it matter that it is EU-approved, neither the U.K. or Turkey are in the EU.
I see that with today's cold snap the grid has issued an order for four coal-fired units to be warmed up as they are preparing for a shortfall or around 1000Mw this evening – two boilers at Drax and two boilers at West Burton. This really is a belt and braces exercise as the units at West Burton, are 2 x 500Mw and Drax 2 x 660 MW. Mind you as I dictate this in mid-morning we are already using 1,000Mw of coal generation.
I had to laugh when I read a report by Stoke City Council's monitoring officer, James Doble, into the destruction of a statue of Josiah Wedgwood by Galliford Try while working on a new road junction. Doble found that Galliford Try had done absolutely nothing wrong and despite the council's complaints had actually been carrying out exactly what the council had told them to do. The brick-built statue had originally been commissioned by the council for a garden festival in the 1990s and had been moved to where it was demolished in 2009. Galliford Try had been issued with a purchase order and a task order and were simply carrying them out. The statue had neither any special protection or lay within a conservation area, so consequently there was no requirement for planning permission for the land or to preserve the statue. A bit of a cock up by Stoke City Council.
Today it is reported that a Czech company has seen a huge increase in the number of inflatable dummy military equipment that it designs and produces. The company makes life-size models of items such as HiMARS launchers and Abrams tanks and has seen its sales more than double this year. An inflatable tank could cost £10,000 to make, but this is a huge win if a £250,000 rocket is expended to destroy it. I understand that the company has a current output of about 60 inflatables a month which is double that of last year. They will not say who their customers are, but they say that they are not limited to European nations.
Wednesday
Well, it's even colder in Westminster this morning with sleet on the wind but at least it is not laying. I am looking forward to PMQs this lunchtime, I suspect Sir Beer is going to have a go on the new immigration bill and I think he is on to a loser.
It looks like Transport for London could be about to have a big problem with bus services in London. One of the biggest operators RAPT is reviewing its bus companies that operate in London saying that it is considering selling them off or closing them down because of the difficulties involved with running services in London. Interestingly RAPT is the transport provider for Paris. The problem for TfL is that RAPT operates buses under the London United, London Sovereign, London Transit and Quality Line brands and run hundreds of routes. Last year RAPT group's British business lost over £23 million, adding to its problems so it hardly surprising they are thinking of upping sticks in the capital.
I have been reading about a gang in the Northwest of England who have been stealing the like of JCB diggers and dump trucks from construction sites in the North and then selling them on. The gang operated out of an industrial unit in Nelson, Lancashire and only appears to have been caught because of the actions of someone who lost plant from a site. The man saw a digger, identical to one he had lost, being offered for sale on the internet and told the police. They eventually raided the unit only to find the digger had already been moved on. However, they found two men cloning another digger who were arrested. The police ultimately recovered 46 stolen pieces of equipment valued at over £1,300,000. Six men were sentenced to between 18 months and 8.5 years.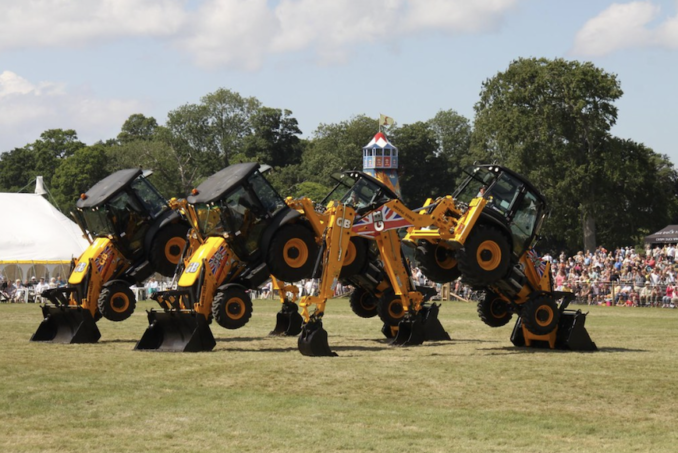 I hear that a huge development of 1,800 flats in Hackney Wick was left without water after a massive tank that supplies drinking water was contaminated. Two weeks ago, estate residents complained that their drinking water smelt odd. Now the developers have found that the tank has been contaminated with hydrocarbons and all residents have been warned not to drink the water. The developer is supplying bottled water while the system is drained, cleaned and disinfected.
Tickets for the Eurovision Song Contest went on sale yesterday and nine events sold out in 90 minutes with the final selling out in under 30 minutes. There were tickets available for the final, two semi-finals and six rehearsals. As Liverpool is hosting the contest on behalf of last year's winner, the Ukraine, 3,000 tickets have been held back for sale to Ukrainian refugees who live in the U.K. Strangely it is still to be announced how these 3,000 tickets will be made available.
To say thank you to the international rescue teams who helped to find and save people in the Turkish earthquake I hear that Turkish Airlines has been flying them all home Business Class. British teams pulled 12 people out of the carnage alive. But the bit I liked best was that they carried all the search dogs in Business Class with their handlers. I wonder if I got a job as a sniffer cat would they feed me Felix in Business Class?
The Mediterranean Shipping Company (MSC) has not had a good week. Firstly MSC Istanbul, a container ship, ran aground in the Suez Canal and was stuck for several hours before tugs managed to free it. The ship was on its way from the Philippines to Portugal. Then came the news that MSC Shristi had lot 46 containers off Bermuda. The ship was on its way from Boston to the Dominican Republic when it hit heavy seas some 350 miles east of Bermuda. The containers went overboard in three separate incidents and were all empty. This is good news in that there will not be a huge insurance claim for the loss of their contents, but being empty they are more inclined to float so shipping in the area will have to keep a lookout to avoid them.
Thursday
Yet another wet morning, but at least it is not quite so cold. I see that the forecast for the next two weeks is rain every day! Bet you that on the first warm and sunny day they will start talking about a drought!
Sad news this morning, the Sun's astrologer Mystic Meg has died aged 80. She hit the headlines when the lottery was launched and she predicted the winners with vague phrases like, "The big winner will own a dog", for the TV viewers. I can't remember her being particularly successful. I wonder if her mystic power went as far as foreseeing her own demise?
Good news for people who live on the South Coast of England. Southern Railway is to replace the trains operated on the CoastWay East and CoastWay West routes out of Brighton with newer trains. That is not difficult as the west route to Portsmouth and the east route to Eastbourne and Hastings are currently operated by 47-year-old class 313 trains. The replacements are to be class 377 Electrostars which first went into service in 2001. But at least these trains will have toilets and air conditioning, four carriage units will be used on the line to Portsmouth adding 25% more capacity. Oddly this class of train is dual voltage and can be powered from either the third rail or overhead wires. Neither of these routes have overhead power.
When the national rail timetable changes in May and through trains are introduced from one end of the Elizabeth Line to the other, there looks to be an improvement to services as well. For the first time you will be able to get through trains from Shenfield to Heathrow without having to change trains at Paddington. There will be an extra two trains an hour through the central core, services from the west into London will no longer wait for up to five minutes outside Paddington and train journeys from Heathrow to Bond Street will be nearly 10 minutes faster.
I hear that the people of London are starting to rebel against Sad Dicks ULEZ zone expansion. So far some 300 new cameras have gone up on roads that TfL has control over such as red routes, many have already been vandalised before the expanded scheme has even started. Various things have been done to the new cameras including the lens being painted black, the cables being cut, and poles being felled. I understand that there are another 2,750 planned to go up in the expanded zone. That makes a huge new target.
Down in Dorset, the Swanage Heritage Railway is to run a regular service between Swanage and Wareham on the main line from April until September this summer. The train will be operated by a 1950s design diesel multiple unit and it will provide four return services a day. The Swanage railway will run this in conjunction with Southwestern Railways who will sell through tickets from all their railway stations. Apparently, this is a test as to if it is possible to run a full year-round service on this line that was one of the Beeching cuts back in the early 1970s.
I hear that shortly the Rich Boy is off to Washington for a meeting with Sniffer Joe and the Australian premier where we should learn what the next step in the AUKUS nuclear submarine deal is. At the moment I am a little confused as every article I read tells me something different. Yesterday I read that Australia had decided that it is going to buy American Virginia Class submarines and the plan was to extend the life of it outdated 10 Collins diesel submarines to 2035 and buy three US built submarines while the Australian industry is developed to build and maintain the remaining boats at home. However, I read today that the Australians have in fact decided to buy British Astute Class submarines. Again the idea would be the initial boats built in Britain while the Australians prepare to build their own. Whoever gets the order, the propulsion reactors will not be built in Australia but shipped complete from either the US or the U.K.
Friday
Morning all, wet and miserable again. Ever since I wrote that it seemed a long time since it rained here in London it has hardly stopped. The garden is very soggy, and I am having to keep to the gardens path as much as possible to stop getting muddy paws. The trouble is I want to be back in the house as quickly I can because of the rain, but keeping to the paths means a longer walk. I really don't know if I get wetter walking and being out longer or running and not being out so long. If I run to I run into more rain?
The monthly GDP figures are out this morning and much to many of the forecasters' surprise the January GDP was up 0.3%, three times what was predicted. I heard some woman on the radio saying it was because the World Cup was over and Premiership football was back. She claimed this meant people were travelling more and spending more. What utter rubbish, the 'experts' had predicted a 0.1% increase and surely, they weren't much of an expert if they hadn't included 'the return of football' in their calculations. The truth is they rarely get their predictions right.
In the early hours of Wednesday morning a Virgin Airways flight from South Africa to London had engine problems and had to put down in Barcelona. At 4 am passengers were dumped in a terminal which had mostly closed for the night. Some managed to find a desk that was open and got vouchers for transport and a hotel room, but Spanish customs wouldn't let them out of the transit lounge. Hours later, the passengers were still waiting for word from Virgin as to what was happening. Then they were told a plane would be coming to pick them up at 20:00, but that was rapidly revised to 21:45. At 01:00 the next morning they boarded a replacement plane only to sit on it for 90 minutes before having to go back to the transit lounge as this plane had also broken down. Buses were supposed to take people to a hotel, but not enough buses arrived, and people had to pay for their own taxis. I hear that the replacement flight eventually took off at 16:50 on Thursday, short of the Upper-Class passengers who were apparently on their way to London within two hours of initially landing and several passengers who had paid for their own passage.
I hear that British Steel has won an export order to a Guinea bauxite mine for 244,000 steel railway sleepers. I didn't know that such a thing existed, but apparently, they are more durable than the old-fashioned wooden sleepers or the reinforced concrete ones we seem to be using today. Another advantage of the steel sleeper is that is recyclable and lasts much longer than the wooden ones that the mine has been using up to now. I have a worry though, what will the TV garden makeover programmes do without wooden sleepers for raised beds?
I hear that Arriva Buses has pulled out of plans to run electric buses in Stevenage. Arriva had agreed with Hertfordshire County Council to purchase 27 electric buses for the town which were going to be subsidised to the tune of £6.1 million from a government fund. Arriva says that passenger numbers in Stevenage are just not high enough to justify the new busses and the town will have to make do with its existing fleet. The original scheme had been costed on passenger numbers increasing by the national average post-Covid, but apparently Stevenage just has not managed to meet the target.
The EU plans to ban internal combustion engine car sales in Europe by 2035 seems to have hit a brick wall. The European Parliament have agreed on the date, but it still has to be accepted by the member states and this is far from unanimous. Bulgaria has said it is going to abstain on the vote, but Germany, Italy and Poland have said they will not be implementing a ban. The truth is they have too much invested in car manufacturing and the makers predict that this ban will result in a loss of 40% of the car-making jobs in their countries. Just what the EU will do if these powerful members do not implement the ban is a good question. France has been missing its renewable energy targets since 2020 and the European Commission has done nothing.
In Telford the council has had to remove a cycle lane it painted on the sides of a road as it made the road width available to cars so narrow it was dangerous. The road space left once the cycle lanes were in place made it just about possible for two small cars approaching each other from opposite directions to pass but for bigger cars, buses and trucks it was impossible without entering the cycle lane. The council admitted that its original idea was to narrow the road to stop speeding and this was a cheap option. However, it has proved a complete waste of money as the council has now been forced to remove the cycle lane.
Saturday
Gosh, it is dry today, that makes a nice change. When I ventured down the garden the squirrel was under the bird feeder thingy. He had knocked the bottom out of the peanut container and was stuffing his face on all the peanuts that were on the ground. He saw me and bolted. Greedy little git.
Nice to see the big-eared football pundit got the smug look knocked off his face today when he was suspended from presenting MotD this evening. He never saw it coming, he had been telling reporters that everything was OK and that he had done nothing wrong and would do it all again, while the BBC considered he had breached their code of conduct. He clearly thought it was one rule for him and another rule for everyone else.
I hear progress is good on the new Dreadnought class of submarines. What is known as Delivery Phase 3 is on time and the first of the missile boats, HMS Dreadnought, is still on target for entering service in 2030 and on cost. All 12 of its missile tubes have arrived from the US and are currently being fitted into the boat's pressure hull. Fabrication of the second boat HMS Valiant has also commenced. In addition, I hear that Rolls-Royce Submarines is also on programme with the PWR3 propulsion reactor. Materials for the 3rd and 4th boats, HMS Warspite and HMS King George VI are currently being procured and, according to the MoD, the American-supplied missile tubes for the rest of the class should arrive on schedule.
Italy is reported to be close to purchasing the German Leopard 2A7 main battle tank. The 2A7 is the latest version of the MBT and is in service with the German and Danish armies. Italy currently uses its homemade C1 Ariete MBT but the Leopard is considered far superior. One source says the Italians want to buy 125 tanks but another says they want 250, which would cost in the region of €8 billion.
In France, the state-owned power generator Electricity de France (EdF) have discovered a large crack in a reactor cooling water pipe. Fortunately, the reactor was offload at the time. The crack was pretty big and was detected visually. It is said to have been 25 cm long and up to 2.5 cm deep in the 2.7 cm thick pipe wall. Apparently, EdF put a plan to repair the pipe to the French Nuclear Regulator, but the regulator wants a lot more with changes to the inspection routine at all French nuclear power stations. I only hope that our EdF-built reactors are okay.
That's it I'm done. It's been a funny day, started off dry and there was even a bit of sun. So I was thinking of going outside to the windowsill this afternoon, but by the time arrived the sun had gone and there was rain in the air. So it's a waiting room chair again until dinner time. I will be back with you all again next week.

© WorthingGooner 2023