Monday
It's a beautiful Monday morning here in Westminster, even if it was a bit wet overnight. The sun is out, the sky is blue and it's even a bit warmer. The woman who looks after the flats has grabbed my lovely cat blanket and stuffed it in the washing machine. She whispered to me that the "smelly old thing needs washing." It had better be back, and dry, for my bedtime or there will be trouble!
The Rich Boy has gone off to America to meet Sniffer Joe and some Aussie bloke to talk about AUKUS, so it was quiet here last night as the Rich Boy's missus and kids weren't around either. The atmosphere when I wandered around the office this morning was fairly upbeat. From what I heard they think there is going to be some good news for British industry coming out of the meeting and they were celebrating that the government had got HSBC to step in and buy the U.K. arm of the Silicon Valley Bank for £1. I nearly wrote collapsed bank, but I understand that the yanks have a massive fund that will support the SVB.
Who has won the battle of Lineker's ears? The BBC thinks they have, as they have reinstated him for next week's Match of the Day and said that the Big-Eared one has agreed to abide by the corporation's guidelines while a review of the guidelines takes place. But Lineker has immediately tweeted that he is delighted to be back and stands in support of the 'refugees forced to flee their homes'. If that is not in breach of the guidelines what is?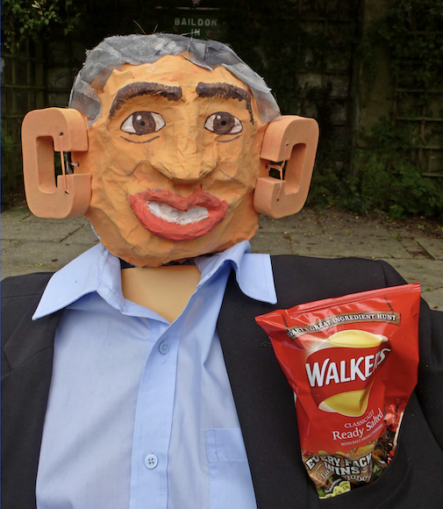 The latest news I hear on AUKUS is that Australia is to buy three second-hand American nuclear-powered submarines to bridge the gap while a new class of attack submarine is designed and manufactured. The word going around the office is that Australia and the U.K. are to cooperate on the design of a replacement for the cure British Astute class. This makes sense as we are already working on a replacement called SSN(R) which is based on the Astute boats but will carry vertically mounted ship-to-ship or ground missiles and horizontally launched torpedoes. The yanks will chip in with some of the advanced technology and armaments. Apparently, the American submarines are really too big for Australia and need too many sailors to man them. While the British boats are more to the Australian taste being smaller and requiring fewer sailors. I wonder if the rumours will prove to be correct or just someone's wishful thinking.
If you think that conditions in the U.K. are bad, I suggest you look at Cuba. The government there are suffering a huge economic crisis caused by the collapse in tourism following Covid. The countryside is having it a bit better than the cities as the countryside dwellers can at least grow some food. In Havana the conditions are said to be appalling with housing being awful and life in dilapidated buildings among rats, bedbugs, cockroaches and damp, while suffering continuous power and water cuts. Obviously, tourists have the best of everything and must be protected from seeing these hovels.
All I really was able to read was the headline but it appears that in Thailand a man has been jailed for two years for selling calendars featuring photos of a rubber duck. I know it sounds stupid, but somehow the calendar is said to breach the country's laws. The freedom of speech movement has adopted the yellow rubber duck as its symbol and consequently the government see its use as an insult to the monarchy (?) and this is punishable by up to 15 years in prison.
I have had to look at the calendar to check the date, but as it is not the 1st April, I will report on what I have been learning, even if I am accused of being biased. But I will give the caveat that I am only reporting what I have read. The article says that an Australian company has been supplying the Ukraine with cardboard drones capable of carrying bombs. The article tells me that the drones arrive as flat packs, 24 to a pallet, that are then assembled using little more than a glue gun, a screwdriver and a single spanner to attach its propeller. The bit that made me wonder, was that the drone kit also included elastic bands. I don't see anything on what the elastic bands are used for, and I did think it could be propulsion. But as there is also a battery and electric motor, I suspect I was wrong. Perhaps the elastic bands are used to launch it. I could find nothing on range, or its weight-carrying capacity, but I do question what happens when a cardboard drone runs into heavy rain, does a soggy lump crash to the ground?
Tuesday
Good morning people, well another mild day here this morning. Dry again this morning but gosh did it rain overnight. I had my cat blanket back as promised but I think the housekeeper must have put some fabric conditioner in the wash as it smells all poncy. However, it was nice and soft. Still nice and quiet in Downing Street with the Rich Boy on his way home from the States.
Well, the rumours I reported yesterday about the AUKUS deal were spot on. The Aussies are to buy or lease three of the American Virginia class boats as an interim measure, before the joint U.K., Australia submarine, to be known as the SSN-AUKUS class, becomes available. The new class will be built in Barrow and in Melbourne. I hear that Aussie submariners are to train with the Royal Navy and the United States Navy so that they are in shape to sail their own nuclear boats. Oh, and the Yanks are to spend money to increase submarine production capacity.
So. Gary Glitter lasted just 38 days out of jail before being recalled to prison for breaching the terms of his licence. It seems he was caught searching the dark web for child porn in his bail hostel. Well goody, the old paedophile will never change, and the children of the world are safer with him locked up for the remainder of his sentence. If he serves the full 16 years, he will be 86 when he gets out, if he lives that long.
The word reaches me that the MoD has chosen the Archer self-propelled gun to replace the AS 90 and is on the verge of placing an initial order for 14 to replace the AS 90s sent to the Ukraine. The Archer is a Swedish combination of a Volvo A30D 6×6 truck chassis with a BAE 155mm Howitzer mounted on its back. The Howitzer has an armoured turret and is supposed to be able to fire all types of NATO 155mm round up to 60 kilometres. The gun is said to be able to fire 21 rounds in three minutes before scooting. It can also fire a round within only 14 seconds of stopping and if it fires three rounds can have moved off before the first-round impacts. The system also has another neat trick, where it can fire four rounds one after the other on slightly different trajectories so that they all hit the target at the same time.
I read that S&P Global put out a report yesterday that basically says that the U.K.s economy is doing better than the predictions and is now unlikely to go into recession this year as some have predicted. It seems predictions that the U.K. economy is going to fall behind those of Europe and the US are overblown. With the budget coming tomorrow a series of good economic numbers have surprised the naysayers in recent days, inflation is heading down, employment figures are stable, GDP is better than expected and tax take is up. I hear that the chancellor has £9 billion more in the coffers than expected. I suspect that he will not spend much of it, but it might help us not having too many tax increases.
A little bit more on the SSN-AUKUS class. I hear that unlike the Astute class, that consists of just seven boats, the new class is currently being said to aim at a build of 19 boats for the Royal Navy and up to 10 for the Australian Royal Navy. The boats are likely to be based on the Astute class but stretched to accommodate vertical launch missiles. This will bring commonality to the U.K., US and Aussie missile systems. Of course, the more missiles and submarines of one type produced means a lower overall unit cost. At the moment an Astute class boat cost around £1.2 billion. I bet the new boats don't cost any less.
Octopus Energy has announced that they have signed an order will the Chinese electric vehicle maker BYD for 5,000 EVs. I thought that this meant that Octopus Energy were going to go electric with its company cars, but no, these cars are for Octopus Electric Vehicles to sell to the public in packages. The idea is that Octopus EV sells a bundle of car, charger and energy to customers. At the moment they are selling Tesla, Audi, BMW, Polestar, VW, MG and Genesis EVs in such bundles. I find it rather strange that your electricity supplier also sells you a car, it's a bit like buying your food from the dustman.
Wednesday
Morning all, it is a lovely sunny morning in London this morning, but it is cold. There is a little bit of frost, but not on the ground, only on the roof of the gardener's shed. It's budget day today and I have been listening for leaks, but as usual they are few and far between. All I hear is speculation on childcare and pension pots, but that is in all the newspapers so must be a deliberate leak.
The farce that is the Scottishland ferries continues with a report from the Scottishland Audit Office that wonders if the two ferries will ever be delivered as the state-owned builder, Ferguson Marine, is once again on the verge of collapse. The Port Glasgow shipyard has failed to secure any follow-on work from the ferries and will need a further injection of Scottishland Government money if it is to survive. This comes as the first of the two ferries is nearing its, five years late, current completion date in May. The second ship is currently not now scheduled to be finished until 2025. The original cost of the two ships was £95 million but that has currently been stretched to £293 millions with nearly £10 million of that still to be approved by the Scottishland government. The report also reveals that six directors of the shipyard have recently received a bonus, apparently it was in their contracts that they should receive the bonus on the completion of the hull of the second ship, but this contractual bonus had never been disclosed to the Government owners. Will this whole sad saga ever end?
Meanwhile shipbuilding in other parts of the U.K. seems to be booming. The shares of BAE Systems and Rolls-Royce have both leapt on the stock market on the news of the AUKUS submarine deal. The project should bring both companies a long-term order book of profitable work and the need for additional workers. All Royal Navy submarines are nuclear-powered these days, as that form of propulsion is necessary for the silent running, range and ability to stay submerged for months, that modern submarines require, and Roll-Royce is the only British company capable of building the reactor.
Word reaches me the two-year-old Nova, the Rich Boy's dog, has been in trouble. She has been caught off the lead running around in an area of Hyde Park where dogs must be on the lead. I hear she was being walked by the Rich Boy's very, very, rich wife. A patrolling policeman pointed out the signs saying that 'dogs should be on the lead at all times' and she complied. No further action was taken so she avoided a fine, unlike her husband and Partygate.
I hear that the missing Yorkshire chef, Claudia Lawrence, who has not been seen for 14 years is being chased by the BBC for not paying her TV Licence. The chef was reported missing in March 2009 when she failed to arrive at her job at the University of York. The police believe that she has been murdered but nobody has ever been found. Now Claudia's mother has revealed that the BBC has been regularly sending licence demands to Claudia's cottage, threatening her with court and a fine of up to £1,000. Claudia's mother has made use of a law that allows relatives to take control of a missing person's finances and has kept the cottage in the same condition as when she disappeared. When the first letter arrived from the BBC, Claudia's mother wrote to them, but it has made no difference, the BBC's computer keeps churning out the threatening letters.
I read that a man in New Zealand has just successfully sued Emirates Airlines for failing to supply the Business Class seat it was advertising. Emirates were advertising that its new Business Class seat converted into a lie-flat bed, had a built-in private bar and an updated entertainment system. However, it seems that the particular Boeing 777-300ER that is permanently allocated to the route to Auckland has the old layout and has never been upgraded. Its seat only reclined to 161°, there was no bar, and the entertainment system was old and not upgraded. The court agreed that it was false advertising, as the airline was not supplying what was advertised, and he was awarded NZ$13,555.
In London, a huge development is going on above and around the Elephant & Castle tube station. The agreement between Delancey (the developer), TfL, Greater London Authority and Southwark Council means that Delancey will supply the entrance to the station and the basic box at ground level that will accommodate the ticket office and heads of the escalators to the Northern Line. It will be designed to be big enough to accommodate a future Bakerloo Line extension and its three necessary escalators. The funding is in place for moving the existing Northern Line ticket office and its ticket machines to the new 'box' and for the new escalators to platform level, but funding is yet to be found for fitting out the box. That means no ticket barriers, signage, lighting, ventilation, decoration and all those other things that are needed. The problem is that the main agreement says that Delancey will only start work on the 'box' once TfL has its funding for the fit-out in place and that is currently missing. What a mess.
Thursday
Well, the dry mornings of the last couple of days didn't last, it was wet again when I woke up and everywhere was soaking. The weekday cat feeder was in bright and early and chatted to me as always. She also left the radio on for me, it's turned down low so I can listen if I want but otherwise it's just background noise.
I was intrigued to read that the head of heat pump maker Bosch says that they are a total waste of time being installed in most of Britain's housing stock. He went on to explain that the problem is that the vast majority of British housing stock is just not suitable. He says few homes have enough space to install a ground source heat pump. As for air source heat pumps, you still need outdoor space to install the units and then because of the lower temperature of the water the pump produces, you have to rip out all the existing piping and radiators and replace them with new larger diameter pipes and much bigger radiators. But it doesn't end there, you will need space to install a large hot water tank and to pack the house with all sorts of insulation to retain the little heat the system produces, and you will have to get used to cooler baths and showers. He then suggested that replacing a gas boiler with a hydrogen boiler or a hydrogen ready/capable boiler made a lot more sense. Not what the greenies want to hear.
Yesterday's budget announced that there is to be a competition for suppliers of Small Modular Reactors in the U.K. with the winner getting a chunk of Government funding for the first SMR built in the U.K. The competition is to open immediately with the winner announced by the end of the year. Now this got me thinking, who is going to take part in this competition? Well obviously, Rolls-Royce, but who else? Well, as far as I can see all the others are American; NuScale, TerraPower, BWXT, Westinghouse, GE Hitachi and Kairos Power who have gone down a different route to the others and are developing a Molten Salt Reactor. My worry is that if anyone other than Rolls-Royce wins, we will be killing off our domestic power industry.
A little more on heat pumps. I understand that they need an electric supply to drive their pumps, compressors and fans so although you might be saving on your gas bill you will be increasing your electricity bill. On a warm day, an air source heat pump will output around 4Kw of heat for every Kw of electric it consumes. But you don't need the heat on a warm day! On a cold winter's day, when you do need the heating on, the system is more likely to output 1Kw of heat for 1Kw of electricity. To put it frankly, it would be much cheaper to buy a load of one-bar electric fires and save the £20,000 (after the £5,000 grant) it will cost you to install heat pumps.
I hear that the three power generators who still have coal-fired generators, and have helped the grid out on several occasions this winter when wind and solar weren't up to it, have been asked to sign emergency support contracts to supply power next winter. All three have refused. At the moment there are five coal-fired boiler/steam turbine units in commission, 2 x 660 Mw at Drax, 2 x 500 Mw at West Burton and 1 x 500 Mw at Ratcliffe which have been available this winter and have been asked to be available on the same terms next winter. Both Drax and West Burton have long planned to shut down their remaining coal units at the end of this month and consequently have not done maintenance and repairs and have made staff redundant in preparation. Ratcliffe is a little different as it has contracted to sell all its power output to industry directly. Looks like there is going to be another power crunch next winter.
The International Atomic Energy Agency has told the UN that two and a half tonnes of yellowcake uranium has gone missing from a storage facility in Libya. When Gadaffi was toppled, the IAEA found 400 tonnes of yellowcake stored in barrels. Now, following a check, 11 barrels have gone missing without trace. The yellowcake is basically raw uranium and would need to be passed through gas centrifuges to create power grade uranium and even more highly centrifuged to be of weapons-grade. Apparently, a tonne of yellowcake makes about 11 lbs of power-grade uranium. The fear is someone has sold the missing uranium to Iran.
Poland is busy re-arming its army with modern weapons and spending lots of money. Firstly, they bought 20 HiMARS launchers and a supply of missiles from the US which they were rather pleased with. In fact, they were so happy with the purchase they asked for and were granted US permission to purchase 400 more systems. However, they hit a problem here in that they are at the back of a long queue for new HiMARS, with the US Army purchasing replacement for systems it had sent to the Ukraine, the Ukraine buying directly and other nations purchasing them after they have seen their effectiveness. So, what has Poland done? It has gone to Korea and ordered its Chunmoo system. This is a similar system to HiMARS and can fire a range of rockets from a truck-mounted launcher. Poland has chosen to mount the system on a domestically built chassis and the first three are currently on the way to South Korea to have the systems integrated. The rest of the 268 systems ordered will be shipped to Poland to be integrated there. The first squadrons will be in service by the end of the year with rockets capable of ranges up to 290 km. I bet they have cost a lot less than buying HiMARS.
Friday
Well, yet another wet morning here in Downing Street. I was not alone in the flat last night, that bloke Hunt, slept over. He is the official resident, but he is hardly ever here as he has a great big house in Pimlico. When he first got the chancellor's job, he had a bit of work done in the flat that I understand he paid for himself. All that expensive gold wallpaper that the Little Otter insisted on, was painted over and he had new carpets laid throughout. Bozzie never replaced the carpets, and they were getting a bit grotty thanks to the mutt. Hunt was on his own, so I was surprised when he had a KFC bucket and chips and a big bottle of Coke delivered. He told the person who brought it up to the flat that there was a lot of noisy building work going on in the Pimlico house. I rather like KFC, so I was delighted when he shared some with me. He can come again.
I learn of a bit of forward-thinking from the Australians. They have asked for, and been granted by the United States Government, the ability to order 220 vertical-launch Tomahawk missiles. At the moment Australia has no use for such missiles but it will have when it acquires the Virginia class submarines from America in a few years' time. The submarines would be pretty useless without these surface-to-surface missiles, and they will take a while to manufacture and supply. Mind you, the sale still has to be approved by Congress before it can go ahead.
Where else but in the United States could a man be suing a fast-food chain called Buffalo Wild Wings for misrepresentation after discovering that the company's boneless buffalo wings are actually deep-fried slices of battered chicken breast meat. His case relies on the company's advertising 'boneless wings' that are no such thing. I could have understood if he had been complaining that Buffaloes don't have wings.
So, many of the NHS unions (but not junior doctors), have come to an agreement with the government on wages and are to recommend it to their members. Apparently, they have settled for a lump sum for the current year, which they have already had an increase for and 5% for next year, when inflation is expected to fall to 2.9%. This is quite a bit less than the crazy numbers of 25%+ they had been demanding. Next on the ramp is the teachers, who have agreed to enter 'intensive' talks immediately. I also hear the railway unions are nearing an agreement. If all these strikes are settled, what will the radio, TV and papers have left to talk about?
DPWorld, who own both the ports of Southampton and London Gateway are busy developing both. At London Gateway they are building an all-electric berth which will allow ships to use shore power while in dock. London Gateway deals with much of the trade with Europe and sees many huge container ships stop there on the way to and from Europe. Southampton handles more of the international trade and cruise liners. Now DPWorld are to build a lot more warehouses at Southampton and to link the two ports with their own freight trains.
I hear that the father of Nicola Peltz who married Brooklyn Beckham is suing their wedding planner because it cost too much. It seems to have cost £2,000,000, a lot more than was originally planned. The billionaire wants the deposit back and has hired a celebrity lawyer known as 'The Rottweiler". At the same time the Beckham-Peltz have told the press they have sold their $5 million home and are living in an 'apartment' while saving for their 'dream home'. I suspect daddy will not be helping them out.
Oxfam have issued a language guide for its shop workers. The 92-page guide warns employees about using 'colonial' language and phrases. It bans the use of words like 'headquarters' and 'local', neither of which I can see could possibly be offensive to anyone. It says 'mother' and 'father' should be replaced by 'parent'. This is more woke nonsense from an organisation that might be better off keeping a low profile after all the revelations of its officers' using prostitution in poor countries.
Saturday
Wet again this morning, but mild. As predicted, there were people on the TV yesterday saying we need more rain, or we are going to have a drought this summer. They then trotted out statistics that February was very dry, and reserves of water were low. I find that hard to believe. Looking back at my diary there seems to have been loads of wet days and the garden at No 10 is soggy. Can it be that we are just wasting the water and not storing it?
I hear that only a year after opening and even before it is fully open for trains to run from end to end the Elizabeth line is now the busiest line in Britain. The latest numbers show that during the last three months of 2020 it carried 62.6 million passengers. Govia Thameslink Railway carried 62.8 million passengers in the same period, but it is actually three railways, Southern, Thameslink and Gatwick Express. It looks like the Elizabeth line has been both pinching passengers from other operators and encouraging people to give up their cars and travel by train. Morning rush hour trains from Woolwich are said to be standing room only, but this should be helped by extra trains when the timetable changes in May. Passengers are abandoning the expensive Heathrow Express and moving on to the Elizabeth line where again the service will increase in May. The stations on the line have all been built to handle 14-car trains but the current trains are all 12 cars long. How long will it be before additional carriages are ordered?
Following the massive Air India order for aircraft from both Airbus and Boeing, the word on the street is that IndiGo the Indian equivalent of EasyJet will be the next Indian airline to place a massive order. The airline is expected to hold back its order announcement until the Paris airshow in June. This order is believed to be for around 500 planes and IndiGo is said to be in discussions with both Airbus and Boeing. However, I would expect the order to go to Airbus as Indigo is a 100% Airbus jet airline and has nearly 500 Airbus jets still on order and yet to be delivered. The cost of changing to another manufacturer is considerable, with the retraining of all its pilots, new simulators, and all the spare parts it holds.
In the US, Sniffer Joe has just approved a plan to drill oil production wells in Alaska. The ConocoPhillips oil company say they will be producing around 180 million barrels of oil a year from Alaska's North Slope. Now, who remembers that one of the first things Sniffer Joe did when coming to power was to cancel the Alaska oil pipeline to appease the green vote? Now, two years later, he has no use for the green vote and has agreed to these new production wells. The only problem is that without the oil pipeline, the output from these new fields with have to either be shipped by huge Very Large Crude Carriers or tanker trains both of which have much more chance of causing an environmental disaster than a pipeline.
The leadership battle for the SNP has just caused another leading member of the party to resign. The contenders for the leadership have for some time been asking for a list of party members so that they could direct their literature and know that the voting returns numbers were accurate and fair. For weeks the party has been refusing to give the candidates this information and the Scottishland press has been speculating that this is because of a large fall in party membership. Back in February the Sunday Mail claimed that SNP membership had fallen by 30%, a claim denied and called 'drivel' by the SNP communications officer Murray Foote. Today it has been revealed that the party membership has fallen from 103,884 to 72,186 in under two years. Foote has tendered his resignation, saying he had been giving out information in good faith that had given to him by the party hierarchy and consequently his position was untenable. Something is very wrong with the SNP.
I understand that Citroen are planning to undercut most other motor manufacturers with a full range of electric cars that will be priced lower than their competitors. They have already shown their new Electric C3 Aircross but have not yet revealed its price point. However, I hear that it is to be about £25,000 in the U.K. which is lower than its competitors, the electric FIAT 500 at £28,195 and the Vauxhall Corsa electric at £32,800. One of Citroen's bosses said that there is no point making electric cars that customers can't afford. I will be keeping an eye on what it actually costs when launched.
I had a real laugh this afternoon when I read that according to the UN definition, London is a forest. The UN definition says 10% of the land must be trees and when you work out the area of London and divide by the official tree count for the city, in trees lining streets, in gardens and in open spaces, parks and the likes of Highgate Woods you get more than 10% by the UN definition. Next time you are on Oxford Street or in Trafalgar Square you might like to remember that the UN thinks you are in a forest. They obviously can't see the wood for the trees.
Well, I'm done and it's still raining. I had hoped that by now I could be back on my favourite windowsill this afternoon. It's warm enough, but no way am I getting my fur wet. So once again it's the waiting room chair until dinner time. I will be back with you all again next week.

© WorthingGooner 2023