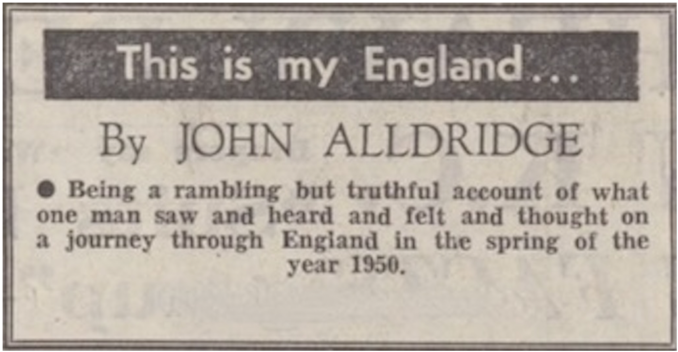 If you want to see what a profound and lasting impression the war has left on the face of rural England you should make a point of travelling over that stretch of road that links Peterborough with Cambridge.
As I remember it 10 years ago, this was not a very spectacular stretch of road. But since then one or two remarkable changes have taken place.
The first of these is a vast derelict airfield which stretches for miles from the edge of the road to the horizon and beyond.
I should hate to have to sit down and work out — as of course some people have to do — how many hundreds of thousands of tons of asphalt had to be brought here to make these miles of runways, how many square yards of galvanised iron were needed to build those scores of hutted camps, some of them big enough to accommodate whole villages.
But the job was done: and a fine job it was while it lasted. Once upon a time this was the largest airfield in Britain: so vast that in places it sprawled out over the main road and swallowed it up, and here and there an isolated farm and a clump of cottages disappeared to make way for it.
They used to joke about it around here. They called it "the 49th State." For it was bought and paid for in dollars and once you stepped off the road and onto that airfield you were treading on a bit of the United States of America.
Now all that is ancient history: the B17s that used to fly from here to Germany and back so regularly that they called it "the milk run" are mouldering on a hundred scrap-heaps: the men who flew them have gone back to their office desks and their farms and their filling stations — all except those who never went home but lie in neat, soldierly rows in a field just outside Cambridge.
But the airfield is still there, quietly falling into decay, like some ghost town of the Far West. You can turn off the road now without fear of arrest and drive for miles over the empty tarmac, past rows and rows of abandoned huts, roofless and windowless.
Already the weeds have found out the weak spots in the concrete, and in a few more years what is left of those control towers and canteens and barrack rooms will be buried under the very brambles that were hacked down to make way for them.
The other change is even more spectacular. The last time I passed this way there was nothing to see between you and the sky but an occasional farmhouse and the candle-snuffer spire of some village church.
Now the whole landscape is violently interrupted by clusters of tall chimneys. It is almost as though half of Rochdale had been picked up bodily and dumped down here in Lincolnshire.
But these chimneys — I counted thirty of them in less than half a mile — have nothing to do with cotton. They are making bricks. And making them as fast as those great land-dredgers, tearing up the soil and trampling it underfoot like embattled dinosaurs, can feed them.
It's going to take a lot of bricks to build half a million houses. And so these mild green acres must be savagely seized, devoured, and digested that there may be another row of semi-detached villas in a new Birmingham suburb.
Thank heaven nothing like that can happen to Cambridge, which is as changeless as few things are in England today. A little too changeless, perhaps, for some people's taste.
Mr. J. B. Priestley, who is an old Cambridge man and therefore may speak with authority, finds it too smug these days, too satisfied with itself.
"I wish," he complains rather petulantly, "that Cambridge did not tend to take every advantage of the fact that it knows more than anybody else about seventeenth-century prose or electrons or the foreign policy of Choiseul or Vitamin E. I wish it were not so primly pleased with itself, as if it were a hard-working charitable spinster and the Absolute of its delighted vicar."
Of course, there is a rather quaint, prim, academic flavour about the place. It is perfectly exemplarised in that notice outside the Fitzwilliam Museum: "Smoking and bringing lighted tobacco into the building is absolutely forbidden."
But for my own part and judging from first appearances, as I must, I am surprised that men don't come to Cambridge today as once they pilgrimaged to Canterbury. For if ever there was a time when a man needed to pause for a moment and refresh his spirit it is in this very year of Our Lord 1950.
He should go to King's College Chapel, preferably in the late afternoon, when the candles in the great elm-wood choir stalls are lit and the organ is playing softly to itself.
He should stand at the West Door and look east at the noblest interior in Christendom and watch the play of light on Flemish glass and English stone. And he must sense within himself that peace which passeth all understanding.
Perhaps then he will feel moved to kneel for a moment and remember the prayer of the boy King Henry VI, who conceived all this majestic beauty: a simple prayer rising from a full heart:
"O Lord, who hast created and redeemed me, and hast brought me hither where I am; Thou knowest what Thou wouldst do with me; do with me according to Thy will, with mercy. Amen."
I have heard it argued, with a wealth of good logic, that a man need no longer go to Oxford or Cambridge to learn the art of living. Such things are catered for in a dozen red-brick universities whose lists of academic successes are every bit as long these days.
But where else in England — or in the world, for that matter — is a man able to read the "De Conscribendis Epistolis" of Erasmus in a private bluebell wood within easy stone's throw of the very turret room where it was written?
There is a room in the Fitzwilliam Museum where it always seems three o'clock in the afternoon — an English afternoon in the 18th century. There you may sit in a chair that Chippendale made and look at a half-finished portrait that Joshua Reynolds made of Edmund Burke (why was it never finished? Did he lose patience with it, or with the sitter?) and listen to the only sound in the room, the soft tick of Thomas Tompion's masterpiece — that marvellous Equation Clock which needs only to be wound once in thirteen months to tell you not only the hour of the day but the day of the week and the season of the year.
Of course it was not always like this.
Walking these ancient quadrangles and watching the sunlight seep easily into the time-worn brick, so gay now with its new spring tapestry of wisteria and laburnum, it is difficult to imagine that there was a time when a respectable Cambridge merchant would sneak off down a side street if he saw a band of students coming his way.
Yet riots between town and gown were common enough in Cambridge in the Middle Ages — "strifes, fights, spoilings, breaking open of houses, woundings, and murder betwixt the burgesses and scholars of Cambridge, a crew of pretenders to scholarship, who live under no discipline, having no tutor save him who teaches all mischief," as an innocent bystander of the time indignantly complained.
Nowadays each college, which is like a small sovereign independent state in a well-knit confederacy, keeps a watchful, if indulgent, eye on the behaviour of its students: almost the first thing a freshman is expected to do after he has officially matriculated is to present himself at the Senate House and promise, formally, "to observe the statutes and ordinances of the University as far as they concern him and to pay due respect and obedience to the Chancellor and other officers of the University."
The University expects him to conduct himself properly in the streets and in his lodgings: it still forbids him to have dealings with moneylenders, to discharge firearms, and to light bonfires, and — in the case of a first-year man — to keep or use a motor vehicle: it insists that if he wishes to take part in a dinner or dance or dramatic entertainment in a public place he must first obtain permission from the Junior Proctor.
And to make quite certain that the will is taken for the deed, the proctors and their "bulldogs" — stalwart men who on great occasions carry the proctor's insignia of office, a halberd and a butter-measure — still patrol the streets after dark in the interests of good order.
But their function these days is largely ceremonial. For the Cambridge man of 1950, always more restrained than his opposite number at Oxford, belongs to a sober generation. Perhaps that is due mainly to the fact that by and large he is older than he used to be.
Before the war the average age of a freshman was 19; nowadays he usually "goes up" in his early twenties, when already he is a responsible individual with two years of military service behind him and perhaps a wife and young family to find billets for.
Post-War economics have a lot to do with it, too. A Cambridge education was never cheap. But before the war a large class of undergraduates managed to do very well on £300 a year. Today that figure will be nearer £500.
A notice in the window of an old-established firm of tailors in Trinity Street, "We regret that we are unable to undertake customers' tailoring repairs" is only one slight indication of the amount of reluctant cheeseparing that is necessary.
But for all that that your typical Cambridge undergraduate has not by any means lost his love of the unconventional. For one thing he is as carefully careless of his dress as he ever was.
The prevailing fashion favours a well-trimmed beard and creaseless corduroy trousers. And if he works harder than ever in cramped and overcrowded rooms — often now for more profitable jobs in commerce and industry — he plays as hard as ever, too.
On that afternoon he was doing his best to hit the Lancashire bowling all over Fenner's field.
And it's nice to know that even if, because of food rationing and a shortage of staff,
those jolly suppers in rooms are a thing of the colourful past, in May week which with typical perversity occurs in June at Cambridge a boat race will be rowed between Oxford and Cambridge in which both crews will be in full evening dress.
And no matter how unseemly life is in the world outside the calm grey walls, the unchanging charm of Cambridge remains.
Leaning over Clare Bridge at dusk, listening to the drone of intoxicated bees in that incomparable avenue of lime trees while a few late punts splash home to Mill Pond, it is easy to see why a Cambridge fellow has two loyalties — the one to his university and the other to his college.
And why so many Cambridge fellows return eventually to spend their last years pottering about the well-loved scenes of their youth.
As one of them has written:
"After an absence of several years he may well find that some men and things have changed but at the very entrance to his college he may rely on a reception and welcome. However long the interval, not only his name but his friends, his escapades, will be remembered by the college porter, who is indeed a source of the perpetuity of the foundation whose threshold he guards."
Reproduced with permission
© 2022 Newspapers.com

Jerry F 2023