Thursday – St Vincent and the Grenadines (Boxing Day)
I woke just as we were docking, no mad rush to get moving as I was on an afternoon trip. However I was peckish so I was in the restaurant for breakfast just after 08:00. A couple of poached eggs on fried bread with mushrooms and sautéed potatoes filled the hole. A morning round the Adult pool and a snack lunch before my tour round Kingstown. St Vincent is only a small island 18 miles long by 11 miles wide. They have one KFC and one Subway on the island but it is one of the few places in the world without a MacDonald's. Being Boxing Day it was a bank holiday and what would normally have been a 30 minute drive to the Botanical Gardens took 10. We had a leisurely stroll around the gardens which had originally been planted by the British back in 1752 to supply medicinal plants for the garrison. These days there are all sorts of non medicinal plants including Mahogany and Cashew trees.
Then on to the not very impressive Catholic Church. The Nativity Scene featured Mary and Joseph with a baby Jesus who was out of proportion (he was at least 3 times bigger than a new born), one shepherd with a sheep tucked under his arm and a Friesian cow. Around a corner were two wise men and a camel 🐫, I suspect the third wise man had got fed up and gone to the nearest bar. Finally the highlight of the tour a stop at a hotel for a rum punch made with the local 89 degree proof rum.
The tour guide decided to test if we had been listening to her "facts" on the way back to the ship in the bus 🚌. To my eternal shame I won the prize, a mini bottle of hot pepper sauce!
An informal dress evening for dinner. Once again a full table with lots of laughter and merriment. We are beginning to attract glances from other tables. Many different starters chosen this evening but without consulting each other we all chose the same main, beer battered cod, chips and mushy peas. The pieces of cod were enormous and perfectly cooked, the batter crispy, the mushy peas delicious 😋, the chips brown & crispy on the outside and soft in the middle, a total triumph to the  traditional British meal. Empty plates all round.
Friday – Grenada
One of the Spice Islands. I have visited here several times before so I had decided not to go on an arranged tour, just a gentle perambulation around town post breakfast 🍳. Last time I was here we had to anchor offshore and use the ship's tenders to get ashore, now they have built a cruise terminal. Such is the modern Caribbean. The first major question of the day was should I make myself an early morning cup of tea, slothfulness won. The second question was much harder what to have for breakfast. In the end it was cereal,  followed by fried egg, bacon, fried bread, black pudding, mushrooms, sausage, sautéed potatoes with fried onions and baked beans; toast and two cups of coffee. The eggs on board are tiny, I wonder if they buy up all the ones that are too small to make it onto the supermarket shelf.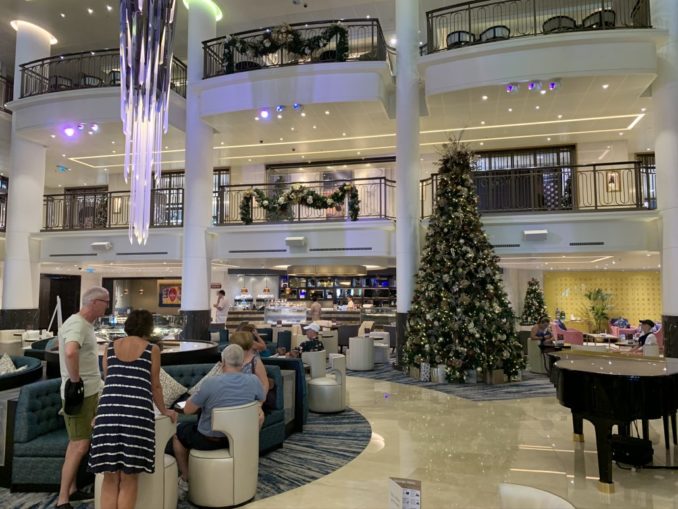 I donned my Going Postal tee shirt for the first time. I caught several people reading it but no one admitted to being a Puffin.
I decided to take my walk ashore before it got too hot, so I went down to where the gangway was located and I found a bloody great big Kraut boat 🚤 (but not as big as us) docked the other side of the pier. It was called Mein Schiff 2 and had "gute farht" written on the back, after those baked beans that was just what I fancied! Had my walk around town trying to avoid the people hawking taxi tours, boat trips, walking tours, fake Rolex's and the like. I found the local market with all the exotic fruit 🍉 on sale. I bumped into one of the ladies from my dinner 🍽 table who was looking for mangoes 🥭, but it's the wrong time of year apparently.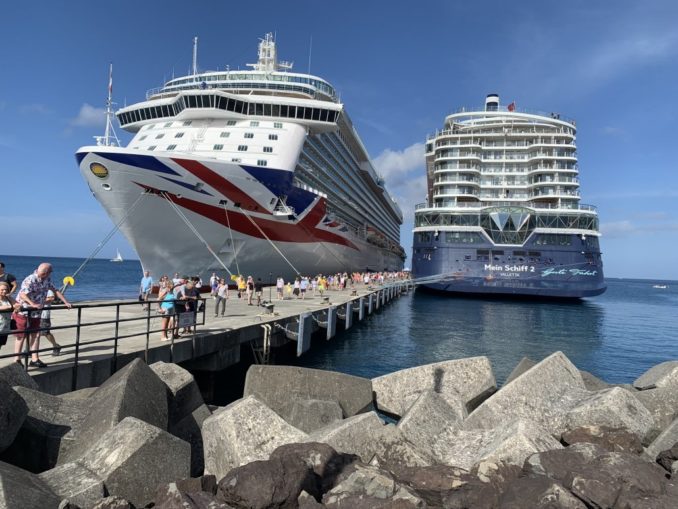 It was getting hot by 11:00 so I strolled back to the ship for a sit in the shade and a cold drink. I think I must have dozed off because the next thing I knew was the ice in my drink had melted and it was time for lunch. Only a burger 🍔 today, but the trick is to ask for one with one of the ingredients missing and they prepare it fresh rather than dishing up one that's been sitting on the hot shelf. Today I chose not to have any gherkin. Back to the cabin for a read, sitting on the balcony, it's handy to nip in for a snooze if I feel myself dropping off.
After a hot sweaty day it's a pleasure to step into the shower 🚿 before getting ready for dinner. One thing I will say is that this ship always has plenty of hot water. I have been on cruise ships where it ran out by five in the evening. Lovely big fluffy white towels changed daily, quality shampoo and soap, even a hairdryer. I love being pampered.
Another casual dress evening and a full table again. Among the starters tonight is Brussels pâté with toast and onion marmalade. One of the women on the table said that she didn't like Brussels sprouts and didn't know how they made pâté from them so we all played along saying things like we wondered if it would be green. When it came to ordering and I asked for the pâté she looked at me in amazement and said "how can you eat that" the rest of the table collapsed with laughter and we had to tell her. My main was a lamb shank so tender I don't know how the meat stayed on the Bone.
The table formed a quiz team for the regular 22:30 general knowledge team quiz. We were beaten by one point by the team that has apparently won every night.
Saturday – St Lucia
The mid point of the cruise and 350 passengers are leaving us to be replaced by 350 more. In my experience the second week of a holiday always flies by. I was woken early by lots of banging and crashing on the quay side. Local workers were erecting a large canopy at the base of the forward gangway. It is for the people who will be checking in the new arrivals. There is even a red carpet.
One advantage of being woken early was that I could get to the restaurant for breakfast before it was too busy and then off for a stroll before it became too hot. I have always quite liked St Lucia but we were warned that one or two passengers on a previous cruise had been robbed. I saw no trouble but as I was early I wondered if the footpads and villains 🦹 were still in bed 🛌. Back on board for a swim and a read before a light lunch.
I watched the people who are going home boarding their coaches for the drive to the airport, I didn't have the heart to tell them that I had checked on the internet and the incoming flight was late!
Two of our table decided to go to one of the posh restaurants you have to pay extra for. The rest of us had a cracking meal again, my steak was extremely tender, I only hope they had their money's worth.
Sunday – at Sea
Another lazy day with nothing special to do except enjoy the sun and read. I am now into my fourth book. The ship proceeded slowly to St Kitts as it was only about 200 miles and it had over 35 hours to do it. Mid afternoon I was enjoying the sun ☀️ on my balcony when I noticed we had sped up, but I didn't think much of it.
At six in the evening the Captain came on the tannoy to make his regular daily announcements and said that due to a passenger being taken ill and needing urgent hospital treatment he had sped up to 22 knots and we would be along side in St Kitts at 21:00 instead of 08:00 tomorrow. If we wished we could go ashore as soon as the ship had been cleared. However, the captain explained that as it Sunday night not much would be open. I hope the passenger is going to be OK, as to speed up and burn more fuel is not a decision that will be taken unless the passenger is seriously ill.  Back on board it was a formal night with everyone in their finery and 21:00 came bang in the middle of dinner. I didn't much fancy wandering the streets of St Kitts on a Sunday night in my dress suit, looking like a James Bond impersonator, so I decided to stay on-board for the evening. It was officially Black and White night, nothing to do with skin colour, just everyone is expected to dress in Black and White. One of my dinner companions only had a red bow tie but they still let him eat!
The Ambulance arrived on the quayside at about 22:30 drove away with blues and twos going 20 mins later. I watched it drive along the seafront and then into the town where it turned into a large building which I guess was the hospital.
Monday – St Kitts
Up early for breakfast as I was on a morning tour. The most popular trip is a narrow gauge railway trip around the island on a railway that was originally constructed to haul the sugar cane from the plantations to the refinery. However, I had already done that on a previous cruise so I went on a "Panoramic tour" and trip to Fairlawn House. The driver/tour guide was called Winston! First was a drive around Basseterre, taking in the law courts, the prison, the police station, the park that had been the slave market, the bus station and the hospital. All gripping stuff.
Then on to Fairlawn House and gardens, an 18th century plantation owners property which is maintained as it would have been then. This was actually a great improvement on the tour so far and was quite scenic and interesting. It also included a strong rum punch! A bit more riding in the bus to Frigate Bay and a stop to take photos of the bay which was stunning.
One or two facts about St Kitts. The earliest settlers accidentally introduced rats to the island which took to eating the young sugar cane. The native snakes thrived on the rats and soon got out of control so mongooses were imported from India. They killed off all the snakes 🐍 but are themselves now a pest! The other pest on the island are monkeys. These were imported as pets by slave traders and escaped ones so took to the island that the wild monkeys 🐒 now outnumber the native population. A popular local dish is roast wild monkey.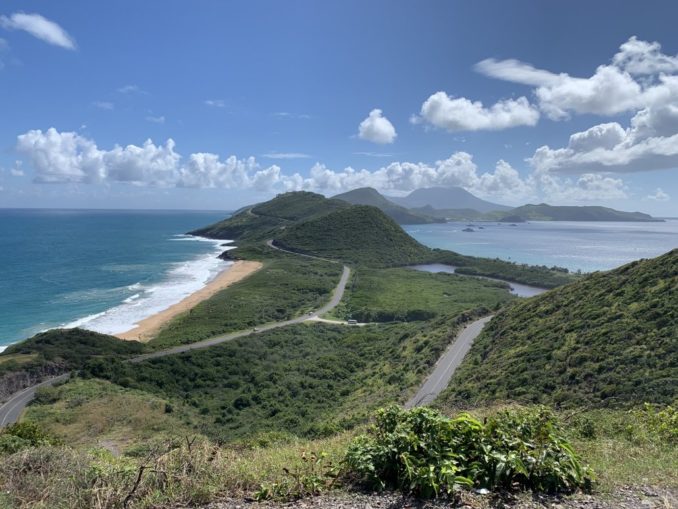 After lunch it was time to bag a sunbed to read, swim and snooze until it was time to shower in preparation for the P&O Peninsula club pre dinner cocktail party. Passengers who have previously cruised for a minimum number of days at sea are invited for free drinks and canapés. The booze flowed and you could have got well sloshed 🥴 without much effort. They always award a bottle of champagne to the passenger whom has accumulated the highest number of sea days with P&O. It was claimed by a lady who had racked up 948 days!
Tuesday – Antigua (New Year's Eve)
I awoke this morning just before 7 o'clock as we were docking. Laying in bed I could  see a rainbow through the balcony windows. Despite the sun being out a very gentle rain ☔️ was falling, the first I had seen since leaving England 🏴󠁧󠁢󠁥󠁮󠁧󠁿. However the forecast was warm and sunny and it was only a passing shower. The view from the balcony was not the best, it looked like a new dock and jetty were being constructed. Not uncommon in the Caribbean as the cruise trade is booming and they have to be able to accommodate the increasingly large ships.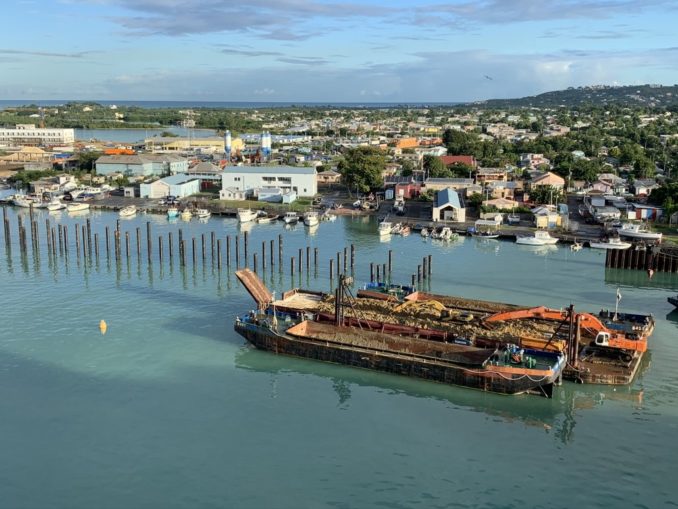 No rush to get up for breakfast as my tour has been cancelled. Fortunately I have been here before so it didn't really matter. I enjoyed my breakfast, cereal, two poached eggs on fried bread (much better than on soggy toast) and loads of coffee. Then a stroll 🚶‍ ashore before returning in time for a light lunch. I was very good and had cold meat, prawns and salad 🥗 in preparation for a blowout evening black tie dinner.
First new year celebration in Brodie's a ships bar that masquerades as a British pub. Met up with several people from our dinner table and cracked our first bottle of champagne 🍾 of the evening as we prepared to welcome in the British New Year. The wanker in charge of the bar very nearly missed Big Ben as he insisted on playing music videos on the TVs. Much yelling at him by the patrons got the TVs tuned to Sky News just before the first bong and the London fireworks 🧨.
Nearly a full house at the dinner table for the "special" dinner, one man was a little worse for wear having been drinking all afternoon and went to bed after the UK New Year. Well, the dinner was very good and an effort had been made to put some Scottish dishes on the menu. Most of us, being English, ignored the haggis and the clootie dumpling dessert, but I thoroughly enjoyed my duck terrine, scotch broth, kir Sorbet, lobster and scallops, creme brûlée, coffee and chocolate truffles all washed down with more champagne. I must say the rack of lamb did look good, but despite being offered it, I just could not manage that as well. We then adjourned to Brodies for more champagne 🥂 to see in the local New Year. We avoided much of the deck party as the music was very loud and several people were jumping in the pool fully clothed. What a way to ruin an expensive dress suit!
© WorthingGooner 2020

The Goodnight Vienna Audio file