Monday
Good morning everyone, no rain or frost again today, but the grass is still very wet under paw, but at least it isn't so muddy as it was last week. There is even a bit of watery sunshine about. When I went out into the garden this morning, there was a grey squirrel digging in a flower bed. Well, I tried to creep up on it, but it shot off and over the wall. I couldn't be bothered to give chase as it was nearly breakfast time.
The first frigate, HMS Somerset, has started its upgrade to the Naval Strike Missile. The Type 23 frigate is the first of 11 Type 23 and Type 45 destroyers to have their obsolete Harpoon missiles replaced by the NSM which can be used against both ship and land targets. The missile is launched via vertical launch tubes and can carry a 500-pound warhead over 100 miles for what is claimed to be a 'precision strike'.
After FlyBe went into administration early on Saturday morning they immediately made some 277 of their employees redundant, retaining a few people to deal with problems. The good news for these employees is that trained airline staff are in short supply and many airlines have vacancies. In fact, both Ryanair and EasyJet have been very quick off the mark suggesting those made redundant should contact them. In fact, I hear that EasyJet are currently short of some 250 vacancies for cabin crew. It must be cheaper and quicker to retrain people already trained by another airline.
Last week you probably heard the fuss being kicked up over the 'children' who had gone missing from a hotel in Brighton. I heard a Romanian man on the radio saying that these unaccompanied children had just been picked up by the Romanian gangs who had smuggled them and they would soon reappear in the drugs trade. I thought that unlikely, but today I have changed my mind. I have just read that the police have arrested three of these 'children'. One was charged with running a cannabis farm in Tottenham and two others with drug dealing, one was in Cambridge and Gloucester. I don't think this is a coincidence.
I hear that Sky and Freesat have accelerated the move to an all-HD Satellite service. In fact, last week they moved all the remaining services in the Southern region to HD. Now in less than a month all BBC regional broadcasts on Sky and Freesat will be in HD. There will still be a 'nightlight' SD service, but it will be way down the channel list while HD goes out on the channels at the top of the list. I suspect this is not going to be the case for long and the BBC will follow ITV in closing its SD services. But how about Freeview? The platform doesn't have enough HD slots so what is going to happen when the SD service is finally closed down?
Down under, off the coast of Victoria, the Liberian-flagged Yangtze Fortune ship has been lying abandoned for several months. Originally there were 36 Filipino crew members on board but that has now been reduced to 16. The ship was supposed to pick up a cargo of cattle for transport to China but the crew spotted a large crack in the hull which they reported to the owners who promptly abandoned the ship. The crew haven't been paid in ages and are owed about $250,000 and its insurance is due to run out soon. In addition the Australian authorities have given the owners until 10th February to sort things out or the ship will be auctioned. Under international law if a ship is abandoned it becomes the duty of the country of registration and the insurers to take responsibility but so far neither has wanted to become involved.
I understand that Chinese car makers are looking at the U.K. market as a huge opportunity for their EVs. They believe that the mainstream car makers are set to abandon the cheap end of the market giving them a major sales chance. For example, Ford are killing off the Fiesta and Focus and want people to look at buying the electric Mustang. There is of course one big problem here. The Fiesta costs from £19,000 while a Mustang costs from £51,000 and is not a replacement for the Fiesta. I read that about 30 Chinese brands are eyeing the cheaper end of the U.K. EV market.
Tuesday
Well, it's a touch warmer this morning but very grey, at least it's not raining. Well, the nice feeder is back this morning, and I was delighted to see her. It's so nice when someone talks to you while getting my breakfast ready.
I had a little chuckle this morning when I read that my scribe's football team seem to have escaped a bit of controversy when they lost out to Chel$ea in the pursuit of a player called Mykhailo Mudryk, when the money bags club paid over the top for him. This morning a video has emerged on the internet with Mudryk using the N-word, not just once but multiple times. I know it's not unusual for East Europeans to be racist, but this is not normally accepted as decent behaviour in Western Europe. After paying a fortune for the player will his new club be taking any action against him?
I had to laugh at the Wee Krankie being interviewed on TV yesterday by ITV. She got herself tied up in knots over trans people. She seemed to say that it was wrong for trans men to go to a man's prison but ok for a trans woman to go to a woman's prison. She really got skewered by the interviewer who pointed out this was discrimination. The Krankie realised that she had been caught out and waffled on, trying to justify her mad views. It was lovely.
Sad Dick appeared before MPs this morning talking about the expansion of the London ULEZ zone to include the whole of Greater London. He claimed he was a 'bold leader' who would 'stand by' his 'tough decision'. This is despite many of the outer London boroughs being against the ULEZ expansion. When asked why he would not have a London wide referendum to find out if the residents of London were in favour, he said we wouldn't because he would lose!
I read of an interesting court case due to commence next month in the London High Court. It all goes back to 2007 when the Spanish Government started to offer green subsidies to companies who constructed wind farms and solar farms. In 2012 the Spanish Government first diluted the subsidy and then in 2014 stopped it completely, leaving many companies out of pocket. Infrastructure Services Luxembourg and Energia Termosolar claim they were owed compensation after investing in a solar facility in the Granada region of Spain. In 2018 they won an arbitration case in the World Bank's arbitration tribunal, the ICSID, and were awarded €101mn. The case was brought under the Energy Charter Treaty and the EU are not happy and have been trying to get the charter amended but that requires the agreement of all 53 signatories. So, the EU tried to join the High Court case in which the two companies are trying to enforce the award, but this morning that was refused, with the judge saying the EU joining would cost extra and increase complications and that they are "demonstrably not neutral". One in the eye for the EU.
I hear that India is set to pass emergency laws to force power generators to generate more power from their coal-fired power stations. 75% of Indian electricity comes from burning coal but the country is suffering electricity shortages. The problem is that the war in Ukraine caused worldwide shortages of coal and the price went up. Most of the Indian power generators burn imported coal which is more expensive than domestic coal, hence those that had long-term contracts with domestic suppliers were at an advantage to many burning imported coal. So the importers cut back on production and hence the emergency law to force them to generate more power, but how? Well, it looks like India is going to have to produce more coal domestically. I wonder what the Greens think?
The US Army has put out to tender for 155mm Howitzers shells. In a normal year they buy 14,000 such shells, but this year they intend to buy 7,000,000 shells! This 500% increase is caused by the war in Ukraine and production is both for supplies to Ukraine and to restore US Army stocks. The contract is for a set price and I understand attracted only two tenders. But is not just the US who have upped production, I understand we have been doing something similar as we have been running down our stock by supplying the Ukraine. It sounds to me that investing in defence companies may be a good idea.
Wednesday
Another fine morning, with no frost and a clear sky. I hurried back from my constitutional and quickly scoffed my breakfast as I wanted to read my scribe's next instalment of his cruise holiday. I wonder if they have a vacancy for a ship's cat on board!? Talking of TV, I was the subject of a quiz question on the box last night. "What is the name of the Number 10 cat." The person got the answer right because they followed me on Twitter. But that is not me! That is a fake.
Five flat owners have today won their Supreme Court case over the Tate Gallery's viewing platform. The five people have flats in a tower block that people on the viewing platform can see directly into because they have full-height glass windows. The case has been rumbling on for quite some time and the owners lost in the High Court and then in the Court of Appeal where a Judge suggested they should just 'close their blinds'. They have now won in the Supreme Court, so the Tate has nowhere else to go.
The British Trust for Ornithology has been locked out of its Twitter account. They have apologised to their members on Facebook, but they can't contact Twitter to discuss the problem, because every Twitter reply is automated. Journalists have however managed to talk to a person who has said that the BTO used "inappropriate language". What did they say, they talked about a "Woodcock". Well perhaps the deserve an apology from Twitter.
If you want to vote in person in the upcoming local elections you will have to show some form of personal photo I.D., be it a driving licence, passport, pub age verification or similar. For those who have nothing suitable, the government offers a free photo I.D. However, it seems that uptake is very low, at just 10,000. Does this mean that most people already have a suitable form of ID or are they so lazy they just can't be bothered and won't vote? I must admit I would be very surprised if the vast majority of British citizens didn't have something suitable even it it was a OAP bus pass. These days you even need photo ID to collect a parcel at the Post Office.
The bus company Stagecoach has just placed the first order for the Alexander Dennis Enviro400EV, a new battery electric double-decker bus. The order is for 55 buses to be used in the Oxford area and follows on from an order for 200 Enviro400, the diesel-engined version of the sister design. The Enviro400EV is supposed to have a range of 260 miles on a single charge, I wonder if that is on a cold day. Oxford seems to be a big market for electric buses with the Oxford Bus Company already having ordered 104 electric buses from Wright Bus.
Totteringham signed a new player on loan yesterday, last day of the winter transfer window. Pedro Porro is a Spanish player and has been playing for the Spanish Primeira Liga club Sporting CP. The thing that amuses me is that in Spain and Argentina Porro is slang for a joint, or marijuana. I wonder how long it will be before Premier League supporters get to pick up on the name and start making up songs about him.
An interesting ruling in the Italian Supreme Court today. They ruled that two children did not have to spend time with their paternal grandparents if they did not want to. Previous lower court hearings had ruled that the children should be forced to spend time with the grandparents. The grandparents had originally complained to a juvenile court that the parents were stopping the children from meeting them and they won. They also won a later appeal. However, the Supreme Court has now ruled that under Italian law a child had the right to choose if they wanted to spend time with their Grandparents and it might effect their mental health to force them to see their grandparents against their wills.
Thursday
Well, another dry cool sunny morning in London. I see there has been quite a lot of rain in some parts, but not here. Anyway, I had a visit from the nice feeder this morning and it was a beef in jelly day.
I hear that a vice admiral yesterday explained to a Commons committee that the problem that had forced HMS Prince of Wales to return to Rosyth for repairs, was the failure of a coupling on its port propeller shaft, meaning it lost 50% of its propulsion. He added that a check had revealed that the starboard shaft was suffering from a similar problem. A repair was being undertaken to both at the same time and the ship should be back in service in the spring. An inspection of its sister ship HMS Queen Elizabeth had been clear. I wonder how two ships that are supposed to be identical obviously aren't. Did someone change the coupling design on the second ship to make it cheaper?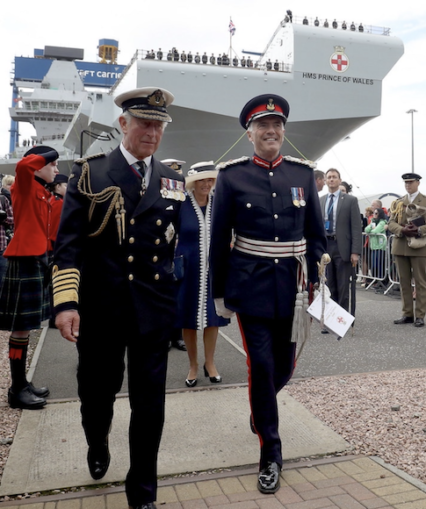 I have just been reading a story about the driver of a number 63 bus to Peckham who pulled up his loaded double-deck bus outside a local shop, got out and bought a plantain. Without saying a word, the driver got back into the cab and drove off. I wonder if he was reported or were his passengers so astonished that they all accepted the event.
So, the Welsh Rugby Union has banned the Tom Jones hit Delilah from playlists at its rugby matches. The song has been a fan favourite for many years and often spontaneously rings out during their international matches. It seems that after all these years someone has realised that the song is about a jealous lover stabbing his unfaithful partner and has decided it is not suitable. Well good luck with banning a 74,500 crowd from singing their favourite song, are they going to throw them all out?
The RAF is reported to have discriminated against 160 white men who applied to join in favour of women and ethnic minorities. The RAF have admitted that they ordered the previous head of recruitment to illegally select them over white recruits. The officer resigned rather than carry out the order. Apparently, the senior officers decided that they wanted to recruit more minorities to try to bring the numbers up and ignored the law of the land. This is so typical of the woke, don't go for the best recruits just fill the quotas.
The story of the woman who disappeared while walking the family dog by the side of a Lancashire river is very strange. The police say they have found the dog running around in a distressed state with the lead still attached to its collar. They also found her phone on a bench by the river, and it was still connected to a conference call with the company she worked for. Apparently, every day she dropped her two young daughters off at school and then took the dog for a walk by the river, but last Friday morning she just vanished. Did she fall in the river? Has she been murdered? Has she been Kidnapped? I suppose that one day we will find out what has happened.
I have been trying to work out how many Main Battle Tanks are being sent to Ukraine and from whom. At the moment I understand we have promised 14 Challenger 2 MBTs, the US has promised 31 Abrams M1, and Leopard 2 are coming from Germany (14), Poland (14), Spain (6) and Canada (4). I make that 83 in total. But on top of that other countries have said they with send tanks but not really put numbers to it, these include Norway, the Netherlands and Finland who all operate Leopards. However, the Ukrainian Ambassador to France has said this morning that they have been promised over 300 MBTs, I wonder where they are coming from?
Friday
Morning all, I think it must have rained in the night as it was a bit wet under paw when I went for my constitutional, but at least it wasn't raining. I watched Piers Morgan interview the Rich Boy last night and I thought the Rich Boy came over quite as quite human. But the best thing was that unlike most of the other political leaders in this country he didn't hesitate in saying what a woman was.
On that same subject, Wee Krankie tied herself in yet more knots in the Scottishland parliament yesterday being unwilling to admit that the trans person sent to a woman's prison and then a man's prison was a man. I hear speculation that it is all a ruse to turn attention away from the independence opinion polls that show remaining in the U.K. has a six-point lead. I also hear she wants to resign but there is no one available in the SNP who is a viable alternative. The only real possibility is off on maternity leave, so the Krankie is just hanging on and digging a bigger hole.
In Belgium there is a warehouse full of Leopard 1 tanks that were bought by an arms dealer for €50,000 each. The dealer took a chance that he could sell them on as spare parts to many of the nations still operating the Leopard 1. Now the Belgium defence minister has approached him to buy back 50 to send to the Ukraine and has been quoted €500,000 each. The defence minister has moaned that she is not willing to pay that much, but the arms dealer says that many of them are not current working and need to be fixed first and that he needs to spend at least €75,000 on each tank replacing asbestos engine insulation and he is entitled to make a profit. Surely €25 million for 50 Main Battle Tanks is cheap.
News has broken that the cost of work to refurbish the peer's entrance to the House of Lords has leapt from £2 million a year ago to £7 million as work is due to start. The work seems to include a new door and an update to the Gothic portico 'for security reasons'. £7 million for a new door seems to be an awful lot of money. Now I hear that the additional security for people coming through the door is worrying peers as they may have to stand around waiting outside causing a heightened security risk.
A retirement home in the United States has just been fined £8,000 for sending an old lady, who was not dead, to a funeral parlour. Apparently, the staff at the home couldn't detect a pulse, so they shoved her in a body bag and shipped her out. Then staff at the parlour realised she was still breathing, however the lady died two days later.
It seems that BMW has found a new way of getting money out of car buyers. They have started to charge for the use of items already installed in production cars. For example, you have to pay a subscription to activate the heated steering wheel and the heated seats. In addition, the Car Play software shuts down after three years and will cost around £250 to reactivate it. All these are normally free to use in a car that has them fitted.
You have probably heard of Punxsutawney Phil, the American weather-predicting groundhog who this week predicted another six weeks of winter. But are you aware of his Canadian rival woodchuck Fred la Marmotte? Fred, just like Phil, is woken up in early February to predict the weather. However, it was a disaster in Canada this year as when they went to wake Fred from his hibernation he was found to be dead. Not to be beaten, the Canadians invited a young child in a woodchuck hat and clutching a toy stuffed woodchuck to make the predictions and forecast six more weeks of winter, just like Punxsutawney Phil.
Saturday
Yet another grey morning here in London, but at least it's not too cold. Once again, a complete unknown came to open my pouch of Felix. The problem with a stranger is that they don't know my favourite and I often land up with a fishy one because they think that all cats love fish. Well, this cat doesn't, it's all right but give me chicken any day.
I recently told you that Turkey was looking at acquiring two of our Type 23 frigates, well I now hear that talks include a lot more defence equipment. They are said to be also looking at buying used C130 Hercules that we are taking out of service, procuring new engines for their M60 Main Battle Tanks and buying up to 48 new Eurofighter Typhoons in a deal worth up to £10 billion. As I explained in my earlier story, the Turks have fallen out with the Yanks over their purchase of Russian anti-aircraft missiles and although they have been looking at buying F-16s from them, talks have been dragging on with Congress currently blocking the deal. Hence, they have turned to us.
It is not just the U.K. that is having problems housing immigrants in hotels. New York has a similar problem with immigrants from South America being housed in hotels but has decided to move them out of the hotels and into a Brooklyn cruise terminal. However, the immigrants are not happy, they claim the accommodation in the terminal is poor and they want to go back to the hotels. I understand that many of the gimmigrants have just walked out of the terminal.
This week Marella Cruises (owned by TUI) have, at very short notice, cancelled a cruise on Discovery 2 out of Montego Bay, Jamaica, because of a 'catering, food and beverage' problem. They haven't officially said what the problem actually is, but it is believed to have started towards the end of the previous cruise. The word on the street is that the ship has a problem with either its refrigerators and freezers or with its cooking equipment, but quite how this would also affect beverages is not clear.
A London Tube employee has just lost a race discrimination tribunal. The man identified only as Mr I Olewande, had been demoted from a tube train driver to a 'customer service assistant' several years ago for opening the train doors on the wrong side at a station. He claimed that he had not been considered for promotion back to a driver because of racial discrimination and cited several cases of white drivers who had been demoted for safety-related issues who had been promoted back to driving. The chairman of the tribunal looked at the evidence and in dismissing the claim stated that all the cases referred to had not been comparable to Mr Olewande.
British Airways has just flown a 37-metre dinosaur from Buenos Aires to London's Heathrow. The Patagotitan mayorum was not whole, but packed into around forty crates, split over two Boeing 787-9 Dreamliner flights as under-deck cargo on passenger flights. In addition, the planes also carried four crates of fossils. It is believed to be the most complete dinosaur ever found and is to go on display at London's Natural History Museum from next month. The dinosaur is truly huge being roughly the length of four double-deck buses and weighing in at 57 tonnes.
In 2020 an 'extremely rare' fossil was found at the Bhimbetka Rock Shelters cave site in India's Bhopal city. It was rapidly declared to be a discovery of a rare 550-million-year-old life form, dickinsonia tenuis. The find was widely reported to indicate that this fossil indicated that this very early animal was living in the land mass of India and Australia that existed at the time. However, the scientists have now decided that it was in fact the remains of an ancient bee hive!
That's me finished for the week. Just like the past few weekends, it is not very nice out there so once again I am not going to go outside. Instead, I'm going to snooze in the waiting room until dinner time, it scores remarkably high on the napping scale. I'll chat to you all again next week.

© WorthingGooner 2023