Another long day of travelling, including two longish taxi rides and two internal flights, via Hyderabad, saw us arrive in Cavelossim. The journey to the airport in Goa, through the last of the "rush hour" traffic, was equally as exciting as all the other taxi rides we'd taken.  Scooters everywhere, tuk-tuks vying for position at every hold up and traffic light, the cacophony of horns, though nowhere near as bad as Delhi or Jaipur, is an ever present feature. I don't think I'll ever forget, either, one minute seeing a group of youngsters, in pristine uniforms, cycling to their Roman Catholic school and round the next corner seeing a couple of young boys, dressed in rags and cheap flip flops, herding water buffalo alongside the road. I forgot to mention another odd happening in Kerala. When we'd left the hotel on our first full day I'd politely enquired (without much hope) as to whether we were due a refund, as I couldn't remember, when I'd paid, there'd been a no cancellation clause. The young chap at the desk said he'd look into it, although he didn't have access to money or to the booking system, beyond checking people in and out. I gave him the address of our new hotel, more in hope than any expectation and left it at that. A couple of nights later, while we were eating, a Whats App message came through to tell me the young man in question was at the hotel and wanted to personally deliver an envelope to me. He duly arrived at the restaurant and handed me an envelope with 8,700 rupees in it, which was the refund I'd enquired about, less a service fee. He didn't have to do that, I'd have been none the wiser, but he'd travelled over 15 kms on his scooter to bring it to me. I gave him 500 for his trouble, somewhat taken aback by the sense of duty and honesty on show.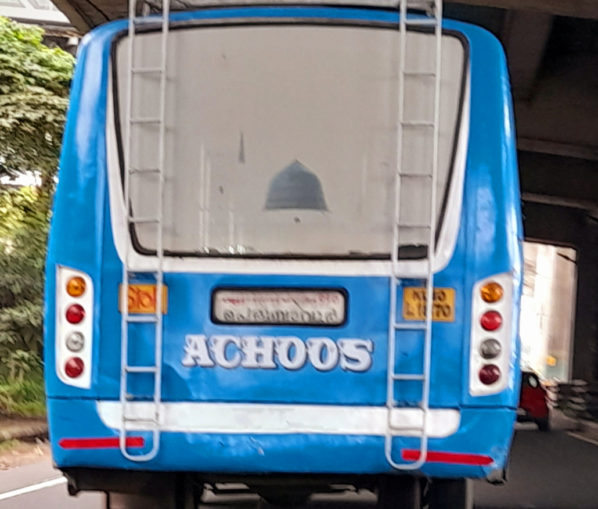 Goa airport is very welcoming (at least on arrival, more of which later) and we'd arranged a pick up in a nice car, so the journey to our digs wasn't too much of a trial, although the roads for most of the way are just wide enough for two vehicles and every driver seems intent on seeing who can pass the most vehicles in the tightest space. The countryside is different to Kerala, but not so much, with banana and coconut palms everywhere but with less of a contrast in the pace of life. Off the roads, as we passed through small villages, with their temples, homes, farmsteads, restaurants and bars we could see how the lives of the locals were playing out, but the number of partly derelict and boarded up premises hinted at the toll Covid had played in an are which relies heavily on tourism.
By the time we reached our bungalow, sited within a gated compound of what used to be a busy destination resort but is now a mix of Air B&B's and holiday homes for dangerous looking Russian men (in tight speedos), their big boned, pretty, bejeweled wives and their spoiled whiny children it was getting on into the evening, so we decided to have a look at the pool area and nip to the shop for a quick bite to eat, before an early night. First impressions (we hadn't seen the Russians yet) were very favourable, this was to be, after all, a relaxing seaside break, rather than the full on sightseeing we'd been doing over the previous twelve days.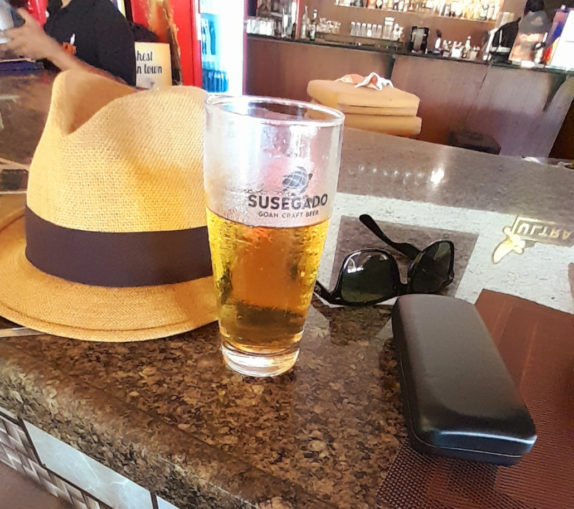 The first morning, after a slice of toast and a cup of coffee, was spent availing ourselves of the poolside ambience. Each bungalow has its own loungers, but you still need to claim them early if you don't want to get in a spat with someone who just might be the mother of a future Russian oligarch. Before too long, after a swim and a short sunbathe, I decided to take a stroll and see what was on offer in the local area. Beer is both less expensive and more readily available in Goa than anywhere else we'd so far visited. Although (sadly) the Susegado wasn't available, the brewery being in mothballs due to the "Pandemic" I consoled myself with an 80 rupee glass of draught Kingfisher, a look at the menu and a chat with the barman. All very civilised, I could have been anywhere.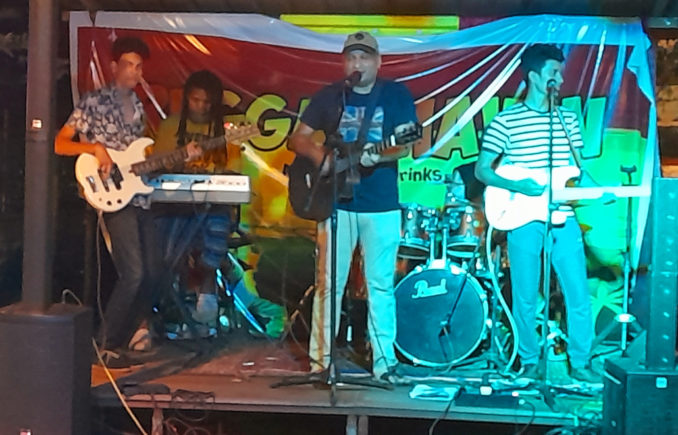 We hadn't really been "out" out since we'd arrived in India, busy days and a lack of venues which didn't entail walking what seemed like miles along poorly lit back streets had kept us close to our digs throughout the trip, but the "vibe" in Goa is different. We ended up, after we'd eaten at "Reggae Haven" a late bar and pizza joint with live music every night. It isn't hard to get a bit "mellow" in Goa and the more G&T's I consumed (well, I had three) the more I threw myself into the mood of the place, although, much to the relief of Mrs. F & the youngest daughter, I refrained from getting out on the dance floor. The music was good, if raw and a little repetitive but when the band stopped to change a couple of members I took the opportunity to speak to the singer, who also happens to be the local dentist. I enthused about discovering reggae, ska, rocksteady and blue beat when younger and mentioned some of the names of the era. Names like Desmond Dekker, Toots and The Maytals, The Ethiopians and The Pioneers. The guy, who's name I forget, looked at me askance. In Cavelossim, reggae begins and ends with Bob Marley, so that's what you get, a kind of ersatz greatest hits of the Marley era. I was a little embarrassed that my sketchy knowledge of the genre was worthless, but consoled myself with one last drink as I listened to the third (or fourth) rendition of "No Woman No Cry".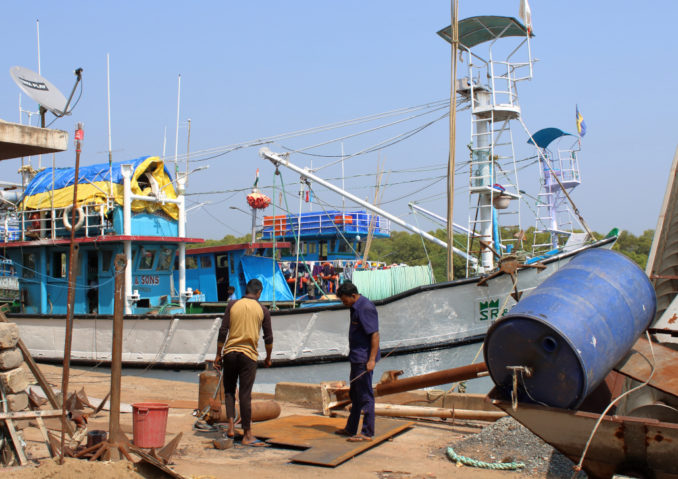 A dip in The Arabian Sea and a stroll back up the beach, avoiding the sun bed touts and the "lucky lucky" female hawkers, before a snack and a walk along to the local ship repair yard to see what Goans get up to during their working day. Much the same as anyone else, as it turns out, a bit of torch burning of steel plate and a bit of gas welding in the blazing hot sun, unencumbered by such trivialities as safety boots, welding goggles, leather gauntlets and the like. Health & Safety would have a field day, but all the guys were very friendly and were quite happy to keep their guard dogs from having a piece of me as I rapidly made my exit from this (quite rightly) "No Unauthorised Persons Allowed" workplace. I doubt I'll ever learn, but to be fair to me, the sign was written in Hindi.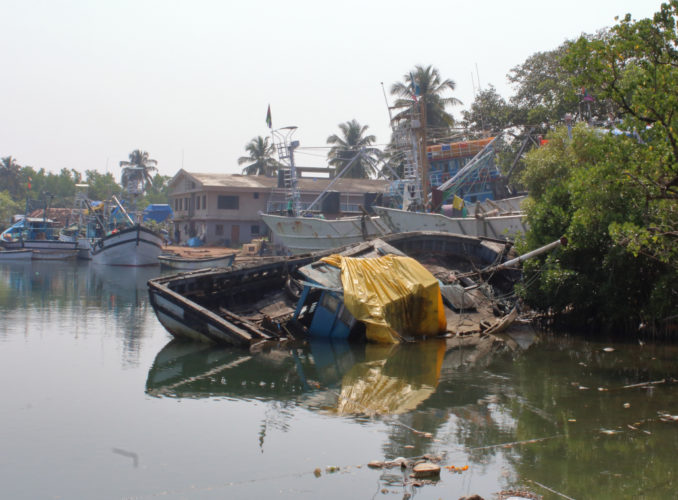 I wasn't quite sure whether this particular boat was the next in line for repair, or whether it was simply past its sell by date. It's hard to tell whether there's a plan of action at all, I'm guessing most of the work done is reactive and totally necessary. In the yard were two half built wooden boats, of considerable size, one of them was on props, obviously being worked on, but primarily offering shelter to the pack of sharp toothed mongrels who ensure the security of the yard, the other was slowly but surely blending into the surrounding forest. I'd tried to ask a question or two, but outside of the bars, shops and restaurants nobody seemed to speak English at all. Maybe they were humouring me and would all have a good laugh at the nosy Englishman and his stupid questions when they got to the pub.
Wandered back to the digs and watched a bit of cricket, as one does, the girls were at the pool and I chilled in the comfort of the A/C with a 100 rupee Kingfisher Ultra and a bag of salted cashews. We'd decided to have a good long walk along the beach, which is something to see in itself, stretching as it does for a couple of miles. It's quite something to wander along it, as the sun sets, watching people paddling and a large herd of cows wander along, stopping occasionally to have a graze. Boats are drawn along its length and fish shacks are in abundance. Water sports, para gliding and the like are all available for the European and US tourist market, but the Indians tend to take a paddle and just enjoy the beauty of it all. There were times during this short stay when I felt more relaxed and "at one" than at any othet time I can remember. Must be the hippy vibe, although I never actually saw a hippy up close, they're mostly further north, around Arambol and Morjim. I don't suppose I missed a great deal, but who knows?
Night comes early on the sub continent and, as the sun goes down, the fish shacks go into full swing, as with everywhere else, you're invited to sit by the waiters, but it's all good natured and they'll happily fetch you a beer or a bottle of water, without expecting too much in return. I'm guessing it's partly to do with the visa situation and partly to do with the "Pandemic" hangover, but apart from Russians there were very few Europeans about. Again, we were the curiosities and people were happy to pass the time of day and ask us where we were from. We didn't take any offence, unlike Ms "Sistah Space", who seems to exist to take it (offence, that is).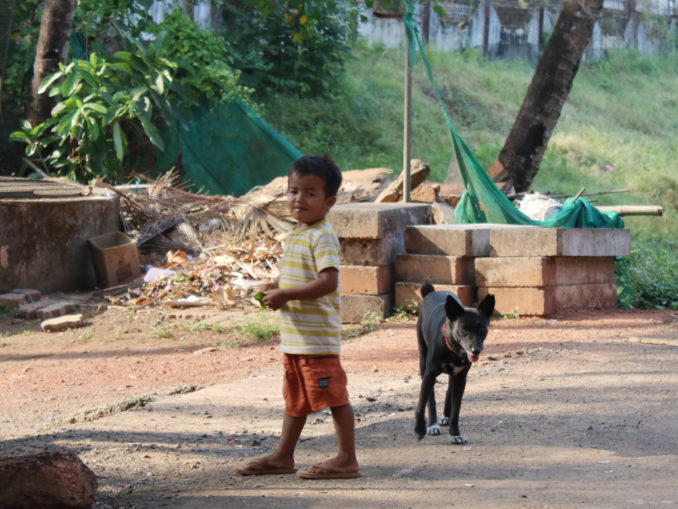 I'm not the biggest fan of doing nothing, at least not all day, so wandering about with my camera, looking for photo opportunities and bars is part and parcel of any holiday for me, wherever I am. I came across a little bar by some waste ground which was occupied by what looked like Europeans, so I stopped off for a cold one. The owner turned out to be an Irishman and his customers, all regulars, were British and German. I passed a pleasant hour chatting to them, one, an ex Wigan Rugby League player, explained to me they all had apartments in the area and spent their winters in Goa. No need for heating, cheap food and beer and, at least compared to the town centres of the North West of England, next to no burglary. They'd all been meeting up, every day throughout our winter, in the same bar, for several years and dined together at least once a week. Fair play to them, even if they did look like the archetypal British tourists, in their singlets, Bermuda shorts and flip flops. You can take the man out of Wigan, but you can't take Wigan out of the man.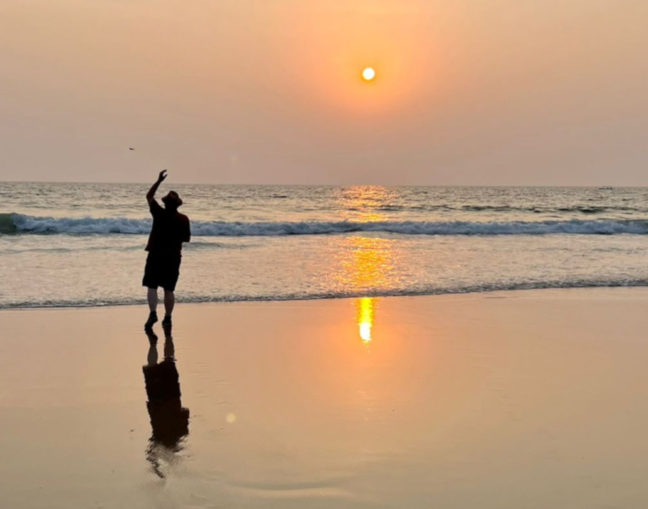 On the day we left Goa to return, via Delhi, to our homeland, England were playing India in the T20 World Cup semi final. I managed to watch a little bit of it before the taxi picked us up and the driver, even with his very limited grasp of English, kept me abreast of India's score. I thought we'd done pretty well to hold them to below 180, but I envisaged it wouldn't be easy to knock the runs off, given the quality of India's attack. It's harder to get into Goa Airport than I'd imagine it is to gain entry to Fort Knox. India is a "papers please" society and given their problems with Islamic terrorism it's hardly surprising. You not only had to show your travel documents & passport to an armed soldier, you were also instructed to wear a mask to gain entry to the terminal. I'd gone the full trip unmasked, so I wasn't about to start now and showed him my exemption, which I still had on my phone. He couldn't understand it & continued to gesture to me to mask, before eventually calling over his superior. I was conscious I was holding the queue up but determined to stick to my guns (as it were). The officer obviously took my exemption at face value and waved me through. Inside the terminal mask wearing was minimal, with most people removing them once through the doors. An exercise in futility. Surrounded by Indians I got to watch the highlights of the match, me with a huge grin on my face, my fellow viewers all with slightly more stern demeanours.  Would I return to India? Given the opportunity and the wherewithal, yes, because I think I only scratched the surface.
Next Time; Gandhi, Politics, Reflections

© Colin Cross 2023