Monday
Good morning, folks, it is much cooler today than last Monday, much more my type of weather. I might even try the windowsill later. Bozzie was chuckling this at radio reports this morning. Apparently, Sir Beer Korma (as he now calls him) is going to give a speech today saying how the most important thing for a future Labour government would be 'growth, growth, growth'. What was interesting was that no matter how much the interviewee was pushed they had no idea how to achieve that aim.
I hear the French are not content with just messing up the Port of Dover, they are having a row with EuroStar over the number of daily trains between London and Paris. EuroStar currently runs 13 trains a day between St Pancras International and Paris Gare du Nord and has applied to increase this to 17. However, the French border officials are reported as saying they don't have the capacity for 17 trains a day. This is a little odd as before Covid there were 25 trains a day, although some went to Brussels and Amsterdam. This gives EuroStar a bit of a problem as the lease payments to Siemens for their new rolling are based on the higher numbers. I will be keeping my eye on this row.
Interesting news from Germany. The German government is reporting that they are on the brink of recession. Workers at Lufthansa are the latest to vote to strike over wages (sound familiar?). The government says that with Nord Stream 1 back delivering gas they will be building their gas storage to 90% of capacity ready for winter. However, experts say that this looks to be an impossibility. A point that has been reinforced by the Greens in government agreeing to the last 3 nuclear power stations getting service extensions. On top of this, lack of rain is causing low water levels in the Rhine and affecting supply chains. I wonder if all this is 'because of Brexit'?
The internet network provider, CityFibre, is to upgrade its fibre network to operate at almost 10 gigabits per second (9.953Gbps to be exact). It is currently operating a network for local ISPs that serve 1.8 million homes. They are building out their network quickly and intend to serve 8 million homes by the end of 2025, that is around 30% of the U.K. Their current download speed is limited to about 2.9Gbps by the equipment they use. By switching to different equipment, the fibre cables will immediately increase their capacity. This theory has already been tested in York and found to work perfectly. I wonder how long it will take Openreach to catch up?
So it has finally been decided. After lots of speculation, I see it has finally been announced that the U.K. will host next year's Eurovision Song Contest. Of course, we only came second in the last contest to the Ukraine, but they can't hold it there because of the Russian invasion. No host town or city has been picked yet, but I bet it is somewhere like Edinburgh or Cardiff.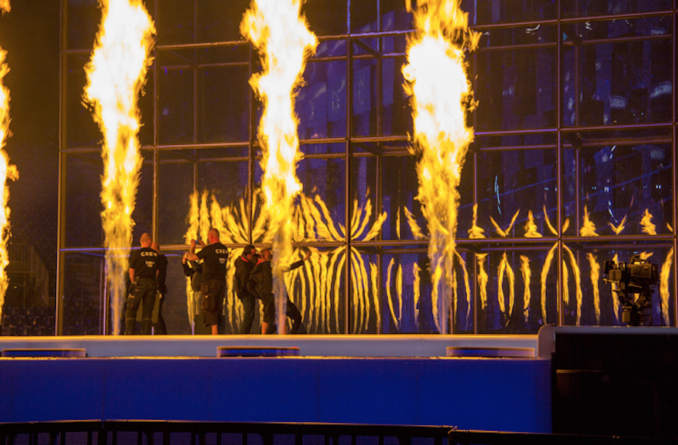 It was confirmed this morning that Eutelsat and OneWeb are in discussions to merge. The aim is to form a new company which will be owned 50/50 by the two companies. The British Government owns 20% of OneWeb, while Eutelsat is 20% owned by the French and 5% by the Chinese Governments. I understand the idea is that a combined company would be better position to battle with the Elon Musk and Amazon networks. The word is that the HQ would be in the U.K. and that the British Government would retain a golden share effectively ensuring that the company could be mandated to undertake certain military contracts and block any unwanted takeover of the company.
I hear that the broadcaster, Ian Dale, fell off the stage at the Buxton Festival on Saturday night. I understand that he was initially unable to walk and was taken to Buxton Hospital, where X-Rays revealed he had not broken anything. Apparently, he landed on a cello in the orchestra pit and that didn't suffer too well.
Tuesday
Another pleasant morning by cat standards, warm and very little wind. Bozzie was chatting about last night's next prime minister debate on TV at breakfast. He reckoned that Richie Nik Nic made an arse of himself, continually interrupting Liz Thrust and mansplaining. The snap poll put him just ahead by 1%. But that was with all voters. When you look at the Tory voters, the ones that matter in this race, the poll results put Liz Thrust miles ahead. I hear there is another debate tonight, but as this one is on Talk TV only 3 people will be watching.
I didn't see it, but I understand that Sir Beer Korma was interviewed on Good Morning Britain this morning. From what I heard people were not impressed, the word around Whitehall is that he was incredibly boring, and people switched off in droves. When asked about two shadow cabinet members contradicting each other on a future Labour Government nationalising the rail, power and water Industries, one saying it was a priority and another saying there was no money to do it, Sir Beer said he was there to talk about growth!
I bet the Government of the Isle of Man is panicking today. Word has leaked that they have been added to the Russian's list of unfriendly states. The problem seems to be that they have joined Britain, the US and the EU in announcing sanctions. Apparently, they have de-registered some Russian-owned planes and yachts! Consequently, they have been added to a list of over 50 'unfriendly' states.
Back on the 30th of June, Freesports was removed from Freeview when its seventh national multiplex was shut down. Unfortunately, Freesports are still advertising its availability on BT TV and on Talk TV, but they are wrong. Both BT TV and Talk TV take a lot of Freeview channels and add a few extra channels broadcast over the internet, but Freesports is not one of them. I understand that Freesports is still available on Sky, Virgin Media and online through the Freesports player website www.freesportsplayer.tv, but for how long is another question. The owner of Freesports was recently taken over and the new owner is yet to decide if the channel will continue and where.
Germany has been using Russian gas to generate about 6% of its electricity demand and with the EU sanctions, it had been planning to use coal to replace gas for 2% of its generating capacity this winter. However, they have hit a problem in that only one coal-fired power station has registered to be reactivated this winter. The last 16 old coal plants were shut down in an attempt to go green and some have been mothballed. But the operators have not been tempted to reactivate them due to the cost of coal, difficulty in getting supplies and the cost of reactivating the old plant. I guess the Germans have got themselves into a green hole.
I read that the HS2 Tunnel Boring Machine, Dorothy, has become the first to achieve a 'breakthrough' having completed a one-mile-long tunnel under Long Itchington Wood. The ancient wood is designated a Site of Special Scientific Interest which is why the decision was taken to tunnel under it rather than to go through it. However, the Greenies are not happy and have been moaning about the destruction of ancient woodland, which I don't understand here!
Three years ago, Saga sold off its 1980s cruise ship Saga Pearl II to a British Virgin Island company who had plans to convert the ship into a super yacht. The ship was towed off to Greece and moored up off Piraeus where it has sat all through Covid. But the plan to convert the ship has never materialised. It was probably just the wrong time as Covid has seen a large number of old cruise ships hit the market and the vast majority have been scrapped. Now it looks like this Saga Pearl is the latest as it has been sold off to a Turkish breaker's yard making a total of 39 cruise ships that have been scrapped since Covid hit.
Wednesday
Good morning you lot, it's another cat day weather-wise. Warm, but not hot, and dry. Things started well this morning, Felix Chicken in my bowl and then I went down to the office and the Dreamies Girl gave me a handful of chicken flavour Dreamies.
I joined the crowd in the office to watch the England ladies football team play in their semi-final last night. It was a bit tense at the beginning with our goalkeeper making several excellent saves. But once we scored it was all over, the Swedes' heads went down, and we won easily. But one thing intrigued me, why do most of the ladies on both sides have blonde ponytails?
I see that the first large cruise ship ever to be built in China has passed a key milestone by starting up one of its main engines for the first time. The 135,000-tonne ship is being built at the Shanghai Waigaoqiao shipyard for the Carnival Corporation. The ship hasn't been given a name yet but is due to enter service in 2023. The ship has 5 main engines, and they will be capable of producing 62 megawatts. The 5,000 guest ship is a joint venture with the Chinese State Shipbuilding Corporation and is to serve the Chinese market. A sister ship is also being built and is about a year behind. The original contract was for two ships with options for four more. It is not known if any of the options have been taken up yet.
Interesting bit on heat pumps in the paper this morning. The government wants people to replace their gas boilers with heat pumps and has been offering subsidies for those that do. Under the "Boiler Replacement Scheme" homeowners can apply for vouchers of up to £6,000 to go towards the cost of a heat pump. The aim of the scheme is to have 600,000 people a year installing heat pumps by 2028. Despite 30,000 of these vouchers being available this year only 4,100 have been applied for and only 2,300 have actually been issued. The problem is that a heat pump costs around £10,000 while a new combi gas boiler costs £2,000 to £3,000. On top of this so come the installation costs, probably not huge if you are installing a replacement gas boiler. However, it is quite likely to be much more for a heat pump, as they operate at lower temperatures meaning you will have to replace all your radiators and associated pipe work. People are obviously thinking with their wallets.
So, in last night's 'Future Prime Minister' debate on Talk TV Richie Nic Nak made a bit of a screeching 'U' turn on tax before the debate literally came to a crashing halt. It was about half over when there was a huge crash and apparently the presenter fainted and, in her fall, knocked over her lectern. But before this, Nic Nak had said he would remove VAT from energy bills, something he has up to now been refusing to do but his team has clearly seen the light and changed tack. The other interesting thing was both said they would support fracking. Are we seeing cracks in the green wall?
I have been reading about the new $2.17bn Hunutlu coal-fired power plant in Turkey. The plant will eventually have two 660MW units and is being built with money from 3 Chinese banks, by 2,700 Chinese workers who have been especially flown in. The plant is 75% owned by Shanghai Electric and is expected to have paid off all its costs within 5 years. What I found interesting is that Turkey has been saying that they need this plant because of the squeeze on Russian gas caused by the war in Ukraine. This is of course absolute rubbish. The plant has been under construction since 2018, long before the Ukraine sanctions bit. But what made me laugh was that all coal for this plant will have to be imported, and Turkey has contracted with Russia to supply it all!
Here's an odd little story I have just read. Kodak, the camera and film company, has just announced that it is to repurpose its 35mm film-making machines to make electric vehicle batteries. Kodak has been hit hard by the digital revolution in cameras. Although they turned their hands to making digital cameras they never really recovered from the collapse in sales of film and cameras, especially when quality cameras started to be installed in mobile phones. Kodak have discovered that EV battery components need to be coated in a very similar way to 35mm film. The $70 million Kodak machines deposit polymers on the film and this is similar to the process in batteries. Kodak think they can repurpose the old machines, they have been selling off for around $2 million, very cheaply and profitably make batteries. We shall see.
Thursday
Yet another nice morning for cats! Warm and sunshine creeping through the high cloud. Bozzie was chuckling at breakfast over press reports that Nadine Doris was going to stand aside to give him a safe seat when we have a general election. He said that they were making it up and that he had never had any discussion with the 'old Doris' about this.
You probably read that the authorities in Venice have banned large cruise ships from docking in the city because the wash was causing too much damage. Nowadays the biggest ship allowed in is 25,000 tonnes which rules out almost all of the regular cruise ships. I see that the Norwegian Cruise Lines ship Norwegian Gem anchored in the Venice Lido yesterday and used its ships tenders to transport 1,500 cruisers into the city, dropping them off right next to St. Mark Square. Other cruise lines have diverted to the likes of Trieste and bussed passengers into Venice. I wonder how long it will be before someone complains about the damage caused by multiple ship tender trips?
I read the main body of a Chinese Long March 5B rocket is expected to fall to Earth on July 31 give or take a day. The Chinese use the rocket to service their space station and this is the first stage and is about 54 metres long and weighs 23 tonnes. At the moment no one can predict where it is going to land, on land or sea, but the hope is that it will reduce in size by partially burning up on its re-entry. The Chinese don't seem to care very much where it lands as this is not the first time they have done exactly the same thing.
The National Grid has said that it is worried that we will fall short of power as early as December. This is partly because of our reliance on green power and partly due to gas problems. The grid had put what few remaining coal-fired stations we have on stand by. But these shortages are basically of our own making, we have closed down coal-fired stations and replaced them with intermittent wind turbines and solar panels. We have run down nuclear power stations and not replaced them. We have decided not to frack the huge volumes of gas we have under our feet and import more of it as we have run down our North Sea resources. We have closed down our gas storage facility. We have partially relied on inter-connectors to France, but they have been importing from us as their nuclear stations have problems. So now put what little coal plant we have left on standby, but we have closed down all our mines and will have to import the coal. This whole policy is mad, we need to frack, mine coal and build small modular nuclear power stations today.
Transport for London has received a change of planning permission for the office block it plans to build over the new entrance to the Bank Northern Line tube station. Now that much of the below-ground work has been completed, TfL has turned its mind to the block it is planning to build over the new Cannon Street entrance. TfL are moving the entrance to the station to accommodate new escalators and have knocked down an existing block. The new block was to be 6 storeys high with solar panels on the roof for the heating system. This meant that over half of the 6th floor was a plant room containing numerous water tanks. But that plan has changed and the building will now be 7 storeys with air source heat pumps on the roof which will become an open terrace. More office space for TfL to sell! TfL have also got more 'green points' for increasing the number of bicycle racks places from 142 to 229, it all fits with their green agenda.
I have been reading about a man who was fined by HMRC for paying his tax bill too early! Apparently, he had previously missed a payment date by a few days and been fined £100. So as not to be fined again he decided to make 3 months' payments in advance and in return received three £100 fines. On closer inspection it seems that nowhere in the HMRC rules does it say you will be fined for early payment, late payment yes, but not for early payment. In a court case, the man won and the HRMC were told they had acted illegally in fining him. The HRMC said it was quite clear that you had to pay the tax due in the month it was due, but the law doesn't say that, only that it must be paid by the due date.
It seems that if the England ladies football team do manage to win on Sunday, they could be in line to make a lot of money. Fullback Lucy Bronze is said to be the highest paid, earning an estimated £200,000 a year, but this is nothing like what can be made in the men's game. England's Captain, Leah Williamson, has cashed in on her newfound fame with sponsorships from Nike, Pepsi and Gucci. The ladies recently had their match fees and bonuses brought in line with the men's team, but like Emma Raducanu, the England ladies could get enormous deals as winners. I also hear rumours that both Leah and leading goal scorer Beth Mead could be in line for an OBE, but first they have to win!
Friday
It's much sunnier this morning but not too hot, but I'm not sure it will be windowsill weather as it gets very warm there when the sun is out. I suppose I should go off and do a quick patrol around the estate. I find I have to remind myself I have a job to do in this building, I am not a pet. Some mornings I quite look forward to retirement, I'm sure someone will take me in!
I hear that IAG, the group that British Airways belongs to, has ordered 37 Airbus A320neo family aircraft. It seems 12 of these are old options that they are converting into firm orders and the other 25 are new orders. They have also taken 50 options. The new planes are to be used to replace A320ceo aircraft in various IAG group companies fleets. I wonder what held up this order as I am sure Airbus would have loved to have announced it at Farnborough.
I read that the world demand for coal is set to increase this year to match the world record high set in 2013. Then the next year demand looks to be even higher and is expected to set a new record. Why is the rest of the world building coal-fired power stations when I keep hearing that wind turbines produce the cheapest power? I wonder if all the green subsidies in the U.K. have anything to do with it?
A report from Yale today says that Russia is suffering much worse from sanctions than the Russians are admitting. I don't know if the report is true, but Yale claims its data is solid. They say that over 1000 Western companies have stopped doing business with Russia reducing their GDP by $600 billion or 40%. They claim that imports have dried up and that many companies have ground to a halt.
It's not even August and Southern Water has announced the first hosepipe ban of the summer. As of next Friday, 5th August, Southern Water customers in Hampshire and on the Isle of Wight will not be allowed to water the garden, fill paddling pools, ornamental ponds, or wash cars. I expect there will be a lot of little ones not happy that they can't splash around in their pools and a lot of dads happy that they have an excuse not to wash the car!
I read a couple of interesting things in the BAe Systems half-year results. They say the first Type 26 Frigate, HMS Glasgow, is on schedule to enter the water later this year at its Govan yard. Once in the water, the ship will be towed to the BAe yard at Scotstown to be outfitted and commissioned. The next two ships, HMS Cardiff and Belfast are also under construction in the open as was Glasgow. BAe also announced that it is to fill in the 'Wet Basin' at the Govan Yard and build a modern construction shed on the site. The new shed will be used for ships 4 to 8 allowing them to be assembled undercover in the same way Babcock is building the Type 32 at Rosyth.
The US has just recorded a second consecutive quarter of negative growth so it has entered what everyone has always considered to be a recession. However, it seems that Sniffer Joe and his administration have decided to change the official definition of a recession. He made a speech saying that the country was not in recession, and that other economic factors have to be taken into account. Well, I am amazed that the US thinks it can change the rules to suit itself. Joe might not think the US in recession but the rest of the world knows different.
Saturday
The weekend, at last and peace on the estate without the Brat and the Mutt, I discount the baby as she is generally very good and just sleeps and eats. It's warmer this morning, not quite my weather, but at least it's not raining.
I understand that the person who won the bumper £195 million on the EuroMillions a couple of weeks back has come forward and claimed the money. However, they have not decided yet whether they want publicity, consequently, the press is running around chasing rumours. There is a big one in the North of England that the winning ticket was sold in Formby. Camelot, the current U.K. lottery franchise holder, won't say anything. When asked if the winning ticket was bought in Formby they would neither confirm or deny it.
I heat that the German Panzerhaubitze 2000 tracked anti-aircraft guns acquired by the Ukrainian army have a serious problem. They do not recognise the special Norwegian shell made for them. In recent firing tests, the guns simply could not use the shells! This means that the shells already supplied will have to be upgraded before new firing tests in August. Germany is also sending bridge layers to the Ukraine, I only hope they work better than the anti-aircraft guns!
Boeing say they want to increase their 737 Max production from the current 31 per month to 38 per month, but can't because of a shortage of engines. The CFM56 Leap is made in the US at Lafayette but apparently, they are having serious problems increasing production. Boeing is reluctant to build planes for which it can't supply engines saying they are not in the business of building gliders. Maybe they should be offering both CFM and Rolls Royce engines!
I see 'Piggy' Blackford has been shouting off about culling white-tailed sea eagles. It seems that he is not happy and claims the birds have been killing and eating his lambs. He claims that the 3 pairs that live near his croft on Skye have killed up to 10 of his lambs. A couple of years ago he was whinging about a mink killing his pet ducks. I suspect Piggy is going to be unlucky as sea eagles are protected.
Last week I told you that it looked like Covid numbers in England had peaked and we're beginning to edge down, but this week they were noticeably down. The ONS number for infections was down 600,000. England now has the lowest infection rate in the U.K. at 1 in 20. Both Wales and Scottishland were also down while Northern Ireland is still edging up. Also, Covid hospital admissions are falling which can only be good news.
I understand I might have inadvertently misled you with my first item today implying Bozzie had gone to Chequers. Well, it is my understanding that he is having his long-postponed wedding reception this weekend. But it is not at Chequers, he has been loaned the use of Daylesford House in Gloucestershire. It is owned by Lord Bamford, the JCB man and big Tory supporter. I don't know who has been invited but it's sure to include lots of Carrie's 'Green' friends and Bozzie's close supporters. All I know is that I am once again sat in a half-empty No.10.
Well Puffins, that's me done for another week and I'm off for my regular Saturday afternoon snooze, before my tea arrives. I will be back with you again next week all being well.

© WorthingGooner 2022