Those of you with longer and good memories may remember my article from January 2019 about protests in Hong Kong and titled 'The whiff of teargas'. After recovering from the said tear gas, I wrote:
"I joined a clutch of press, thinking that would be a fairly safe position. We looked through the police lines at young noisy protesters, male and female, obviously frustrated with being stopped from marching. US flags were prominent, as were flags reading 'Hong Kong Independence now'.
I asked the Chinese press rep next to me what was going on. The march had been stopped by the police, he said, and a cordon set up. There had been injuries to two police a time back and the police had fired tear gas. He wasn't sure about the order in which these two events had occurred. Quickly, the elite police had appeared. He told me they are known locally as 'raptors'. Are they Hong Kong police? I think so, he said, but they're not trained in Hong Kong."
The photos attached to the article and here were taken by me just outside Admiralty station. When I took them I was standing next to Chung Poi-Ken, from the Stand News. His comments were those in the original article. He has today been arrested for 'sedition' and Stand News has been forced to close.
The new Security Law in Hong Kong, implemented last summer, defines seditious intent as including "intention.. to bring hatred or contempt or to excite disaffection against the person  . . . or against the government of Hong Kong;…  to raise discontent or disaffection amongst .  . subjects or inhabitants of Hong Kong; … to counsel disobedience to the law or any lawful order."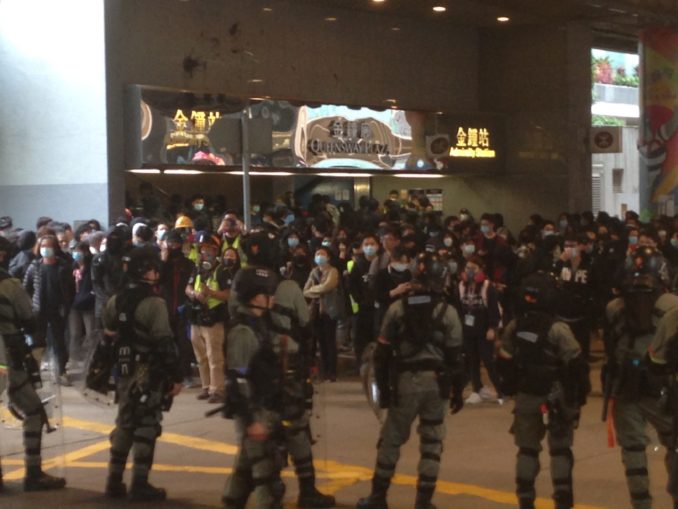 That is a wide ranging definition. The implementation of the law has included arrests for trying to stand in elections as a pro-democracy candidate, encouraging people not to vote in elections and the publication of articles 'harmful' to the People's Republic of China.
Apple Daily, roughly Hong Kong's equivalent of The Sun because of high circulation and tat content, was closed this summer, accompanied by the arrest of the owner and editorial staff. The last edition sold in record numbers, indicating a quiet stubbornness on the part of at least some of the local population. Similar resentment presumably accounts for a record low turnout in recent elections of 30%, where candidates had to be approved as 'patriots' and there were fewer seats available for public constituencies (Hong Kong has a high number of functional/private constituencies in the Legislative Council or LegCo).
Any lingering resentment should not hide the fact that democracy and the opposition have been wiped out in Hong Kong, with even political parties disbanding themselves. People are leaving and the CCP are happy to see expatriates and younger westernised Hong Kongers go. Memorials to Tianamen square at four Hong Kong Universities have been removed.
All this leaves only Hong Kong Free Press as a prominent digital news pro democracy outlet in Hong Kong. HKFP may be a little protected because it is heavily staffed by expatriates – the editor is English, for example.
The CCP have weaponised covid to annex Hong Kong and break China's treaty obligations. World opposition has been weak due to the concentration on the WuHan disease (as it is commonly known in Hong Kong). Taiwan next?
Links
Hong Kong online portal Citizen News to shut down on Tuesday
Hong Kong – The whiff of tear gas
https://hongkongfp.com/

© text & images Hongkonger 2022