Monday
Morning slaves. The atmosphere in the main office is a bit down today, I guess it is because of the football result last night and not hangovers from the amount of booze many seem to have consumed. I watched the match on the big TV in the office and I must admit as an English cat I was a bit disappointed.
I have a bit more news on the Elizabeth Line this morning. It seems that when the central section opens 'early next year' the line will initially run as three separate lines with no through train. Trains will run from Reading/Heathrow to Paddington (mainline). From Paddington (Elizabeth Line) to Abby Wood via Liverpool Street low level and from Liverpool Street to Shenfield. This is because the signalling system has not yet been fully integrated. The line into Paddington uses TPWS/ETCS, the core uses CBTC and the section out of Liverpool Street uses TWPS. Once the upgraded signalling system software has been tested the plan is to run through trains from Reading/Heathrow to Abby Wood via the central core and from Paddington to Shenfield via the central core. Finally through trains from Reading/Heathrow to Abby Wood/Shenfield should start in late 2022 provided the signalling works!
I see Liz Truss has jetted off to the United States for more trade talks. The lucky lady seems to have been flown to Washington DC by the RAF on one of their big jets, I wonder if she was the only passenger onboard? As we already do £200 billion worth of trade a year with the US I hope we get a full FTA quickly.
BritishVolt has gained planning approval for its £2.6 billion EV battery factory on the old Blyth Power Station site. This looks like it will be the UK's first Gigafactory with a floor area of 386,357 sq m and is ahead of the Nissan plant which has not got planning approval yet. I understand that the £300 million build contract for the factory was placed with ISG a little while ago. I understand that it is to be built in three stages with the first stage starting immediately and it will manufacture 10 GWh of batteries. The total output will be 300,000 batteries p.a. making 30 GWh by 2027. Mind I understand that we need even more battery capacity.
I have been reading that while modern cars have been getting wider and longer garages in new houses have either stayed the same size or got a little bit smaller. While an average garage is 2.1 metres wide an average car is 1.8 metres wide. That means that if you can get your car in your garage you probably can't get out of it! Subsequently, most people park their car on the drive and not in the garage but tell their insurance company they are using their garage in the belief that it will save them money. However, I hear that this might not be true as it seems insurance can actually be cheaper for those parking on drives.
Now that the container ship, Ever Green, that blocked the Suez Canal is finally on the move I hear that at least one football club, Everton, has heaved a huge sigh of relief. Everton's shirt supplier Hummel had got next season's "home" shirts made in China and thousands of new shirts are stuck in containers on the ship. A few examples have been flown over to Everton for advertising purposes and supporters have seen it and asked for it but Everton just have not had any to sell in the important preseason period.
Today the KLM/Air France conglomerate has asked for proposals for Boeing and Airbus for a fleet of 160 new short and medium-range aircraft. The aircraft are for the fleets operated by KLM and its Transavia subsidiary. The strange thing is that KLM is considered a Boeing airline and doesn't operate a single Airbus, while Air France is predominantly an Airbus operator and has a fleet of over 100 A320's. But a lot of the new planes will be going to Transavia and that has Dutch and French arms one looked after by KLM and the other by Air France. Now I would normally have backed Boeing to get a KLM order but how much influence does Air France have, could they swing it In Airbuses direction or could it even be a split order? This is going to be a very interesting fight.
Tuesday
Yah, dry this morning and it's getting warmer. This is more like it, I should be able to get my window sill snooze in this afternoon. Then I see that the forecast for London is warm weather for 10 days, that's more like it!
Never a week seems to go by when I don't report on Boeing having a new problem with one or another of its aircraft types. This time it's the popular 787 Dreamliner. Last September the Federal Aviation Authority found problems in the use of wrong sized shims and the skin finish in 787. Boeing then stopped deliveries for 5 months and undertook expensive repairs. Boeing actually resumed deliveries in March, but halted them again in May with 88 new planes parked at the factory awaiting fixing. Last night the FAA found a problem "near the nose" (no more details) of the 787 in many of the 100 new aircraft now parked awaiting flying clearance. It looks likely that new customers are going to have to wait even longer for new 787s and those existing customers are going to have to make more inspections and repairs. Yet more bills for Boeing!
I know you all love a story about smart meters but this one is a cracker. One of the advertised huge advantages of a smart meter is that you get a home display that shows you how much electricity you are using and allows you to identify your most expensive devices so that you can save money. One of the problems is that many of the meters resort to becoming a simple dumb meter if you switch suppliers. Now it seems, early model meters are being "enrolled" in a national network so that if you switch supplier it can continue to send readings to your new supplier. Good you might say, but in numerous cases this "enrolment" kills the home display which completely defeats the main selling point of the meter!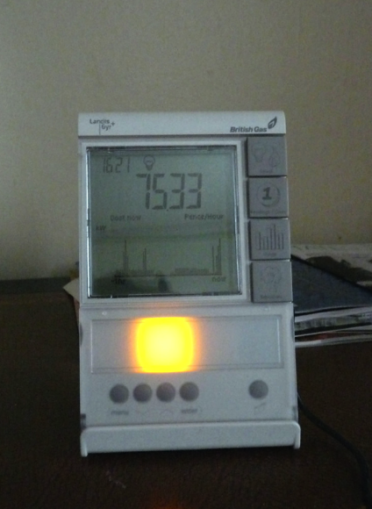 I read that Center Parcs are to build their 6th UK holiday village at Worth, a suburb of Cawley in West Sussex, not far from Gatwick Airport. I hear they have acquired over 550 acres of woodland and plan to spend between £350 and £400 million building 900 lodges, restaurants, tropical swimming pool, shops, leisure facilities and a spa. Around 1000 jobs will be created for its construction and 1,500 permanent jobs when it opens. The excellent transport links are one of the reasons the site was chosen in is near Three Bridges station on the London to Brighton line, next to the M23 and close to Gatwick. Mind two problems I foresee are planning permission (it is an SSI) and that if air travel picks up again finding the 1,500 people needed locally is likely to be difficult, as traditionally Gatwick has mopped up all the cheap local labour and Crawley has had nearly 100% employment.
Elon Musk has paid a $10,000 deposit for a ticket on Richard Branston Pickle's Virgin Galactic space tourist trip. Although not finalised the actual ticket price is expected to be around about $250,000. Branston is planning to operate numerous flights into space in his six-person cabin. As I understand it the plan is to operate two craft initially and he is planning to operate at least one flight a day from his Space Port America. As only 550 people have actually been in space that number will be doubled in around 3 months. If financially successful Branston has plans to operate from additional spaceports.
So Police Scottishland have launched a formal investigation into a large missing sum from its accounts. The row has been raging for some time with a number of people complaining to the police that a "ring-fenced" sum of nearly £500,000 had "disappeared" from the SNP accounts. The money was donated to the SNP specifically to fund a second independence referendum and Wee Krankie's lot promised that the money would go into a special fund only to be spent a referendum. The suggestion is that the money was actually used to repay a £500,000 loan the party had from a Euromillions winner, but there is nothing to prove or disprove that theory. If it was used to repay a loan then it is fraud and this could prove very embarrassing for Wee Krankie and her husband Peter Murrell, who just happens to be the SNP Chief Executive who is ultimately responsible for the money.
Not long before they lost their franchise South West Trains acquired 30 Class 707 5 car trains. These units hardly saw any service but the new franchisee decided they were going to cancel the lease and acquire Class 701 Arterio. Angel Trains the owners had the Class 707 laid up for nearly two years but they are now arriving in the SouthEastern fleet with a change of upholstery to the seats!
Wednesday
Today started off well with a nice bowl of Felix Chicken which means I will be getting the same for dinner tonight. That is something to look forward to. Warmer still this morning, I wonder if it will be too warm to snooze on the window sill this after and I will have to resort to a shady spot like under the rhododendrons.
I hear that the recovery of air travel in the US is causing airlines to scrabble for extra aircraft have got rid of a lot at the beginning of the pandemic. Delta Airlines retired 18 Boeing 777 wide-body jets when the air travel market collapsed but they took over an order for 10 Airbus A350-900 when they tied up with LATAM. Now they are leasing another 7 A350-900 virtually restoring the wide-body fleet to pre-pandemic levels. Delta already operates 130 Boeing 737-900ERs and has taken the opportunity to add another 29 pre-owned planes of the same type.
BT are to be the first UK mobile phone operator to turn off their 3G mobile network, probably by 2023. True that anyone with a recent model phone will probably be unaffected as they will almost certainly have a 4G or 5G capable model. But there are still thousands and thousands of people out there who have a basic 3G phone. Back in 2017, Nokia sold 13,000,000 of their 3310 3G handsets worldwide making it the 3rd most popular handset in the UK that year. BT argue they need to make the move because it frees up spectrum infilling 4G "not spots". At the moment in some areas of the country if you want a mobile phone it has to be 3G capable BT say they will sort it out. How many times have I heard that?
The American airline Jet Blue is buying 3600 new iPad Pros. The pilots are all currently given an iPad but the airline wants to give the latest equipment to them now as they feel it is a good time to buy and the model should last a few years. The pilots use the tablets to store documents need while in flight, it saves them having to carry loads of paper onboard and documents like NOTAMS can be updated over the mobile phone network.
The American start-up airline Breeze which has 60 Airbus A220-200s on order is apparently thinking about starting services to Europe with them. They only started flying back in May this year using Embraer E190/195 aircraft. Breeze says it wants to fly on "thin" routes, that is directly between two cities which other airlines only connect through "hub and spoke" services meaning passengers have to change planes. Their new A220 comes with a range of 3,400 miles meaning that from their Boston base they can reach, non-stop, much of Europe including the UK, Ireland, France, Portugal, Spain, Belgium, Germany, Switzerland and most of Scandinavia. Rather than fly from Boston to London and changing planes to get to say Newcastle in the next few years Breeze may offer you a direct flight.
Transport for London is to run what it calls a "future bus" trial on the number 63 route the links King's Cross with Honor Oak via Blackfriars Bridge, Elephant & Castle and Old Kent Road. I understand various buses will be tried including types of electric, hybrid and hydrogen buses and to improve the "customer experience". I hear this will include things like additional bus shelters and the provision of real-time information all at a cost of around £5 million.
The row between Poland and the EU over the supremacy of law is getting tougher and tougher. The Polish Constitutional Court today ruled that EU laws were unconstitutional, while the ECJ demanded that a Polish Disciplinary Body set up to oversee the Polish Supreme Court should be immediately suspended. Tomorrow the ECJ is due to rule on the Disciplinary Chamber and on whether Poland's Constitutional Court is lawful. Are we about to see a Polexit?
Thursday
As predicted it was a bit warm on the window sill yesterday afternoon, my poor little paws couldn't stand on it and I felt like I was being cooked so I retreated to the back garden. I headed for a nice shady spot, stopping on the way for a drink from the birdbath. Then I spent a very pleasant couple of hours snoozing mixed with watching the birds in the bath and on the feeder. I must be getting old and lazy because I couldn't be bothered to chase them!
This morning I read that Richard Branston's next venture Virgin Orbit has chosen Spaceport Cornwall as its first operating base. Virgin Orbit will use a Boeing 747 to carry a rocket up to 30,000 ft where it will launch the rocket to carry small satellites into low Earth orbit. The first launch could come as early as next year. Mr Pickle says he has already started setting up a supply line of British companies, expects to employ 350 people directly and inject £200 million annually into the local economy.
What is going on in the UK? This morning it was revealed that job vacancies in the UK had now passed the pre-pandemic levels with 862,000 jobs on offer. This is up by 77,500 on the same period last year. At the same time, the number actually working increased by 356,000 last month to 28.9 million. Many of the jobs on offer are said to be in the restaurant and accommodation businesses as they start to open up after the pandemic. With entertainment venues able to open fully next week will the number of jobs on offer climb or are many of them among those already on offer?
Hearing that BAe has been demonstrating a new version of its 155mm high explosive ammunition. The ordinance, when fired from the Army's AS90 39 calibre mobile gun, showed a range of over 30Km. But when fired from a 155mm 52 calibre range stand it showed a range of over 40Km. Both these distances are said to far exceed the range of the existing ammunition. I understand this demonstration took place in autumn last year and that BAe now has a contract to "qualify the ammunition" into UK service. I wish I knew how far other nations ammunition goes.
Bozzie shot off to Coventry this morning to give a speech on "levelling up" but at the same time, he went on a visit to a British automobile electric vehicle battery development organisation. This was timed to coincide with a planning application being made by a joint venture between Coventry Airport and Coventry City Council proposing the delivery of a new EV battery Gigafactory. The site is next to the airport and close to the Jaguar LandRover plant and not far away from Aston Martin and BMW. If it gets planning permission the plant would deliver 5.7 million sq ft of space and create around 6000 jobs both directly and indirectly. This would be the 3rd UK EV battery plant and if it gains permission it should be in operation by 2025.
Last year the Government topped up its wine cellar with £26,000 worth of new wines. I understand that there are now around £79,000 worth of wine in the cellar under Lancaster House the London property the Government leases from the Queen. As much as he might like it the wine is not Bozzie's but is there to be served at official dinners hosted by the Government. The normal process is to sell off some of the very high-value wine among the 10s of thousands of bottles in-store and use the proceeds to replace them with younger good wines which can be quaffed or grow in value, but I gather that last year no sales were made. However, departments made payments of £23,220 for wines served at official functions. I wonder how much English wine is in that cellar?
Friday
I really don't understand what is happening with the weather. Yesterday it started off sunny and then clouded up, but it was warm all the time. The birdbath was nearly dry by late afternoon, a couple of seagulls have been dropping in for a regular drink and I have no intention of taking them on. Have you seen the size of their beaks! Fortunately, the gardener noticed and topped it up from his watering can.
Another day, another Boeing story. This time the FAA has ordered that every single Boeing 737 of every series needs to have its cabin altitude pressure switches checked. That is 9315 planes worldwide! An airline has reported that it has both switches on several aircraft fail simultaneously. When a plane is flying the switch ensures that no matter how high the plane flies the air pressure in the cabin is never less than that at 8,000 feet. If the pressure drops below that level it can lead to oxygen starvation and passengers becoming unconscious. Back in 2012, the FAA mandated that every Boeing 737 should have two of these altitude switches as a fail-safe in case one failed. It never rains but it pours for Boeing.
Did you read a couple of weeks ago about the British Airways plane that collapsed on its nose at Heathrow while cargo was being loaded for a flight to Germany? The report into the incident says that locking pins were supposed to have been inserted into the planes landing gear to prevent it retracting on the ground while it was being tested. The lead maintenance engineer had inserted the pins into the main landing gear using a step ladder. But because he was short he couldn't reach to insert the locking pin on the nose wheel, even with the step ladder. He asked a taller fellow engineer to do the job and he put the pin in the wrong hole. Consequently when the hydraulics were being tested the nose wheel tried to retract and the planes nose and engine cowlings hit the tarmac damaging them. A case of if you want a job doing properly do it yourself.
A very ambitious plan was announced this morning by GlaxoSmithKline. They want to sell off about a 1/3 rd of their 92-acre site in Stevenage to develop a huge life sciences campus. They believe the sale would bring in £400 million and development would create 5,000 jobs by 2026. It seems to me they are trying to emulate what AstraZeneca are doing at Cambridge.
I have been reading the latest news on the divorce of the Russian billionaire Farkhad Akhmedov and his wife Tatiana Akhmedova. She won a High Court settlement of £450 million payout back in 2017 but he wouldn't accept it and started to put assets out of her reach. She took a series of legal actions to try to secure certain assets including a house, an Aston Martin and a modern art collection. He even got their son involved in concealing assets and in a separate court case was ordered to pay his mother £75 million involving several mansions, a helicopter, a superyacht and an art collection. Farkhad claimed that he had divorced Tatiana in Moscow in 2000, but the British judge ruled that there was no official record of the divorce in Russia and that papers presented by Farkhad were a forgery. Now it seems Farkhad has given up and has agreed to come to a secret settlement with his ex-wife, but it is believed he has paired up in full.
The Scottishland firm of Forsyths is currently building an entire Whisky distillery at its factory in Rothes, but is not for Scottishland. It is for an EPC export order secured by the Forfar company Valentine International to build the distillery in Ordes, Inner Mongolia. The stills, tanks, pipework platform etc., should be up and running later this year producing whisky for the Chinese market, but can they call it Scotch?
I see that at a disciplinary hearing in London today PC Wayne Couzens, the diplomatic protection officer who pleaded guilty to the murder of Sarah Everard, was sacked by the Metropolitan Police for misconduct. I suppose that they had to wait until after the court case, but was he still being paid until today. It's not all over yet, he still has to be sentenced but surely it will be life and then there are 12 officers being investigated over mishandling of investigations into several cases of indecent exposure by Couzens which seem to have been swept under the carpet.
Saturday
Well, that was a warm night, I struggled to sleep and twice got up for a drink. I even put my head out of the cat flap to get some fresh air. I really wish the Little Otter would let Bozzie leave a kitchen window open overnight when it's so hot. Who in their right mind going to burgle Number 10!
So despite moaning about TfL being short of money I see that Sad Dick has been raking it in from the congestion charge and from the first year of the central London Ultra Low Emissions Zone. I understand TfL made £267 million from the first and £107 million from the second. The ULEZ is going to grow 18 times bigger in October when it will expand to cover the area inside the North and South Circular Roads. It will then catch around 300,000 non-compliant cars daily whose driver's live in or enter the ULEZ zone. At £12.50 a day to drive in the zone that adds up to a lot of money.
The Yanks have approached us to host a huge radar station that could track what is happening in space up to 22,000 miles away. They are bothered that both the Russian and Chinese could be developing weapons that could take out friendly satellites and three radar stations, one each in the US, UK and Australia, would allow them to keep an eye on what is going on. Mind, the radar would be huge with a number of 15-metre dishes spread over one sq kilometre.
So The Saj has tested positive for Covid. I hear he felt "groggy" last night and undertook a lateral flow test that showed positive. He is self-isolating and is waiting for the result of his PCR test. I wonder if he has been meeting other ministers? Could we see others getting pinged and having to isolate?
BT Openreach have been working with Nokia to try to speed up their broadband network and claim that with some new connections and a new Nokia chip they have succeeded. Their say that the new technology can give a home a speed of 25Gbps. That is around 400 times what an average home gets today. If you get, say 75Mbps at the moment, you can download a full HD movie in about 12 minutes. The main suppliers of broadband movies like Sky and Virgin buffer the film and let you start watching before it finishes downloading. However, the new technology would download the same film in one second!
Nigel Farage has been teasing that he was going to announce a big change of jobs today. Well, the announcement is neither a huge change of job or much of a surprise. He is going to have a daily show on GB News. Farage already does a show on a Sunday morning, now he is also going to do a 1-hour show every Monday to Thursday evening a seven o'clock. I think I might rather watch him than the "One Show".
That's another week done, I'm off for my dinner. I hope the water in my bowl is cold. It might help me sleep! Chat again on Monday.

© WorthingGooner 2021

The Goodnight Vienna Audio file


&nbsp