Monday
Good morning humans, it was a bit grey when I went out this morning, but now I have finished my Felix I can see the sunshine through the kitchen window. I will have to try the window sill out later. Bozzie has a good suit on, as he does so often on a Monday, so I guessed he was holding a press conference this evening. From listing to his conversation with the Little Otter I understand that it is going to be held in the new facility at No 9 for the first time. I have been in there a few times and personally I don't think it looks good value for money. I reckon it look cheap and with my other hat on, as chief chair tester I can tell you they aren't very comfortable! Let's hope it looks better on camera than in reality.
The radio this morning was full of news that the container ship that was blocking the Suez Canal had been moved. Although the bow was still aground the stern had been spun around by ten tugs on last nights high tide. Then on the lunchtime news I hear that the wind has caught the ship and it's back blocking the canal. The Egyptians are now talking about lightening the load so that it floats higher in the water. But it sounded like they were considering taking 20,000 containers off the ship using a giant floating crane. I was wondering just how long that would take, when it was announced that the ship had been re-floated and the canal was clear! Does the left hand know what the right hand is doing?
Today welcomes the first baby steps to ending lockdown in by opening up some outdoor sports being allowed. It's OK if you like outdoor swimming, I don't, walking football, I don't, or riding horses, I don't. Then you can meet up in groups of six or two families but once again outdoors only. Well I'm sure some people will be happy but it doesn't float my boat (unlike the last story!).
The news on vaccine today is that the Novavax vaccine is already being made and stockpiled at the factory on Teeside despite it not being approved yet by the MRHA. They will be making 50 to 60 million doses of vaccine a year. In addition they have reached an agreement with GlaxoSmithKline to "fill and finish" the vials of vaccine in the GSK plant at Barnard Castle, keeping the total vaccine production in the UK. This is very interesting because I had heard that it was planned to send the bulk vaccine to a factory in Germany to bottle it. My guess is that the Government has decided that with the current attitude of the EU the less we rely on them the better. GSK have the spare capacity because of the failure of the French Sanofi vaccine to be ready before the end of this year at the earliest.
I had a little chuckle to myself yesterday when I heard that one of the leading drivers in the F1 Grand Prix had to retire because of a sandwich bag. Alonso was in seventh place and going well when the team monitoring the telemetry of the car started getting that his brakes were overheating and pulled him out of the race. On closer investigation it was found that an abandoned sandwich bag had been ingested by an air duct supplying cooling to the brakes. As there were no spectators at the race track the bag had to have come from one of the teams. How ironic if it was from the lunch of one of his own mechanics.
It's 20 years today that the last Super VC10 was retired by British Airways, killed off by the wide-body Boeing 747. The 4 rear-engined aircraft was much loved by crew and passengers alike as it was both smooth and quiet. British Airways predecessor BOAC at first chose the Boeing 707 in a contest with the Standard VC10 but soon found that the 707 has been optimised for the transatlantic service and when used on many of the BOAC routes to Africa had to operate at a part load to be able to take off at hot, high and poor runways. The Standard VC10 and later the Super VC10 had more powerful engines and sophisticated wings and lift devices. Also, the engines were higher off the ground and hence better suited to the then poor runways. I have always admired the beautiful clean lines of the VC10.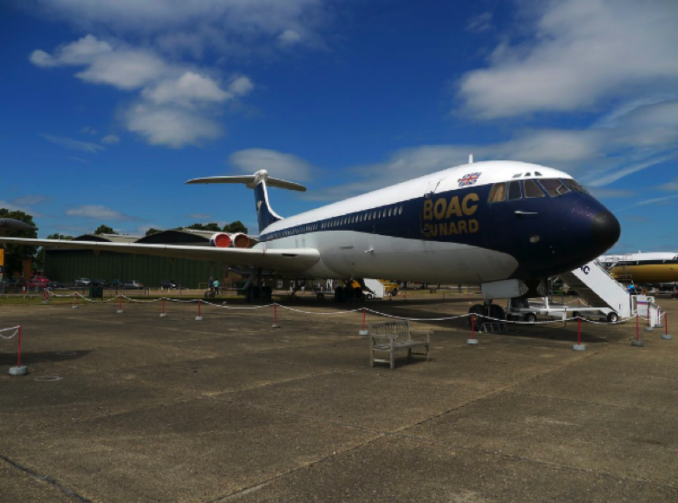 The market for cruise holidays in British waters this summer is getting pretty crowded with Cunard, Disney Cruise Line, Fred Olsen, Hurtigruten, MSC Cruises, P&O Cruises, Princess Cruises, Riviera Travel, Saga Cruises and Viking already having announced voyages starting from various ports including Southampton, Dover and Liverpool. Some will be cruises to nowhere with no ports of call, others will be stopping at several British ports. Today's newcomer is Celebrity Cruises that will offer trips from Southampton on the Newly refurbished Celebrity Silhouette. A series of six to eight-night itineraries around Britain's coastline includes calls at ports from Portland in Dorset; Inverness, Kirkwall and Glasgow in Scotland; Belfast and Liverpool. That makes at least 16 boats from 11 cruise lines. I bet the ports, particularly Southampton, will be happy to see the passengers back.
Tuesday
It is another beautiful sunny morning and I think I will be doing the same as yesterday, snoozing in the sun on the window sill. Yesterday was really nice and with the daylight lasted much longer, last evening I was outside till later and my tea was in my bowl when I came in.
Did you see Bozzie in the new studio at No 9 last night? I did notice that there had been a last-minute design change to the centre lectern. It used to say "Downing Street" on it like the other two but half of the wording was hidden by the prime-ministerial shield. Now the wording has been removed from the centre lectern so it looks better. The other thing I noticed was that the electronics worked much better than in the old room, but was that worth paying £2.6 million for?
This morning I have heard that Weatherspoon's have announced plans to spend £141 million, post-Covid, to open 18 new pubs and to carry out improvements to many others. It is believed that many existing pubs will have money spent on them to maximise outside space, when outside drinking and eating is allowed. All this investment is expected to create new 2000 jobs. But this is just a first step, once this upgrade has been completed, Wetherspoon says it plans to spend another £750m to open 15 new pubs and enlarge 50 existing pubs each year for 10 years. This they say will result in 20,000 new jobs in the next 10 years.
Are you missing flying and airline meals? If you are, British Airways can help you out with the meal. They have gone into partnership with one of their caterers to deliver box meals for you to finish at home. They will sell you a four-course meal, similar to one served in First Class. The cost varies depending on the exact meal chosen but in general, a pasta main course version costs around £80 for two people, while a meat one(beef cheeks) costs around £100 for two. For a starter, you could have smoked salmon and grilled asparagus. How about chocolate and orange liquor bread and butter pudding with vanilla sauce for dessert and a cheese board with a selection of English and Welsh cheeses.
So Reclaim and Reform UK has come to an agreement about the upcoming London election and Richard Tice is going to stand while Laurence Fox will stand aside. The word on the street was that Tice was going to stand in the Hartlepool parliamentary by-election. But he clearly won't be if he is standing for the London Assembly. I wonder who Reform will put up instead, they have a lot of well know ex-MEPs who could make an excellent fist of it. While on the subject of elections I see that the latest YouGov poll puts the Tories ten points ahead of Labour for a Westminster election and Bozzie 10 points ahead of Stoma as making the best prime minister. Bozzie getting a coronavirus vaccine bounce or is Stoma useless?
Winchester University today unveiled a life size statue of Greta Thunberg the climate goblin. Surprisingly the miniature statue has upset a lot of the university's students. I would have thought that students would have supported having a statue of the Green Goblin but they are unhappy that the University has spent nearly £24,000 on it. They feel that in a time on Covid the money could have been better spent on student services.
So yet another Elon Musk rocket, Starship SN11, has crashed on landing creating a big crater. This time one of the engines failed to work on landing, resulting in a huge explosion when it crashed. I must say that Musk doesn't give up easily, the next rocket SN12 has already been rolled out.
Wednesday
Something seemed a bit wrong this morning. When I woke up I was sure it was Wednesday and Wednesday is PMQs so I had a bit of a surprise when I found Bozzie didn't have one of his best suits on. Instead, he was wearing a pair of trousers and a pullover. It took me a while to work out that parliament was shut due to the Easter break. Mind it was a good thing because he had a rare treat for breakfast, a fried egg sandwich and he dripped the yolk down his pully.
Once again the Krauts are moaning about the AstraZeneca jab causing blood clots in young women and have decided to limit its use to old people. It's amazing that all the licensing authorities say there is nothing wrong with the vaccine and of the over 50 countries using it only Germany say they have a problem. I am certain it is a political problem.
I read that Rolls Royce have started to build a demonstrator for their new UltraFan jet engines. This will be the biggest jet engine in the world with a huge 140" diameter fan. Rolls don't have a target airframe for this engine but they say it will sell because it is a brand new design from scratch and will be at least 25% cheaper to operate than current jet engines. Rolls say the engine is aimed at both wide-body and narrow-body aircraft. I can't see it ever being used on the Boeing 737 as the aircraft is so low to the ground that the new engines would scrape along the runway!
I read that the residents of a tenement building in Edinburgh have found a perfectly preserved World War 2 air-raid shelter in the basement of the building. The building residents had assumed that the behind a door in the basement was a store cupboard after it was opened and all that could be seen was a huge pile of old paint tins. A new resident in the building was curious and decided to get rid of the tins as they represented a fire risk. Behind the junk was the air raid shelter complete with triple-decker bunk beds, trough sinks and a heating stove. All the original signage is still there and perfectly legible.
France have announced a new national lockdown starting from Saturday as the Covid pandemic in the country gets worse. All non-essential shops are to shut, schools are to close for at least three weeks and travel more than 10 km from home banned, except for good reasons. Mr Macaroon says that vaccination is the light at the end of the tunnel. What a pity he made such an effort to trash the AstraZeneca vaccine that people have refused to take it and have instead been catching Covid.
It seems that less than a month after biting a White House staffer, Sniffer Joe's dog Major has bitten someone else in the White House grounds. I understood that both of Sniffer's dogs were sent home to Delaware. Major then went on a "rehabilitation" course that was supposed to teach the dog, described as "sweet" by Sniffer Joe, how to behave in the White House's 47-acre grounds. Well, that course seems to have been a waste of time. I might be wrong but if a dog in Britain was to bit two people in a month wouldn't it be either put down or ordered to be muzzled?
I have heard that South West Trains have finally given up on their Class 442 trains and are going to return them to the leasing company Angel Trains. SWT have been refurbishing 18 x 5 car trains to use on the Portsmouth to London route at a believed cost of £45 million. The trains have previously been used on various routes in the south of England including Gatwick/Victoria and Weymouth/Waterloo, where they were nicknamed "Plastic Pigs". SWT completely refurbished the Class 442s internally but when they put the first few into service the old electric motors continually broke down. Work followed on the motors but when they were tested it was found that the electric field the motors generated interfered with the new digital signalling system. SWT have now decided that with the reduced volume of passengers using trains as a result of Covid they can do without the class.
I hear France and Germany are talking to Russia with a view to purchasing the Russian Sputnik V Covid vaccine to get them out of the hole they have dug themselves into. I really can't see how injecting people with a vaccine of unknown quality is better than using the AstraZeneca vaccine. This really is the politics of the madhouse.
Thursday
Good morning everyone, it's a new month and it's getting nearer to the end of this Lockdown thing. Will be delighted when you humans no longer have to wear those silly mask things as it makes it easier for me to understand what people are saying to me!
I have been reading about one of the odd consequences of the Ever Given container ship getting stuck in the Suez Canal. It seems that a new golf course near Cambridge opened last Monday without its centrepieces. The Kingsway Golf Centre in Melbourn near Cambridge has been built as a Jurassic Links Adventure Golf and was to have a giant Tyrannosaurus rex model, nicknamed Dino, and a model pterodactyl but both are still on the ship which is currently anchored in Great Bitter Lake. The golf course already has 12 Dinosaurs in place but these are the two major models. Even when they arrive the 10 m long T. Rex will have to be constructed as it is being supplied as a flat pack.
I know it's April Fools day but the national minimum wage really has gone up today by 19p an hour. That is next to nothing, £7.60p for a forty-hour week, less than the price of 20 cigarettes.
The World Health Organisation has today been critical of the EU's vaccine rollout, calling it "unacceptably slow" and "prolonging the pandemic". I don't usually agree with the WHO but on this occasion I think they are right. Other countries have done their best to get vaccine into their population, but the EU seem to have been more worried about the cost of the vaccine and politics. The EU wasted loads of time in ordering vaccine while they did their utmost to get it as cheaply as possible, which of course slowed up the rollout. Then there is the second factor of politics. The EU has ordered a number of different vaccines from a variety of companies. Following heavy pressure from France one of the biggest orders was for a French vaccine and that has not been a success, it is unlikely to be available until the end of this year at the earliest. Consequently, the EU has been having to rely on a combination of smaller orders from Pfizer (German developed made in Belgium), Moderna (US developed made in Switzerland), AstraZeneca (British developed, made in the UK, EU, India, and US). The EU picked a row with AZ over deliveries, over effectiveness, over blood clotting, in fact anything it thinks of. But why, was it because of Brexit? It certainly seems so, because the other vaccine suppliers have the same problems but have not been targeted.
Another problem is that the EU has implemented its vaccine roll out in a mixed-up manner. After acquiring the vaccine centrally, it is then allocated to countries by size of population and they then vaccinate by their own systems. Some do it by age, some do it by need, some have done all health workers first, some have done it first come first served. But the country rollouts have been ineffective and over 13,000,000 dose are sitting unused in the EU. The WHO are right.
Meanwhile in Britain, the vaccine rollout continues apace. Just as predicted fewer first doses are being done this week as the remainder of the first wave is searched out with over 31,000,000 now being vaccinated. But it is the second doses that is taking off with a second dose record of over 400,000 yesterday taking those who have had two doses to over 4,500,000 which is 8% of the adult population. All these vaccinations to have a huge effect on new cases, down to 4,500 and deaths, down to 51 and the number of people in hospital down over 1000 in a week.
I have been reading about a man in the Democratic Republic of Congo who had Ebola twice, despite being vaccinated against it. This 25-year-old motorcycle taxi driver was vaccinated in December 2018 because he was thought he might have been in contact with someone who developed it. Six months later, in June 2019, he developed Ebola and was treated with blood serum and later returned 2 clear test and some months later another clear test. But then in November he developed symptoms was admitted to a treatment centre and died the next day. The article told me that the Ebola virus can hide in the body for up to a year and if you get it a second time it is invariably much worse. I only hope coronavirus isn't the same.
Friday
When I woke up this morning it was very quiet, I thought my internal clock had gone wrong and I had woken up early, but it was daylight. It was just like a Sunday, but I was sure it was Friday. I popped into the garden (it was cold out there) and when I got back I found Bozzie's pile of newspapers and the top one was talking about it being Good Friday. I remembered that it was a Bank Holiday. Why didn't anyone tell me, I could have had an extra hour in my Cat Basket!
I hear that Egypt is demanding $1 billion in compensation over the Ever Given blocking the Suez Canal. The money is made up of the cost of the salvage operation, lost fees from ships that should have paid to transit the canal and other unspecified fees. The Egyptians say the ship will be detained until the money is paid and have threatened to seize the cargo if it isn't. I told you yesterday of the two model dinosaurs on board, I wonder what Egypt will do with them, would a pterodactyl on the top of a pyramid be appropriate? Oh, I did hear that the ship was under the control of 2 canal pilots at the time of the accident, how would that go down in an international court?
The Halix Factory in the Netherlands that was finally licensed this week to produce the Oxford AstraZeneca vaccine was equipped to do so with £21 Million of British Government money with the intention of some of its production coming to the UK. The EU has put no investment at all into this plant. However, the EU has threatened to grab 100% of the vaccine produced and also possibly even the factory. I think we should demand compensation from the EU if they refuse us the vaccine, a minimum of our money-back plus additional compensation for every death in this country caused by people not being vaccinated.
The EU really do have a cheek, they have now approached the Serum Institute of India and demanded they supply them with 10 million doses of the AstraZeneca vaccine that the institute is making under license. At the moment the institute still owes us 5 million of a 10 million dose order because India is diverting production for domestic use. What is the matter with the EU, they are really determined to cause problems for AZ even though they can't get their population to take the vaccine after they rubbished it.
Now that we have given 1st doses of vaccine to over 95% of the over 50's the daily number of first doses has dropped off considerably, but the number of second doses is going up fast. Yesterday it was 435,177 2nd jabs taking the total fully vaccinated to just short of 5 million. All this is making a huge difference to the deaths with the average number daily down to 43 and going down compared to France where it is 367 and going up.
I see the latest "face" to join the coming TV station GB News is Alastair Stewart who used to present News at Ten on ITV. Stewart was forced to quit his job by ITV over a Twitter row where a man accused him of being racist when he tweeted a passage from Shakespeare. The boss of GB News, Andrew Neal said that Stewart had been forced out by ITV "suits". He will be joining another well-known newsreader, Simon McCoy, who recently quit the BBC to join the new channel.
In the US there has been a bit of a problem with coronavirus vaccine production. A company called Emergent BioSolutions in Baltimore has been producing vaccine for both Johnson and Johnson and AstraZeneca under contracts worth $740 million from the companies and another $648 million from the US Government. Somehow a batch of 15 million J&J vaccinations have been contaminated with AZ ingredients making it totally unusable. This is not the first time emergent has been in trouble, last year it was found that some employees had not been trained properly, records were inadequate, procedures were not being followed and measures to prevent ingredients being mixed or contaminated were deficient. The contaminated US doses are being made up for by exports from vaccine made in the Netherlands, strange that the EU has not banned those exports.
My last story tonight is about the chip shop in Doncaster that has found it has invented a new hit product. They puts chips in a bread roll, squash it down, drop it in batter and then deep fry it. It is said to best served with either gravy, baked beans or mushy peas. Gravy for me, please.
Saturday
I can hardly believe it is Saturday again they seem to come around faster and faster, must be something to do with me getting older? Not so warm this morning but the forecast say the sun will be out later so, as usual, I have reserved the window sill.
Before Brexit do you remember how loads of companies were saying that if we dared to vote leave they would move production to the EU? Well, you might have noticed that it never happened. One of those shouting loudest was Airbus. Today the Airbus CEO has given an interview in France, because of British quarantine, and has talked about having had a difficult time because of Covid, but Airbus now has plans to expand production in Britain. Oh how they lied to try and keep us in the EU.
It seems that for a variety of reasons the University Boat Race is not happening today. Instead, it is going to take place tomorrow afternoon. But it will not be on the normal course on the Thames because the authorities don't want the normal 250,000 crowd to assemble on the Towpath and it is said to be dangerous to pass under Hammersmith Bridge. So for the first time since 1944 the race is to take place on a section of the Great Ouse, where access can be controlled and if you dare to turn up on the Towpath you are threatened with a £200 fine.
I woke up this morning to hear that some very lucky human had one £122 millions on the Euromillions Lottery putting them in the top 1000 rich people in the UK. If I was to win that much I would have a new diamond-studded collar, an electrical heated cat basket for those cold nights and I would buy the Felix factory so I could always have my bowl full of Felix Chicken. I would also give up my post as Chief Mouser and retire to the country, to sleep all day on a sunny windowsill in summer or in front of a log fire in winter. I can dream.
Once again I read that the Western nations are being played for mugs over coal-fired power stations. Coal, which is the cheapest fuel for electricity generation, has been almost eliminated in the UK and is fast on the way out in other major western countries under pressure from the Greens has long been growing in the likes of China and India. Today I hear that India has changed its regulations once again to allow coal generation to continue. Originally the Indian Government passed a law saying that all coal-fired power stations had to be fitted with flue gas desulphurisation plant by 2017. When this target was clearly going to be missed it was changed to 2022. Yesterday, under pressure from the major Indian generation companies, the date was changed to 2025. However, those companies that don't make it can pay a derisory fine of 0.2 Rupees per unit, which is £0.002 hardly enough to make a difference. FGD plants made gypsum for plasterboard which since closing the power stations in the UK is in short supply.
That's another week over, I had a good snooze in the sun this afternoon, it was quite warm. As it was Felix Chicken this morning, it should be again tonight and I am looking forward to it. Have a nice Easter Sunday everyone, I don't understand what you all see in chocolate eggs, if you all had roast chicken then I could understand that being worth celebrating, chat to you on Monday even if it is a Bank Holiday, I'll be working.

The Goodnight Vienna Audio file