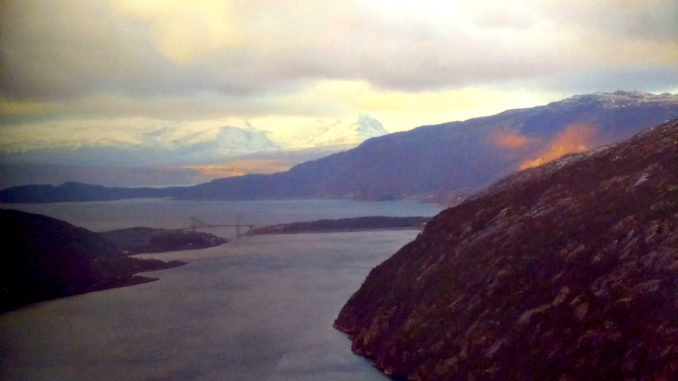 Lying just above the 68th parallel makes the Norwegian port of Narvik more northern than Iceland. The Nordland municipality's 20,000 inhabitants also live their lives 860 miles north of Oslo, 870 miles from Stockholm in the same direction, and 600 miles east of Murmansk. Sitting where the Lofoten Islands reach towards the Scandinavian peninsula, the town benefits from the currents of the North Atlantic Drift which warm the coast of northern Norway. That coastline is interrupted by innumerable fjords, one of which, the Ofotfjord, allows a railway line to run along its southern slope all the way from the Swedish border to Narvik's pale yellow rendered Stasjonsveien railway station.
On the other side of the Lofoten islands is the more sizeable town of Tromso, excellently described by fellow Puffin Jerry F following his November birthday visit there.
Speaking of birthdays, having been in the Arctic when I was 21, Nordland seemed an obvious destination for the celebration of my fiftieth. Obvious to me but not to the rest of the family (Mrs AWS and our four children complete the six of us) who were expecting somewhere a bit hotter. Not difficult with my birthday, like Jerry F's, being at the fag end of the year, in my case the 27th October.
Having booked everything, my niece wanted to come along too. Having cancelled everything and re-booked, I'd miscalculated half-term, wrongly thinking it north of my birthday weekend rather than south. As I couldn't face another fight with the airline, railway company and hotel.com, our party of seven stuck out at the allotted wrong time with five of us illegally bunking off school.
Narvik can be approached by road from the south on the E6. There is an airfield, but with rather limited and expensive flights. Norwegian railways run as far fas as Bodo, after which a six-hour-long bus trip can be enjoyed. Or, you can go by Swedish Railways (SJ) from Stockholm via the other side of the Scandinavian peninsula. That line follows the Baltic for the 460 miles to Boden before swinging inland and becoming the Malmbanan (the iron ore line). So-called as it serves the iron ore trains in Arctic Sweden (particularly those origination from the mega-mine at Kiruna), with a few through passenger services slotted between.
I do prefer to go by land. The previous year we'd stood on the dockside at iJmuiden after alighting from an overnight North Sea ferry. Initially, all roads led to Amsterdam, a thirty-minute bus ride away. From Centraal, we'd struck out south and east on a City Night Line sleeper train until eventually washing up in a windowless, but reasonably priced, apartment two minutes from my old lodgings in what was once quaintly known as Lenin Korut, Budapest VII.
North Shields to iJmuiden beckoned once more, as did the night train to Copenhagen and the bridges and tunnels that join Helsingor to Helsingborg. Once on Swedish soil, a 350-mile rail journey promises Stockholm, from whose Central Station one can connect with train number 94, the six pm, scheduled to arrive in Narvik at a quarter past one the following afternoon.
Who could resist? We could resist, as there were only so many days in my birthday holiday, and they all had to be jammed into a naughtily skived off week before half-term. Therefore, we started our journey by flying to Stockholm. If you ever overhear me boasting, "Oh yes, in Sweden, SAS, and I was touching fifty", the SAS in question is the sky blue and grey passenger 737s of the Scandinavian Air Services. The mission? A three hundred pound a night (yes, £300 a night) posh hol. My supporting squad, Mrs AWS and five kids.
Arriving in Sweden, I made a mistake. Not as big an error as building a giant empty airport near Stockholm, just before a credit crunch, and calling it Arlanda but a mistake all the same. One that fellow Puffins may learn from. If you really must visit the Arctic by train at the end of October, don't hang about Arlanda, go into Stockholm on the shuttle. Have a day in the capital and then join the sleeper train at Stockholm Central. If the family suggest such a thing, do not reply, "I've been before, why would I want to go again? It just costs money." Rather, go with the flow and think of your companions being spared a whole day at the airport (spending your money anyway).
Arlanda has its own railway station, underneath the terminal, carved into bare rock. Irritatingly, the authorities won't let you sit on the platform all day watching the trains go by. We make our way down the escalator only moments before the night train from Stockholm Central to Narvik, the Norrlandståget, calls.
Swedish sleeper compartments are excellent. Through the day they are seating compartments which, in a very Scandinavian way, convert into bunks by night. The luggage rack becomes a top bunk. A backrest swings up to become a middle bunk and the seats become a lower bunk. Clips, pegs and bits of harness are employed. This, mirrored with the seats opposite, turns each compartment into a six bed couchette. Bedding is supplied. The staff will offer to convert the compartment for you and even make the beds. You will politely refuse. Instead, Dad will do it while seven people are jammed into the cabin. After half an hour's wrestling with the Ikea type technology, Dad will kick the rest of the family into the corridor. They will stand laughing during another thirty minutes of frenetic and fruitless activity. There will be blood and bruises. He will pull the blinds down but still be distracted by sniggering. Shouting at them will not help, but kicking them into the restaurant car will. Astonishingly, only ten minutes later, Dad will have accidentally put the whole lot together, including the sheets, blankets and pillows. Surprising himself, he will even have remembered to attached the cross straps on the upper bunks to stop the little ones from falling out. Yes, for health and safety reasons, the smaller ones should sleep on the top bunks. This is not selfishness on Dad's part. Do you really want to be in a confined space when a fifty-year-old bloke (battered and exhausted after a fight with a convertible Ikea sleeping compartment) falls out of the luggage rack on a tight curve halfway between Bräcke and Ange? Thought not.
Fortunately, Swedish Railways turn a blind eye to seven in a compartment of six. Another small one can, therefore, kip with an adult on a bottom bunk.
Sunset is early in those latitudes and easily missed while wrestling with a dangling hundredweight of metal halfway between being turned from a backrest into a middle bunk. You might think that there's not much to see out of a night time window after leaving Uppsala, the last of southern Sweden's biggish towns. You'd be wrong. Although the map suggests nothing but blank, passengers are in for a very pleasant surprise. The distance looks darker than pitch black. In it lie endless forests. Above them, a night sky untroubled by street or house lights is alive with vivid constellations denied to those of us who live in more densely populated countries.
Nearer to the train, reflected by frosty trees and trackside snow, is an electric blue staccato of flashing light, as the racing locomotive's pantograph sparks along frozen overhead wires. It is mesmerising, it is beautiful, it the grandest of lullabies as you rattle towards Lapland snug in your compartment, family above and beside you, wide-eyed beneath their SJ woolly bed sheets.
***
Next morning we are still a long way from the Arctic Circle. In fact, we're a long way from anywhere. For hour after hour, the view is of billions of trees interrupted by frozen lakes and ice packed rivers that reflect a pale blue winter sky.
Remember the restaurant car? Don't believe a word the staff tell you. My Swedish isn't great and the entire population of Sweden took advantage. A notice said, you buy a coffee cup and fill it up from the urn as many times as you can wish. The steward soon got sick of that. He moved the urn around so that I couldn't get at the tap. Were they neutral in the war? I think they were. Likewise, he wouldn't make me a reindeer burger for breakfast. "Nej, nej, nej, nej nej!", he cried, even though it was on the menu. We had pizza instead. Despite being microwaved in a plastic bag, it was really quite pleasant. Having said that, the prices at Arlanda being a bit steep, we hadn't eaten since the previous morning's SAS sandwich and tin of pop. Remember, that's an airline sandwich, not the special forces mega-vitamin, giga-calorie, one bite lasts a fortnight egg and cress in weapons-grade cling film. However, our vegetarian opened his boily hot plastic bag to reveal a load of ham. Every cloud. Instead of yelling at the steward in bad Swedish (again) the rest of us shared it out between us like grateful Arctic explorers making the most a dead colleague.
The hungry vegetarian then emptied all of his holiday money into Dime bars. He bought far too many. We let him. Without a word being spoken, we knew that when he couldn't eat any more, what was left could be shared out amongst the rest of us. The high Arctic in October does that kind of thing to a chap.
To be continued…..

The Goodnight Vienna Audio file