More than a century and a half ago, westbound gold rush settlers had to cross the Truckee River, a few miles to the east of the California / Nevada state line. Ahead of them lay a perilous transit of the Sierra Nevada mountains, via the daunting and notorious Donner Pass. The Sierra Nevadas are a formidable 70 miles wide. The route through them reaches an elevation 7,000 ft, well over twice the height of England's highest mountain, Scafell Pike.
In 1859, the enterprising Charles W. Fuller took advantage of this California Trail by building a log toll bridge across the Truckee. A small township grew up around it. In 1863, in Sacramento, California, the Central Pacific Rail Road, with the help of 12,000 Chinese labourers, began to build a railway line which would cover the 650 miles east to Salt Lake City. In doing so, it would conquer the Sierra Nevada's via Donner pass and help to create the first of the United States's transcontinental railroads.
Putting an iron road through Donner required four tunnels, several miles of snow sheds and two Chinese walls (hand-built retaining walls which carry the line alongside steep ravines). So much blasting was required that the CPRR had to build their own gun powder factory. In 1869 the route was complete. The CPRR joined the Union Pacific Railroad at Promontory, Utah. The final section of rail was secured with a golden spike.
En route, it had crossed the Truckee River, near that toll bridge township which now had a population of over 1,000. It also had a name, Reno. Named posthumously after a major general killed in the American Civil War, Jesse L Reno, it could have been much worse. Nearby Verdi was named from a lucky dip out of a hat. Contemporary Italian musician Giuseppe Verdi, composer of Aida, needed be neither flattered nor alarmed. To this day the locals pronounce it "Vur-dye". Meanwhile, on the other side of the state line, a landowner wary of attracting attention to his gold-bearing gullies named a place "Secret Town".
With the completion of the railroad, for the first time, passengers and freight could be transported en masse through the Sierra Mountains. Reno became the biggest settlement between Sacramento and Salt Lake City. The population grew steadily across the decades. By the mid-1920s Reno boasted 15,000 inhabitants, sufficient to support a Nevada Taxpayers Association. Somewhat of a misnomer, from their offices in the Reno National Bank Building, on the corner of North Virginia Street and East 2nd Street, the last thing they wanted to do was to pay any tax.
An early inductee to their hall of fame will have been Assemblyman Phil Tobin of Humbolt County. Given that the impact of the Great Depression obliged the state towards levying an income tax, Tobin introduced a bill to tax gaming tables instead. The Nevada Gaming Law was born. Also signed into law on the same day, 20th March 1931, was a six-week divorce measure which the Nevada State Journal announced would keep Reno, "Foremost in the severing of unsuccessful marriages."
Divorce and gambling laws were much stricter in other parts of the United States, not least in the neighbouring and much more populous, California. The Journal went on to note, breathlessly, that not only had Reno been given the title of the "divorce capital of America" but that,
"hammers, saws, and cement mixers were industriously at work last night as a night shift of workmen continued to rush toward completion of enlarging and renovating the Bank Club, downtown gaming resort."
The Bank Club continued as a casino until 1952, it's strapline being, "Known the World Over". Reno had adopted its own slogan in 1929 when Mr G. A. Burns won a $100 competition prize for suggesting, "The Biggest Little City in the World", a moniker which survives to this day.
By the 1950s, Reno's resident population had risen to 40,000 with divorce and gambling guests swelling it further. One such guest was Georges Simenon, Belgian author of the Maigret detective books. Georges surprised Mrs Simenon with a six week long holiday of a lifetime in Reno. At the end of the statutory six weeks, he surprised her a bit more by divorcing her. Was there a Maigret book entitled, "The Case of the Bastard and the Brokenhearted Wife in a Cheap Motel"? There should have been.
The closure of the Bank Club in no way indicated a decline in Reno's fortunes. Club Cal Neva opened in 1962, the Atlantis in 1972, Eldorado, 1973, Fitzgeralds, '76, Circus Circus, '78. They were joined by others, including the Bonanza, Sahara and Diamond. All of this is happening in a place, in 1980, about the size of Carlisle.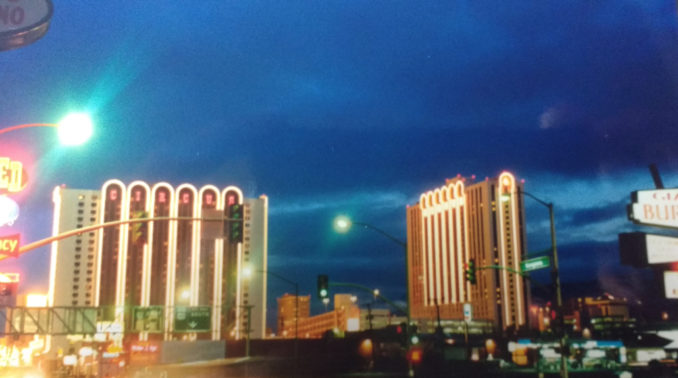 However, all was not bigly good in the Biggest Little City in the World. The jet plane had replaced the long-distance train, meaning that Nevada rival Las Vegas had overtaken Reno. Likewise, as gaming and divorce laws became more liberal elsewhere, Reno's unique attraction faded. In the 1960s the resident population of Las Vegas overtook that of Reno. It is difficult to believe now, but in 1950 the population of Las Vegas was only 24,000 (to Reno's 32,000).
I found myself there thirty years ago, having arrived by train, the California Zephyr, via Donner Pass. The Zephyr sounds very grand but by this point it had been diminished by air travel, was dirt cheap and only patronised by those terrified of flying, on a budget or addicted to trains. I stayed in a mom and pop motel.
The plan was to accumulate costs in high tax California and declare earnings in low tax Nevada. Multiple faxes to Burbank ensued. Johnny Carson's Tonight Show, before sifting through the dross, needed two hundred gags a day. Potentially, two hundred more laughs each day than Lenny Henry has managed since 1986. If your sides ached as much as Ed McMahon's when you heard that Cabots Cove was the murder capital of America and that Tom Bossney had been murdered twice in one season, then you owe me a drink. Pay for it in California, send the receipt to a mom and pop motel in Reno. In between times, if something weird cropped up, every Tuesday morning next week's National Enquirer consisted of nothing more than blank pages to be filled.
In those days, Reno was one of those places where the railroad, having arrived there first, ran straight through the middle of the town at street level. Trains make a noise. There are flashing lights and ringing bells. The locomotive engineer blows the horn. Apart from that, you're on your own. The track wasn't particularly well enclosed, get out of the way or get killed. The homeless people used to sleep beside the tracks in their sleeping bags. Half mile long freight trains crossed the main streets (4:11). Not quite the railroad equivalent of Kai Tak international airport in Hong Kong but a shiver ran down the spine all the same.
The casino district made Blackpool (even in its present-day Crap-pool plumage), feel like 4th Century BC Athens. Having said that, it was clean and safe. Never mind clocks, there weren't even windows in the casinos. You had no idea of time or place and therefore no idea of when to stop gambling. There was cheap (or even free) food and drink. Getting to it meant a long walk past irresistible slot machines and gaming tables that whispered "feed me" as you passed. Likewise the restrooms.
If you had no cash, never fear. There were ATM machines on the gaming floor, pawnshops and even a lawyer's desk where you could sell your house. Alcohol was on sale too. Yes, you could sell your house for cash while drunk, sat at a poker table.
Large ladies sat with buckets full of quarters between their legs. That's not a euphemism for anything. For hours on end, they shovelled coins into the machines while pulling at the leavers. Engaging in polite conversation, enquiring of strategy and tactics, was a waste of time. There aren't any. It is a game of total chance.
If your new lady companion wants to talk about a mark on the back of her neck that proves that she was abducted by aliens, make an excuse and leave. Perhaps there is a coupon in your casino "Fun Book" which expires in five minutes? A call to the National Enquirer is also beckoning.
During my first visit, thinking that the card tables might be intellectually more challenging, I pulled up a stool and sat beside two drunks and a croupier. My first hand consisted of three eight of hearts. Unfortunately, we weren't playing poker. Multiple packs of cards are used simultaneously. They are changed regularly. Hence, it's a waste of time trying to mark or count the cards. I was even told off for touching them. The place being covered in CCTV, even if you do start winning, you will be further rewarded by security asking you to leave the building. Alarmingly, more cameras were pointing at the staff than at the guests. It goes without saying that you should not feel obliged to attend in full evening wear. Tee shirts and shorts are de-rigour, size XXXXXL the fashion.
My accommodations were fine, not cheap, but cheap for what you got, especially the well-equipped kitchen and bathroom. Mom and pop spoiled me, they loved the English accent. These were the days when a pound was worth $2 and the cost of living was cheap to start with. The locals were furious when gas hit a $1 a gallon. That's a gallon, not a litre, and a US gallon, not an Imperial one. Trust me, it works out at 13 pence a litre. You could fill your VW Polo for a fiver.
Those accommodations were on North Virginia Street. The Reno National Bank Building was still there, appropriately converted to a restaurant for the neighbouring Harrah's casino. Food was cheap, portions were beyond bigly big with a bit more squeezed onto the giant plate. My diet consisted of one main course every other day. If you leave anything, the waitress will be genuinely upset and force upon you a (self-defeating) free dessert and a discount. On more than one occasion, being average weight for a young Englishman, total strangers stopped me in the street worried that I was anorexic, offering to buy me a meal.
Here's something you didn't know. There are lots of different types of quarter. Some fetishists collect them. The girls who counted the quarters in the casinos were pestered by groupies wanting odd bits for their collections. Like, weird.
If quarters don't entertain you, might I suggest the theatre (cinema)? I used to frequent the Granada, now long gone. Nicely old world, the staff were very friendly. There is a former employees Flickr group. A small portion of Granada popcorn would fill a UK domestic dustbin. If you see anything advertised as "theatre" sized, it means vast. Away from the casino district, Reno quickly became ordinary small-town America, albeit with mini slot machines alongside the phones in the telephone kiosks. Is it just me, or were those happier and more innocent times? Was it not so much easier to enjoy yourself and say and do the right thing, three decades ago?
That was then, what of the modern-day?
The railway has survived but it is in a 2-mile long concrete trench, crossed by frequent street-level flyovers. Reno has continued to expand, so much so that the population has doubled (to 225,000) within the past three decades. Now so big, it merges into the nearest town and has become a twin-city metropolitan area named "Reno-Sparks".
The Reno Gazette Journal has also survived, albeit much merged and now part of the USA Today Network. The number of employees has fallen from 460 to 31. Harrah's casino is closed. Bought by a Las Vegas developer, it will be converted into a non-gaming hotel. Tellingly, both the tourism and HR offers have shifted direction. Amazon Jobs tells us,
Reno is not only famous for its casinos: it also offers year-round indoor and outdoor recreational activities. Located within fifty miles of Lake Tahoe and the largest concentration of ski facilities in the world, locals and visitors can enjoy camping, fishing, hiking, rock climbing, mountain biking, water sports, skiing and snowboarding.
The American Gaming Association reports that Reno has dropped to being only the fourteenth biggest-grossing gambling strip in the USA. Revenues are now one-tenth those of Las Vegas. Reno is outgunned and out-gamed by unlikely places such as Kansas City and St Louis. Only six big (turnover in excess of $36 million per annum) casinos remain.
The municipality has not taken this lying down. Taxes are still low, the cost of living less so. However, the cost of property is much lower than in neighbouring California. As the local economy needs to diversify, state incentives and tax abatements are available. Many tech businesses from Seattle (Microsoft, Amazon) and from the relatively nearby San Francisco Bay Area (Tesla, rfXcel) have expanded to Reno-Sparks or even re-located there. Amazon has a 630,000 sq foot fulfilment centre, Tesla, a Gigafactory so big that it had to be built in a desert.
Welcome news but a note of caution must be raised. Business magazine Bloomberg refers to this type of employment as being "run-the-robots". It is capital intensive and automated. Jobs are often low paid, so low that workers rely upon food stamps and find local housing unaffordable.
As for myself, the enterprising Charles W. Fuller and canny Assemblyman Tobin still moved upon the face of the waters. One day in the Seven-Eleven, a shopper keen to impress the stranger, directed me towards a particular queue. The check-out girl, as was the want in those days, gave me her life story. She was a fallen, resting starlet. Sacked from one of top TV sitcom shows, her mother had stolen half of her money, her father had drunk the rest. Determined to make a comeback, she had a project. All she needed was a scriptwriter. Opportunity didn't so much knock, as kick the door down. A big little story for another time.
Sources
American Gaming Association, "State of the States 2019"
Bloomberg, "Reno is Starting to Look More Like Silicon Valley"
Nevada State Journal
Reno Gazette Journal
Wiki

The Goodnight Vienna Audio file