Happy Birthday to Me
My birthday is November 4th and as a child my main memory of it was always of my parents laying on a party for my friends who all turned up bearing gifts of fireworks. After the party, we'd all troop out into the garden and set fire to my birthday presents. I could never work out why this was supposed to be a good thing and matters were always made worse the following day when we all went to the Young Farmers' Association Bonfire and Firework Party in the village where everybody would happily remark how much bigger than my display it was.
I vowed that when I was older I would celebrate my birthday in a rather less destructive and pointless way. The decades rolled by until, when I retired, I was able to make good on my vow. I didn't fancy somewhere drizzly in England, nor did a winter cruise or a Mediterranean beach really appeal. I decided instead to go somewhere a bit unusual and where it was supossed to be cold.  After a couple of hours consulting the Three Wise Men – Google, Airbnb and Skyscanner –  I had chosen my destination and made all the necessary bookings. I had also decided to take my son with me as Jean Passepartout to my Phileas Fogg.
Tromso
I knew little of Tromso other than it was somewhere in Norway and it would be cold, snowy and dark most of the time – perfect for a miserable old git like me! There would also be a good chance of seeing whales and the Northern Lights – two long-standing ambitions of mine. When we got there I was pleased to see that my expectations were correct. It was cold but not a damp unpleasant cold, snowy on higher ground and there was proper daylight for just two or three hours a day – indeed the sun rose and set during the time we spent sightseeing round town.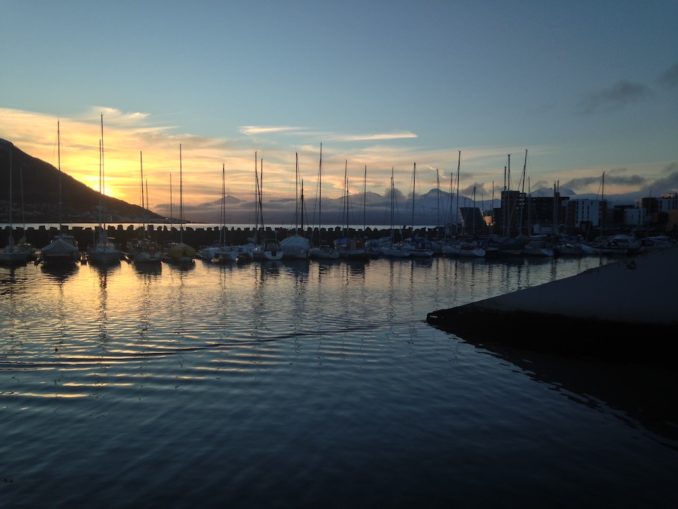 Even in the middle of the day there was an eerie quality to the light which really complemented the muted pastel shades in which many of the buildings were painted,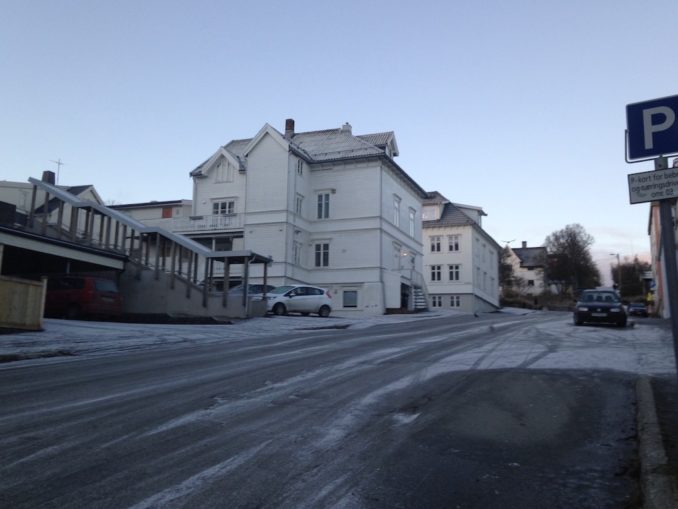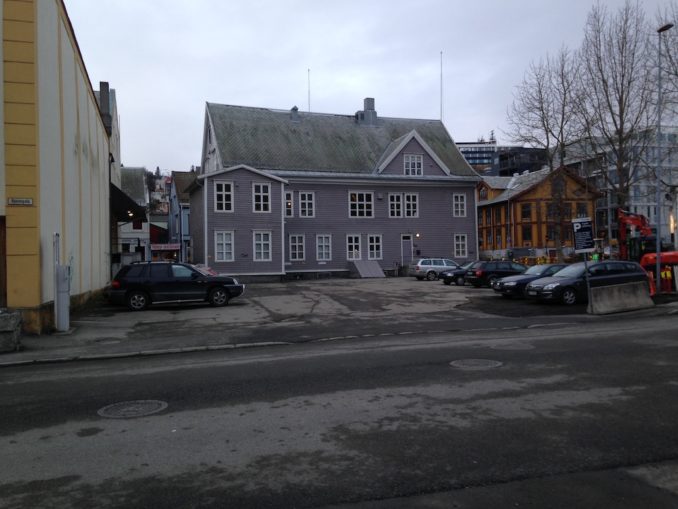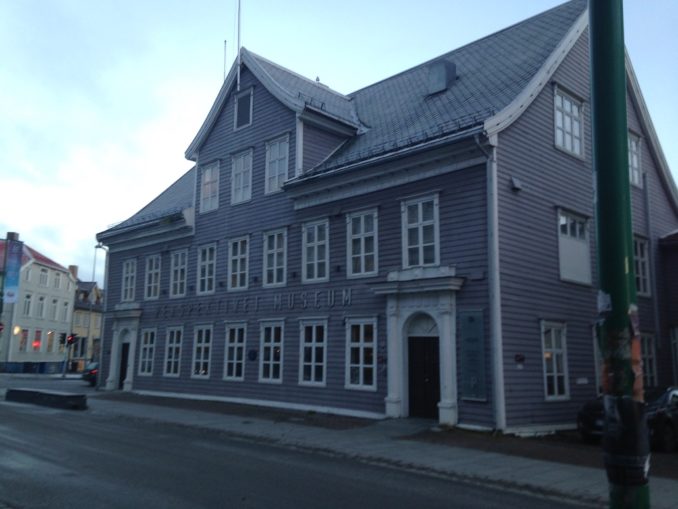 although some seemed to try really hard to be cheery,
and some just didn't know when to stop.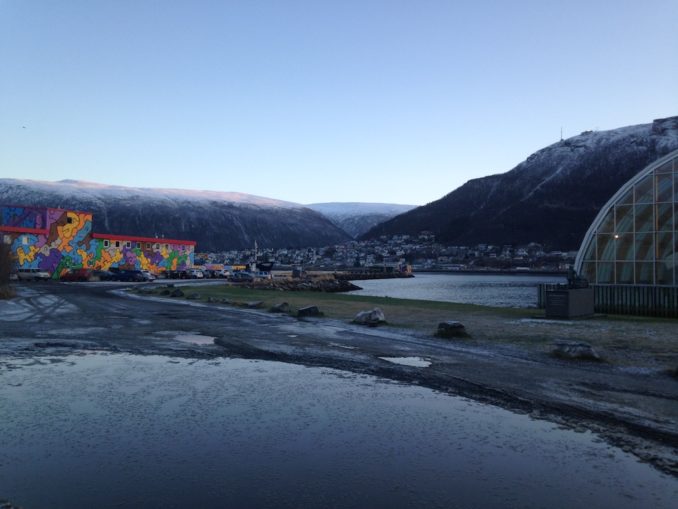 The authorities had obviously decided that Tromso needed a bold, modern architectural statement and had chosen the Library to fulfil this role.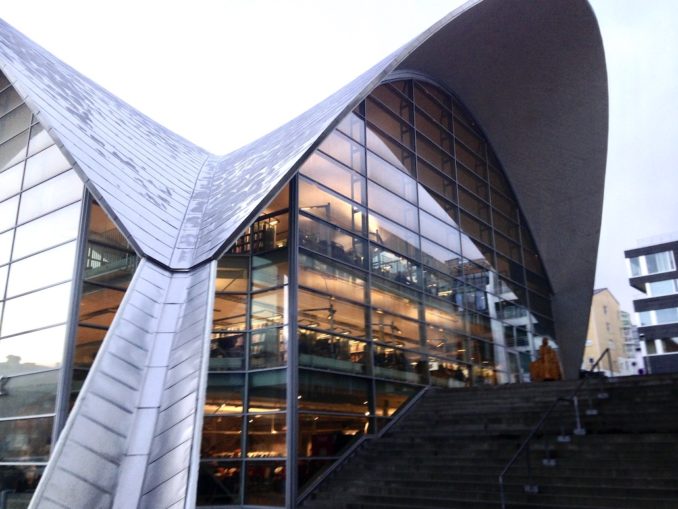 This worked surprisingly well and it's hard to think of a Library with a more impressive view.
At sea
On the second day we took a boat trip to go whale watching from the harbour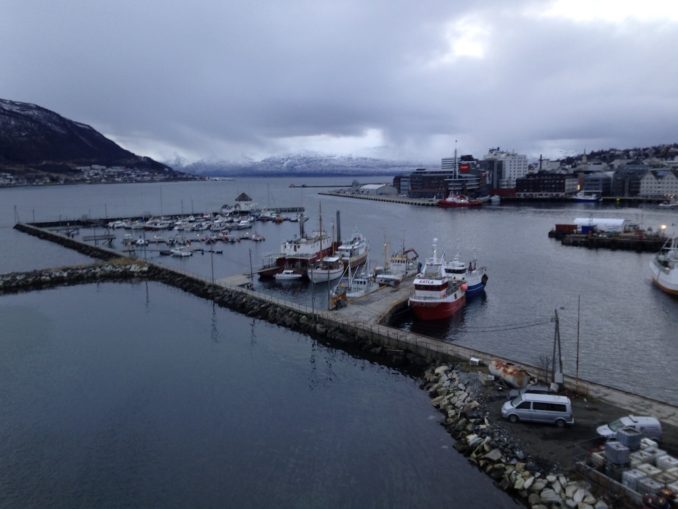 and, while we weren't outnumbered by them, there were whales to be seen, along with harbour porpoises.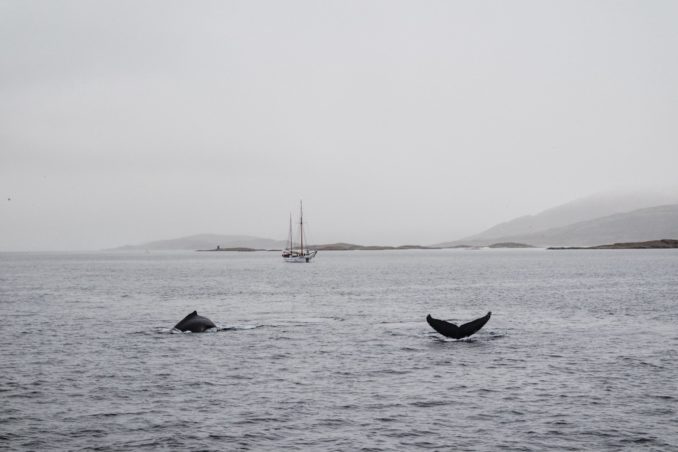 We had opted to go on one of the bigger boats that operate whale watching trips on the assumption that things could get a little "choppy" on the smaller ones. While this was true, there was no doubt that the greater speed and agility of the small boats meant they got to the whales first and by the time our ocean-going vessel arrived, the whales had gone and the small boats were off in pursuit of the next sighting. In hindsight, we should have booked a little RIB and put up with the almost certain seasickness.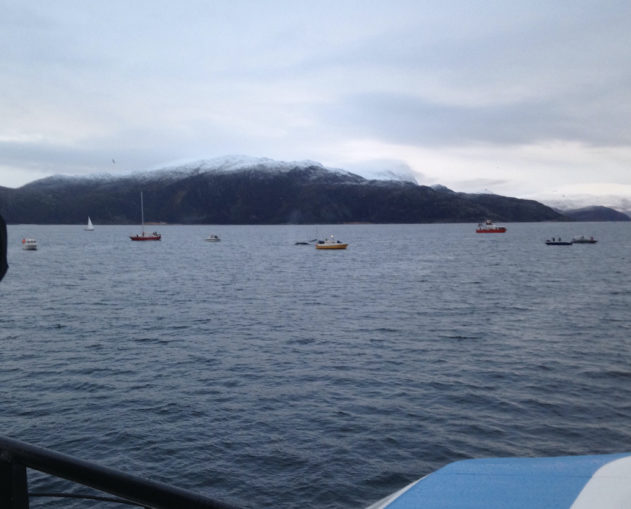 It was bitterly cold at sea so when we got back we thought the best cure would be to go to a bar which, surprisingly enough, turned out to be a wise decision.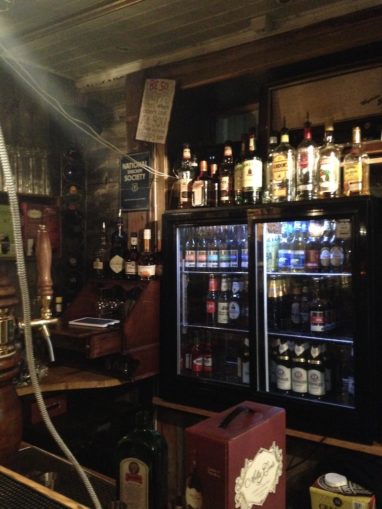 Back on land
On the next day we continued our sightseeing and were impressed by the high standard of Norwegian plumbing,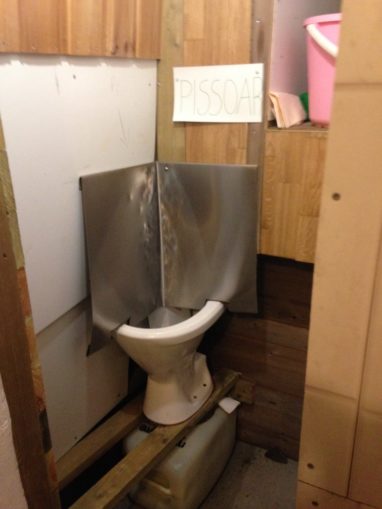 and their advice to strangers in lifts.
Leaving the city, we crossed the 1,000 metre long Sandnessund Bridge that connects the island of Tromso to the mainland,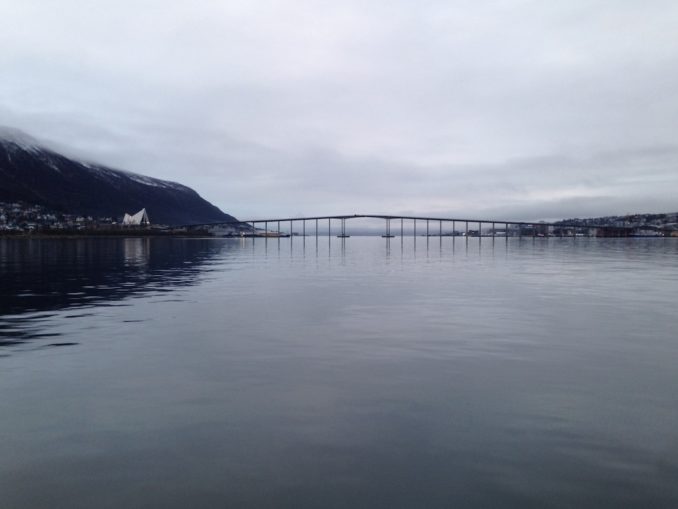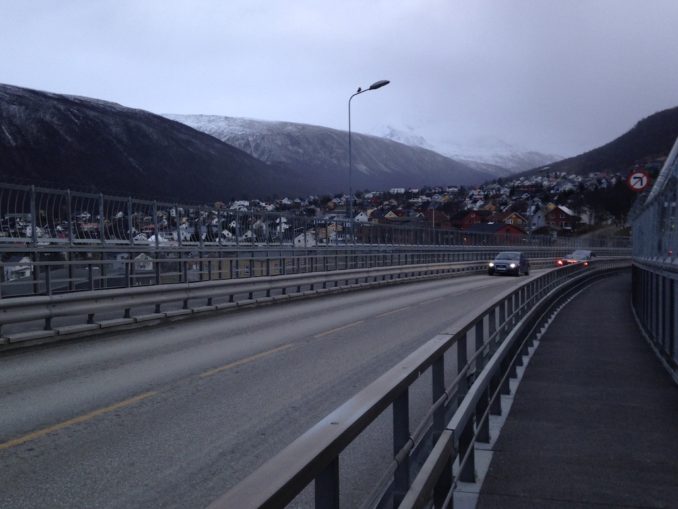 and leads to the impressive Tromsdalen Church, also known as Ishavskatedralen or the Arctic Cathedral, a modern design from the 1960s that contrasts well with the natural surroundings and can be seen from almost everywhere in the city.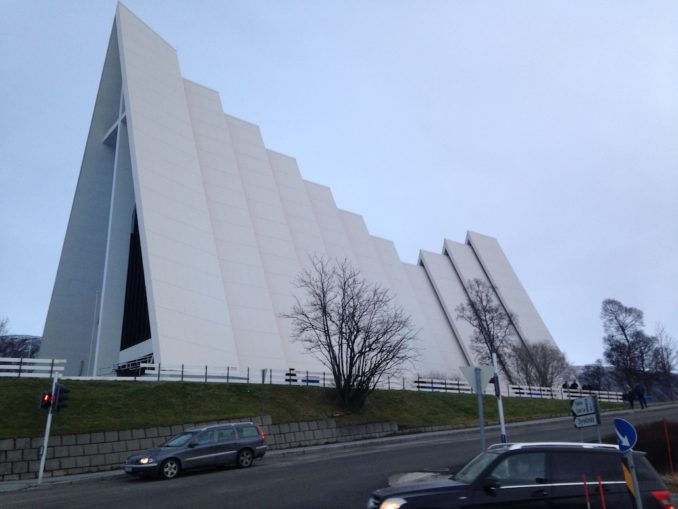 In the evening we joined a tour to see the Northern Lights, which were even more awe-inspiring than I had hoped. It's hard to describe the way they snake out into the sky, writhing around as they change from white to green to red and back again. So I won't.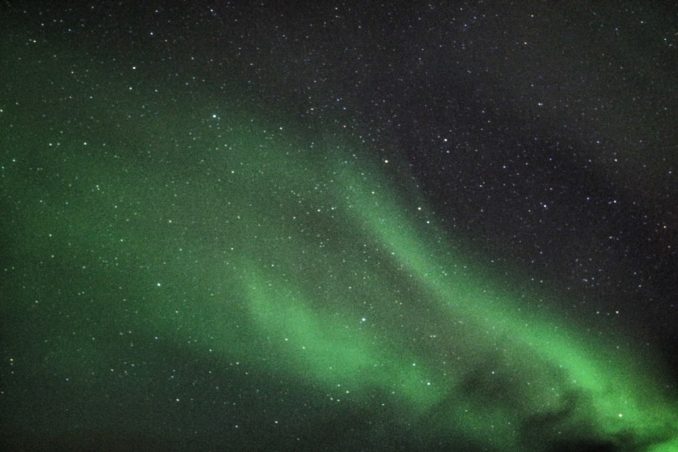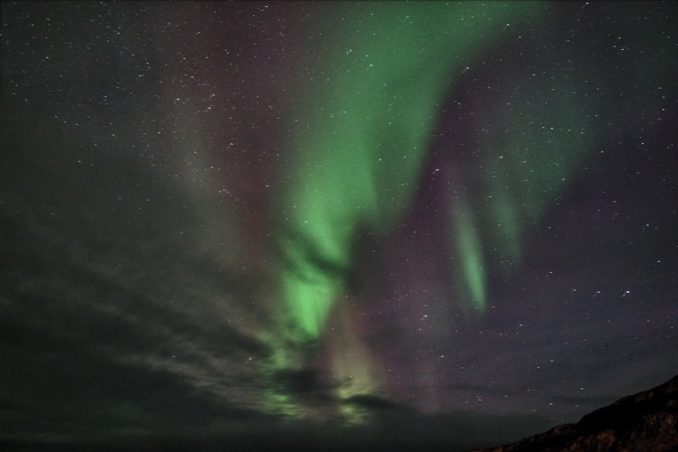 Listening to the "ooh"s and "aah"s of the crowd watching as the lights erupted across the night sky, I could't help thinking back to those evenings all those years ago at my birthday parties – the events that led to me being in Tromso in November 2015 – and I couldn't suppress a smile at the thought that, finally, my display was better than the Young Farmers' Association's.
Having ticked off everything on my wish list, we celebrated with another visit to a bar for a couple of drinks before returning home the next day. Touchingly, the Lights put on a display in the city to mark our final night.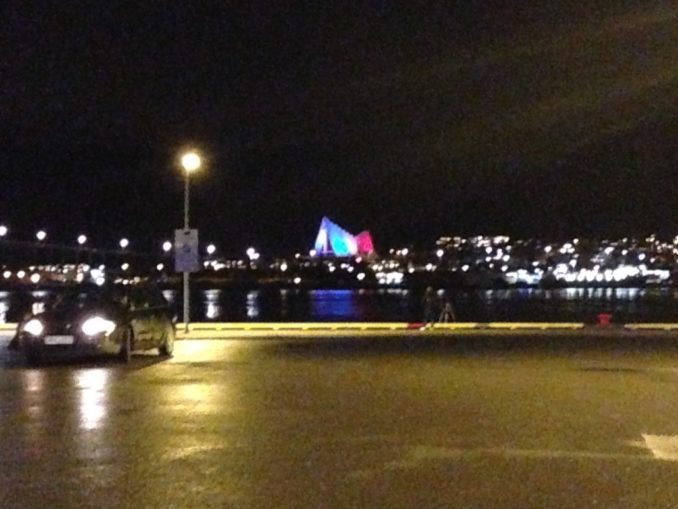 © Jerry F 2021

The Goodnight Vienna Audio file