In the summer of 2018 the Reggie family (me, my wife, son and daughter) decided on a city break holiday (we're getting to that age where lying on beach has lost its appeal).
We ideally wanted to go somewhere interesting, with history, culture and good food. Also destinations from our local airport, Bristol, were to be preferred.
Prague wasn't necessarily our first choice; I was slightly concerned about its hen and stag party reputation but it was decided that if we arrived Sunday evening and left on Friday we could avoid the weekend and minimise the 'risk'. As it happens the only hen / stag parties we saw were on the last day as we were on our way to the airport to return home so that part of the plan was executed to perfection.
Flights were booked and the next task was to find a suitable hotel. We wanted somewhere that felt a bit upmarket, not expensive, not a large chain and away from the centre (to avoid paying top dollar). I use Tripadvisor extensively when checking out accommodation etc and came across a 'boutique' hotel called "Pure White" (waycist!). It was about a 25 minute walk from the centre of Prague and the reviews and pictures were enough to convince me to book 2 rooms for the duration of our stay in June.
The flight to Prague was uneventful – EasyJet managed to get us there without crashing. We were picked up from the airport by a taxi and dropped off at the hotel a short trip later. It took a bit of finding as there was little evidence it was there other than a small sign on the door and the taxi driver clearly hadn't been there before. From the street you simply wouldn't have known the place existed. With trepidation we opened the large door and descended steps to the reception area. Our immediate reaction was we had made a good choice. We were greeted warmly by a man who spoke perfect English (just as well because my Czech is non-existent ) and checked-in. The rooms were as the photos promised, large, comfortable and well equipped.
As we arrived late in the evening we headed down to the bar for a quick 'tightener' before retiring for the night. Breakfast was 'interesting'. The hotel only provided a self-service breakfast option and there were only seats enough for about 20 people. Some mornings we had to wait a few minutes for a table to become free but it was no bother for us and everyone was pleasant enough. The choice of food was not extensive – several types of bread for toasting, cereals, fruit, cold meats (for the Germans presumably?) and some other odd looking items, including rice (WTF?). Nothing special but all perfectly fine and acceptable.
On the first day we decided to take a guided walking tour of the old town, taking in the Charles Bridge, Castle and town square. It lasted most of the day so lunch was provided and a couple of breaks for drinks, snacks and comfort stops.
Charles Bridge, which crosses the Vltava River was heavily congested with tourists and various stalls selling the usual tat. It has quite an interesting history and well worth seeing but expect to have to push your way through crowds at busier times.
Prague Castle complex was the best bit of the tour. It's quite magnificent and was untouched by bombs in WWII. The architecture and views down on to the river and beyond are superb but be warned, if you have trouble walking up or down steps it's perhaps best to get a taxi to take you there. During the Nazi occupation of Czechoslovakia in World War II, Prague Castle became the headquarters of Reinhard Heydrich, who was assassinated by Czech and Slovak airmen in June 1942. St. Vitus cathedral features in the film Anthropoid, where seven resistance fighters managed to hold out for hours against 700 Waffen SS and Gestapo troops who had the building surrounded; in desperation, the Nazis resorted to flooding the basement with fire hoses. Low on ammunition and with the water level rising, the Czech soldiers took their own lives rather than face capture; some shot themselves, others took cyanide. The film Anthropoid (made in 2016) is loosely based on this story. I haven't watched the film yet but writing this article reminds me I must do so.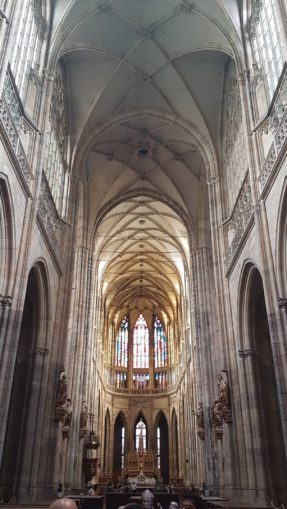 The Old Town Square is well worth a visit. Lots of restaurants, bars and shops with streets running off in all directions. The square is perhaps most famous for its astronomical clock, which sadly was covered up for restoration during our trip there.
Most days we found somewhere to eat out for lunch and in the evening. There were quite a number of excellent restaurants a short walk from out hotel. The value for money was simply astounding and the quality of the food very high. We ate (and drank!) very well for not much money. The prices of restaurants in the centre were noticeably higher….
One of the best evenings we had was a trip on The Jazz Boat. As the name suggests, it's a boat and there is jazz music. It's much more than that though. The trip lasts 3 hours and you get an evening meal, drinks and music. I've often found that these types of trips (combining some form of entertainment and a meal) are a bit mixed. The entertainment is good and the food is so-so at best. Not so on this occasion. The food was excellent quality and we all agreed it was as good as we had eaten anywhere during our stay in Prague. None of us are particularly into jazz. Mrs Reggie likes swing and I'm OK with any type. The group who entertained us on our trip were very good and played a variety of jazz pieces – all of which we enjoyed. The 3 hours passed far too quickly and for me it was the best evening we had in Prague. The boat itself simply goes up and down a stretch of the Vltava – about 3 or 4 times in each direction and there's plenty to see from the boat and many photo opportunities on each bank of the river.
If you're into shopping there are a couple of shopping malls and many shops of all sorts to choose from.
One thing which we noticed was the one way system. The roads are very wide in many parts, stretching to 4 or 5 lanes in places. The locals seem to enjoy racing each other from one set of traffic lights to the next (often only a few meters away). There is a large network of trams, which we didn't use but I understand they are good value for money and far cheaper than a taxi. We chose to walk everywhere which was fine.
The buildings and architecture are quite magnificent; Prague was not heavily bombed in the war and so remained largely intact. Most buildings are large and quite imposing – typical for that part of Europe.
During our trip we were blessed with sunshine every day, apart from the last day when it rained. It can get quite hot so it's advisable to pack lots of layers.
Other highlights of the trip included the Kafka Museum and the Jewish quarter. Some very interesting history there.
On our final day (and due to the weather) we chose to while away a couple of hours in the National Museum in central Prague. There are many displays covering natural history, scientific and historical topics. It was very good and most exhibits had information about them in English.
Prague has a number of museums including the Beer Museum, museum of Communism and the museum of Sex Machines. We visited none of these….
And that was it – over far too quickly. Would I go again? Yes, but probably not for as long and not for a few more years. Plenty of other places I've not been to yet.
Pictures and text © Reggie's Mind Of Evil 2020

The Goodnight Vienna Audio file