Marion Hollins was born in 1892 into a world and at a time when "women knew their place". This, however, was a notion she soundly rejected throughout her tradition shattering life & career. She arrived into a cloistered Gilded Age world of unimaginable wealth & privilege. Her father owned a Wall Street brokerage firm with close connections with Vanderbilt & JP Morgan. These were the last days before income tax, & Americas' super-rich lived very high on the hog. Marion spent her early summers chasing four older brothers around their family 600-acre estate on Long Island, where she developed a tomboy interest in sports. She could ride a horse almost before she could walk & became the greatest horsewoman of her generation, America's leading four-in-hand whip, skilled & totally competent to drive a coach & horses down narrow busy city streets. She was the only woman rated with a man's handicap in polo, & reportedly the first woman ever to race an automobile in mixed competition. She had come of age in the company of greatness & from the outset exhibited a magnetic vital personality, a gift for social interaction, with what was often described at the time as a "mans mind". Filled with a restless purpose & hunger to achieve, her motto (quoted freely to anyone who questioned her resolve) was "Failure is impossible".
More lasting fame would, however, come because she was an extraordinarily talented golfer. Marion was fourteen when she first entered the US Women's Amateur. At 19, she was runner-up in the US Women's Amateur. Then eight years later, she won that championship, defeating Alexa Stirling in the final who was attempting to win her fourth Women's Amateur in a row. She won the Metropolitan Golf Championship three times, the Long Island Championship twice, & the Pebble Beach Championship an unequalled eight times. Not long after her National win, she played an exhibition match with Bobby Jones – the undisputed champion of his age. He confided to a friend afterwards that he was fortunate Hollins hadn't been born a man, because he was fairly sure he would never have won a level game. Perhaps less well known is that Marion drank Bobby – himself an epic imbiber- under the table after their game. She also was the captain of America's victorious Curtis Cup team the first time those matches were contested in 1932.
Although her exploits filled the newspapers & magazines of the day, her record of amazing achievements is sadly not well known today. A lesser person might have complained that in an age dominated by men she was denied opportunities, but Marion was a suffragette & took equality between the sexes as a given. Her first effort as an entrepreneur grew from a hitherto unheard of conviction that women deserved a golf course of their own. She toured the finest courses of the UK & picked the best aspects of design from them before returning home, where she made her first foray in golf club development & founded the Women's National Golf & Tennis Club in Glen Head on Long Island. She designed the golf course with Seth Raynor and Devereux Emmet and hired the head golf professional, the Englishman Ernest Jones, who was regarded as one of the great instructors of the early 20th century even after he lost one of his legs in World War I. Hollins also oversaw the building of 22 tennis courts, half of which were grass. The club was created by women for women, with men welcomed on to the premises only as guests. And it prospered before going under during the Great Depression. (The course, however, survived and is today part of Glen Head Country Club.)
Of course, this was all done on the back of Daddy's money, but this was lost in a bank failure before she could inherit & she subsequently had to set out alone to make her way in the world. During a previous visit to the West Coast & Monterey in 1922, Marion made such an impression on developer Samuel Morse that he offered her the job of athletic director at the resort of Pebble Beach in 1926. Whilst there, Hollins secured the original option on the stunning, 170-acre oceanside site of Cypress Point on the Monterey Peninsula and recommended that Alister MacKenzie take over as course architect after the original designer, Raynor, sadly died. When advised that its' 16th hole was too long for a straightforward Par 3, she demonstrated it was not by grabbing a club & striking a selection of balls into her preferred location for the green. Today this is the most photographed hole on the most scenic golf course in the world.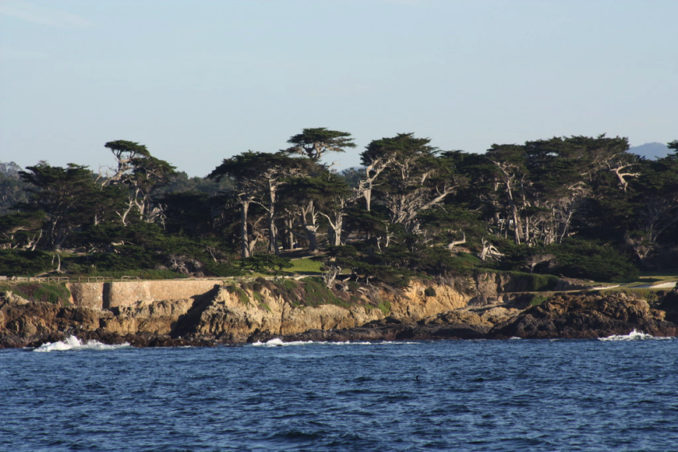 Hollins then created Pasatiempo, a sumptuous retreat & resort in the rolling hills above Santa Cruz, Calif., once again engaging MacKenzie as the architect of the course that would serve as its centrepiece. That track opened in September 1929, with Hollins playing in the inaugural foursome with Bobby Jones. Soon after, Jones and his colleague Cliff Roberts set about creating Augusta National Golf Club. They based many of their plans for Augusta on what Hollins had created at Pasatiempo, even hiring MacKenzie to design the course. While that track was under construction, MacKenzie asked Hollins to travel east on his behalf and make an honest assessment of how the Augusta project was coming along. Roberts was none too pleased that MacKenzie, was not making the trip himself. But the architect stood his ground. "She is thoroughly conversant in regard to the character of the work I like," he wrote in a letter to the Augusta co-founder. "I want her views and also her personal impressions in regard to the way the work is being carried out. I do not know any man who has sounder ideas."
She broke hermetic boundaries to mix together old money society with the great sporting & entertainment figures of the day. Her friends were as diverse as Mary Pickford, Bobby Jones, Spencer Tracy, Walt Disney, the Vanderbilts, Crockers, Amelia Earhart & Will Rodgers. The world then fell into turmoil after the stock market crash of 1929 and the Great Depression that followed. But things for Hollins were still going swimmingly. The course at Pasatiempo was well-received, and the retreat attracted its fair share of celebrities, sports stars and socialites. She also was flush with money, thanks to an oil-lease investment that had paid off in 1930. Then came that trip to Augusta on MacKenzie's behalf and her stint as captain of the 1932 Curtis Cup team.
But Hollins' life took a nasty turn five years later. Out driving, she suffered serious head injuries when a drunk driver crashed into her car. Her financial situation also deteriorated as she struggled to keep Pasatiempo afloat. Hollins recovered well enough to play some competitive golf again, & in 1941, played one last great round at Cypress Point. In the club championship, torrential rains and near-cyclonic wind buffeted the famous course. Hollins wore no hat and no windbreaker. She used a 2-iron for nearly every shot, allowing for 40 to 50 feet of drift in the winds. Of 40 contestants, only four finished and Hollins was the only one to stagger in under 100 with a 91. Just three years later, & ravaged with cancer, she died almost penniless in a nursing home in Pacific Grove. She was 52, the personification of the great amateur, & a woman who was stopped by no obstacle or convention in achieving what she thought needed to be done….she was indeed a Champion in a Man's World.

© DJM 2021

The Goodnight Vienna Audio file