In his 7th February 1952 speech, Prime Minister Winston Churchill spoke in sorrow at the recent death of King George VI but also in optimism of the following day's proclamation of the sovereignty of Queen Elizabeth II. During which, he uttered the memorable and prophetic line, "Famous have been the reigns of our queens." As England has done well from her queens, likewise, it must be observed, the sport of Association Football has done well out of late October.
Maradona died recently aged 60 years and 36 days, his birthday being the 30th. Pele's is on the 23rd. Wayne Rooney, no doubt kicking and screaming, came into the world on October the 24th. Glen Hoddle, and your humble author, on the 27th. Football commentator Barry Davies, on the 24th. A young person informs me that 'Zouma' was born on the 27th too.
Wives, girlfriends, dog walkers and people on the way to the bus stop, have been overheard to observe that the only reason I'm still in the team is because I give our impressive centre half a lift home. His birthday is on the 28th. True fact. Like Churchill, I have gone on for too long. I shall leave the ploughed field of a pitch for the last time, not to applause, but to a deadly silence.
But others are just starting out on their great footballing journey, none more so than St Marcus of Rashford, whose birthday is on the 31st October. Although Rashford has been a good enough player for long enough (over 150 league appearances for Manchester United and 40 England caps) his elevation to sainthood has occurred much more recently.
***
The story begins in January 2020, appropriately just after Christmas, when talksport reported that Rashford's agents had been in talks with international super-agent and Monaco resident, Mino Raiola. The controversial Mino has represented other Manchester United players, such as Paul Pogba and Jesse Lingard.
At the time, Marcus Rashford was represented by two of his brothers, Dwaine Maynard and Dane Rashford via their DNMay company. Another of their clients, in fact possibly their only other client, being Everton Ladies Chantelle Boye-Hlorklah. Talksport went on to say that Dwaine and Dane were taking advice on how to 'grow their sibling's profile' a thinly disguised euphemism for making more money.
Meanwhile, the Lucky Generals advertising agency, whose clients include Amazon, were planning a Co-op advertising campaign. They explained their remit as so,
So we set out to reassert the Co-op's brand purpose and have created a through-the-line campaign that stretches across all its different business units: food, insurance and funeral care. The campaign shows how buying from the Co-op not only gives you a great product but helps fund local initiatives, charities and spaces.
Notice that they don't mention cutting the prices! The pitch is that people will pay a premium in Co-op stores because, as well as buying a product, customers also think that they are contributing to local good. Another well-known client of Lucky Generals is Bettys and Taylors, who make Yorkshire Tea and Taylors Coffee. In selling fast-moving consumables, Lucky Generals tend to make much use of Twitter and virtue signalling. In response to the fallout from the death of George Floyd, they ran a Yorkshire Tea "We'd rather racists didn't buy our tea" Twitter thread.
In regards to the Co-op campaign, Lucky Generals were to run the first round of a new campaign in the run up to Easter 2020. The plan being, to increase footfall into Co-op stores via the sale of Easter eggs. This was ruined by coronavirus and was replaced by a Zoom based appeal in which Co-op employees and volunteers ("Local Heroes") encouraged viewers to donate to FareShare, a surplus food distribution charity.
After Easter, on 7th May, the second round of the campaign began on TV. This was similar to round one but included Marcus Rashford. At the start of the commercial, Marcus struggles with the Zoom technology. He is helped by a smiling white person, who laughs while saying, "It's on mute Rashy." In advertising, this is known as a "Go OJ" moment. It is named from a Hertz / OJ Simpson / Ted Bates & Co. commercial directed by Fred Levinson. In it, the young, athletic, black male is established as unthreatening by being endorsed by an old white lady (or a girl scout troop) shouting, "Go OJ" as Simpson rushes through an airport to his hire car.
At the end of the Co-op advert, the non-threatening nature of 'Rashy' is reinforced with a light-hearted 'and finally' type of ending with a smiling Rashford saying of Zoom, "I don't actually know how to hang up." The advert also includes the statuary young, non-threatening, squeaky-voiced, covered Asian female with a regional accent.
Elsewhere, adding rocket fuel (or possibly tongues of fire from the heavens) to the need for non-threatening ethnic characterisations, on 25th May George Floyd died while being restrained by the Minnesota police. Immediately, a much more aggressive Black Lives Matter emerged in London which led to civil disorder, included the desecration of the Cenotaph and a statue of Churchill.
Round three of the campaign, named 'U-turn', began in the middle of June by which time the 'food security' issue had given Rashford a very high profile indeed. To the point that it now appeared to be Radford's gig, with the Co-op reduced to 'backing the campaign' rather than advertising around it. 'U-turn' was also political, with the aim being to change government policy regarding free school meals during the summer holidays.
***
At this point, we shall state what politicians and mainstream media never do. Food is too expensive and should be coming in from outside the EU at a fraction of the price. Likewise, school meals are far too expensive because they're provided by big contract catering companies who have a captive market on the school site. Everything would be cheaper if energy was more efficiently produced and not so highly taxed. There'd be more resources for everyone if decades of uncontrolled immigration came to an end. Parents should be responsible for their own children, not the state or charity.
***
'U-turn' began on June 15th with an open, and suspiciously very wordy #maketheUturn, letter addressed to all MPs. This shift of gear in Rashford's communications was explained in the next week's newspapers who reported that the public relations, publicity and brand management side of Rashford's career was now being handled by RocNation. Formerly part of the Creative Artists Agency, RocNation is now part of Live Nation Entertainment which also includes Ticketmaster. In 2019 Live Nation's assets were valued at $11billion.
Subsidiary RocNation's website splash page starts by telling us that they have 1.45 billion followers, made up of 532 million on Instagram, 350 million on Facebook and 352 million via Twitter. Those followers are turned into cash by advertising. From now on Rashford is advertising products via social media, a social media following built up through football and philanthropy.
Also in June, your author predicted that Rashford would fade away, not a big enough personality, or good enough communicator, to push to the front at a big agency. How wrong I was. In future, you might like to invest in Sir Michael Moritz's judgement rather than mine. Who he? Read on.
By July 22nd, the Co-op is running a 'what's for tea' round of TV commercials with mention of 'food security' but, tellingly, no longer any mention of FareShare or Rashford. By September, the Co-op isn't even 'backing the campaign'. They are 'announcing their support' for Marcus Rashford's new 'Food Insecurity Taskforce.'
In the first week of October, Rashford is awarded an MBE. On hearing the news, Hector Bellerin, the Spanish international full-back, praised Rashford's achievements in an interview with David Ornstein of The Athletic, reminding listeners that,
He probably had to go through phone calls and meetings and stuff.
Quite. October was also black history month. On Marcus's RocNation profile page, his membership of the British Empire is omitted but much is made of his Fareshare philanthropy. On Twitter, RocNation informs us that he is celebrating black history month by bringing out a new football boot and that 'his thoughts and prayers are with all of those affected' by the Nigerian special anti-robbery squad. Marcus's new Nike football boot is ingrained with the inscription,
"recognise how every moment of our journey is an important part of the growth of our soul."
In the accompanying promotional video, Marcus informs us that,
"Inspired by Mohammed Ali. Motivated by seeing people happy, becoming a leader to a generation, I tried to put all the things important to me on the boot."
And it worked, soon afterwards Rashford scored for England against Belgium. RocNation/Nike told us via his Twitter account that this was "a nice run out in the new boots" which brought Marcus and the England team luck. This message was seen by his 3.4 million Twitter followers and 9 million Instagram followers – more than you'd reach by advertising during Coronation Street or by taking a page in The Sun. It is this kind of commercially driven charidee astroturfing that pays for social media. If it's free, you're the commodity. It is your attention that is being bought and sold.
On the 19th October, Rashford was quoted in the newspapers, again rather wordily, saying,
"The Co-op has been a fantastic ally and partner in recent months … we remain focused on seeing a long-term sustainable framework implemented without delay via the three endorsed National Food Strategy policy recommendations,"
Note the Co-op is referred to in the past tense. Regarding the National Food Strategy, it is in the hands of the 'food Tsar', the overweight and ridiculous old Etonian Henry Richard Melville Dimbleby MBE. Does that name sound faintly familiar to Puffins? Could it be the son of former Question Time chairman David Dimbleby? Nephew of BBC Any Answers presenter, Jonathan Dimbleby? Grandson of BBC presenter Richard Dimbleby? A cynic might suggest him better suited to be the nepotism tsar.
In 1518, a portrait by Raphael depicted Pope Leo X in a realistic manner, heavy in middle age, his sight strained, his left hand upon an illuminated bible. Likewise, a century later, an uninspired Caravaggio immortalised Paul V as dignified and controlled, sober and cautious, squinting, faintly malevolent. By the end of October 2020, mainstream media are depicting Pope Saint Marcus the Great as a warehouse worker in PPE, pushing a trolley of pot noodles, during a 5-minute photocall arranged by his representatives, that $11 billion dollar management agency, Live Nation Entertainment.
On 15th November the Daily Mail reported that Rashford had recently bought luxury homes, mortgaged through the Queen's bankers, Coutts. Three houses in Wilmslow and a flat in Macclesfield had been purchased as buy to rents. The properties are owned through MUCS Developments Limited, a building development company in Rashford's name.
The Daily Mail article was met with chants of 'racism' from other parts of the mainstream media terraces along with accusations that they have a problem with successful black people.
Rashford is also a director of MUCS Enterprises Limited. One of those enterprises is publishing. Marcus has launched a book club. In a press release on Macmillan Children's Books notepaper, Marcus informed the world that his family couldn't afford books. Well, not quite, rather, books were "never a thing we could budget for as a family." What on earth does that mean? For a 23-year-old footballer, Marcus has an impressive grasp of the marketing department's gobbledygook trick of giving an impression without actually saying it.
Visiting Panmacmillan's Children's books website shows that early next year a new author will be joining their catalogue. Yes, it's Marcus Rashford with "You Are A Champion: Unlock Your Potential, Find Your Voice and Be the BEST You Can Be." In the small print we learn that the book is being "written in collaboration with" journalist Carl Anna and performance psychologist Katie Warriner. The blurb for the book informs us,
Marcus Rashford MBE draws on stories from his own life to show you that success is all about the mindset. You'll find out how positive thinking can change your life, build mental resilience, learn how to navigate adversity and discover the unstoppable power of your own voice. You already have the tools you need to achieve your dreams; you just might not know it yet.
If the great tome's concept sounds vaguely familiar, it might be because you have read 'Leading', by Sir Alex Ferguson 'with' Michael Moritz. In that book, Sir Alex draws on stories from his own life to show you that success etc etc etc.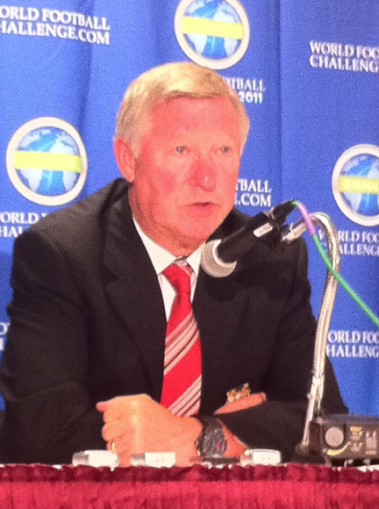 If you think this puts Sir Alex and Marcus Rashford in competition, think again. "Sir Alex Ferguson backs Marcus Rashford's Bid to End Child Food Poverty" was a Guardian headline on the 27th November. Ferguson 'alongside' Sir Michael Moritz has pledged to match donations to the FareShare charity, up to a maximum of £2million. In other words, Ferguson won't be contributing one penny. The public will donate half of it, the matched money will come from 'alongside' Sir Michael Moritz's 'philanthropy'. Which begs the question, who is Sir Michael Moritz?
He is the Welsh-born billionaire venture capitalist son of academic Ludwig Moritz and Doris Rath. Michael's parents fled Hitler's Germany before the war, Doris escaping via the kinder transport. Sir Michael attended Christ Church College, Oxford, and the exclusive Wharton School, University of Pennsylvania (as a prestigious Thouron scholar), from where he was awarded a Master of Business Administration.
After college, Moritz became a San Francisco financial and tech journalist, subsequently changing his occupation to investing in what he'd been reporting on, joining a silicon valley venture capitalist company, Sequoia Capital in 1986. Internet and high tech startups were a speciality. Sequoia benefitted as those startups flourished. Google was the jewel in the crown, when it was floated in 2004, Moritz became a billionaire.
In 2005 Sholom Schreiber of the Jewish Voice reported that Moritz had pledged to give away most of his $1billion. Since then, according to Forbes Magazine, Sir Michael's wealth has increased more than fivefold to $5.2 billion.
Puffins who feel that $5.2 billion is too much for one man, will be relieved to read that, again according to Forbes, since I started writing this article yesterday morning, Sir Michael's investments have gone down by thirty-five million dollars.
In his vain attempt to give away billions, Moritz has donated £75m to Oxford University, $30 million to the University of California and sponsors the hopelessly woke Booker Prize. In his home town of San Francisco, his donations have been less than woke. They include $50,000 gifted to a project to shift the Golden Gate City's homeless out of his sight. Moritz also uses his wealth politically, previously donating to Obama and presently being one of at least 15 billionaires donating to the pro-Republican, but anti-Trump, Lincoln Project.
In conclusion, the revelation of St Marcus is a modern-day hagiography displaying the obsessions of our times, amongst them; branding, brand management, celebrity, celebrity endorsement, Black Lives Matter, social media, reach, fear of race, big charidee, even bigger philanthropy and the political influence of big philanthropists.
At the end of his Gospel, St John informs us that Jesus did so much that 'the whole world could not hold the books that would be written.' Similarly, it is difficult to keep up with St Marcus. With his special award from BBC Sports Personality of the Year, GQ's Campaigner of the Year Award, the City of Manchester Award, he is being awarded faster than one can type. Never the less, a final word from Sir Alex Ferguson insists itself upon us,
"Getting a celebrity position in life can sometimes be a problem because not everyone can carry success well. And at the moment Marcus is doing that very, very well."

© Always Worth Saying 2020

The Goodnight Vienna Audio file