This November 11th at 11.00 am., as in past years, we take time to remember and honour those men and women who served in our armed forces, some of whom made the ultimate sacrifice protecting this country and our way of life.
Thanks to GQ and others on this blog most will have read the stories of people honoured with medals such as the Victoria Cross and George Cross however, many thousands of our folk did their duty in the face of extreme danger without being awarded such high honours.
This is the story of one such person's life serving in the Royal Navy during and after those war years.
Known as Dad to Mrs K, her two sisters and brother, and Jack to mummy and his mates.
Royal Navy Service June 1939 – June 1961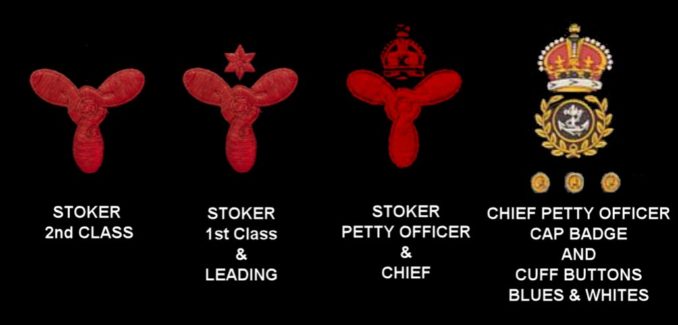 Jack's story begins in the summer of 1939.
Germany under the leadership of Adolf Hitler by this time had already reoccupied the Rhineland with troops, taken over the Sudetenland and invaded Czechoslovakia. Europe was on a knife edge and tensions were high despite Neville Chamberlain's "Peace for our time" speech of September 38 concerning the Munich Agreement.
Jack the lad, was an 18 year old factory hand living with his family in West of London and like most young men of his age, was looking for a life away from the confines and restrictions of his parents and siblings.
Jack joined the Royal Navy on the 27th June 1939 as a stoker, 2nd class. He was assigned to HMS Victory (Note. No sea-going-ship has carried the name Victory since Nelson's Flagship was moved to dry dock in 1922 but Naval Regulations insist that every sailor is allocated to a "ship".  Quite a few shore establishments were named as HMS Victory. In fact, there were 8 of them during WW1!)
For Jack HMS Victory was the main barracks in Queen Street, Portsmouth.
After training and qualifying as a Leading Stoker in September, Jack was assigned to his first sea-going ship in the November of 1939.
Most readers of the blog will have the images etched in their memories from the TV footage of its successor's tragic ending in Falkland Sound on the 23rd May 1982.
HMS Antelope

From November 1939 thru April 1940, Antelope part of the 18th Destroyer Flotilla carrying out patrol and convoy duties in the Channel and Western Approaches. On the 5th February 1940, Antelope was the sole escort of an outward -bound convoy south of Ireland when U41 attacked the convoy sinking the freighter Beaverburn and damaging the tanker Ceronia. Antelope retaliated, depth-charging and sinking the U41 with all 49 crew aboard.  It was the only U-boat at sea at in the area at that time and was the first to be sunk underwater by a single destroyer.
April 1940 thru August 1940 saw the Antelope attached to the Home Fleet conducting operations as part of the Norwegian Campaign. On April 9th Antelope with 11 other destroyers set sail from Scapa Flow with HMS Renown and engaged the Germans on the 9th & 10th  for the first battle of Narvik where the first British forces landed at Andalsnes in Romsdal on the 13th to support the Norwegian army. On the 19th of April the French Cruiser Emile Bertin was attacked by the Luftwaffe and suffered bomb damage, Antelope was charged with escorting the French Flagship back to Scarpa Flow. Antelope then returned to operations off Norway.
In early May, with heavy casualties and lacking control of the air, the British forces were withdrawn from Andalsnes.
'Anecdotal' Jack told the family years later, that he was put on a charge during the Norwegian Campaign for leaving his equipment on shore. While manning a boat to pick up troops fleeing the German advance, he was on the beach and removed his boots to shake out wet sand and grit when the Germans opened fire on the retreating troops, with the boat loaded and under fire he jumped aboard leaving his boots on the beach while they made their way back to the Antelope off shore.
On 13th June, Antelope collided with HMS Electra off Trondheim and had to return to Tyne Side for repairs, then after joined the 16th Destroyer Flotilla based out of Harwich.
In August, Antelope sailed in a convoy to take part in Operation Menace, the attack on Dakar, French West Africa (Senegal) to install the Free French Forces under Charles de Gaulle. 1st September, HMS Fiji was torpedoed and so Antelope escorted her back to the Clyde and then joined the 12th Destroyer Flotilla based at Greenock taking part in convoy escort duties.
On 31st October 1940, Antelope was escorting convoy OB237 when it encountered U31 off north-western Ireland. Depth charges from Antelope and HMS Achates drove U31 to the surface, where her crew abandoned ship. Antelope attempted to board the submarine, but collided with it, damaging the ship and sinking U31.
Antelope rescued 44 of the submarines crew and returned them to Greenock.
November thru to January 1941 the Antilope continued its patrol and convoy duties.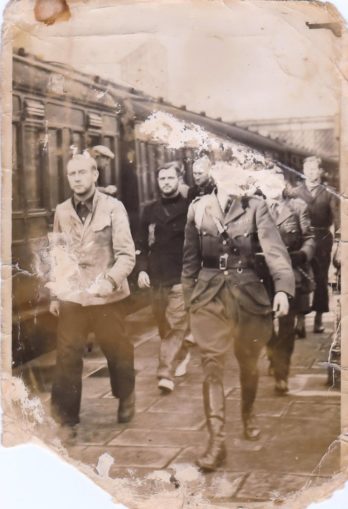 20th January 1941, Jack signed off from the Antelope for the last time.
Jack was assigned to HMS Erebus between 15th February 1941 to 6th November 1942.
HMS Erebus
Monitor class designed as stable gun platform with 15" guns with a shallow draught to allow operations close inshore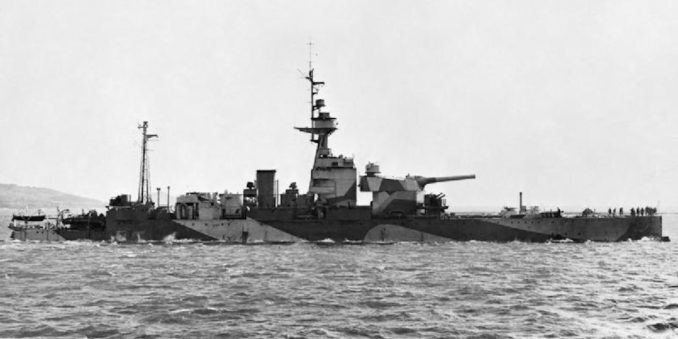 Erebus was at the end of a refit which started in November 1940 further fitting carried on up until July having three 3in HA guns on port and starboard with fire control. During July trials and service preparation took place and August Erebus joined the Home Fleet a Scapa Flow. Duties continued through to December 1941 when Japan attacked Pearl Harbour. January 1942 Erebus was nominated for foreign duties at Trincomalee Ceylon, arriving in March. Whilst in harbour on April 9th Erebus sustained damage and casualties under a Japanese air attack. Several aircraft were destroyed by the ship's defences. May and July the Erebus was under repair in Bombay and in August Erebus resumed Fleet services and took passage to Kilindini Mombasa.  In September Erebus joined the battleship HMS Warspite, cruisers HMS Birmingham, Gambia, Manxman, Dauntless and Caradoc, aircraft carrier HMS Illustrious, seaplane carrier HMS Albatross screened by 12 destroyers with additional minesweeping  support to prepare support landings at Diego Suarez, as the strategic value of Madagascar was essential to prevent any invasion by Japanese forces.
October Erebus was ordered to return to the UK via the Cape of Good Hope.
Sailing to the UK Jack signed off Erebus at HMS Assagai (Durban S.A.) on 7th November and then joined HMS Fritillary on 6th January 1943.
HMS Fritillary Flower Class Corvette
Believed to have become the merchant vessel ANDRIA in 1947, renamed V.D. CHIDAMBARAM in 1949. Scrapped in India 1955.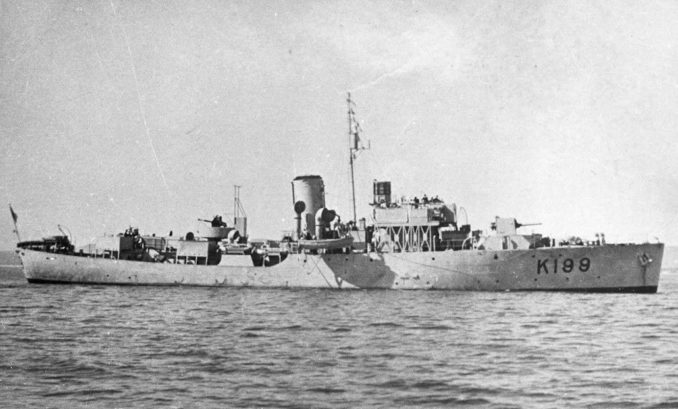 The start of 1943 brought indications of a renewal of the U boat campaign off the South African coast, orders were given for the Corvettes Fritillary, Freesia, Nigella and Jasmine should remain at Durban and placed under the operational command of Commander in Chief, South Atlantic on the 17th January 1943. In addition to local escort duties they were to carryout additional A/S patrols. On Wednesday, 3rd February Fritillary and Thyme escorted CA.09 (Cape Town -to Aden). Fritillary transferred to books of GNU (RN base, Cape Town, South Africa, formerly AFRIKANER III) on April 1st 1943.
On Monday, 26th April HM Submarine Trusty departed from Durban for Simonstown escorted by HMS Fritillary; en-route exercises were carried out with the submarine and South African Air Force aircraft. During the night of 27/28 April the two ships lost contact. Aircraft searched for Trusty but were unable to find her; she arrived at Simonstown on the 29th April. At the end of May 1943 Fritillary sailed from Durban with the Armed Merchant Cruiser Carthage, Corvette Rockrose and the Destroyer HMAS Nizam as escort for convoy CM.42 (Durban to Kilindini), leaving Durban on the 30th; Fritillary, Rockrose and Nizam left the convoy on June 1st.
It is probable that Fritillary underwent a refit during June/July 1943.
HMS Fritillary resumed convoy escort duty, in company with the Corvettes Jasmine and Rescue Tug Masterful (W 20), at the start of August, covering the eight merchant ships of CB.2 (Durban to Beira) between the 1st and the 4th. This time the convoy came under attack; at 00.24 hours on August 3rd U-196 attacked the convoy about 100 miles northeast of Memba Bay, Tanganyika. The submarine reported one ship sunk and one left burning and in a sinking condition, however, only the City of Oran was hit and later scuttled by gunfire from Masterful. The captain, 75 crew members and ten gunners were picked up by the tug and landed at Mombasa.
On August 6th Fritillary, Jasmine and Rockrose joined the four ships of convoy MC.8 (sailing from Kilindini July 30th for Durban) and 7 merchant ships of BC.3 (Beira to Durban) and escorted them into Durban, arriving there on the 10th. At the beginning of September HMS Fritillary was allocated to return to the Kilindini Escort Force to operate on the Kilindini to Aden convoy route.
The next convoy to be escorted was the longest route so far, HMS Fritillary was teamed with the corvettes Freesia and Tulip, A/S Trawlers Cape Warwick, Northern Isles, and Norwich City on September 17th to escort the 9 ships of convoy D K 1 (Durban for Kilindini), the voyage took 11 days, arriving at Kilindini on September 30th.
Jack signed off HMS Fritillary at HMS Lanka (Columbo Ceylon) on the 30th September 43 and was assigned to HMS Lanka where his duties were aboard ML 847 carrying out coastal operations around Ceylon and into the Bay of Bombay until 15th July 1944.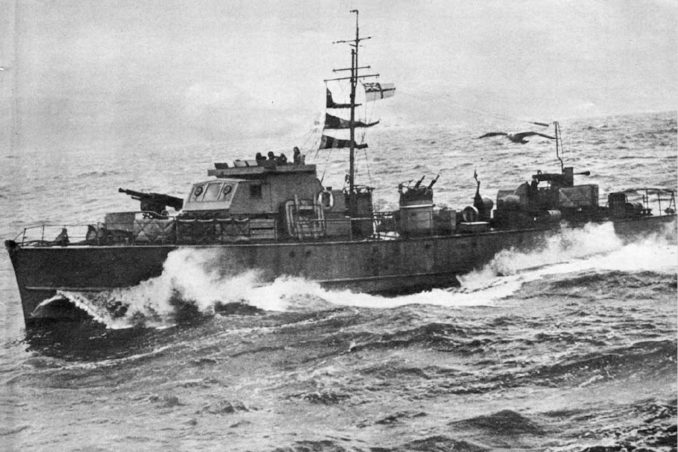 From the 16th July 1944 Jack's service record shows him being assigned to Victory through to the 3rd February 1945.
However, from what we know of anecdotal stories that Jack told the family. Jack at 5' 6", with dark hair, brown eyes and to quote an entry in his service record "dark swarthy complexion" volunteered to become one of a select few that served on the Greek caiques pressed into service by the RN for clandestine operations in the Aegean Sea and Eastern Mediterranean known as the  Levant Schooner Flotilla.
The clandestine work of Levant Schooner Flotilla was depicted in the classic fictional war film 'Guns of Navarone' and the film 'Ill Met by Moonlight' which is an account of events on Crete during World War II of an agent of the Special Operations Executive (SOE) and the abduction of Heinrich Kreipe the chief military commander of Crete.
The flotilla was formed early in 1942, after the fall of Greece with two Harbour Defence Motor Launches (HDMLs) armed with Bofors and Oerlikon plus some caiques. The caique was a common vessel in the Aegean, used for fishing and trading and they could pass as such if challenged at first sight. One of the flotilla's main roles was landing raiding parties at night on Axis-held islands. The crews practiced open-sea navigation using small aircraft compasses with phosphorescent dials, which made it easier than using sight alone to locate the mouth of a secluded creek or cove in the dark. Teams that had memorized the coastline silhouettes made final approaches in stages, inching toward a known rock in line with a cliff or a gap between hills.
Camouflage was another key skill, as the LSF operated in darkness and spent daylight hours anchored in the Turkish waters of the Güllück Gulf. Hiding was imperative, not only to evade German patrols but also to give neutral Turkey, which had agreed to turn a blind eye to British forces operating in it's waters plausible deniability. Just before dawn each day crews dismantled masts and draped hulls in camouflage netting, raising poles and draping more netting over them which created false profiles that mimicked the rocky outcroppings. Despite the LSF vessels' heavy weaponry, their role wasn't offensive and engaging the enemy was decidedly a last resort.
In September 1943, the Allied advance onto the Italian mainland transformed the military situation in the Eastern Mediterranean. The Italians surrendered the Dodecanese Islands in the Aegean Sea to the British, who promptly garrisoned them. But the Germans needing the larger islands of Leros, Simi, Samos, and Kos in the Dodecanese for airfields from which to defend their holdings in the Balkans, quickly moved to seize all four. In October, German airborne troops landed on Kos. Soon a battalion of British infantrymen were fighting for their lives, and those who were not killed or captured fled to the hills. An SBS patrol found survivors, and by night escorted them to a remote beach where an LSF caique slipped in and spirited the soldiers away. After the Germans seized the four Greek islands, the Levant Schooner Flotilla returned to a Royal Navy base in Beirut, Lebanon, to refit and expand. From the original 12 caiques the fleet grew to more than 30, plus "mother ships" that carried supplies. This demanded more crews and at this time Jack joined one of the caique crews.
Caiques of the Levant Schooner Flotilla
Originally fitted with Bolinger diesel engines, which in fine weather were audible for miles. As most movements were carried out at night, they were replaced by 90 H.P. Matilda tank engines which could be run at half throttle giving the same speed, so were relatively quiet.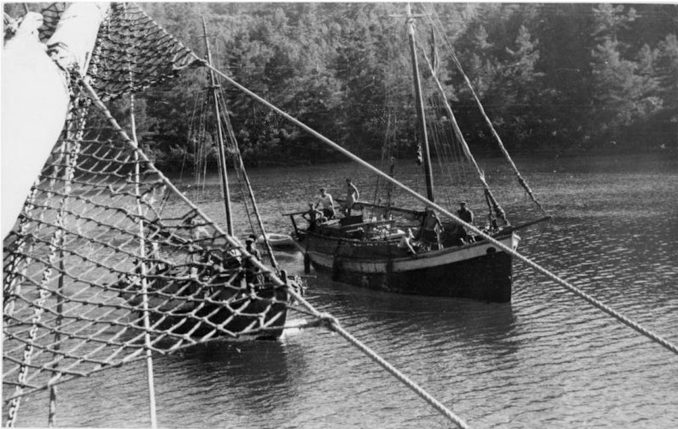 A lot of the crews were scallywags who didn't fit into big-ship navy life, and the rather relaxed life on the caiques suited them down to the ground. The commanders were not interested in the past as long as crews knew their job and did it to the best of their ability. Naval discipline in the accepted sense was neither required nor enforced, and they let crews get on with the job.
Many grew their hair long, tied back and revelled in their piratical appearance. On one noteworthy occasion LS3 was ordered to Mykonos. The passengers they found waiting were a senior Wehrmacht officer and his Greek mistress. The German had arranged with the island's LSF agent to give up information on German troop and shipping movements. In return he and his woman would be taken from the island and on to Palestine. The local partisans didn't like it. They insisted the officer was their prisoner, but fortunately a lot of food was put ashore and a couple of bottles of rum, so the officer was handed over.
Only once did the Germans capture a caique. Interrupting a reconnaissance mission in April 1944, German forces intercepted LS24 as it approached the island of Alimnia. All 10 crewmen were subjected to what a German report on their interrogation described as "special treatment." For refusing to talk, even under duress, the Germans executed them.
Most LSF crews worried less about the Germans and more about the weather. The Aegean seems idyllic to the untrained eye, but sailors accustomed to the region know how quickly things can turn bad.
When asked in later years by one Mrs K's siblings about why Jack had volunteered in the knowledge that he could have been executed for being out of uniform, he said it was worth the risk as the pay was better while serving in the Flotilla. Also, the sister-in-law asked why he was chosen and what would have happened if the Germans had boarded the boat as he could not speak Greek, Turkish or German. Jack's response was that he was chosen because he was swarthy looking and if Germans had boarded the boat, he would have only grunted if spoken too.
Jack returned to the UK and was stationed at HMS Raleigh from 4th February 1945 to the 6th October 1945 seeing out the final months of the European conflict in relative safety.
Post war Jack continued serving in the Royal Navy with postings at home and abroad serving on many ships of the fleet. One noteworthy posting from September 1954 to April 1955 was aboard HMY Britannia touring the Caribbean with Princess Margarete aboard in 1955.
Jack aboard HMS Peacock sometime between Oct 1951 and August 1953
The title of this article was a question 'Just an Ordinary Jack Tar?' I hope this article goes to show, there are no such people serving in our armed forces. All may look ordinary on the surface, but each has a remarkable story if you care to look deeper.
At 11:00 AM on this November 11th. We will honour you Jack, we will stand silent and remember all who served alongside you during WW2 plus those that served in the conflicts before, after and all those serving in our armed forces today.

© Text and images Dorset Knob 2020

The Goodnight Vienna Audio file