This has been a Brexit junkie's summer. And like the heat hope has been rising.
1st of June was the big Action Day + Rally in Peterborough to help Mike Greene get elected as an MP. 30th June was the Big Vision Rally by the Brexit Party (BXP), or first party conference (sort of), at the Birmingham NEC. 6th July is BXP National Action Day with 500 street stalls planned for up and down the country. In-between, there is giving a hand to the Westminster placard-holding vigil and attending the Ukip leadership hustings. It beats lounging on a sandy and sweaty beach, far less debilitating! Forthcoming: Eleven BXP regional rallies will take place throughout September, instead of the traditional party conference.
Once again, a disclaimer: this article mainly aims to share with you some photos and put on the record events that the MSM ignore or misrepresent; as for insight, it's a 1/5500th view from the rally. More analytical, astute and in-depth comments will appear below the line, I am sure!
Between the first and the last day of June, what did we learn? That not only one's vote does not count and is not respected, as in the EU referendum, but that the voting system is rotten to the core and a parliamentary (bye-) election looks as it's been stolen from the leading candidate.
If many normal common-sense fair-is-fair people had not found since April a way of channelling their anger and frustration, the summer could have been very hot.
BXP has triggered a political earthquake. It has released the pressure cooker of public opinion. It has given people a sense of purpose with a direction. It will hold a sword over the Conservatives, expose the fundamental fracture in Labour, as well as possibly playing a role in Ukip re(de)fining its priorities and strategy.
On Sunday 30th June, GPers went to Birmingham: We were converging from London, Milton Keynes, Oxfordshire, Worcestershire, Gloucestershire etc. We tried to harness mobile technology to meet up, which was only partly successful as there were two Wetherspoon pubs at the NEC, the London train was 25' late and large queues had formed; all this cut into drinking time. Nonetheless it was really nice to meet again and to put faces to more avatars!
Phase II of the title, and of BXP's Great Project to save Democracy, is about BXP moving from the single issue of "respect the result of the referendum", which was sufficient to win a landslide in the May EU Parliament Elections, to a programme of policies destined to fight a GE. The PBO by-election was fought on the implementation of Brexit and local issues; what we saw on Sunday is but the first stage into developing a full national manifesto. We are now way beyond leaving the EU.
The video of the rally is here:
My first sight in Hall 9 was the huge pile of papers, the first issue of The Brexiteer, meant for supporters to take home and distribute.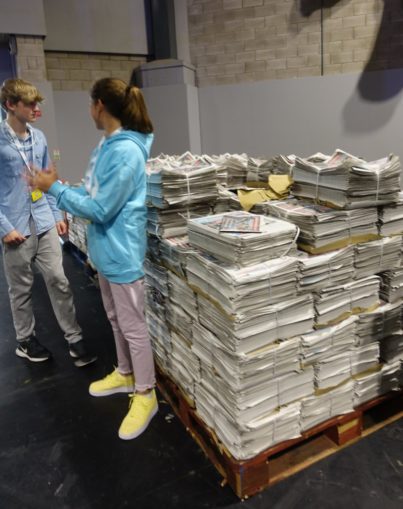 Then the scrum around the merchandise table was a sight to behold. Tee-shirts, football scarves, baseball caps, mugs, notebooks with pen, teddy bears, badges (including an intriguing one marked on the back "A Nathan Gill original"!). Look, call it naff if you want, but it is a way to raise money, and take a piece of the party home as well as a memento of a great day out. Raising money seemed to be the order of the day. I know, £25 by 115 000 registered supporters is a fair amount, but BXP will need millions to fight a GE even half effectively…
MEPs-elect, as well as cheated candidate Mike Greene, were around for those who wanted to meet them. Regional organisers were handing out forms to register your interest to get involved in your local area. Because of the GDPR nonsense, databases cannot be shared so you have to give your details again to be on a regional mailing-list as well as the national one.
Once inside the hall itself, attendees found more goodies on their seats: an A2 poster to be waved, a copy of The Brexiteer newspaper, a glow stick, and a turquoise branded cotton T-shirt. People like to be given something for their effort to get there and their participation (even though the entrance ticket is ridiculously cheap at £2.50, probably just enough to cover the fee of the event-booking site). People like to have something to take away with them. Just as they like going away with a mission – and this one, enthusiastically accepted, can be spelt out in two words: Distribute! Recruit!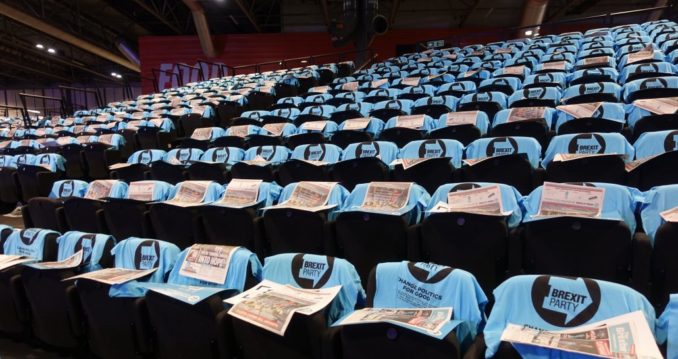 The merchandise, the disco lights, the razzmatazz, yes, it feels American. It's obvious that the BXP thinking heads have been watching the 2016 Trump rallies, and, like us, thought "something is happening!"
The political as entertainment – I'd say it works. People attend these rallies, – and are not content with attending one only – because they want to be cheered up, stirred, roused, galvanised, organised! It mainly works for those who attend, as even watching on livestream does not convey the atmosphere and energy.
I spent some time before the beginning of the proceedings walking about in the aisles, and it was great how everybody was smiling and ready for a little chat. There were all sorts of people, of all ages, and all classes. As has been noticed before, all well informed people, who, in the past supported the Tories, Labour, the Greens and have enough of the anti-democratic shenanigans that we've been following incredulously in the last three years; a lot of Ukip supporters/members/officials too, and it is officially OK to be in both, just interesting how their number is growing. Grinning to all and saying hello while trying to place people: do I know you from GP, Ukip, Westminster protests … ?
Annunziata Rees-Mogg opened the proceedings and deprecatingly said she was old news, having been elected an MEP a month ago. Today's news was 100 prospective MPs ready to go public: 100 candidates were ushered in and trooped onto the stage where they took their seats under strobes and a stomping music. Impressive. Mostly unknown, a diverse (it has to be mentioned these days) parade of normal-looking men and women… Jobwise, they ranged from a doctor to a forklift truck driver, from a shop worker to an accountant and many others. All willing to put their heads above the parapet.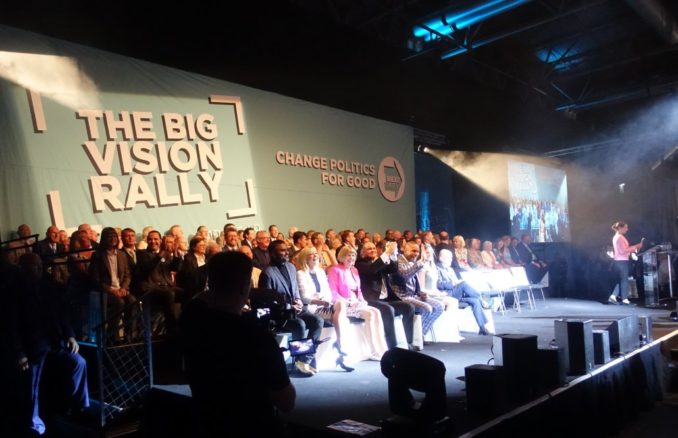 The Telegraph and Guido chose to focus on the fact the candidates were not named, which they interpreted as casting doubts on "the thoroughness of the Brexit Party's vetting process and suspicions that opponents might dig up information about the candidates' past lives and social media histories that might not be entirely welcome."
I offer here another interpretation of why they have not been named. Despite the impressive effect of their trooping in, it is not about them – yet. Out of 3 000 applications, some 1 500 will be interviewed, and here were the first 100 selected. Another 550 will be by the time the new PM is announced. I think BXP wanted 100 anonymous men and women on stage just as a signal (and nearly every BXP rally introduces new converts to its cause), but I would expect more well-known names (maybe from Ukip circles – I see a few likely ones at these rallies) to be announced in the future, something which would have been distracting at this stage.
The meaty stuff was about policies. A new and crucial phase in the development of the party when problems start! I have already read comments disagreeing with some of them!
The policies unveiled by the Chairman, Richard Tice, comprise, in no particular order:
Refuse to pay £39bn to Brussels
Halve the foreign aid budget
Scrap HS2 and invest in proper transport links outside London
Revive the high street by cutting business rates
Modernise Britain with broadband in every home
Expand apprenticeships to put youngsters to work
Cancel interest rates on student fees
BXP can find £200bn by not doing three things: going ahead with HS2; giving £39bn to the EU; allocating the same amount of money to the Overseas Aid Budget. Instead, they propose to make our money work 'fairer and wiser' in our regions.
Tim Martin, chairman of the Wetherspoon chain of 900 pubs, said something striking to loud cheers: "It's amazing to be having to fight for democracy in the UK now!" That still remains the core plank of the party.
The supporters' survey on political reform, sent out by the BXP to gauge what matters to people, elicited nearly 30 000 replies in the two days before the rally. Here are the results:
75% agree that reform of the electoral system is necessary, to have some form of PR, so that the number of seats more fairly reflects the percentage of votes a party receives;
47% want the House of Lords reformed; 40% want it abolished altogether;
83% want the postal voting system reformed so that it is restricted to those who truly cannot make it to the polling station or are ill. On this topic, Tice reminded the audience that BXP have launched a petition on the PBO bye-election result, "because we know something is not right, and it needs changing".
79% say that the Civil Service needs major reform as it is not fit for purpose;
A small single digit number are happy with the BBC licence fee and want to keep it just as it is; 21% want to reform it; 70% want it abolished.
The policy ideas team can still be contacted with suggestions:
At that point, after so much cheering and clapping, the hall was nicely warmed up and ready for the entrance of Nigel Farage. Some GPers won't agree but he was introduced by Tice as "one of the original brexiteers… a serial campaigner… his knowledge of what people want and need is incredible!"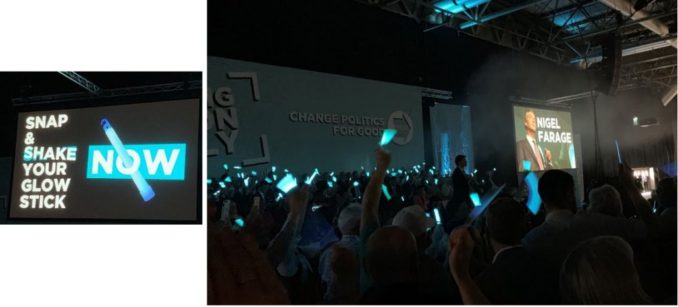 The glow sticks, the soundtrack and the siren were dismissed in the media and in the twattosphere as gimmicky and in poor taste. Sky and BBC News had a little segment about the rally and unsurprisingly their usual superficial piece concentrated on the glow sticks, they really cannot bring themselves to say anything constructive … The Guardian put a 2'25 video of the rally on its website, introduced thus: "Nigel Farage unveils Brexit Party parliamentary candidates at raucous rally … Nigel Farage fired up Brexit Party supporters with a loud rally featuring air raid sirens, glow sticks and indoor fireworks." Raucous? Not the mot juste.
The Independent focused on the air raid sirens: "… a room full of people waving turquoise glow sticks in the air, to the sound of air sirens and then the song 'Can't Hold Us' by Macklemore and Ryan Lewis. I don't know about you but this is exactly how I envisioned the country 'taking power back' once outside of the EU… A Day-Glo right wing disco where the sound of the Blitz mixes with American pop-rap crossover tunes, while DJ Nige spins the beats on his Sony Discman."
Ignoramus me, I understood the blitz-like sirens to signify, we're in a state of national emergency, resistance is not futile, join up with us! The complete opposite of hiding in an air-raid shelter.
A commenter, Tin Foil Hat @ Guido, wrote:
"I assumed it was a sonic metaphor that The Brexit Party is close to the target and the EU/LIB/LAB/CON are heading for their bunkers."
Stuart Beaker @ GP mused that it was in fact the All-Clear! Catastrophe averted, you can raise your heads high again!
Farage reminded us that a political party launched less than 50 days has achieved something quite extraordinary to-date: BXP topped the poll in the EU election and even got 50% more votes than its nearest rival (it is now the largest party in the EU parliament). They have 115 000 registered supporters. And on four occasions, BXP topped the polls to how people intend to vote in the next GE. However what he finds even more extraordinary is an achievement greater than any statistics and that he is supremely proud of:
"I believe that our real achievement in a country that is sick to death of politics, of politicians, of feeling 'what is the point of the whole thing', the real achievement of the Brexit party is we – have – given – people – hope!"
This is also the gist of his editorial in the first issue of The Brexiteer: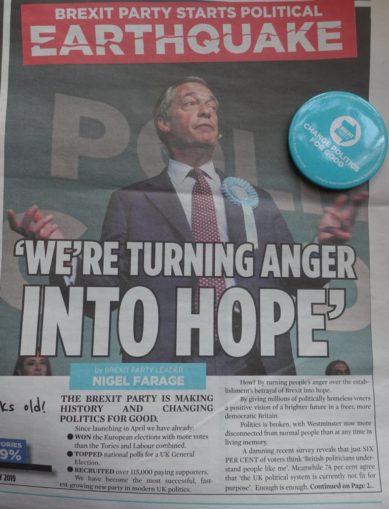 Despite the gruelling schedule of the last few months, Nigel Farage is in fantastic form and is thoroughly enjoying himself – he's having the time of his life, he is more than ever the grinning cat that got the cream. I saw his mother there, she must be bursting with pride!
He's realising his long-standing dream of modelling the party he leads on Italy's Beppe Grillo Five Star Movement. He could not do it with Ukip and now he's got a free rein. So far he's doing well with it.
I saw somewhere below the line a comment, "the rally was well-attended". Come on, 5 500 attendees, that is more than well-attended… How many other parties could get 5 500 people to a political rally? The week before the People's Vote held a rally in Leeds. It attracted 800. The week before Boris and Hunt held hustings in Birmingham, 800 turned up. How many attendees at Ukip annual conferences even in the Nigel days, when the leader was already getting a rock star entrance! 2 000? The Big Vision Rally was the biggest political rally in 30 years. It is plain remarkable, – the numbers on the move, the level of commitment, the enthusiasm, the optimism, despite all the rubbish thrown in the face of Leavers.
Commitment. A Scottish lady knitted scarves for the female MEPs. She called the pattern the Brexit Tartan. She came to the rally to hand them over. Here Belinda and Annunziata wear their new scarves:
The badge that Michael Heaver is wearing above was for sale to punters and was designed by Nathan Gill MEP.
Commitment. The youngsters who volunteered to come to Birmingham and who, adorned with an official lanyard, dressed the 5 000 + seats for us. They include Belinda's daughter, the Grant sisters and other cheerful and dynamic young people, excited by this movement dedicated to defending democracy and sovereignty.
Commitment. A new turquoise army is on the march. When the lights came back on and the music stopped, attendees streamed out, laden with bags of BXP material and picked up tied bundles of papers on the way out! Thousands on a mission! You know where you'll find them on Saturday – at a street stall near you!
Some attendees thought it was a faux-pas to organise an after-rally private party in the Wetherspoon pub outside the hall where many of the participants intended to congregate and have a drink before going their separate ways. It is a pity indeed that the pub could not cater for both functions (the other Wetherspoon pub was quite a distance away). It is not that the higher echelons of the party don't want to mix with the hoi polloi. In fact, what was held inside was a fund-raising reception to encourage the ticket-holders to donate money to BXP. The party will need much more than what regular subscribers have contributed for the year, if it is to fight a snap GE. John Longworth, former director-general of the British Chambers of Commerce (forced to resign during the referendum campaign for being a Leaver), is in charge of the soon-to-be-formed Brexit Club and gave a short speech to encourage its would-be members. They looked like a gathering of the legacy Ukip donors, of the pre-Diane James fiasco days, as well as Conservative Party supporters.
After long months when nothing was happening, when we were at the mercy of what PM May and her cabal were cooking up, after realising we were being had, strung along, the reality of the deceit gradually becoming clear, we are now discovering a heady new power, we now have an avenue for our thirst for action and for change. Brexiteers of all shades of opinion uniting in a common goal.
It does not matter – it really does not matter – that Nigel has certain flaws and is loathed by some. This is the anti-Trump response. I have just come back from a talk by the head of Republicans Overseas. She explained that she did not agree with everything Trump said and the way he said it, but it was outcomes that matter in politics. She said "I'm not trying to date the guy. But I like the outcomes of his policies so I will vote for him next year." It is the same with Nigel. We need the outcome that is the Brexit Party and it's scaring the Tories into hopefully delivering Brexit. It's the only game in town right now.
As Annunziata Rees-Mogg MEP told Breitbart London the day of the opening of the European Parliament:
"…we're topping the polls to replace the incumbents who have ignored the democratic will of the British people. If they had done their job, we wouldn't need to be here. If they had done what they promised the British people, the Brexit Party would not exist and we certainly wouldn't have support of up to 30 per cent.
We are on their toes permanently and we're keeping them honest. If they don't deliver, their trust is broken and we are there to replace them.
If the UK Parliament isn't running scared, it should be. But not because of the Brexit Party, but because of its electors. If you ignore your electors you deserve to get a good kicking out of office. That's what we're here to make sure happens!"
Less than 120 days left until they say we are going to Leave! Four months to turn things to our advantage.
The BXP MEPs are going to give us good value for money, judging by their turning their backs on the EU anthem on the day they were sworn in (Mark Durkin tweeted: "Dear Nigel, Ann & Gang, please, please carry on misbehaving!!!") and Ann Widdecombe's barnstorming maiden speech two days later. Moreover BXP has changed the chemistry at Westminster, of that there is no doubt, and we should all be grateful for that.

© Text and photos Sunshine & Showers 2019

The Goodnight Vienna Audio file