Background
For the last 15 years I have been traveling to Central Europe each month on business. Many of my trips are to Lithuania and Poland, so I have decided to send a postcard from Vilnius. From experience I can say 2 or 3 days are sufficient to see everything of note in Vilnius. The centre of the old town is compact and all the places of interest are generally walkable from any hotel located in the old town area.
Vilnius is the capital of Lithuania containing around 580k people and the country has a population of about 2.8m.  Lithuania is bordered by Belarus, Poland, Latvia and the Russian enclave of Kaliningrad.  Lithuania is not a big place you can travel from one side of the country to the other (at its widest part) in about 4.5 hours by car.
In medieval times Lithuania was a Dutchy and people from the Western provinces of Lithuania claim to be the "original" Lithuanians and are known as Samogitians.  They speak a dialect that other Lithuanians claim is difficult to understand.  During this time Lithuania was the scene of both conquest and expansion involving Germans, Swedes, Poles, Russians and anyone else who was interested.  Lithuanians will tell you their empire once stretched to the Black Sea whereas Poles will tell you that Lithuania was once a province of the Polish Empire and to an extent both claims are true. In 1795 Lithuania fell under Czarist Control and remained part of the Russian Empire until the end of WW1. Lithuania became independent in 1918 but the Eastern half of what is considered today to be Lithuania become part of the Polish Commonwealth and Vilnius became a Polish city (Wilno) following the Polish Lithuanian war in 1920. A then temporary Lithuanian capital was located in Kaunas (today the 2nd city).  In October 1939 Stalin insisted the Baltic States sign an assistance treaty and in June 1940 he invited the Baltic States to ask for his "protection"; having no other option all 3 states "invited" the Soviets in.
Thus, followed the 1st round of murders and deportations that occur when the Soviets subjugate a state; thousands were arrested and executed and around 15000 were deported to the Soviet Union where they were used as slave labour.  In June 1941 the Germans arrived as part of Barbarossa, (the invasion of Russia) and drove the Soviets out until late 1944 when they returned and commenced upon a 2nd much larger round of executions and deportations (more than 100k deported to Gulags). After 1945 an armed resistance against the Soviets began with groups of Lithuanian partisans known as Forest Fighters attacking Soviet columns and installations.  Soviet reprisals against any nearby villages were severe and this guerrilla conflict continued until 1956 when the Soviets started to allow the remaining deportees to return to Lithuania. There were sporadic attacks on Soviet troops thereafter with the last once being recorded in the early 1980s.
From talking with Lithuanian friends, it seems that the usual privations faced the population in Soviet times with a lack of goods in the shops.  One friend recounted how you might, if you were lucky, be issued with a ticket that entitled you to an overcoat. But this did not mean there were overcoats in the shops, although if you could find a shop with coats the coat would be in a style you did not like, a colour you did not want and a size that did not fit.  However, you took the coat and tried to find someone who had a better coat to swop it with.  Another remembered you would hear a certain shop would be getting say a delivery of ice cream, so a queue would form.  Perhaps a van would arrive or perhaps not and if it did how many boxes of ice cream would be unloaded? would there be enough for everyone in the queue?  These stories and others I have been told show their condition became the usual "socialist paradise" experience of surveillance, informers, shortages and reporting that occurred throughout the Soviet Union and its satellites.
In 1990 Lithuanian Parliament voted for Independence and gained it but Soviet troops only finally left in 1993, The 5 years following 1990 were difficult, if you can imagine that overnight all state institutions collapsed (police, army and judiciary) and an established currency was replaced with a temporary worthless currency called Talonas (also  known as "Animal" money because it had pictures of animals upon the notes) which had no value/conversion outside of Lithuania (and was more or less unspendable inside the country) you can maybe understand the extent of the problems faced by the population. If you could get hard currency then things were slightly more bearable.
This period is also known as the "Mafia Years" where the mafias dominated. robbed and ransacked any form of business at will.  The Lithuanian state was just not resourced to fight the mafia or deal with the corruption or corruptibility of the fledgling state entities and on the advice of Western Security agencies the Lithuanians let the mafias fight it out until only the 2 strongest mafia brigades remained (Panevezys and Vilnius) then they moved against them.  This ended with a trial in Vilnius of the by now infamous Vilnius Brigade and its leader was sentenced to death and executed in the Central Prison, Soviet style, with a shot to the back of the head in July 1995. This was the last execution in Lithuania. Since then there have been various flavours of government and there is currently a coalition in place. Anyway, enough of the geography and history let's look at Vilnius,
Vilnius
As a place, records show a settlement was there just over 1000 years ago but the written name Vilnius doesn't appear until the C13, Legend has it that Grand Duke Gediminas had a dream in which a giant iron wolf stood howling upon a hill.  His advisor told him the dream showed him where to build a city and today the Gediminas tower can be found atop a hill next to the Cathedral.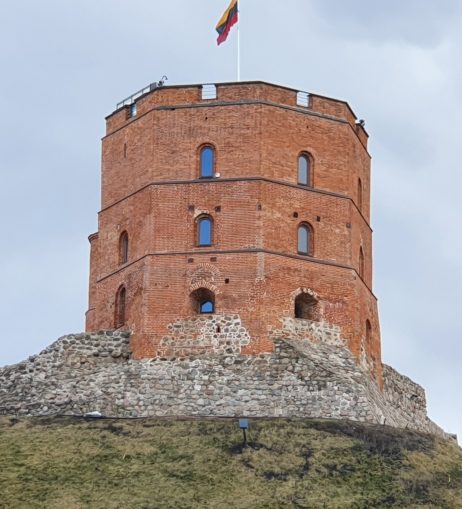 The hill used to have a covering of trees and a couple of years ago the decision was taken to cut them down.  With the next heavy rain fall the hill started to wash away and since then there have been ongoing works to stabilise it and to repair the EU funded funicular railway (on the other side of the hill, which was damaged when the hill moved). It's a bit of a climb to get to the top but you get a great view of the city and there is also a small museum.  A much larger museum (National Museum) is at the foot of the hill between the river and the Cathedral. Behind the tower you will see an even taller hill with 3 large white crosses at the top.  You can walk to the top of this hill as well and if you go through the Bernadine Park (at the foot of the hill) cross the footbridge and up the steps, but be warned, it is a gruelling climb.  For those seeking only a moderate expenditure of effort it's a far gentler climb if you walk around beside the river and tackle the climb from that side.
At the base of the hill on which the tower is located is Cathedral Square, next to the Cathedral there is a medieval bell tower on one side and a Royal Palace on the other; both are accessible for a few Euros.  If you stand outside the front of the Cathedral and look down on the ground in the space between the main entrance and the bell tower and you might find a special cobble which is unlike all the others.  Legend has it that this is a "Miracle Stone" and if you stand on it with your eyes closed and turn around 3 times whilst making a wish then your wish will come true. The Cathedral is impressive and in Soviet times was used as a bus garage.
If you like visiting Churches there are many others to see with the best being located beside or above the location of the old town square (top of Pilies St). There is even a Black Madonna in the Mother of Mercy Church located at the very top of the old town by the Gates of Dawn.
KGB Museum
A useful reminder of the 50 years of Soviet Occupation can be found at the Genocide Museum located on Gedimino Prospect.  The museum is located in a building which was the KGB Headquarters and prison in Vilnius.  There are exhibitions and displays explaining the deportations, the armed resistance and daily life in an SSR (Soviet Socialist Republic) and of course the struggle for independence.  The basement of the building is actually the former KGB prison and is more or less preserved as it was on the day the Soviets walked out.
Just off from the main block of cells (some of which are specially designed torture rooms) is the "kitchen".  This is in fact an execution chamber where prisoners were eventually executed.  It is called the "kitchen" as prisoners would be told they were being moved to a different prison and that before leaving, they would be taken to the "kitchen" for a meal. Many prisoners breathed a sigh of relief to be "leaving" only to find within a minute or so they were in front of a Commissar telling them they were sentenced to death and that the sentence would be carried out immediately.  They were then bundled into the "kitchen" where they were blindsided by an executioner who put a bullet into their head.  The outside of the Museum has the names of those known to have been killed there chiselled into the walls.
If you look across from the front of the prison to the other side of Gedimino Prospect there is a large park.  In Soviet times this held a sizeable statue of Lenin and in Soviet Iconography Lenin is always portrayed as "Showing the Way to the Future" with an outstretched arm.  The Lithuanian workmen who erected the statue did so with his arm pointing towards the prison.  This statue along with most Soviet Era Iconography has now disappeared.  Traces of Soviet iconography can still be found if you search and the last major piece only disappeared 4 years ago when some rather spectacular statues were removed from the Green Bridge.  If you travel about 130 km from Vilnius you can visit Grutas Park (also known as Stalin Land) where some of the larger statues have ended up.  You should note that to display any symbol from the Soviet era in public or even on clothing is an arrestable offence.
The centre of Vilnius it is a mix of (mostly) medieval buildings and Czarist era structures A fair bit of the medieval city still exists and in centred around and just off Piles Street and in the Uzupis district; whist Gedimino Prospect (the Lithuanian equivalent of Oxford St) is mostly Czarist era.  On the lower part of Pilies St going towards the Cathedral you will find a mixture of restaurants and coffee shops and also souvenir shops; many of which sell amber.  Lithuanians have warned me against buying amber from these tourist shops as in some cases it might not be.  There are a number of specialist amber galleries located behind Pilies St and if you want to buy amber, I would recommend you go to the amber gallery and museum at 8-12 Sv Mykolo St. Here you can view a small museum for about a Euro but the fee also includes a demonstration on how to spot fake or reconstituted amber and also the different varieties and colours that can be found, useful knowledge if you are in the market for amber.
Just 60 seconds walk from the Amber Museum and Gallery is St Anne's Basilica.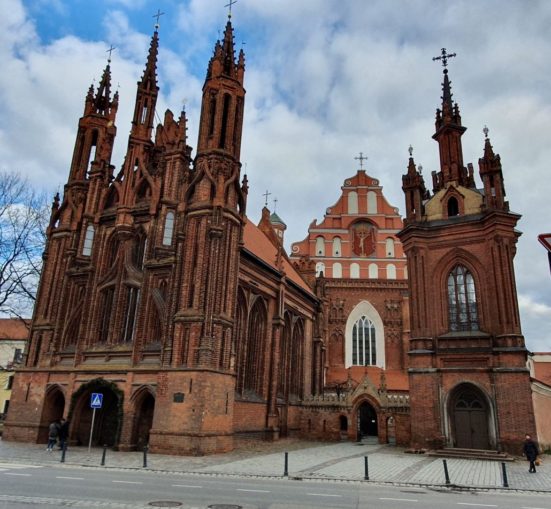 Legend has it that Napoleon was captivated by the beauty of the church and wanted to dismantle it and take it to Paris (Napoleon passed through Vilnius both on his way to and from Moscow). On the retreat the Napoleonic troops were quartered in Vilnius and during the harsh winter they died like flies.  Even today any development within the old city runs a fair risk of finding a Napoleonic era burial pit where the dead troops were dumped.  A Lithuanian friend once remarked to me "Vilnius is a city built on bones"
The Republic
Also known as Uzupiz this one of the oldest parts of the city it lies between the river and Pilies St and is a bohemian area which in 1997, declared itself Independent from the rest of Vilnius City: it elected a President and Cabinet and granted voting rights to all who lived there including the cats and dogs.  This area is just a few minutes' walk from the Bernadine Park, Pilies St and the Amber gallery.  It is accessed via a small road bridge spanning a small river and in the summer, you will sometimes find a "customs checkpoint" has been set up here where you will be stopped by a group of students who will jokingly ask why you are visiting and hand you a chocolate or a sweet.  There are numerous small bars and café/restaurants in the Republic which are more reasonably priced than Pilies St.  At the heart of the Republic is a large column topped by a trumpet playing angel.
It is customary for brides to be to stop at the column on their way to their wedding and to wash their feet.  On a summer Saturday it is worth going there in the late morning and sitting outside one of the cafes to watch an endless procession of limousines containing brides awaiting their turn.  I have attended a few weddings in Lithuania and after the usual church-based stuff the wedding party will usually retreat to a villa in the country side where a 2 days binge of food and vodka will occur.
If you walk on up the hill from the Angel you will find a number of independent restaurants and at the very top of the hill, by a small parade of shops there is the entrance to the Bernadine Cemetery.  I was there in November for All Souls Day.  This is an old Polish Cemetery and it was touching to see Polish Scouts making sure each and every grave has a candle and flowers placed upon it.  The cemetery was also full of families cleaning and preparing graves for the blessing. This was widespread and there was even a live TV broadcast of the blessing service from the main Cemetery in Vilnius.
At the same time there were Halloween celebrations in Uzupiz and there were many displays of pumpkins. Lithuania was the last pagan country in Europe and even today remains a strange mix or devout Catholics, fervent Orthodoxy and Paganism. Lithuania is also remarkably "unenriched"; virtually all the "New Europeans" allocated there by the EU upped sticks and left for Sweden or Germany as soon as they discovered they were not going to get free houses or benefits.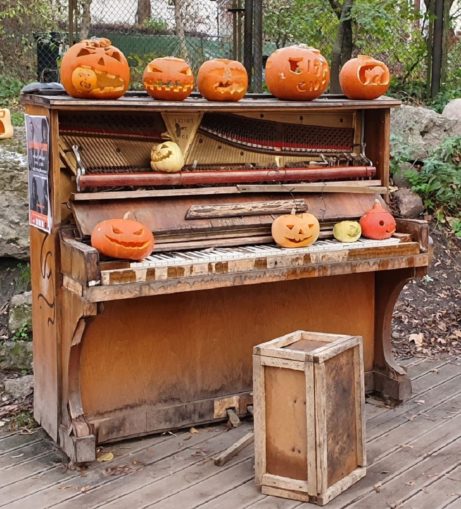 Cats are a big thing in the Republic and there is a famous cat that lives in an art gallery near the road bridge into the Republic (turn left at the rear of the pub at the road bridge)  There is also a "lucky cat" that lives towards the top of the hill and if you are going to the Bernadine Cemetery you might want to top up on luck before you go.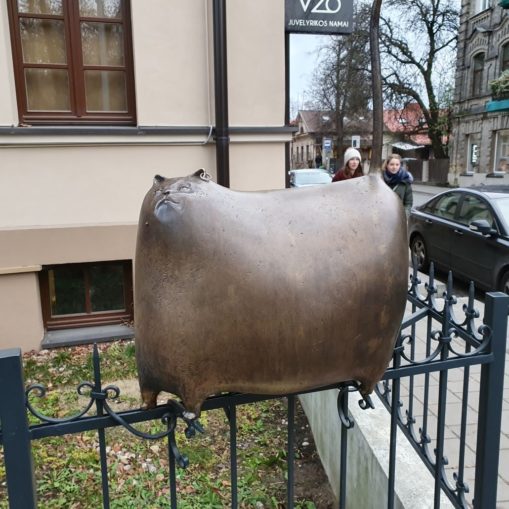 A famous person currently living in the Republic is a gentleman called Arturas Zuokas. He is a 2 times Mayor of Vilnius and also an MP. He is a populist figure who whilst Mayor in 2011 led a campaign against illegal parking in the city which, because it is medieval and UNESCO protected has very limited parking.  At the time the city was virtually bankrupt and Arturas came up with a cunning plan. Early one Sunday morning he had an elderly Mercedes car parked on Gedimino Prospect by accomplices. He then appeared in an armoured vehicle and crushed the car in front of some TV cameras that were conveniently in the area.  It was a blatant stunt as the city had no money to tackle the parking problem but it earnt him an accolade as a "Man of Action".  Here is a link to a video of the car crushing incident
https://www.youtube.com/watch?v=FQ-8xj8CUZw
Practicalities
Vilnius is easily reached by air from the UK (or at least it was until this virus business arrived and all flights are currently cancelled). If previous arrangements resume Wizzair and Ryanair are the main carriers with daily flights from Luton/Stansted and a few times a week with Ryanair from Birmingham, Liverpool and Bristol.  Planning ahead and joining the Wizz discount club means flights can be found for as little as £15 each way depending on time of year.  You can also fly daily on LOT (the Polish state airline) from London City; this has the advantage of being a "proper" airline and if anything goes wrong with a flight (unlike Wizz or Ryanair) they will not tell you to "piss off" out the airport but will actually help you to reschedule and provide accommodation (at least that is my experience). Flights take 2.5 hours and a taxi from the airport into town is about 15 Euros.
In terms of accommodation the supply of Vilnius hotels rooms has increased enormously in the last 10 years and if anything, there is now over capacity as 1000s of rentable apartments have also appeared.  Hotel development is still occurring with 2 high end hotels opening in the last 12 months and more underway.  The usual chains can be found but I find these soulless.  I think I have now stayed in about 90% of Vilnius hotels and I would recommend staying on the Pilies St side of the river as there is little to see in the "New Town" and any trips from there to the Old Town will require a cab. Cabs are much cheaper if ordered via an app rather than just getting in one.  There are the usual tourist bus tours of the city and excursions to places nearby (I am saving these for a future postcard).
All of the attractions I have referred to (plus all the others such as the Ghetto, the Railway Museum and most of the other Museums/Attractions) are central and are in or around the Old Town or on Gedimino.  Choose the right hotel and everything I have mentioned is a 10/15 minute walk (at the most) with most things listed here being just a few minutes away.
I can particularly recommend a hotel named the Mabre Residence (4 star).  It is 5 minutes from Pilies St and 2 minutes from St Anne's Basilica, the Amber Museum and the Republic, also 10 minutes to everything else that is central.  I have been staying there for 12 years or so and it is a privately run hotel, not a chain, with a fantastic steakhouse in the private courtyard.  All the rooms are different and the hotel was built/refurbished one room at a time (as the budget permitted) by the owners following Independence.  The hotel contains parts of a 14th Century Monastery which comprise the restaurant and steakhouse.  It appears on the usual hotel aggregator websites but ring the hotel directly and they will usually do better. The rooms vary in size and style but the service is superb and the staff will always go further to help you either with recommendations or to ensure you are comfortable and made welcome.  This is something a little special as customer service and attentiveness to customer needs is not a Lithuanian strong point but you will find it in spades at the Mabre they will do their very best to help. There is nothing better than sitting in the Mabre courtyard under the trees in summer time with a cold beer. It is a popular location with film crews and it is not uncommon to see a careering declining UK actor who has been working on a low budget film sitting in the restaurant of an evening.
Whilst on the topic of beer 500ml of draught beer will range between 2.5 and 5 Euros depending on where it is obtained, many local beers are available and there has been a growth in micro-breweries with mixed success relating to the drinkability of their beers (the worst one I encountered was flavoured with juniper); Cigarettes are around 3.70 Euros a packet and a 2-course meal with a beer for around 12 Euros is achievable in the Republic or in some Lithuanian cuisine restaurants.  Other than that, you will find all types of international food and even at higher end places like the Hazienda Steakhouse (Mabre) or La Provence, a 2-course meal with wine is around 30-35 Euros pp. Lithuanian cuisine is typically pork, potatoes and cabbage or a variation of the 3. Nearly all restaurants will offer a specific lunch menu (Dienos pietus) and this is usually around 5 to 7 euros for 2 courses.
Vilnius is safe; in all the times I have been there (over 100) I have never encountered trouble or crime. English is now widely and fluently spoken and Lithuanians are by their nature a very quiet and reserved people (except at home with friends); raised voices in public are frowned upon so it has never really made the drunken stag/hen circuit.  There is much more to see than I have mentioned and the internet is full of guides but hopefully this postcard will pique your interest to go there.  If I can find the time, I might send some more postcards from other Central European cities.

© Novak and Goode 2020

The Goodnight Vienna Audio file