As we turn another page of our Mystery Album, it is not too difficult to identify the next sepia print. Any Puffin who has ever strolled along Federiksgade in the direction of Rosenborg Slot, perhaps after the changing of the guard at Amalienborg, possibly on account of an early afternoon appointment with Prince Consort Henrik, will recognise the impressive basilica pictured below.
If not, an inscription within an entablature above the columns of a doric arch provides a googleable clue. It reads 'HERRENS ORD BLIVER EVINDELIG'. In these Godless times, both reassurance that 'The Word of The Lord Endureth Forever' and proof that our mystery posh mystery family are stood before the impressive frontage of Frederick's Church in the Frederiksstaden district of Copenhagen, almost one hundred years ago.
The photo is taken on a cobbled street and you'll note, despite standing in the middle of it, the photographer hasn't been squashed by the traffic. Only two cars and three people are in sight.
The building on the right is Nr 17 Frederiksgade, presently the home of the Windahl Sandroos & Co (WCSO) law firm who specialise in shipping, transport, energy, offshore, construction, insurance, global trade, litigation and arbitration.
On the left, and disappointingly out of view, is Number 40 – 42 Bredgade, named according to an adjoining avenue that it faces. Also known as Bernstorffs Palace, confusingly there is another Bernstorffs Palace in Bernstorffparken a couple of miles to the north. This Bernstorffs Palace was built by Johann Hartwig Ernst von Bernstorff.
Described by its restorers, Jeuden, as,
Everything a mansion entails. A well-preserved gem, which hides under the shell on gold-plated stucco decorations, marble floors and large two-leaf filling doors. The foundation stone of the property was laid in 1752 by order of Johann Hartwig Ernst von Bernstorff. He first had to seek approval for the construction from Nicolai Eigtved, who was the main architect behind Frederiksstaden. However, the construction was already part of the plans, which together with Dehn's Palace on the opposite corner were to be a link between the Marble Church and Amalienborg Castle Square.
The building has been gaudily restored in a needlessly over-elaborate French style and is presently used by the Eastern High Court as an overflow of their more Scandinavian style building which lies a block to the northeast. Other residents have included Crown Princess Caroline and Crown Prince Ferdinand of Denmark, King George of Greece and King Haakon the 7th of Norway.
It's a shame we can't see it in our mystery album photo but a fairly contemporary representation can be seen below as our mystery family would have wondered at it all those years ago.
The Marble Church, or Marmorkirken, is another name for Frederik's Church. Designed in 1740 by the same Nicolai Eigtved, it sat as a building site for 150 years until being completed to a different design in 1894. In the rococo style, twelve columns support a 100ft diameter dome – the largest in Scandinavia.
Interestingly, although the present Queen of Denmark, Margrethe II, was born in 1940 at the Amalienborg complex's Frederik VIII Palace a few hundred yards away, she was neither crowned in the Marble Church nor any other place of worship.
Until 1840 Danish monarchs were coronated in the chapel of a royal palace but since then their enthronement has been marked by little more than an announcement. Queen Margrethe's being on 14th January 1972, Her Majesty is only weeks away from her Golden Jubilee. God bless you, Ma'am.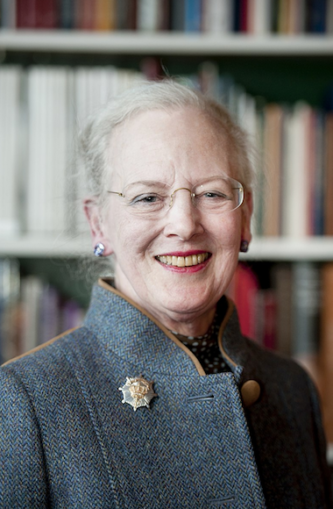 During our mystery album mystery family's visit, the King of Denmark was Christian X, who ruled for 34 years between 1912 and 1947, a successor to Eric Ploughpenny, Valdemar the Young, Harold the Soft, Cnut the Great, Gorm the Old and Eric the Memorable.
Previously, your humble author was out of his depth, never having travelled the Stockton to Darlington Railway, sailed the Norfork Boards or fly fished on the River Swale. Regular readers will be pleased to hear that during his previous life more interesting this modest reviewer of old photos became familiar with Copenhagen. Better still, he had his camera with him allowing for the 'My' to be put into Mystery Album.
If our mystery family continued the well-trod tourist path to Rosenborg Castle, I have followed in their footsteps and recall the Dutch Renaissance style royal residence as being welcomely lived-in. An opportunity presented itself to view Crown Consort Henrik's CD collection, reassuringly low brow bookshelves and overflowing ashtrays. Having said that, one's memory is fogged by exhaustion after trousering the daily subsistence and kipping in the overnight cinema opposite Tivoli. Before all of these noisy and exciting Scandie noir murders, local film was ponderous, in Danish and not difficult to sleep through.
Variety was provided by nights at Copenhagen Central railway station where the 24-hour airport shuttle lounge could be used by the ticketless if one was nicely dressed, clean-shaven and polite. Pretending to read the financial news helped. Pork and barley prices were helpfully immortalised daily on the inside back page of the Herning Folkeblad.
No matter how to puddled my recollection, I was definitely received at Rosenborg Castle as I have a photo. Down in the basement, King Christian IV's crown was kept in a bulletproof case in amongst a load of old tatt and junk.
What I can say with certainty is that Prince Henrik was a Knight of the Grand Order of the Elephant, an award which, believe it or not, features large in our story. Besides his Grand Order, Crown Consort Henrik also had a wife with her own navy, the only excuse required to dig into a bloodstained and battered derring-do box for some Grey Funnel Line porn.
Tied up at Amaliehaven, on the waterfront side of the palaces of Amalienborg, sits a visitor to Copenhagen, Comandante Roberto Ivens of the Portuguese Navy. Built at Ateliers et Chantiers de Bretagne of Nantes, F482 was commisssioed into the Portugese Navy in 1968. A 1,750 ton Joao Belo class frigate, she was purchased from the French in a hurry for the defence of African, Macanese and Timorese waters that were then the responsibility of colonial Portugal. Decommissioned in 1998 after a collision at sea, her two sister ships didn't leave the fleet until 2008 when sold to Uraguay and replaced by former Dutch Navy Karel Doorman class frigates.
At the opposite side of the Honsbrolobet Channel lay the Holmen Naval Base. The 2,700 ton Her Majesty's Danish Ship F352 Peder Skram is pictured alongside. Locally built, Peder Skram was in service between 1966 and 1990 and is currently a museum ship further along the same dockside.
Port of Peder Skram was F354 Niels Juel, a corvette decommissioned in 1990. To starboard, just visible, can be seen P530 a Daphne class seaward defence vessel.
In my day, a friend tells me, the area behind Holmen, enclosed between the naval base and the battlements of Holmen Island, was known as Freetown Christiania. A decadent outsized hippy weirdo commune notable for free love beneath a haze of sweet-smelling sticky fog.
I'd rather be at the pictures.
Holmen Naval Base hasn't survived with only one part of the island still being used by the Danish Navy. Since the 1990s the area has been redeveloped with the land immediately opposite Amaliehaven becoming the $370 million Copenhagen Opera House. The Henning Larson designed building now completes a direct line of sight along Frederiksgarde and past the palaces to the Marble Church.
If Puffins think Kr2.5 billion on an opera house is a waste of taxpayers money they'll be relieved to hear taxpayers didn't pay for it. Funded by shipping magnate Mærsk Mc-Kinney Møller's (another Knight of The Danish Order of The Elephant) charitable foundation, the building is controversial with Larson disowning it citing too much interference from his patron and the lawyers. Judge for yourself. Oh, the taxpayer paid for it after all as a deductible private donation.
On the opposite bank, at the far end of Larsens Palos, sits another monstrosity attributable to Moller. Mærsk's corporate HQ is a dreadful lump. Possibly the worst thing ever built on a waterside, it resembles a low rise 1970s Glasgow council estate but without the charm.
After the briefest of ports of call, allowing for the taking only one photograph, we shall imagine our mystery family climbing the gangplank at Amaliehaven to board their own vessel. If their final destination wasn't Copenhagen, where was it?
Find out next time on Mystery Album.

© Text and photographs unless otherwise credited 2021 Always Worth Saying

The Goodnight Vienna Audio file