This is a total hit with all the family and Mum used to cook it for us every few weeks.  She used a lot of packet mixes, some of which are hard to find these days so I recreated it from scratch.  Fairly quick and easy for a midweek family dinner.
Ingredients:
An onion, cut into half inch squares
Three peppers, one of each colour, cut into one inch squares
3 decent sized carrots or 4 small ones quartered and then sliced into quarter inch sections
800g Meatballs (prebought or make your own, add 1 egg white to 500g mince and roll into balls a little smaller than golf balls with salt and pepper)
Bacon (everything's better with bacon) cut into strips
Beef Suet (not in photo)
Self raising flour (not in photo)
Knorr poshboy vegetable stock pots
400g Frozen veg (broccoli, carrots, cauliflower, peas, not in photo), you can use fresh if you like
Instructions:
Get the kettle on and fill a big pan (that you have a lid for) of boiling water.  Add 3 stock pots and let them dissolve, lower the heat to simmer.
Make your dumplings according to the instructions on the packet, I usually aim for 4 dumplings each.
Shallow pan fry (as opposed to oven fry or microwave fry) the meatballs.  You don't need to worry about them cooking all the way through but the outsides must be browned fully.
Hoy them into the stock pan, then fry the onion gently for a couple of minutes.  Add the bacon, fry a little further, then add the carrots for 4 to five minutes.
Add in the peppers, and stir fry for a minute or two.
Transfer everything that is in the frying pan to the stock pot, return to boil.  Add in your frozen veggies, return the pan to boiling then add your dumplings.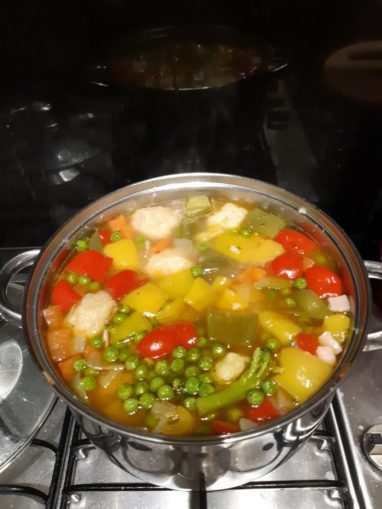 Put the pan lid on, and simmer gently for 20-25 minutes until the dumplings are cooked.
Get someone else to do the washing up.

© text & images El Cnutador 2020

The Goodnight Vienna Audio file