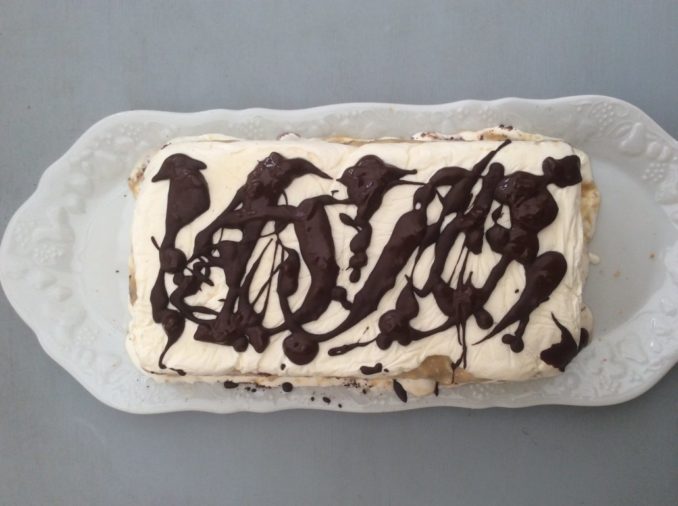 1 litre vanilla ice cream
100g stem ginger biscuits/cookies
100g dark chocolate
125g salted caramel cream sauce
You can buy salted caramel cream sauce or make your own in ten minutes.
To make your own :
75g butter
50g soft light brown sugar
50g caster sugar
50g golden syrup
150 ml double cream
1 tsp salt
Melt the butter and sugars in a saucepan, bring to a simmer and let it cook for about three minutes.  Take it off the heat and stir in the cream.  Add the salt and allow to cool.
You only need about half of this quantity for the recipe.  The rest will keep well in the fridge for a few days.
For the terrine :
Line a loaf tin with a double layer of cling film leaving it overhanging the edges.  Press one third of the softened ice cream into the tin. Then add a thin layer of caramel sauce.  Next add half the chocolate which has been finely chopped.  Finally a layer of half the crushed biscuits.  (Put them in a freezer bag and have fun with a rolling pin.)  Firm it up in the freezer for a short while.
Repeat the above steps and finish with a layer of ice cream.  Freeze for at least four hours.
Turn out the terrine onto a board or plate and peel off the cling film.
If desired, decorate the top by drizzling melted chocolate over it.  (Extra chocolate needed.)
Serve with stem ginger biscuits.

© OldTrout 2020

The Goodnight Vienna Audio file