In the course of a conversation in the comments (which nobody reads) the subject of food banks came up, and specifically a comment made in a newspaper by a Deli owner that he could cook 21 meals (7 breakfasts, 7 lunches and 7 evening meals) for £20.
Rookwood, of this parish, expressed doubt that it could be done but I think it is possible and I will attempt to do it and document my attempt in a series of articles starting with this one, which I will try and establish some parameters.
I am assuming that there is a standard store cupboard of everyday things (salt, pepper, common herbs and spices [Basil, Oregano, Curry powder, Cooking oil etc.] and that if I use only part of something, like rice or flour, I will assume that that portion is a percentage of the total price of the item.
I won't be buying in bulk, a 2 kilo bag of potatoes will be the biggest item, and I will be using the discount supermarkets (Aldi, Lidl etc.)
I won't be buying short dated or outdated stock – everything will be current and off the general shelves, although I will be taking advantage of their special deals on vegetables and possibly meat.
I will assume that there is a fridge/freezer, general kitchen utensils and common means of cooking and I won't take into account the cost of cooking, just the ingredients.
All costs will be documented, till receipts etc.
OK, lets get started – firstly, Vegetable Broth. This is healthy, warming and nourishing. It is easy to make and freezes well.
We'll start with the vegetables, I buy a stew pack, it contains a small swede, some carrots, a parsnip and an onion. That is the basis for a great broth but I also add a couple of other things, a sweet potato and some grated ginger, but the most important addition is some bacon (if you are Vegan, Vegetarian or of a certain persuasion you can omit this but you'll be missing out – also, the bacon I will use will feature in other meals too!).
Cooking bacon is the pieces of bacon left on the slicing machines which are either too small for the machine to handle, or are not pretty enough to be packaged for full price sale. However, for our purposes it's just fine. Take time selecting your pack of bacon, choose wisely and you will get a pack with useable rashers suitable for frying for bacon butties or bacon and eggs; sometimes you will even get bacon chops, I once had a pack with 7 bacon chops as well as some loose pieces, the loose stuff went into broth, the chops were fried or grilled and were delicious.
Recipe and method
Firstly, peel and chop the swede, carrots, parsnip and sweet potato. The cubes need to be no larger that half an inch (1 cm) square, this will ensure rapid cooking and save on gas/electricity.
Chop the peeled onion and grate the piece of ginger.
Put a tablespoon of cooking or olive oil in the bottom of a very large pan (I use a 5 litre stock pot) and gently fry all of the vegetables, stirring all the time.
Make up 2 pints (1 litre) of stock using the 2 veg. cubes, add it to the pan and add another 2 pints of water, the pan should now be nearly full. Bring to the boil and then turn the heat down and simmer for 25-30 minutes.
Meanwhile, sort out your bacon, 1 Kilo will give 3 good portions – hopefully you will have some rashers from the pack (if you chose wisely!) – about 350g chopped into small pieces is good.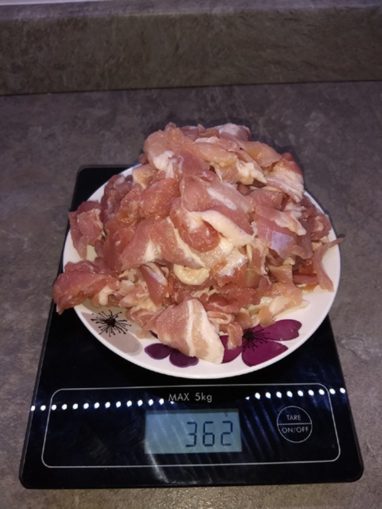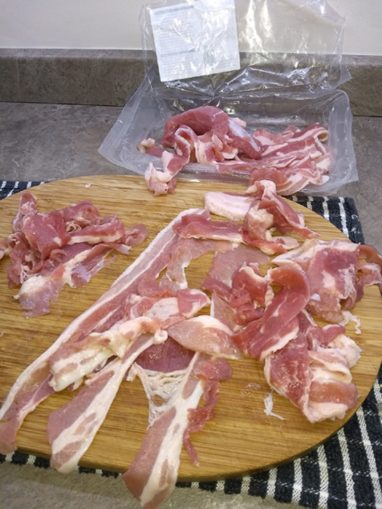 When the vegetables have softened (30 minutes!) take the pan from the heat and, using a hand held blender, blend to your desired consistency – I like a thick broth so I blend mine until there are only a few large pieces of vegetables left.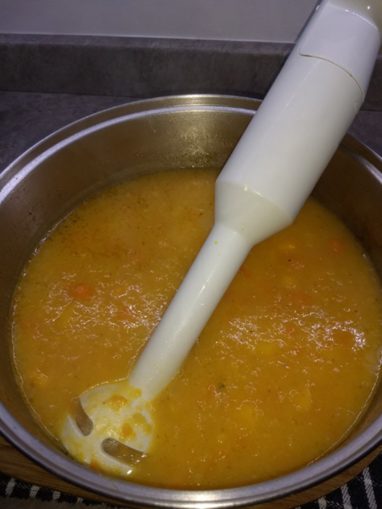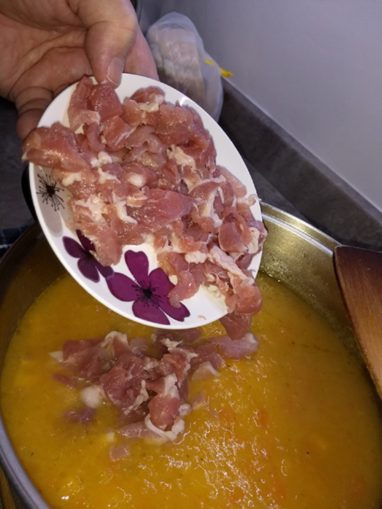 Return to the heat and add your chopped bacon, stirring well. Give it another 15 minutes then check seasoning – it's usually salty enough from the bacon but a twist of black pepper helps.
Costings
stew pack costs 97p from Lidl/Aldi.
sweet potato is part of a bag (1kg for 94p) , I used 375g which costs 36p
Ginger is a part of a 214g piece costing 68p, I used 70g cost 22p
2 vegetable stock cubes @3p each – cost 6p
My cooking bacon pack (1kg for £1.39) yielded some rashers for future use, as well as enough pieces for 2 lots of broth so I only used 362g at a cost of 50p
So, total cost of ingredients
Stew pack 97p
Sweet potato 36p
Ginger 22p
Stock cubes 6p
Bacon 50p
Total cost = £2.11p – this will easily give you 7 portions  at 30p per portion, it gives you your five a day rubbish, and freezes very well.

© text & images Grimy Miner 2019

The Goodnight Vienna Audio file