Some of you who have stumbled upon this wonderful site in recent weeks and months may be wondering what various references to shunting and occasional photos of a railway scene are all about.
You may have caught the tail end of a project I ran over the winter.  It began with a piece on 26th November, entitled 'Shunting Puzzle' – and was the culmination of thoughts over the previous weeks, mulling entering into a project, mulling whether anyone would find it interesting or was it too geeky? Would the family disown me? Would it end up a heap of rubbish?
To avoid grief from my dear wife, I looked to undertake a project that would cause no disruption to the family, take up too much room or be [cough] too expensive. With the usual taxi duties disrupting any possibility of an activity at a set time of the week, I wanted something that could be carried out only when I had time and was in the right frame of mind.  I did a lot of planning – in some ways one of the most important aspects – and decide it should be not just a model railway, but something more animated, particularly when I found the Magnorail system for cars and, best of all, cyclists.
I wanted to make something that looked good and worked with the minimum of wires or support. One of those Ikea shelves that look like they're stuck to the wall was an ideal choice for base – cheap, light and a good size. At 112cm x 40cm it gave  enough room for three or four tracks with enough points to allow something called a 'shunting puzzle' – a series of short sidings that are deliberately not big enough to take an entire train, but you can move one or two items around together, meaning a mental challenge to get a train from one track to another bit by bit. To add more space to allow depth and interest I also looked to include a raised area thereby having a hidden section to store items if necessary.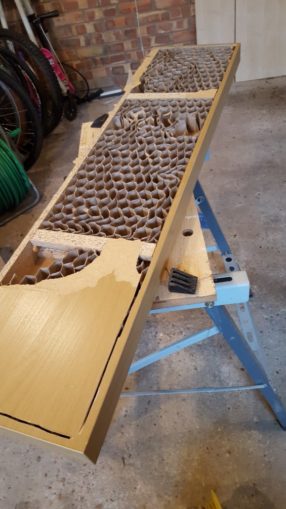 I found a free software package, Anyrail 6 that was really good at helping to work out what could be done in the space available. Rather than buy a random amount of track it allowed me to work through various options, looking to find what was felt to be the most flexible track geometry. It also holds the dimensions and angles of track made by most manufacturers. Using this I decided that, in order to have enough room I needed a mix of Peco and a Lima double slip crossover.  The track was placed on a cork base then glued down.
The magnorail system was more complex. It consists of a plastic chain running in a channel under the surface with magnets held in the links that the items above are attracted to, and follow. To do so meant having a sub-ground level which the chain could be fixed to, and a 5mm ground level sheet everywhere else. Adding to this the chain was run up a ramp to an upper level giving room for the chain motor and hidden sidings. That ramp was built of thin balsa to allow some curving at top and bottom rather than a sharp change from flat to incline at top and bottom. A series of Metcalfe walls were then used to hide it all.
The surface between magnets and cyclists was a real challenge and went through a number of failed attempts – needing to find something very thin (around 0.5mm) but stiff enough to not bow and flex while being black and slippery (steady RP!). The final material found was one of those rolls of oven liner you can buy – thin, low friction but when stretched out relatively inflexible. The material wasn't without mishaps – and a truck of peace brought horror to the scene.
By this point, the mechanics and electrics were in place, including some excellent items such as the crossing lights that worked when a train arrived, and a flashing light built into a police van, plus all points electrified. The next challenge is a part I have not had a great deal of experience or skill – the scenery. This is an area I usually don't bother with too much, slap a bit of green paint down and let your imagination do the rest, but this time having come across some amazing sites – not least Chris Nevard's blog inspired me to try a bit harder.  Originally the track and roads were going to be two distinct areas, with no dual use. Having seen methods of making track more realistic, including increasing the spacing between sleepers (a painful job with a Stanley knife), one easy one is to bury the sleepers in clay and make it into a cobbled area, therefore the area being used by both trains and the 'public'.
Paint, scatter materials and some excellent artificial grass has been applied and I'm sure more could be added, but it is just about done now.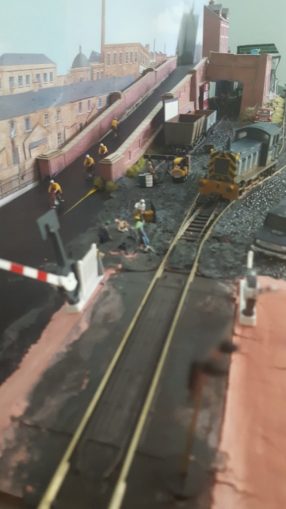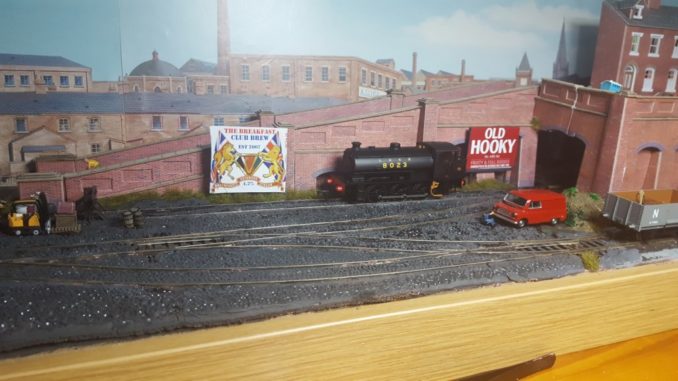 One of the interesting things is how this evolved from a rough plan to completion – there was no expectation of cobbles, of the billboards, or of remaking the Sweeney! It has even ended up as more of a brewery yard than a coal yard.  Finding the relevant cars, hooking up a police van with flashing light meant it has to be done… Even a rough initial draft has gained fame – being picked up by an Australian supplier of magnorail and made into a decent piece.
With a bit more thought this is getting better..
The final addition is a rather good little engine by DJ Models – very high quality, runs well, and used in collieries (and breweries) around the country. I should have paid more for the NCB one but at double the price…? It runs a lot more smoothly than the diesel though with a higher gearing. The vacuum pipe work on the buffers had to be added by hand to avoid damage in transit. Its arrival brings a new era into the scene.  It needs weathering, yes, as does the rest of the rolling stock. I'm sure one day I'll sum up the courage to follow the kind guidance of Leopard and have a go.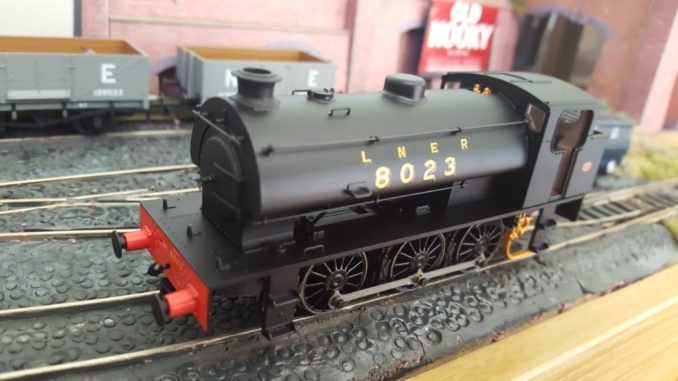 Now what to do next winter?

© Sweaty Dave 2018

Audio file