Monday
Good morning folks, another week in Westminster for me to report on. Bozzie was very late for breakfast this morning and he wanted black coffee instead of his usual strong tea. I suspect he has been doing too much celebrating this weekend. He had his wedding reception / one-year anniversary party on Saturday then I hear he was watching the Lionesses win last night. I watched it with the people in the office as at least they understand the rules. The Little Otter drives me mad always asking stupid questions!
While on the subject of women's football, I see the Germans are being bad losers as usual. Not so much the team, but the German press, who are claiming they should have had a penalty in the first half when the score was still 0-0. They are reporting that the ball hit the arm of one of the English girls. Well, it was looked at by VAR at the time and replayed umpteen times on TV. I saw nothing, more importantly nor did VAR. It's just the Germans being bad losers again.
The Americans are about to replace their military's reliance on the world standard GPS system and move to the new Navigation Technology Satellite-3 (NTS-3), to enhance their fundamental Position-Navigation-Timing (PNT) services. The first new NTS-3 satellite is shortly to be launched with another 3 very close behind. The US is worried that the old GPS system is too likely to be jammed and interfered with in the event of hostilities with either Russia or China. I wonder if the new system will be made available to other NATO members?
A number of celebrities including footballers and rappers have had their trainers stolen. They had all left their trainers to be cleaned at a specialist company "The Sneaker Doc's" in Halesowen, Birmingham. The company charges around £35 to steam clean and revive a tied pair of trainers and are believed to have had as many as 80 pairs on the premises when thieves broke in. However, I hear the thieves were fussy and only stole 50 pairs that had already been cleaned! With some of the trainers costing £2,500 I suppose it makes sense to have them rejuvenated instead of throwing them away.
I have been reading that wind turbines may be becoming much less viable for power generation because average wind speeds are dropping. The average wind speed in the U.K. dropped to 8.7 knots in the U.K. last year as opposed to 9.6 knots the previous year. This makes power generation less efficient and brings some of the costings into question. The age-old problem is also that of storing electricity surplus to demand, you could put it into massive banks of batteries but power leaks away from them. The alternative is to use it to produce hydrogen which can be stored. But so far there is no infrastructure for hydrogen storage and few hydrogen cars or domestic boilers.
The police have found £40 million worth of cocaine in a shipment of bananas at London Gateway port (which I think used to be called Tilbury). The slabs of cocaine were wedged into boxes of bananas being shipped from Columbia to Rotterdam. As the bananas were not scheduled to be unloaded in the U.K. I wonder what made the police search them. My guess is they got a tip off.
The Russians today claimed they had destroyed 2 Ukrainian HiMARS rocket systems. They now claim to have destroyed more of these systems than have been delivered by the US. What is a little odd about this claim is that the 16-ton 7 metre long HiMARS were located on the second floor of an office block that they hit with a cruise missile. Quite how the highly mobile HiMARS rocket launching vehicles managed to get up to the second floor of an office block is not obvious. Two days ago the Russians claimed to have destroyed 70 HiMARS rockets when they hit a warehouse, of course it could be true, but the farming company who owned this warehouse claimed it was full of 800 tonnes of straw and that could be true!
Tuesday.
A bit cloudy this morning and not as warm, although it is supposed to get sunny and warmer later on. Bozzie was a bit annoyed this morning, a radio presenter kept going on about the England Lionesses not being invited to No 10 for a reception after winning the Euros. What upset him was that he was in Belfast all day at Mr Trimble's funeral. I hear that things are happening behind the scenes.
The Ukrainian Army has now received the first German MARSII MLRS, which is a licensed version of the HiMARS system. We have also sent our version, M270 (tracked) and M142 (wheeled) to the Ukraine. All fire similar missiles but some of the guidance systems on the launcher vehicles have been modified to suit the supplying army. I understand the Ukraine now has over 20 of these systems.
This morning I read that on top of the recognised common Covid omicron symptoms of a sore throat, fatigue and headache, nearly 60% gets diarrhoea. With most people it lasts 3 or 4 days but it can last up to a week. Unfortunately, there is also supposed to be a stomach bug doing the rounds, but you don't get the other symptoms with the stomach bug. What research has found is that people who have had two or more vaccinations are more likely to get diarrhoea.
Northrop Grumman have won a $3 billion contract to integrate and manage weapon systems within the ground-based Midcourse Defence system designed to protect the United States against missile attack. I understand the idea is to modernise and improve the existing system and add to it new features such as satellites and ship-based missiles. Boeing holds the current contract that expires in 2023.
I read that Morrisons has gone even more woke. They have launched a range of 'carbon neutral' hen's eggs. The chickens are fed on a diet of insects reared on the company's food waste. The farm supplying the eggs uses electricity from its own wind turbine and solar panels and has a programme to offset other waste. Presumably, they will be using digesters on the chicken poo! They also plant a load of trees. How very woke.
Strange things at the Commonwealth Games track cycling. When Ally Wollaston injured her wrist and New Zealand didn't have a reserve, another member of the squad, Ellesse Andrews, stepped in to make up the numbers in the team pursuit. Four cyclists have to start the race, but only three have to finish, so Andrews started and dropped out after two laps of both the semifinal and the final in which New Zealand won the silver medal. However, Andrews didn't bother to turn up for the medal ceremony, considering herself not to be part of the team. But as she had started the race, under the cycling federation rules she was obliged to attend the medal ceremony. As she didn't she has forfeited her silver medal and been fined 250 Swiss Francs.
I read that all primary children in England from year six to reception automatically received a copy of the book, titled 'Queen Elizabeth: A Platinum Jubilee Celebration.' But in Scottishland Wee Krankie is stamping her little foot and Scottishland schools who want to give a copy to their pupils will have to opt-in online. Apparently the Scottishland Government were sent a draft of the book and demanded 52 changes including demanding that mentions of Queen Elizabeth II, Brexit and England's 1966 World Cup victory be removed. When they didn't get their own way the Scottishland Government withdrew their support for the book and demanded that it included a mention that "the Scottish government is not content to be acknowledged at all in the development or production of this book".
Wednesday
Good morning, it's very grey this morning and looks like it could rain although the woman on the TV said it isn't going too. Mind, she says we won't see any sun until teatime! Bozzie was sniggering into his porridge this morning. Apparently, he saw the latest YouGov poll that puts Mary (as he calls Liz Truss) way ahead of the Back Stabber. Although he has not said who he is supporting his actions make it fairly clear.
In normal times Sir Beer Korma would be getting it in the neck from both the right-wing and left-wing press, but at the moment it is all eyes on the Tory leadership campaign and he is getting away with things. He has dumped all the 10 pledges he stood on to win the Labour leadership while telling the Tories they must keep their pledges. Then he has attempted to 'do a Bliar' and drag the party to the centre and not to be seen backing the unions in their current pay disputes. This has really blown up in his face when he had to sack the Ginger Growler's boyfriend for appearing on a union picket line. This really upset his union paymasters. Now he has a worse problem with Shadow Cabinet member Lisa Nando's appearing on a picket line. So far he hasn't sacked her, so he looks weak when faced up by the unions. I hear that worse is to come at the Labour Party Conference where several left wing motions will try to force him to support all strikes.
I have been reading about a man in Kidderminster who 'mooned a mobile speed camera'. Back in the autumn he was arrested and charged with using insulting language, resisting arrest and obstructing an officer. However, when he appeared in court those charges were dropped and he was only charged with a public order offence. He told the court that he had been diagnosed with multiple system atrophy, heart disease, kidney failure and Parkinson's Disease. After diagnosis he drew up a bucket list of things to do before he died and mooning the speed camera that had flashed him was on it. He was found not guilty.
I see Sad Dick wants to give the Metropolitan Police unrestricted access to the all the TfL cameras that read number plates throughout London. TfL use the data to enforce the various traffic zones in London and presently pass number plate information from the central London cameras to the Met. But they also see lots of other things like the colour of the car, a picture of the driver and front seat passenger and anyone passing by. It seems that it is this data the police want as previously they just got the number plate, time and location. Now they are set to get the photo, and all that implies, but first Sad Dick will have to face a court case brought by a group who claim this is breaching the privacy rights of pedestrians.
So Premier League footballers are only going to take the knee on some 'special' occasions. Club captains have consulted their teams and at a club captain's meeting yesterday it was decided that in general it would be 'special' occasions only. But what rates as a 'special' occasion? The two examples I have seen are before cup finals and on Boxing Day. I can understand cup finals, but not Boxing Day.
I find it interesting that nearly all the big supermarkets have cut the cost of unleaded petrol this week. The biggest cut I have seen is Tesco who have knocked 6.5p off a litre. But most have taken at least 5p off. But the big oil companies don't seem to have followed suit. I wonder why? Could it be one of the reasons both Shell and BP have made huge profits in their last trading quarters?
In France there have been problems with insufficient electrical power supply in recent weeks. It seems that a number of nuclear power stations have been offline for annual summer maintenance. This happens during the summer every year and is usually not a problem as gas-powered generation makes up the difference. This year it has been a bit different, with Russia at war with the Ukraine and Russia cutting gas supplies to Europe in retaliation for sanctions. Now a new problem has hit the working French nuclear reactors, their output has had be reduced because the prolonged hot weather has increased river water temperature. We tend to build our nuclear power stations near the coast and use sea water for cooling, but the greater land mass of France means that they additionally have to use river water and the increased temperature means they have had to reduce generating efficiency.
Thursday
It was really sunny when I first woke up, but as I dictate this it has clouded up but is still quite warm. I emptied my water dish after breakfast and the family is on holiday for a few days so I had to clatter it about to get the cat feeder to refill it Litter Otter tried to teach. If he was here I am sure it would be a little celebration for Bozzie this morning, he has today matched the length of PMship of that horrible old woman. Only a few days to go before he will beat Gordon Brown. He was before my time in No 10 but I have seen his picture on the main stairs.
I had to chuckle when I read about the row going on at Southend Football Club. They have sold the naming rights for their main stand to a local firm of estate agents 'Gilbert and Rose'. It turns out that these are the first names of the owners of the estate agents and their surname is West. All the paperwork has now been printed identifying the Main Stand as the 'Gilbert and Rose West Stand' before it was pointed out that Rose West was an infamous murderer. I hear discussion on the stands new name are taking place!
A bit of an update in the battle between Qatar Airways and Airbus. You will remember that Qatar have been refusing to take delivery of any more Airbus A350 aircraft over a finish dispute. Qatar originally ordered a mixed fleet of 74 x A350-900 and A350-1000 but have refused to accept the last 21 over what they claim is a corrosion problem. Airbus say it is a finish problem caused by Qatar having the planes repainted in Ireland by a company that didn't follow the recommended method. Today I hear that Airbus has cancelled the remaining part of the order and will sell the planes to other customers. As there is quite an order backlog for these planes, I doubt this will be very difficult.
Interesting report into the Metropolitan Police's cover-up and obstruction of the Danial Morgan murder 30 odd years ago. Morgan was a private investigator who was found dead in a pub car park with an axe in his skull. In the over 30 years since the murder, no one has been charged with his killing although the finger was pointed at his partner who I seem to remember was an ex Met officer. Over the years the murder has been investigated several times and every time it has been dropped without much effort being put in. In the previous investigation it was reported that the then head of the Met, Dame Cressida Dick, refused access to requested records and paperwork and reduced what access was granted to a crawl. This new report admits Dick was obstructive, but not enough to be charged with a disciplinary offence now she has retired. That seems pretty odd to me if she obstructed an enquiry surely she committed an offence retired or not.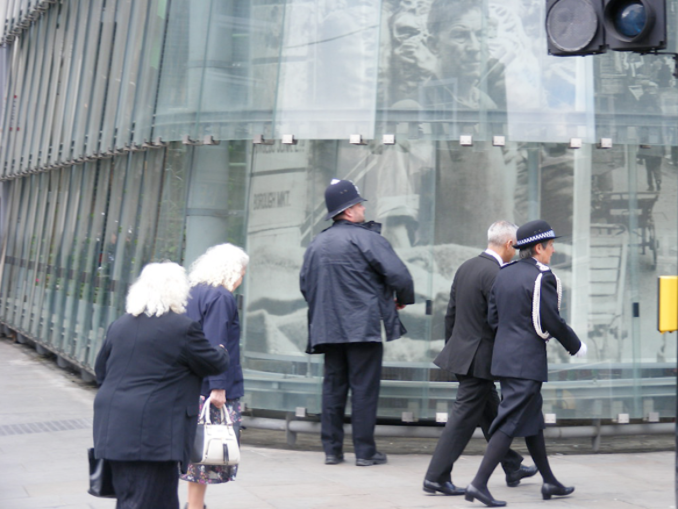 I told you that Royal Caribbean International was trying out satellite internet on one of it ships. Well, I hear it has been a success but there is no news on whether they intend to expand the service to other ships. In the meantime I hear rivals Carnival have decided to increase the bandwidth they use and extra access points and generally improve the on board internet experience. Many of the major cruise lines have introduced on board free phone apps for passengers allowing them to book restaurants, excursions and shows, but this has lead to much more use of the on board internet. This is what Carnival is attempting to improve, while RCI is trying to improve access to things like email and Facebook. I can't help think that each of them is only looking at different halves the problem!
On Tuesday the FA announced that England Ladies are to play the United States at Wembley on October 7th, leading to the huge demand on the internet for tickets crashing the ticketing web site. At 2 o'clock on Wednesday afternoon the FA announced that all general admission tickets had been sold. The only remaining tickets include hospitality and are consequently very expensive. It looks like another 87,000 crowd at Wembley, women's football must be delighted. It's not just the national team that have had a ticket boost, WSL teams are reporting increased ticket sales. For example Arsenal Ladies normally play at Boreham Wood where there is a 4,000 capacity. Last year they set a limit of 1,000 season tickets, this year the limit has been increased to 1,500 and a month before the season starts they are sold out. They have also moved their home game on 24th September against Totteringham Ladies to The Emirates and have already sold 16,000 tickets.
Business is booming at BYD (Build Your Dream) the Chinese Electric Vehicle maker with bumper sales. Last year they sold 320,000 battery electric vehicles making them one of China's biggest automobile manufacturers. In the first half of this year they have already pushed that up to 641,000 EVs and 10 days ago started exporting to Japan. Today they have announced that they will start exporting to Europe with sales coming to Germany and Sweden. They don't sell cars in the U.K. yet but you can buy one of their buses!
Friday
A sunny morning and a bit warmer this morning. Lovely and quiet here again this morning with Bozzie and Co supposed to be in Slovenia for a few days. He only goes away for a few days and people start moaning that he shouldn't be away from the office. This is stupid, he will be in constant touch should he be needed. If the commentators had their way no politician would ever have a holiday.
I hear that when the Mayor of Cockington in Devon died suddenly he was replaced by Patrick the Shetland pony. The pony used to visit the local pub and enjoyed an occasional pint, he even had a greeting area in the pub's garden. However, the local council has received a letter complaining that the pub has put up a fence without permission and the pony has been eating the grass and the pub doesn't have the rights to graze animals. Consequently, the Mayor has been banned from the garden, but he can still have a pint in the pub!
Not content with sending an increasing number of officers out 3 times before handcuffing and arresting a man for "causing distress" to someone with and internet post (which is not illegal), I now read of a far worse incident in Sussex. Apparently, the police were called to a care home where a man was causing a problem with a knife. The 93-year-old man had dementia and was wheelchair bound as he only had one leg. The brave police pepper sprayed him, hit him with a batten and then tasered him before arresting him. He was immediately taken to hospital where 3 weeks later he died from a heart attack. The two Sussex police officers have been suspended and are being investigated for manslaughter.
In East Oxford, the county council has upset a lot of people by introducing what it is calling 'quickways'. But it is just their fancy name for a cycle lane. The residents of several streets are quite upset as they are losing parking bays to create the cycle lane. The council was particularly warned about one street, that has a number of shops where people can no longer stop and is also too narrow to allow a car to pass a bike in the cycle lane in accordance with the new Highway Code rules. The council appears to be digging in and is reported as saying the shoppers can park in a side street and walk. Not always easy for the disabled or delivery drivers.
I had to laugh this morning when I heard that Mr Perfect, Sir Beer Korma, was in trouble for being late registering eight items of financial value he should have declared. The man who said, if elected leader, he would take responsibility for everything seems to have not done so but blamed it on an "administrative error" in his office. I can understand that happening once or twice, but eight times already this year is a bit naughty. I know one item was only a day late but what about the other seven?
The date for consortia to put in firm bids for the 3 Fleet Solid Support ships has just passed. The rumours I hear are that only three of the four consortiums paid to prepare bids have actually done so and that only one has been able to meet the budgeted sum of £1.65 billion for the 3. However this bid would entail just about all the work being done in Indian shipyards and employing cheap Indian labour. If this bid were to win it would cause a huge row in Parliament. The other two would have much more U.K. content although Team Resolute would only have 30% of the first two ships and 40% of the third built in the U.K. with the rest being done in Spain. The Team U.K. bid involves BAe and Babcock as well as other U.K. yards and would have over 80% of the work done in the U.K.
I told you yesterday that BYD had started offering an EV in Australia. Yesterday, in Brisbane, they revealed the very first RHD car imported from China. The Atto3 on display was actually the only one imported so far. The Chinese have set up a dedicated production line for Australia that can produce 15,000 cars a month and are said to have commitments from customers and dealers for 3 months production. I hear this hasn't stopped the Aussie public ordering several thousand of the £25,500 family cars without even seeing one!
Saturday
The weather is getting warm again, although it was a nice night for sleeping, there is a cloudless sky this morning. Lovely and peaceful in the flat, and the nice Dreamies Girl came to feed me this morning. I wonder if she would like to adopt an elderly retired chief mouser.
I was interested to read that after the Sky debate between Rich Richie and Liz, the audience voted in preference of Richie. The audience was supposed to be made up of uncommitted Tory Party members, but I'm not so sure Sky did their research very well. There were a number of anti-Bozzie pro-Richie people in the audience who had given the game away when they were recently in the Question Time audience.
Developers are proposing building a 60 storey office blocking the City of London. The "all-electric" building would have 800,000 sq ft of office space and free viewing areas for the public on the ground and top floors. The development is proposed for 55 Bishopsgate amid a group of existing skyscrapers. At the moment the development is only a proposal and planning permission has yet to be sorted. I do wonder if it is perhaps a bit too soon after the pandemic and with a recession forecast to add such a huge amount of office space to the London market.
I told you some months ago that a new Airline was looking to start offering services from Birmingham to India. The plan is to initially exploit the large Sikh population of Birmingham and fly 4 times a week to Amritsar which is the centre of India's Sikh population. Well, I can report that Hans Airways has received it first aircraft, a 14-year-old Airbus A330-200. The Spanish registered plane has been laid up for the last 2 years and has been put back into basic working condition to fly to Birmingham for a handover ceremony. It will now fly to Spain where it will be brought up to standard and the paperwork done to move it to the British register before it can operate a proving flight.
I wonder how long it will be before the US supplies the Ukraine with the Precision Strike Missile (PrSM)? It is designed to be launched from the same vehicle that fire the HiMARS rocket. The HiMARS is delivered in a pod of six by a support vehicle and craned onto the launcher. In the case of PrSM the pod is similar but carries just 2 missiles. However they have a much longer range and can be used against a moving target on land or sea. While HiMARS rockets have a maximum range of 70 Km, PrSM rockets can hit a target at over 500 kilometres. With HiMARS already causing the Russians to move ammunition and fuels back from near the front line, PrSM could make Russian troop resupply very difficult.
I hear of a very strange incident on a Ryanair flight from Palma Majorca to Manchester on Thursday this week. The plane came in from Manchester and everyone left the plane, however it seems that one man didn't make his way to the terminal. Instead, he hid on the airbridge and when the passengers for Manchester boarded he mixed in with them and just took a seat. The captain halted the plane as it taxied to take off as the cabin crew reported they had one too many passengers on board. He was quickly identified and arrested by Spanish police. However, the crew then had to check that the man had not left anything suspicious on board and had all the passengers take their hand luggage out of the overhead lockers and check that they were empty. The plane then took off an hour and forty minutes late.
The Tesco store in Hove has started selling those tubs of Celebrations and Heroes that you normally see on sale at Christmas. Surely the beginning of August is a bit early for Christmas chocolates, especially when the weather is so warm? Imagine opening one of those tubs at Christmas and finding a molten mess or everything with a white sugar bloom on it. On the other hand, if the kids see you have bought one this early they will probably eat it and you will have to buy another!
Right, that's me done for this week and I'm off for my regular Saturday afternoon snooze, before my tea arrives. I do hope it's the Dreamies Girl again this evening, she really is my favourite. I will be back with you all again next week.

© WorthingGooner 2022