If you remember back at the start of this series, I came up with the idea of a 'winter project'. Well it is no longer winter, even in the North, so time to bring it to a close.
A recent burst of enthusiasm has spurred me on, that and the missus being out for tennis matches meaning some useful quiet time.
We last left it with a base coat of paint on most of the areas and various pieces fixed. I have found that the crossing lights are no longer working – checking wires has not brought any luck so it may have to be replaced.  Here are the gubbins at present – with all the clay it is getting heavier to prop up!
The bulk of work now is landscaping. Once the track has been cleaned and excess clay removed to allow easy running, a final paint touch up, the main task is to add  ballast and greenery to the front siding.
Before: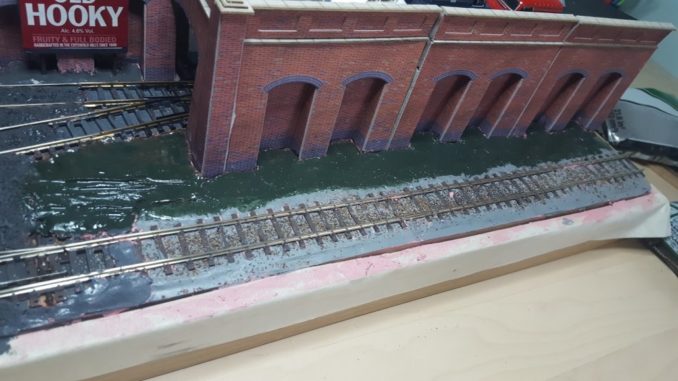 The landscaping has a number of elements, various coloured dust like grains – replicating ballast, coal, grass etc; a pack of plastic plants – not the best as they all seem to be the same colour of plastic and are extremely fiddly; some old leftover material from a hanging basket liner, lots of glue and tufts of grass on a sheet – these are brilliant, come in many colours from a wargaming centre for £3 a sheet.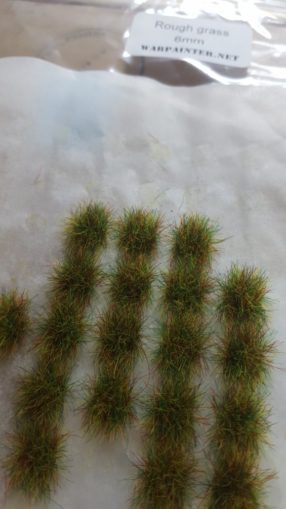 I made a start with the plastic plants, looking to make a few up to use. They are the traditional kit – so lots of cutting but very fiddly and I must admit to losing patience with the lot of them after a while. What was made can go on the layout.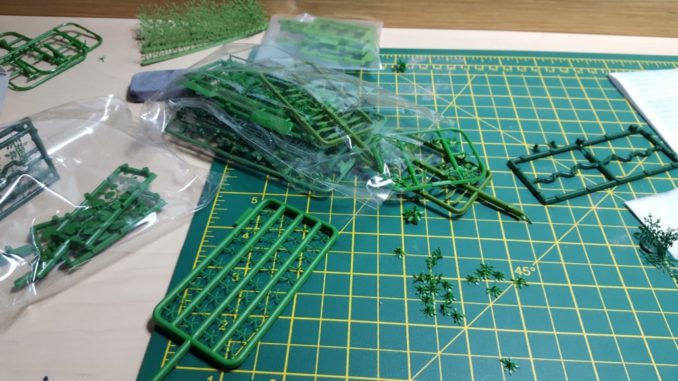 I'd seen somewhere that bulky grasses and bushes could be mocked up using the material used in hanging basket liners – so a trip to the shed found some, suitably weathered by mice having been using bits of it. I cut a piece to fill in the gap between the track and brick arches. Lots of weak PVA glue and a few of the plastic plants on top looked ok, but the edge was a bit obvious. Adding those sticky individual grass lumps along the edge both holds it flush and hides the join.
After that I went further with the grassy knolls, adding them in other crevices around the layout to disguise the join from ground to structures. Scattering a few other items as if they'd been chucked over the wall as if rubbish – a couple of traffic cones and a broken crowd barrier. I have some old beer cans to add when I find them.
I had another go at the ballast within the tracks – pouring the darker ballast onto the dry track and arranging it with a clean paintbrush. Once in place, using a dropper to add the watery PVA fixed it in place – though the effect as it touched the ballast and was drawn in was very strange.
While that was drying the cyclists had a problem – the clay for the crossing was in the way of their track – CRASH!
All the clay on both sides was removed – it was way too bumpy to recreate a road, even one from our council, and re-laid this time smoothed off and cut short to allow safe cycling.
Finally for now I started to add a backscene – a piece of ply the length of the shelf was cut, with a backscene poster and a half pasted on the front, and fixed at the rear. It helps frame the scene but does restrict some access to the hidden sidings, so careful driving is needed. As you can see it needs lowering to hide the white space.
Finally a quick service of the loco, removing clay and fluff from wheels. Despite reviewing service sheets, there seems to be little guidance on stuttering driving other than it may be a broken axle, so I will have to check.
In conclusion this has been a tremendous project, just the last day or so's progress has been really enjoyable. In total the cost was probably around £400 and there will always be more to add – not least boxes to crash into for a Sweeney shoot which I will do in coming weeks.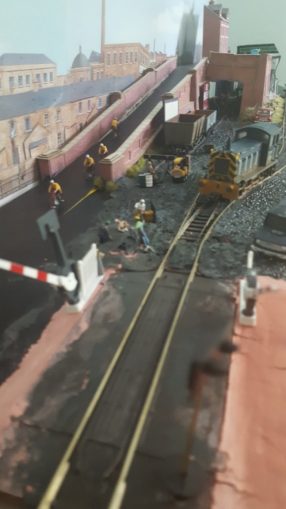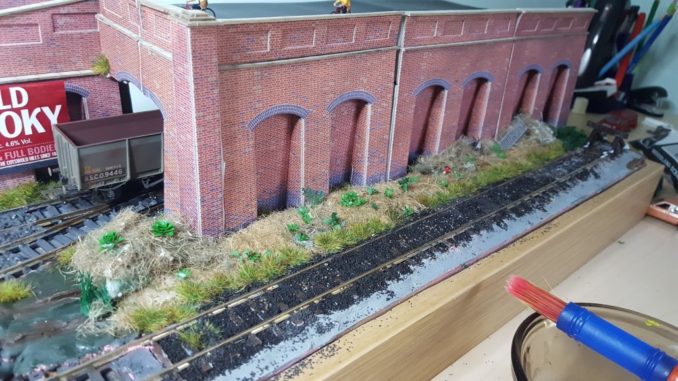 It has generated interest further afield, no doubt due to the illustrious nature of this website! I was approached by an Australian Gentleman who sells the cyclists in Oz to use my videos. He has pulled together some of the earlier ones, which remind me how far it has come.
For those of you at the Summer bash, I will try to bring it along for something to discuss while hungover on the Sunday morning/lunch if we get a chance.
© Sweaty Dave 2018

Audio file