Monday
Good Monday morning to you all and I am happy to at last be able to report that it's dry and sunny this morning. It is not terribly warm but there was no frost and it's not windy, I might even manage an hour or two on the sunny windowsill later. More trouble for Lego-head Sir Beer today when the leader of Burnley Council and 10 other councillors have quit the Labour Party because he won't call for a ceasefire in the Gaza/Israel war. What is the point of calling for a ceasefire when neither Israel or Gaza will accept it?
Did you read about that sheep that was supposed to have been marooned at the base of a cliff in Scottishland for two years? Well, it has been rescued and has been relocated to a petting farm, where it has been called 'Fiona' and had a haircut. But that isn't good enough for the animal cruelty lot, they are calling for Fiona to be relocated to a secret location because they are worried that she will be an attraction and suffer mental stress. What a lot of rubbish, how will people be able to distinguish which sheep is Fiona? All sheep look alike to me!
Ryanair's six-monthly numbers are out today, and they have had a pretty good half to their financial year. Passenger numbers up, profits up and fares up. The fares went up by 28%, way above inflation, as people returned to flying and they made a mere £1.88 billion profit and have declared a dividend. But I hear it's not all fun being a Ryanair customer. To make more money Ryanair have been "automating" things like check-in. I recently read an article comparing flights from Manchester on Ryanair and EasyJet, the two "cheap" airlines. The man had to queue for 15 minutes to automatically weigh his bag before queuing for another 75 minutes at a do-it-yourself check-in desk on Ryanair. The same person had an EasyJet flight from the same terminal at the same time of day a few weeks later. There were dozens of manned check-in desks who weighed his bag, and he was through in 15 minutes. So is Ryanair's profit coming from making its passengers work instead of having staff to do it?
October's car sales numbers are out and are slowly improving. Total sales are now back over pre-Covid numbers and the Society of Motor Manufacturers and Traders (SMMT) has increased its sales predictions for next year. But once again it's ICE-powered car sales that have increased with EV sales being flat. Once again private customers have been buying ICE cars while business customers have been the sole reason EV sales stayed flat. These numbers show that EVs are not popular with the general population and businesses are only buying them because of the incentives they receive. Private EV sales have been falling ever since the Government withdrew incentives.
Next year McDonald's will have been selling burgers in the U.K. for fifty years. Of course, I haven't been around all that time, but I do remember several things that you used to be able to buy in them but no longer can like McDonald's Pizza. Lots of people have asked for its return but Mcdonald's say it's not coming back. When I was a kitten, Ronald McDonald was everywhere but he is mostly missing these days. I understand that when they first opened in London the menu had two prices on every item one to eat in and a cheaper one for takeaways. Now that would be very popular if they brought it back.
I see Ginge and Whinge, the 'green' couple who want to save the world, were at it again this past weekend, flying on a private jet from Santa Barbara to Las Vegas, a forty-minute flight. They seem to have adopted the US celebrity ethic of hopping on a private jet at the drop of a hat when they could have easily driven. They were only going to Las Vegas to catch the last residency show of Katy Perry. Apparently, they were joined by a number of Whinge's celebrity 'friends' including Cameron Diaz, Zoe Saldana and Whitney Wolfe Herd.
Has the price point of the forthcoming Citroen electric C3 finally broken the ridiculously high price of electric vehicles? Citroen has said that the eC3 with be sold for a little over £20,000 in the U.K. making it the first decent-sized EV to sell for under £25,000 in the U.K. and one of only a handful selling at under £30,000. First there was Vauxhall saying they would launch an EV in the same price bracket. Hardly surprising as Vauxhall and Citroen are in the same group and Vauxhall could use the same basics as Citroen or even Peugeot, another group company who have a similar-sized EV chassis. The cheapest electric Vauxhall is currently at £32,445, the eCorsa. Now Elon Musk has told employees that he intends to make an EV at his Berlin Megafactory for the European market costing €25,000 which is currently £21,645.
Tuesday
Two sunny dry mornings in a row, this is good. It's the State Opening of Parliament this morning and King Big Ears with be reading his government's agenda for the next session of Parliament. I only hope he speeds up his delivery a bit. Last time it was slow and ponderous and could have been five minutes shorter if he had been a bit quicker.
Yesterday I told you about British car sales, today I hear a bit about car sale in the US of A. It seems that the market is awash with EVs and because of overproduction the price has been falling to try to shift them. Last year the average EV price was $66,390, this year it has fallen to $53,438, down 20%. For example, Tesla has reduced the cost of a Model 3 in the US twice this year, by a massive $13,000 in January alone and is now available with $2,638 discount. Ford have reduced the price of its F150 Lightning pick up by $9,979, but it will still cost $80,000. In my opinion they are still wildly overpriced.
I see the Saga cruise ship Spirit of Discovery has arrived back in the U.K. after a rough passage through the Bay of Biscay. I did hear the other day, when I reported 12 metre waves in the Channel, there were 18 metre waves in the Bay of Biscay. The ship was returning to Portsmouth where it docked last night from a Canary Isle Cruise with 1,000 passengers on board. Saga cruises are aimed at older passenger (over 60) and I hear it was so rough that over 100 passengers were injured, five of whom needed treatment in the medical centre. The ship was due to stop at La Coruña in Northern Spain, but the weather was so bad the port was closed and the decision was taken to head for Portsmouth a day early. Unfortunately, the weather in the Bay was so bad that the ship veered to port and the ship's emergency systems kicked in bringing it to a halt. What isn't known is how many people were seasick!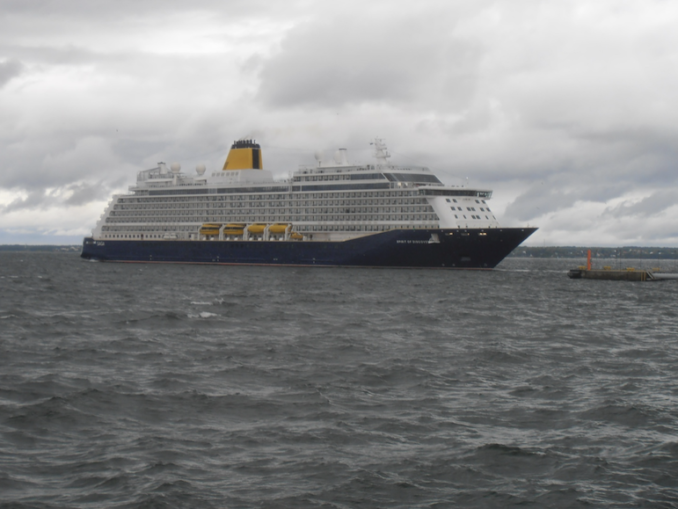 The Just Stop Oil nutters were out in force again yesterday. Two of them took hammers to a painting in the Nation Gallery. Fortunately, the painting was protected by bulletproof glass, which had several bullseyes put in it but remained undamaged. Then another mob of them went and laid down in the road around the Cenotaph where 100 were arrested. That is sacrilege and I hope they are treated harshly.
I hear that Mcdonald's has just sneaked in a crafty increase in the price of a Big Mac receipt meal. If you buy a full-price Big Mac and save the receipt, you can take part in a survey and if you enter a code on the receipt, you get a voucher for a cheap Big Mac and it is this second burger that has gone up from £1.99 to £2.99, an instant increase without any warning. A £1 increase in price is a jump way above inflation.
I hear that one of the original motorway service stations, Watford Gap on the M1 is to be demolished and redeveloped as a more modern rest stop. When it opened in 1959 there were even restaurants where meals were served by blue-suited waitresses. Of course, it has been redeveloped piecemeal over the years and you can now buy KFC there. The idea is to keep a service facility available while the redevelopment takes place. I wonder what all those famous people, like the Beatles and the Rolling Stones, who used to stop there while using the M1 will make of it.
It looks like the BBC is going to retain the rights to broadcast its Saturday night Premiere League terrestrial football highlights package. I hear that they were the only one to bid for the new contract that starts at the end of the 2024/5 season and runs for five seasons. ITV, Channel 4 and Channel 5 all didn't bid. So, it looks like that big-eared ex-footballer who presents Match of the Day will be rubbing his hands together and banking more millions.
Wednesday
I might have guessed that it couldn't be dry for three days running, well it's raining again this morning but I managed to get out between showers. I just heard on the radio, while I was breakfasting, that M&S have just had an improved first six months of their year with profits up 50% to £325 million, and the general sales (fashion and household) up 5.6% and food sales up 14.7%. A few years ago they were struggling and their share fell from nearly £8 each to 98p, anyone who was brave enough to buy them at that price is laughing as they were back to £2.25 yesterday.
Bad news for all you wine drinkers out there in Larry reader land. I read that global wine production this year has hit a 63% low with wines like Malbec suffering most because of rain. Strangely the French wine industry has suffered for a different reason. Much of the French output used to go to Russia and with the trading bans in place the French have spent millions on destroying wine to keep the price up. If there is a general shortage of wine it seems odd to destroy any wine but that's the French for you.
The Polish military's spending continues unabated. This time I report that the Poles have agreed a £3 billion deal with us for ground-to-air missiles. MDNA U.K. are to supply them with the Common Anti-Air Modular Missiles — Extended Range or CAMM-ER. The initial 1,000+ missiles will be made in the U.K. and Italy. The contract also includes 100 launchers for the missile with a 40 km range. This follows on from a £1.9 billion Polish order back in the spring for the shorter-range version of the missile. I understand that Poland is building an integrated air defence system using these missiles, their own Radar and an American software control system. MBDA is owned by Airbus (37.5%), BAE Systems (37.5%), and Italy's Leonardo (25%).
I suppose it had to happen in the end, it's only a surprise it has taken so long, but Lego-headed Sir Beer Korma has finally lost a shadow frontbencher over Gaza. I must say I'm not surprised that it's Imran Hussain, the Shadow Minister for the New Deal for Work who has quit. I doubt Korma is very worried over this nonentity quitting. He is one of the extreme Left-wingers and was a huge supporter of The Tramp. I don't know if he is a Muslim, but I suspect he is from listening to some of his ranting speeches. Speaking of the Tramp, I hear he is going to be marching in London on Saturday. Wouldn't it be nice if he got arrested?
I hear that Google Street View is currently filming inside many of the London Tube stations so you will soon be able to wander around the underground on your PC. Transport for London says it is letting Google do it so that people can plot their routes around the tube network. The big interchange stations are being videoed first, so if you use the likes of Kings Cross, Bank, Baker Street, Oxford Circus or Whitechapel expect to see Google people with 360° camera backpacks wandering around.
Down in Southampton a row over extending the city's airport runway rumbled on for years. The people in favour pointed out that the length of the runway was insufficient for the likes of the Boeing 737 and the Airbus A320 hence the airport was never going to be profitable as it couldn't offer flights to many holiday destinations. The anti-extension campaign moaned about all things green. In the end the airport got permission to add 538 feet to the runway and work was completed in September. Now I learn EasyJet have announced they are going to operate their Airbus 320s to Alicante and Faro in the first new routes from the airport. I wonder how many other routes will follow.
I am sick of hearing Just Stop Oil representatives on the TV and radio saying they have never held up ambulances when asked about obstruction of emergency services. They use this distraction technique because they have clearly held up the fire brigade and police. Well, after this morning's slow marches in London they won't be able to claim they have never held up ambulances. They slow marched across Waterloo Bridge this morning and there stuck behind them was an ambulance with its blue lights flashing, unable to get past them. As I write this, I read that some 40 JSO protesters have been arrested. I wonder how many were among the 100 arrested for lying in the road by the Cenotaph yesterday?
Thursday
Morning friends, it's another one of those showery days, a bit of sunshine then a heavy shower, then more sunshine and on it goes. I had to smile when I read that eight energy companies are paying fines to OFGEM for failing to reach the targets for installing smart meters. They were only 1,000,000 meters short of the target! Surely OFGEM should be asking why the target was missed by such a vast number? Was it because the target was never plausible in the first place? Is it just that people don't want smart meters, see little benefit for them by installing one and with their possibility of being controlled from afar and charging users at different rates at times of peak usage. I suspect that they will fail to meet next year's target as well. I suspect that it will only be a matter of time before legislation is passed to force everyone to have a smart meter.
Another decent order for Airbus has just been announced by Taiwanese airline EVA Air. They have ordered 18 A350-1000s and 15 A321neos. EVA Air are one of those airlines that operates a mixed fleet of both Boeing and Airbus aircraft, so landing these $10.1 billion (at list prices) orders is a bit of a coup for Airbus. EVA currently uses Boeing 777s and 787s for its long-haul service and A321ceos for its short-haul services. The new A350s are expected to replace older 777 models and the A321neos are expected to replace old A321ceos.
The RMT has come to a Memorandum of Understanding with the rail operators over a pay agreement and it is to put it to a ballot of members. The strange thing is that I hear the deal hasn't changed one iota from the one already rejected by the union negotiators. The offer is said to be for a 5% backdated wage increase for 2022, a guarantee on jobs until the end of 2024 and further discussions on this year's wage increase. This is the same deal as the RMT has already agreed last March with its members employed by Network Rail. I wonder if we will ever know what has brought about the union's change of heart.
The family of Vladimir Scherbakov, an oligarch who quit Russia because he feared he was about to be arrested by PooTins security apparatus are currently involved in a High Court battle over the £100 million he is believed to have left, including a £12 million house and £400,000 wine collection. His fiancée claims that Scherbakov left everything to her and their three children, but other family members are disputing this. I shall be keeping an eye on this case.
A tale reaches me from Kingston Upon Hull. The city's main railway station, Hull Paragon, is to reopen platform one after it has been unused for over 30 years. The station operator, TransPennine, needs the extra capacity to help with its recovery programme. However, there is a small problem in that platform one is a listed building. Not the whole station, just platform one. It seems that this platform was built especially to transport emigrants to the USA. They arrived from Eastern Europe by boat in Hull docks and were taken to special trains that departed from Paragon's platform one to Liverpool for boats to New York. Hence the listing. The problem is that numerous things need to be added to bring the platform up to current-day standards, including departure screens, lighting and seating. If planning permission is not granted the whole of the TransPennine scheme fails.
Problems for passengers using Oyster cards at Clapham Junction station. Apparently, all the rain in London caused flooding in the TfL ticketing control room at the station and the electronics didn't work properly. What happened was that the readers on the ticket barriers weren't reading the card although they were operating them. Consequently, passengers were being charged the maximum possible fare as only one end of their journies was being recorded. People were being charged £20 for what is normally a £7 return fare to and from Victoria. TfL say they will refund all overcharges.
The much-anticipated John Lewis Christmas advert is out this morning, and it's pretty weird. All about a little boy who wants to grow a Christmas tree, but it turns out to be a giant Venus fly trap with eyes on the pet dog! Of course, in the end everyone loves it and it swallows the Christmas presents and vomits them back unwrapped. I must say I preferred some of the past ones.
Friday
Good morning all, another showery one although not as bad as some. Today all I hear is the lefties calling for Suella Bravaman to be sacked because of an article she wrote in The Times, saying the police play favourites, which they clearly do. The thing is, if the Rich Boy sacks her he will have an uprising among the Tory rank and file who say she speaks for them, if he doesn't sack her the lefties will call him weak. He has dug himself a big hole.
The only Small Modular Reactor that is approved in the US has been cancelled due to its rapidly rising cost. NuScale Power have long promised to build a plant in Idaho. The company says that it didn't have enough customers willing to buy their electricity output. If the electricity had been cheap enough they would have had loads of customers. But the projected cost of the NuScale project had gone from US$3.6bn for 720 megawatts in 2020 to US$9.3bn for 462MW last year, so it all boils down to the cost of the plant making the power was uneconomic.
I hear that in a very dark Halloween edition of The Simpsons, Lisa has turned into a murdering psychopath with a split personality and ends up killing one of the series long-running characters. Locked in a cell with Sideshow Bob, she produces a huge knife and apparently stabs him. Although you don't actually see her stab him, you do see blood pouring out under the cell door.
Carol Vorderman was basically telling porkies about leaving the BBC. She announced that she had quit her Saturday radio show on BBC Wales because she wouldn't stop tweeting her anti-Tory attacks on Twitter. It has now emerged that she didn't quit, she was sacked because she was in breach of her contract which doesn't allow political or contentious tweets and she refused to comply. She misled people by ascertaining that her programme was not political, but the programme was not the reason she was sacked.
So, Nestle have decided to stop production of Caramac, because after 60 years its sales have dropped badly. I suppose Caramac should be ideal for cats as it doesn't contain any coco, but it was too sweet for me. At the same time Nestle are stopping making the Animal Bar, a milk chocolate bar. It's always a shame to see these old sweets disappear from the market, but you can hardly expect manufacturers to continue making them when they no longer turn a profit.
Air Chief Marshal Sir Richard Knighton has just appeared in front of the Defence Select Commons Committee to answer questions on the purchase of the much-delayed E3 Wedgetail early warning aircraft. After first admitting that we were lacking a proper early warning aircraft he went on to say that Boeing was missing the key days on its contract and the first plane was not now expected to be in service before 2025. He said Boeing had taken on a contract that they knew they could never meet that had been exacerbated by its 737Max problems. I bet we don't ask for a price reduction for a late delivery.
After three years of work the remodelled Gatwick Airport station is almost complete. The original station was not designed to handle the large number of people who are now using it. They have built a new bigger concourse, added eight additional escalators, five lifts and four staircases, widened some platforms and changed track alignments. Network Rail says the rebuild will cut five minutes off the journey time between the South Coast and London when the new timetables are announced in December. The station works are supposed to be finished on 21st November and a new one-way system around the station will be introduced then.
Saturday
Gosh, it's Saturday again and nearly time for me to relax. It is forecast to be one of those rare sunny dry days today. But my is it cold out there. I am ready for trouble in London today with the marchers ignoring requests not to march on Remembrance Day. Personally, I think it is rude to desecrate the memory of all those who gave their lives serving the country. But who would expect the marchers to give it a thought, most of them don't seem to realise what they are supporting. Did you see the two female student marchers on the TV who were asked what they thought of Hamas attacking Israel back on October 7th? Neither of them had even heard of it. When they were told what happened, they said it couldn't have happened as they would have heard about it if it had. And they were university students.
I understand Sainsbury's are in trouble over a jokey Christmas card they had on sale. The picture on the card showed two piglets shivering in the snow, with one saying, "Don't worry, I hear we are getting blankets." Of course, there have been complaints from vegans and Sainsbury's have withdrawn the card and apologised. What a pity I never saw the card, it would have been fun to have sent it to my cat friends.
The North of England upmarket supermarket chain Booths has decided to do away with self-service tills and return to manned checkouts at all its 24 branches. Booths, which is rather like Waitrose but even more upmarket, say that they have carried out a customer conversation and their patrons just don't like self-service tills. In addition, they say that they sell a lot more loose items than many others and point out they sell a lot of wine, both of which require manual intervention at a self-service till. I wouldn't bet on any of the other supermarkets going back to manned checkouts when self-service is much cheaper for them to operate.
In California the robot driverless taxi company Cruise has begun laying off its staff. The General Motors-owned company had its license pulled last week after a nasty accident which the car's software hadn't been programmed to cope with. A man was hit by a regular car with a driver and slung into the opposite carriageway in front of a Cruise taxi. The taxi behaved perfectly correctly and braked hard but ran over the man trapping him underneath it. The software then did something that no decent driver would have done, it tried to drive away and dragged the man 20 yards. Obviously, the scenarios in the software are only as good as the person programming them and this wasn't good enough.
Recently there have been reports of numerous onions being washed up on Brighton beach. Just yesterday over 60 were recovered. People have been trying to discover where they are coming from but have so far failed to find the source. The favoured theory is that a container-full was lost by a ship off the coast and the tide is bringing them ashore, but this is only a guess. I prefer to think they have been lost by George smuggling them into the U.K. from this BongoBongo Bank account.
News reaches me from Scottishland that the second of the 'ferry saga' ships, MV Glen Rosa, has been given a launch date of 12th March next year and is currently expected to enter service with CalMac in May 2025. Its original in-service date was August 2018. Unlike its sister ship, MV Glen Sannox, on launch this ship will not have painted-on windows and a plywood funnel. In fact, this particular date has been chosen to coincide with a high tide and plenty of water in the river as much more interior work will be completed and the Rosa will weigh 50% more than the Sannox did on launch. These two ships are to use LNG but there is not enough available in Scottishland, and it will be supplied from imports from Qatar and then taken by road to Scottishland. I hope we remain on good terms with the Qataris or the islands these ships will be serving will not have a service.
They seem to do things a bit differently in Switzerland. I read of a small village 600 metres up in the Alps where there are no roads in to. The only access is via a funicular railway and for a month the funicular is undergoing major maintenance work. As there is no road, there is no replacement bus service to get the children to school and the workers into the nearby town. However, the Swiss have come up with the novel idea of a bus replacement helicopter, charging the normal funicular fare of 7.2 Swiss Francs for the 90-second flight. Before you rush off for a cheap helicopter ride, they are operating a priority system on the flights with school children and workers at the top. Next comes villagers and finally anyone else. When it is quiet in the middle of the day you might get a free spot if you are very lucky.
Right, I'm done for yet another week's tale-telling. It's still cold outside, but sunny, so I might try the windowsill. But if it's too chilly, it will be that comfy chair in reception. I see the Rich Boy is in town this weekend, I assume he is taking part in the Remembrance ceremonies, but it meant no KFC in the office last night, I was very disappointed. I'll be back with you all again next week.

© WorthingGooner 2023