Redcar is a northeast of England seaside town located for administrative purposes at times in North Yorkshire and at times in Cleveland. It is renowned for its long sandy beach and seafront esplanade, making it a popular tourist destination, perfect for a family day out or a relaxing walk. The town's Victorian legacy can be seen in its beautiful architecture, and it also has a rich industrial history, which can be explored at the Cleveland Ironstone Mining Museum in Skinningrove. The town was also home to a significant steelmaking industry that ended as recently as 2015.
The town is well-known for Redcar Racecourse, which hosts regular horse racing events and is a significant draw for visitors. Other attractions include the Redcar Beacon, offering panoramic views of the town and coast, and the Zetland Lifeboat Museum, home to the oldest surviving lifeboat in the world.
A 1930s newspaper advertisement promoted 'Whit at Redcar'. Smart shops, restaurants and amusements awaited lucky tourists including my 3-year-old father and his parents who visited in 1935. In those days, 'Bright And Breezy' Redcar boasted the finest foreshore on the East Coast with clean firm sands eight miles long and a quarter of a mile wide. Added to which were two open-air swimming pools, covered baths and three parks with ample facilities for tennis, bowls and midget golf.
The municipal new pavilion and pier pavilion allowed for entertainment by London companies. There were bands on the bandstand and a three-mile-long marine parade. July, August and September offered illuminations. In conclusion, for a bracing atmosphere complete with sea and inland boating, Redcar was GREAT. Still undecided? Feel free to request a complimentary booklet available from the Town Clark, Municipal Buildings, Redcar. My grandparents took the bait with our family photo album showing my father and grandfather partaking in the inland boating.
You don't have to be an old sea dog to notice their vessel is equipped with a steering wheel rather than oars. This is a 'Pride of Redcar' petrol boat, tried out for the first time during the summer season of my family's visit. So successful were they that Redcar Corporation placed an order for five more of a similar type with the town's Cleveland Motor and Marine Engineering Works to be delivered by Good Friday 1936.
According to the South Bank Express, each of the new boats had accommodation for six people and was fitted with a one-and-a-half horsepower marine-type engine. They were nine feet in length with a beam of three foot six inches and were built with a yacht stem (stern?) allowing them to turn within their own length.
"With a full load of six people the boats will be able to attain a speed of five miles per hour, and in case of collisions, inflated air cushion fenders have been attached to minimise the risk of damage."
Remarkably, the boats could run for six hours on one gallon of petrol.
Besides a maritime order book section, this being the days before Twitter and X, the Express ran a Gossip and Grumbles column. Unlike Elon Musk, the editor promised 'satire without vulgarity' with (anonymous) contributors being encouraged to forward their local intelligence – written in ink on one side of the paper and placed in an envelope. These Orwellian neighbourhood Stasi dispatches included mention of the boating lake.
Between complaints about the rates, the price of a cycle lamp and an excess of dog crabs awaiting paddlers on the foreshore, a young woman was noticed slipping and falling into the Redcar boating pool while 'trying to be funny'. A hate week curtain twitcher prayed she was deservedly uncomfortable while riding home on the bus.
Likewise, another busybody wondered, 'How a local gentleman enjoyed his dip in the pool last Sunday and whether he will take an extra suit with him next time to prevent him having to travel home with water dripping from his clothes.' The boating lake also troubled the hard news pages closer to the front of the paper.
In August 1946, in times when you could not only print a child's name in a newspaper but could get medical treatment in a hospital, the Cleveland Standard announced that 14-year-old Yvonne Sack of Bournemouth Avenus (sic), Old Ormsby, was treated at the Stead Hospital after a collision between two boats on the Coatham enclosure.
The earliest reference to the lake is from 1924. The South Bank Express announced the Redcar boating lake, which is situated on the Stray, is now open for the children to sail their model yachts. The Stray presumably being the local name for the Coatham end of Redcar seafront. The boating lake is still there and looks well, as does its distinctive bridge. Satellite imagery shows all manner of recreational craft stowed on one of the lake's islands. You can have a look around via this link.
The above photograph reveals a little too much of my grandmother while being pushed along the promenade. Road and grass suggest she is not near the boating lake but further around the coast, perhaps opposite Zetland Park? In the photograph below, the absence of breaks characteristic of the eastern end of the sands, suggests this is close to the boating pool. We are down on the beach with a donkey and foal. A chap to the right plays with a stray wagon wheel.
The donkeys may well have belonged to the Pink family who have provided donkey rides there for over 150 years. As recently as 2021 Gabriella Pink had 22 donkeys on the beach. During the pandemic, self-employed and with no premises and therefore not a payer of business rates, Miss Pink received no support from the government but still had to pay for feed, field rent and vet bills.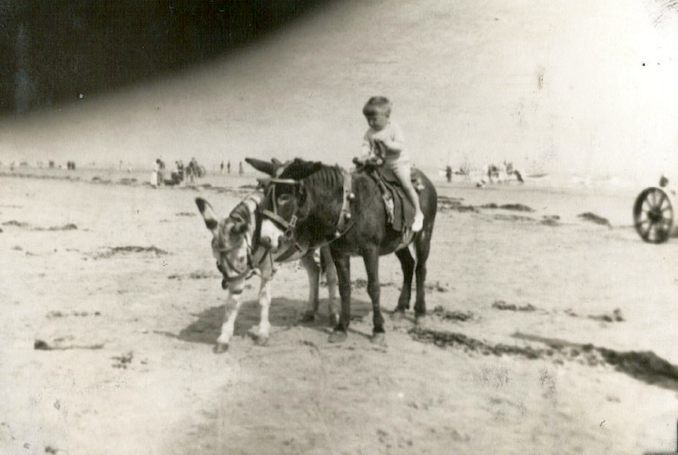 Gabriella had to downsize to 10 beasts. A trained teacher, Ms Pink had originally taken on the donkeys when the licence became available as her uncle decided to give it up. Back in the 1930s, the donkeys featured in the LNER's 'Quicker by Rail' series of posters, with the one advertising Redcar illustrating the Children's Corner part of the beach. Puffins will be heartened to hear that post-pandemic the donkeys appear to be thriving and appear on the beach from time to time in between a busy summer schedule of shows and fun days.
Also in the Whit advertisement, you could follow the crowd to the amusement park where, besides the House of Hilarity and the Enchanting Water Caves, there stood The Great Electric Scenic Railway. This was an amusement ride built in 1927 by Burton on Trent-based Orton and Spooner. Manufacturers of numerous rides, from early Switchbacks and Bioscopes to Ark/Speedways, Ghost Trains and even Roller Coasters, Orton and Spooner built attractions and showman's living vans from the late 1800s until 1977.
Besides Redcar, The Great Electric Scenic Railway was also assembled on loan at The Spanish City amusements at Whitley Bay. Unfortunately, the ride was destroyed by fire in 1934. Looking again at the advert, my grandmother might have been on the pushchair to test-fly a new pair of stockings. In her day, Coates and Sidgwick Ltd of 60 High Street, Redcar were a leading house of fashion.
"Where everything in fashion at the moment is obtainable – in a choice selection of designs – where you can take your time to decide what you require.

"It is an establishment that studies your purse – where you can obtain the requisite garment or accessory at just the price you desire to pay – yet know that though the price is low, quality is good."
The frugal people of Redcar and their visitors were cordially invited to see a selection of gloves, hosiery, neckwear, materials, household drapery, furnishing and fancy goods, also the latest styles and creations in mantles, millinery and underclothing. All at 60 High Street, Redcar, "Where value reigns supreme."
Nine decades later, the premises still reigns supreme – sort of. The distinctive curved upper window from the illustration in the advert remains, as do the big upstairs widows helpful when buying and selling material. The large lower-story dress windows now belong to Boots The Chemist. The actual number 60 is the Santander Bank next door. You can have a look around here.
Also advertised was the Coatham Hotel which boasted 60 bedrooms, a ballroom and a garage. Fully licenced by the AA and RAC – party and catering a speciality – manager Mr Victor R Dossor could be reached on telephone number 82. The hotel was built in the west end of Redcar in 1870. Originally known as the Coatham Hydro, the impressive building had its own water supply from an underground stream and numerous stabling facilities around the back. In 1935, the hotel's best days were still ahead of it.
The venue's legendary Jazz Club was played by many of the world's most notable jazz and other musical artists. Including Ronnie Scott, Cleo Laine, Johnny Dankworth, Acker Bilk, Kenny Ball, Chris Barber, Rod Stewart, Chris Rea, Eric Clapton, Mark Bolan, Zoots Money, Long John Baldry, Roger Daltry, Keith Moon, Pete Townsend, Georgie Fame, The Settlers, Alan Price, Swinging Blue Jeans, Joe Cocker, Eric Delaney, The Pasadena Roof Orchestra and many, many more.
The building has survived but is now private apartments known as Regency Mansions where a three-bedroom flat sells for a cool £151,000. You can have a look around via this link.
Beyond stars passing through, world-famous Redcarians who might invest in a Recency flat to take time out from Holywood, include Pip Donaghy, erm, June Laverick, oh, Wendy Hall, ah, and Robert Porter. I see.
Don't suppose they've heard of us either.

© Always Worth Saying 2023