In May 1969 my uncle, John Alldridge, described the voyage of Allcock and Brown for the Montreal Star. This is the second of his reports. – Jerry F
In the same year that young Jack Alcock, then not quite 19, went to work for Norman Crossland a young qualified mechanical engineer of 25 was taken on by the Westinghouse Company – later Metro-Vickers and now GEC-AEI Engineering Ltd. – in Trafford Park.
His name was Arthur Whitten Brown. By a strange coincidence Brown and Crossland, Alcock's employer, were close friends.
But although the two men were brought up in the same city they were not to meet until the Atlantic flight brought them together.
Arthur Whitten Brown was born in Glasgow in 1886. Both his parents were American. His father, a senior engineer with the Westinghouse Company, had been sent to Britain to assist in planning and building a new factory for the company in Manchester.
Shortly after he was born the family moved to Chorlton-cum-Hardy, to be near the new factory and young Arthur's first real home was at "Ellerslie", 6 Oswald Road.
He attended Central High School and later the Municipal College of Technology (now the University of Manchester Institute of Science and Technology).
He is remembered as an exceptionally studious boy who spoke with a very faint American accent. A boy who made few friends, but whose friendship, once gained, was deep and lasting, he was in every sense the very opposite of Alcock; shy, neat in his dress to the point of primness. He was a bookish youngster, fond of poetry and the novels of H. de Vere Stacpoole.
He would make long trips into the country, often on a motorbike borrowed from his friend, Norman Crossland, and carry out experiments in colour photography.
"On one holiday, with an apprentice friend," recalls Graham Wallace, "he visited Holyhead Island and spent long hours lying on a cliff top watching the gulls wheel round the South Stacks Lighthouse.
Where Alcock lived for the day Brown thought deeply about the part aviation would play in the future of nations.
After serving his apprenticeship with Westinghouse Brown was sent to South Africa. He was there when war came in 1914.
Although he was technically an American citizen, he returned to Britain and joined the Universities and Public Schools Battalion before being commissioned into the Second Battalion, the Manchester Regiment.
Writing in 1920 he recalled his feelings at that time: "Although of American parentage and possessing American citizenship, I had not the patience to wait for the entry into the war of the United States."
So he took the King's Oath and became a British subject.
He was in France with the Manchesters in 1915, in time for the second battle of Ypres. He survived the gas attacks; and then, after several months in the trenches around Ypres and on the Somme, he put in for a transfer to the Royal Flying Corps. His request was granted and Lieut. Brown was posted to No. 2 Squadron as an observer.
As an observer in his open cockpit he had his excitements.
One day on a spotting patrol over Vendin le Vielle his aircraft was hit by anti-aircraft fire. The pilot put the plane into a long, shallow dive over the British lines. It hit a telegraph pole on landing. Both pilot and observer were thrown clear and managed to scramble to safety before the petrol tank exploded.
In November, 1916, he was less fortunate. While on reconnaissance Brown's plane was forced down by German fighters, and crashed behind enemy lines. Brown's left leg was severely injured and he and his pilot were taken prisoner.
Brown spent the rest of the war – 22 months – in captivity. Between bouts of pain – his leg never fully recovered – he spent months studying navigation. He even badgered his jailers to lend him textbooks on navigation.
Like John Alcock, a thousand miles away in another prison camp, he dreamed of an Atlantic flight. Whoever made it would have to be a first-class navigator. He was determined that navigator would be Arthur Whitten Brown.
The war ended and Lieut. Brown was demobilized; and with thousands of other ex-servicemen began the dreary and depressing business of looking for a job in engineering.
He had recently become engaged to Kathleen Kennedy, the girl who was to be his inspiration. But they could not marry until he had a job. And jobs, he discovered bitterly, were hard to find; especially for a semi-cripple.
He did the rounds of aircraft and engineering factories with dwindling hopes. His prospects were at their lowest ebb when, one morning towards the end of March, 1919, he visited the Vickers works at Weybridge, with an introduction to the works manager, Maxwell Muller.
Muller had already interviewed hundreds of ex-officers looking for work. This slim young man, still in his RAF officer's uniform and carrying a stick, might have been any one of them. But there was something about this one.
In the middle of a seemingly aimless conversation, Brown happened to mention his interest in navigation. To his amazement Muller broke into his enthusiastic flow of words and fired one question at him point blank.
"Could you navigate an airplane across the Atlantic?"
It was the one question Brown had never expected; and yet the one for which he was absolutely ready. "Yes," replied Brown simply.
A few minutes later Muller and Brown were walking through the doors of a hangar. Inside on trestles was an almost completed aircraft which Brown recognized as a Vimy Bomber.
A group of men, dominated by a tousle-headed youngster in overalls and tweed jacket and a monstrous cap, were working round him.
Said Muller to Brown: "That's our plane and that's the man who's going to fly her – Jack Alcock. Come and meet him."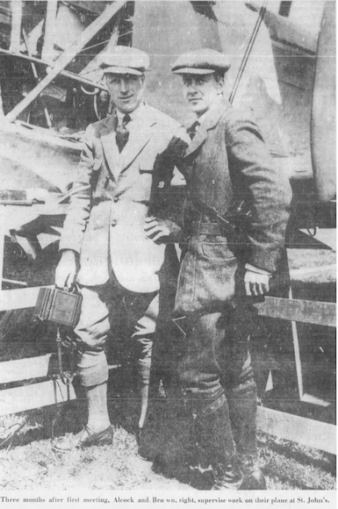 NEXT: Rivals in the great air race
Reproduced with permission
© 2022 Newspapers.com

Jerry F 2023