With our September holiday to Turkey being cancelled in mid-August (it's been on the red list since May 2021) an alternative destination needed to be found toot suite as myself, Mrs Reggie, Miss Reggie and her BF were desperate for a holiday.  We decided on Scotland and an overnight stay in York on the return journey (for reasons which will be explained in a later article).  Our stay in Scotland was to be spread across 2 hotels – one in Edinburgh and the other West of Glasgow.
In more normal times we would opt to fly from Bristol Airport as the journey time is around an hour, versus a drive time of 7 hours or so, but the prospect of faffing around with PCR tests and masks was enough for us to agree on taking the car instead.
Edinburgh is a good 7½ drive from Reggie Towers and we set off shortly after 8am taking the M5 northbound where it eventually meets the M6 near Birmingham.  A quick stop at Stafford Services for a comfort break and a bite to eat and we were on our way again.  A second stop at Tebay Services for more of the same.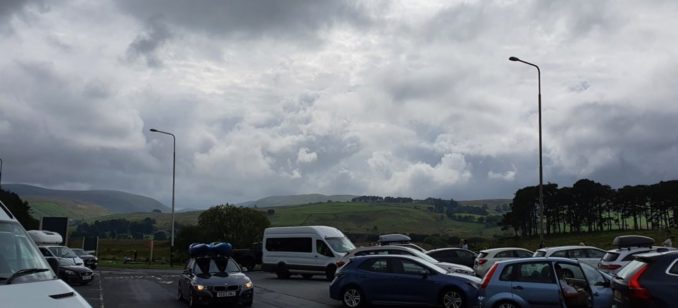 The third and final leg of the journey took us into Scotland where the M6 becomes the M74.  Traffic started getting heavy as we approached Abington and our satnav encouraged us to take the A702 to Edinburgh, sign posted as the "Scenic Route".   And very scenic it was too.  A long winding road just under 50 miles taking you to South of the city.  Lots of dramatic views, sheep, cows and isolated dwellings – lovely in the September sunshine but no doubt a different matter in the middle of winter.  As we neared Edinburgh the traffic slowed and increased in volume considerably and we ended up in a long queue of traffic in the "rush hour" at 5pm.  Finally, we made it to our hotel in central Edinburgh.  The hotel doesn't provide parking so we emptied our suitcases and bags and parked the cars just around the corner in a multi-story car park.
The Apex Waterloo Place Hotel is located at the East end of Princes Street, not far from Waverley railway station and the Scottish Government building. It's listed as a 4-star hotel and certainly feels it.  A quick rest, a shower, change of clothes and we headed out for a nose around the local area to get our bearings.  Calton Hill is situated a 5 minute walk from the hotel and I took the opportunity to stretch my legs and get some photos from one of the highest points in Edinburgh, including the National Monument of Scotland, the Nelson Monument, Observatory House and the view towards Leith and the Forth river.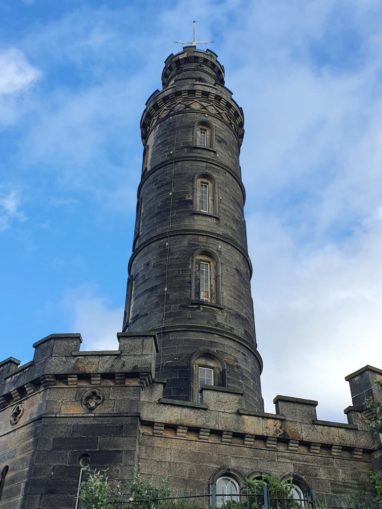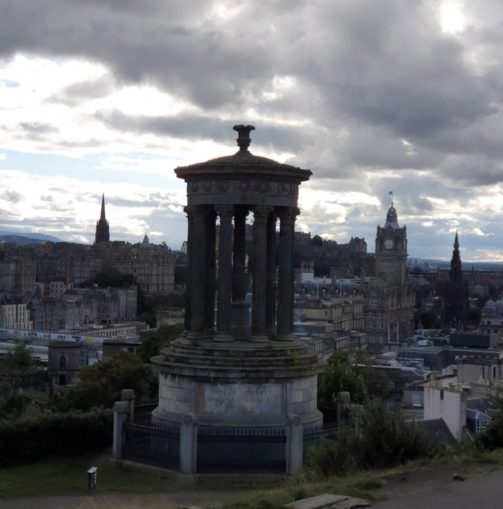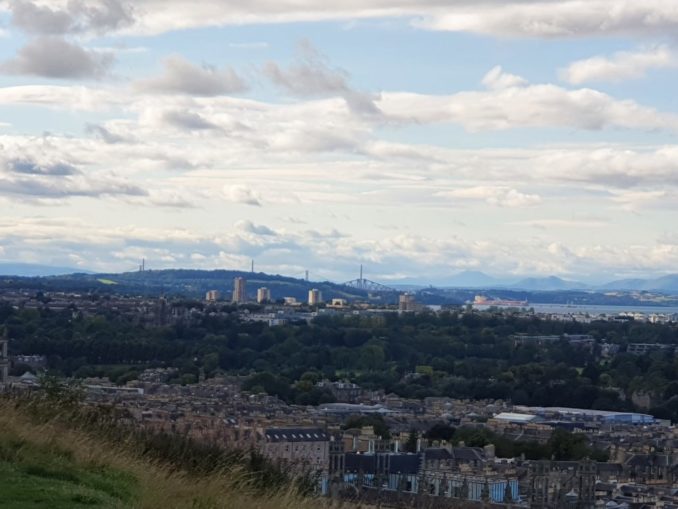 We had pre-booked an evening meal at a local Italian restaurant (Mamma Roma) and we headed there at the appointed time of 7pm.  The restaurant is located a 10-minute walk from the hotel, down Leith Street.  We were greeted at the door and shown to our table.  A very pleasant meal it was too, with the usual selection of pasta and pizza dishes.  A good atmosphere, the restaurant was decorated in a slightly eccentric fashion, with friendly and attentive staff.  Meal completed we walked back up to Princes Street and picked one of the many outdoor bars to finish our evening off.
Back to the hotel and to bed for some well-earned rest.
After breakfast Miss Reggie and her BF wandered off to meet up with some friends they had arranged to hook up with for the day, leaving Mrs Reggie and I to do our own thing.  We walked the short distance to Dundas Street (which runs at right angles to Princes Street), a long and wide street with art and craft galleries on each side of the road.  We took in many galleries on the outward trip and timed our return walk with a spot of lunch at the Archipelago Bakery.  I had a rather delicious soup made from sweet potato, chillies and coconut and Mrs Reggie had something I forget now (I recall it had cheese and pastry).
Suitably refreshed we commenced our walk back up Dundas Street, stopping in the Birch Tree Gallery.  Here we met with an artist who creates the most wonderful lino prints with an almost photographic quality to them.  He was there for a couple of weeks and the gallery were promoting many of his works.  We started chatting to him and he explained how he creates the lino prints, starting with the lightest colours first and gradually moving towards the darker colours, cutting away at the lino to build up the 4 layers required to produce the final piece.  He prints a maximum of 12 of each work he creates. 2 he keeps as "master copies" and the other 10 are for sale.  After some discussion we decided on a print we both liked and eagerly took possession of the framed print (I'll include this in the next article on artwork in my home).  Mrs Reggie also spotted some ceramic bowls she was keen on so they came home with us too.  We headed back to the hotel before Mrs Reggie could empty my bank account further.
Later that evening we had a rather pleasant meal in a Mexican restaurant called Viva Mexico on Cockburn Street, again only a short walk from the hotel.  Thankfully they had a table for two as we hadn't booked ahead and being a Saturday evening, it was rather busy.  A rather charming place to eat, on 3 levels, quite cosy and nicely decorated in Mexican artifacts.  Having eaten in many Mexican restaurants over the years it was easy to choose a dish we knew we would like, all washed down with some exotic beers from South America.
Our meal complete we headed back to the hotel and to the bar.  Shortly after Miss Reggie and BF joined us for a drink.  They tried to convince us to come to a "games machine" themed pub about 20 minutes' walk away, but Mrs Reggie was having none of it.  We left them to it and they raced off full of enthusiasm.  (Apparently when they got there it was packed and incredibly noisy so they had one drink and came back to the hotel).
The following morning after breakfast we checked out and drove a short distance to another car park nearer to Edinburgh Castle.  It was more than a little difficult getting there as many of the roads had been closed off and there were Police everywhere.  I think this might have been related to a football match (more on that later).  We walked to the Castle and did the tour.  Very interesting and the views from the top give you a fantastic view over Edinburgh and the surrounding area.
Insert "Steps up to the Castle" picture here
A spot of lunch and we headed back to our cars where the satnav was set for Falkirk as we had tickets for the "Falkirk Wheel" an hour later.  The traffic was pretty much standstill.  I'm not sure exactly what the cause was but there were many football fans wandering the streets so I assume the Police stopped the traffic whilst the spectators dispersed.   By this time, it was clear we were not going to make our timed slot on the Falkirk Wheel so we called and they re-booked us for the following morning.
We made our way to our next hotel, West of Glasgow (details to follow in part 2).

© text and images Reggie 2021