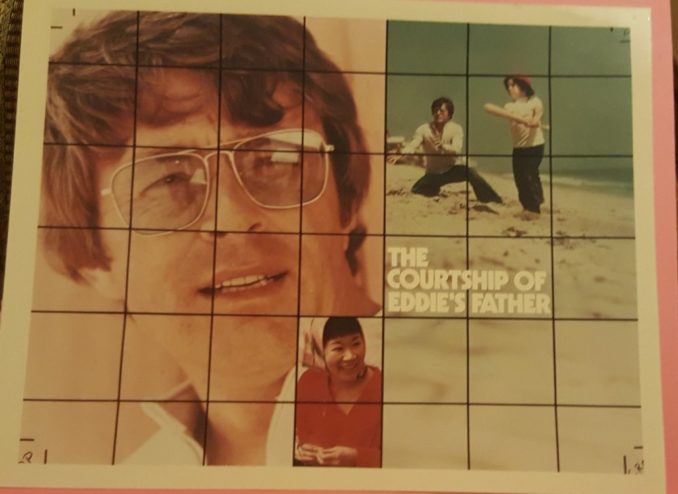 Before I went on my holiday in August, I was perusing Ebay looking for some old copies of "Look In" magazine from the 70's. I am a fan of Richard O'Sullivan and am proud to say ("unofficially") that I have more material in the way of press cuttings, magazine articles and other things regarding the television series "Dick Turpin" than the official fan club. I was hoping to find the original, intact versions of the "Look In" magazines that I ripped the articles out of when I was a teenager in the late 1970's.
Finding no joy in searching, I noticed from the "previous search" suggestions tab a description for "The Courtship Of Eddie's Father (Title)HTF RARE Press Photo 1969 Bill Bixby". It was from a seller in the USA and the price was a little expensive, but not extortionately so. I clicked on the picture, looked at it and was immediately and very strongly drawn to it for some inexplicable reason. I was tempted to buy, but I talked myself out of it, logged out of Ebay and went on my holiday.
A few weeks ago, I ventured back into Ebay and the tab was still there as it was the last thing I looked at before going on holiday. I was, again, very strongly drawn to the photograph and I decided there and then to buy it. It is a lovely photograph montage of the three main characters of the show, Bill Bixby, Brandon Cruz and Miyoshi Umeki. The picture is below:
For the uninitiated (and I was until early this year), The Courtship of Eddie's Father was a television show that ran for three seasons on the ABC channel in America from 1969-1972. The storyline was loosely based on the 1963 film of the same name which starred Glenn Ford, Ronnie Howard ("Ron Howard" as he is known now) and Shirley Jones.
The storyline is that Tom Corbett is a recently widowed man with a young son (about seven years old). The programme is based around Eddie's and Tom's close relationship and their efforts to find a new "wife/mother". It's a dramatic comedy and it is obvious from the television series that the rapport between Bixby and Cruz is genuine. In fact, it was so genuine, they kept in regular touch with one another right up until Bixby's death in 1993. Cruz's son is named "Bixby" after Bill, such is the high regard he held him in.
I have checked some UK historical TV listings but, as far as I can ascertain, I don't think the series was ever shown here. I don't know why. Perhaps we were producing better things in the UK, or it didn't make the cut against other US programmes being produced at the same time such as the Partridge Family or the Ghost and Mrs Muir.
The picture arrived by courier on Friday and, I had a pleasant surprise. I was expecting it to be postcard size, but it is bigger than that (more A5 sized). It is even more stunning close up. I know he did a bit of modelling before turning to acting, but Bixby never takes a bad photograph.
I certainly don't regret buying it. However, I am having a touch of the "wibbles". My original thought (when I thought it was postcard size) was to put it in a picture frame. I could frame it, but I am worried about damaging the photo. I don't want to put it on a pile of stuff in my bedroom and forget about it but if it is a "rarity" (I take such statements on Ebay with a huge pinch of salt) I don't want to do anything untoward to it as I may not find another one, it's a lovely thing to look at and it's in such good condition.
Any suggestions on how to deal with the photo from knowledgeable Puffins would be greatly appreciated as I'm a bit stumped.

© Middleearthbarbie 2021