Riding the Stambanan to the Malmbanan
In part one of our Postcard from Narvik your humble author, his wife, children and a niece struck out for the Artic to celebrate his late October fiftieth birthday. Having been there at the age of twenty-one, this seemed the obvious place to commemorate another milestone.
A miscalculation of the dates means he is also keeping five children out of school the week before half term.
On the morning after our arrival in Sweden, we have woken in a sleeper compartment and breakfasted on restaurant car Dime bars. With gravity on my side this time, I have converted our flatpack Ikea nighttime couchette back into a daytime seating compartment.
Since we climbed aboard at Stockholm's Arlanda airport station the previous tea time, train number 94 has covered 113 miles of Swedish Railway's Ostkusbanan (East Coast Line) and joined the Norrabanan (Northern Main Line) at Gävle. Heading inland, another 154 miles brought us to Bräcke after which we traversed the clumsily named Stambanan genom övre Norrland (Main Line Through Upper Norrland) for the 389 mile trip to Boden.
As we roll out of Boden station, despite having been on the train for over twelve hours and having travelled over 650 miles, we still haven't crossed the Arctic Circle and remain six and a half hours and 270 miles from our destination of Narvik.
Boden is a town of 16,000 souls close to the eastern, Baltic, side of Sweden. The landlocked Baltic freezes over in wintertime and makes the nearby port of Luleå un-useable. Therefore, another line is necessary. The Malambanen (or Iron Ore Line) strikes out to the northwest and eventually reaches the ice-free port of Narvik in Northern Norway. This allows for the year-round export of iron ore from a mega-mine at Kiruna.
Upon leaving Boden via the Malambanen, the hour hand is touching 7 am and the sun is peeping above the eastern horizon. It is time for the children to reach for the I Spy books I'd prepared to keep them occupied on the long trip.
Polcirkeln
While counting trees they are also ticking off sightings of reindeer, frozen lakes, snow sheds, Laps and different types of rolling stock. Added to which, is a photograph of an Arctic fox badge and a line of white-painted rocks for them to guess the significance of.
Excited children ask,
"Is this to do with Arctic Circle?"
"What's the Arctic Circle?"
"Where is it? "
"What's it for?"
"The Arctic Circle is a line of latitude lying at 66°30′ north," I inform them. "The southern limit of an area within which the sun does not rise on your grandfather's birthday, the 21st December. If you do not believe me, ask the guard."
Having found and pestered the guard, the children return wide-eyed, the grandfather they never knew having been further elevated from motorcycling mountaineering hero to latitude legend. In the way Swedes do, the guard had also rambled in explanation about mid-winter, the angle of the Earth's axis and the Tropic of Cancer. Typical Scandinavian over-attention to detail best ignored, I reassured the little ones.
By which time, we are thundering past the lumbar village of Murjek (population 51) and it is time to hand out the Arctic fox badges to our first-time crossers of what the locals call the 'Polcirkeln'.
Decades ago there had been an initiation. An English travelling gentleman, about his twenty-first birthday, would be rolled naked in the snow, doused in elk urine and sodomised with a hard-boiled egg. In these more snowflake times, no such initiation occurred, nothing at all. Even the outsized sign announcing the polar circle had gone, as had the white stones strewn along the latitude. Rather, a modest explanatory poster stood in a lineside car park, no doubt including a photograph of my father looking smug between the twin peaks of Abisko on his Francis Barnett 1956 trials.
Hold on a minute. Can any Puffins of a particular generation, engaged in derring-do in the high latitudes during the nineteen eighties, put my mind at rest? There was an initiation when visiting the Arctic for the first time? To appease Father Frost, ensure husky puppies weren't born with five legs and prevent Lap children from going cross-eyed during adolescence? The duplicitous Swedes didn't only administer the boiled egg to my younger, nerdy and naive self? Did they?
Elsewhere and Centuries Ago
Advancing along the Iron Ore Line, family excitement is reaching fever pitch. The children are becoming hysterical. I have a nose bleed. The approaching confluence of crimson ore and steel rail accosts us as a rising full moon might before a bloodthirsty werewolf. You see, dear reader, iron ore is in our blood. Steel wheels upon steel rail carry it through the veins.
In explanation, we must return to the rural Debatable Lands two centuries previous. At the time, my great great great grandfather, Thomas Worth-Saying Esquire, was a gentleman farmer with, according to the 1851 census, a very impressive acreage beneath his stout countryman's boots.
While he watched in pride over his three sons and four daughters, being a true Cumbrian, he will have wondered,
"Which one of these idiots is going to lose the farm?"
The descendants of Thomas' middle son still farm. His youngest went to a strange place called 'London' and became articled in law after which himself and his offspring were destined to be respectable and noted Lancashire solicitors and businessmen.
My direct ancestor was the eldest brother, John, and yes you've guessed, he was the one who lost the family farm in a crackpot scheme to connect nowhere to nowhere during the Railway Mania of the middle 19th century.
His business partner at the time was a fellow landowner, a southerner and an all-round troublesome sort. You may know of him – the Duke of Northumberland. Their correspondence survives in our family deed box, stashed in the attic beneath my appropriately unfinished model railway.
Although this is happening one hundred and fifty years ago, the neighbouring farmer (immortalised in family folklore by selling sackfuls of crow's bodies with chicken's heads protruding) was the direct ancestor of a certain Mrs AWS.
As if in competition, a century and a half before, my family took our unusual Debatable Lands surname to North America. Having named their tobacco plantations (liberated from the natives) after the parishes of King George's Cumberland, they provided work for recent arrivals from Africa generously delivered by galleon rather than dingy.
What has any this to do with iron ore? Read on.
Iron Ore in Our Veins
Having been cleaned out by his lordship, John found meaningful and profitable employment in the nearby iron ore mines. At the time, they provided to a West Cumberland and Furness steel industry dwarfing any similar enterprise of Pittsburgians or the Japanese. He lodged in the town of Egremont along with two of his sons and rose to be an important chap in the industry. During evenings, weekends, high days and holidays, John continued to farm on the Solway Plain.
Partway between twenty-one and fifty, I had the pleasure of being shown around the mine when it was still working, a small amount of ore being extracted for the paint industry.
The men drilled and blasted in the morning, had their bait at dinner time and cleared the blasted ore to the surface in the afternoon. Compared to the cramped rock hard adits necessary for lead and silver extraction and the dusty, noisy cluttered levels familiar to the coal miner, the iron ore mine was quite pleasant. Likewise, forget about the vast chambers necessitated by salt and slate and the endless pillared galleries required to extract gypsum, the scale underground was welcoming.
As the topics of gypsum and injustice intertwine, my father's cousin was a gypsum miner. A skilled mechanic, he was required at all points underground, and at all hours of the shift, to keep the machinery running. As the mine approached the end of its life, every Friday for two years he contributed to a whip-round for the leavers. But when his time came to finish, there being nothing remaining except himself and a confusion of machinery to be switched off and made safe, there was no whip-round for him! A message there.
Back on my visit to the family iron ore mine, there was such a maze of workings, ventilation shafts and chimneys (many of them forgotten about) that a refreshing draft ran through the tunnels. Sufficient gale blew up the main shaft for one to be able to lean into it without anyone holding one's overall. By the way, do not attempt, take my word for it.
As well as the shaft, there was a gentle sloping drift which allowed for an easy walk through topsoil, clay, conglomerate, limestone (topped with billions of little seashell fossils), past the fault line that causes local earth tremors and into the leads of kidney red hematite. As well as air running through the workings there was a gazillion gallons of water finding its way underground from the mountains of the Western Lake District to the Irish Sea. Coal and natural gas lay close by too.
Given the complex, wet and unpredictable geology, earth tremors and the presence of things that burn and explode, why do they want to build a Giga sized nuclear waste depository there? Might it be better located within the chalky South East of England or even in London clay? Perhaps below the House of Commons?
Having ticked the Arctic Circle in our I Spy books and become over-excited by tall tales from family history, we are now on the lookout for the ore mountain at Kiruna.
At this point, I must invite Puffins to add a note of caution to what they've just read. Is there a place in the modern world for the sanguine red-ored nostalgia of gentlemen miners (and resting railway tycoons) pushing buckets up the drift in Egremont before wandering off to deliver a lamb?
Shall we break our journey at Kiruna and find out? We shall.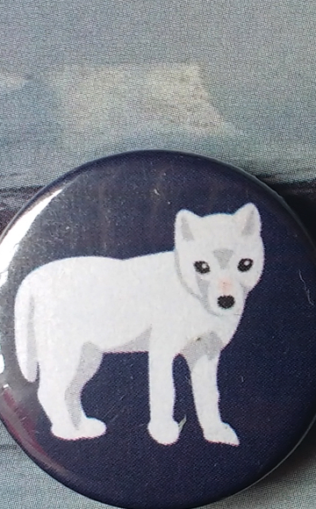 To be continued….

The Goodnight Vienna Audio file