Yesterday central London saw an impressive turnout of Puffins (thirty plus) and many hundreds of thousands of others on a Freedom March protesting a variety of issues brought about by the coronavirus pandemic: vaccines, lockdowns, a rushed power grab by elites around the world, infringement of citizen's personal rights and denial of freedoms.
The day was a huge success with even The Guardian having to acknowledge its existence, in contravention of what appears to be a long-standing Freedom March mainstream media embargo. Twenty-five year old Marianna Spring take note.
Having said that, their article concentrated upon a non-riot (disappointingly for them exclusively peacefully rather than largely peaceful) at the Westfield shopping mall in West London.
Elsewhere the article relates that hundreds of thousands of people took part and that the 29th May London Freedom March stretched for twelve miles. For once, can we believe what we read in the Guardian?
Yes, we can.
© Copyright Swiss Bob
© Copyright Sunshine and Showers
© Copyright Harry Boyle
© Copyright Harry Boyle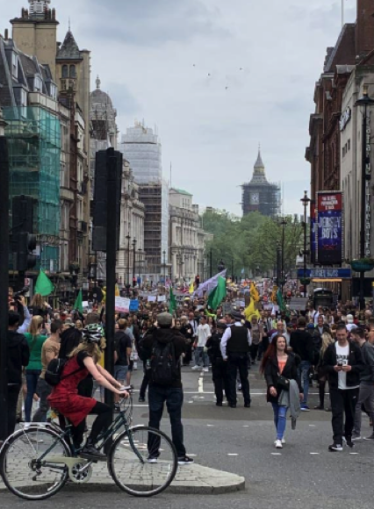 © Copyright Maximum Overdrive
© Copyright Harry Boyle
© Copyright Maximum Overdrive
© Copyright Swiss Bob
Where my colours of sea green around your wrist of banners fly
Across London today, you represent this beleaguered land
A wind of rage are your battle cries
We now experience " life " through layers of technology
Outside nature moves on, in here time doesn't move.
Empty silence in city streets
Closed/ half open pubs that don't call time.
Constrained, confined, contained and locked down-
Deceived and manipulated by those with no true authority.
Death will come regardless of Fear mongering
But life will only happen if we live.
An Englishman (and women's)
Home is their castle or prison.
March forward crusading puffins
Bound together, tightly packed.
March with the camaraderie of all of us
Fear not the police or our enemies of freedom
And have the nice picnic you deserve.
God speed.

– Terpischore
Well done all, especially marching Puffins!

The Goodnight Vienna Audio file isn't available for this article.