Almost the first question we are asked whenever we mention that we've visited Romania on several occasions is 'why on earth would you want to go there'? That's often followed by 'isn't it really poor and run down and depressing'? Someone will probably mention the Roma, and there's usually a tut, a shake of the head and quite likely an anecdote about the criminal behaviour of 'gypsies'.
With this postcard, I hope to dispel just a little of that negative impression. Romania is actually a beautiful and very varied country, with a long and fascinatingly complex history. There is much to recommend it, not least some rather excellent beers.
I have a couple of Romanian friends, who shame me with their fluency in more than a few languages, in addition to Romanian (it's fairly closely related to Latin) and English. One hales from the capital city, Bucharest, towards the south of the country. The other is an ethnic German who grew up in Brașov, at the foot of the Carpathians in Transylvania, near enough in the centre of the country.
We had toyed with the idea of visiting Romania for a while, as between them, they'd told me so much about their beloved country. It sounded to me and Mr S like it'd be right up our street and we'd love it. So, on a bright sunny day in May, just a few years ago, we headed for Birmingham International airport. We'd chosen to fly into Cluj-Napoca in the north of Transylvania, to spend some time there before taking a train south to Bucharest. This meant that we would see a cross-section of the country and this proved to be a great decision.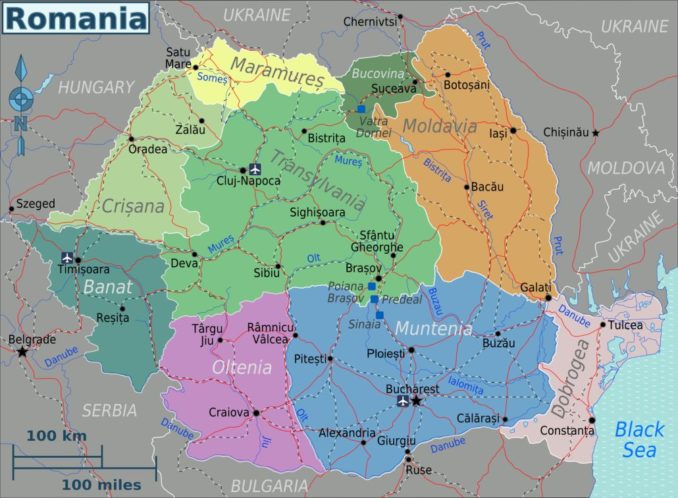 Unlike many Central and Eastern European countries, Romania is not landlocked. It has a small stretch of coastline of about 150 miles along the Black Sea. Here the Danube fans out to form the massive wetlands of the well-preserved delta, an incredible environment with a wonderfully diverse flora and fauna, some of which is unique.
As well as large areas of fertile plains around the borders and in the centre of the country (it's the third largest agricultural producer in the EU), a huge swathe of the country is high and rugged. The Carpathian Mountains form Europe's third longest mountain range. It stretches about 932 miles across Central and Eastern Europe. The range curves southwards from the border with Ukraine, across Romania before turning westwards like a reversed letter 'L'.
The following topographical map shows the range curving like a Roman nose across the country, sniffing disdainfully at the lands further East from where so many of its past enemies have come. The 'nostril' represented by the Transylvanian Western Carpathians, the Apuseni Mountains (also known as the Mountains of the Sunset). Continuing southwards out of Romania the range crosses the Danube River at the treacherous four narrow gorges of the Iron Gates, before petering out in Serbia.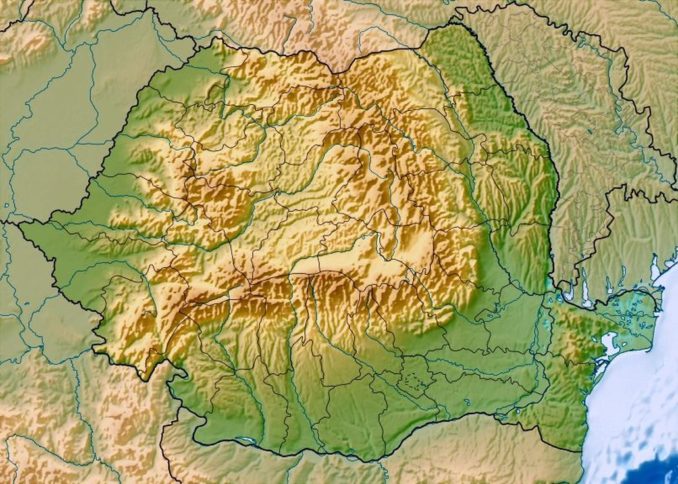 After Russia, Romania has the largest tracts of virgin forest in Europe, mostly in the Carpathians. Home to chamoix, lynx, wildcats, bison, black bear, wolves, and golden eagles. There are nearly a thousand square miles of undisturbed forest stretching across a shade more than a quarter of the land.
The city of Cluj-Napoca (which just about everyone simply calls Cluj) is a gem. Now the second most populous city in Romania, with no less than seven universities, it lies on the banks of the Someșul Mic River. There was a Neolithic settlement, Gura Baciului, near Cluj dating back to 6000–5500 BCE, making it the oldest in Transylvania. But Cluj as a distinct entity began with the pre-Roman settlement of Napoca.
It became part of a Roman province in 106 AD after Trajan's legions conquered the Dacians. The Dacians erstwhile ruler Decebalus, a worthy antagonist respected for his shrewd judgement and understanding of warfare, was granted the status of rex amicus (a client king). However, being a proud man, he had no real intention of foregoing his lost domain nor remaining subject to Rome, despite being granted a generous stipend. Decebalus rebuilt his fortifications, re-armed, took in refugees and deserters from Roman territory, and violated the peace treaty entirely.
Trajan, as you might imagine, took exception to this and his legions stormed Decebalus' bastion in Sarmizegetusa Regia. Matters didn't end well for Decebalus, who scarpered. He was hunted down but, rather than endure capture and utter humiliation, slashed his own throat. The indignity didn't end there though, as his severed head and right hand were taken back to Rome to be thrown down the Gemonian stairs. This was an immensely shameful end, as the stairs (nicknamed the Stairs of Mourning) were infamous as a dishonourable place of execution. Even this act didn't save him from everlasting disgrace, as his death by his own hand was portrayed for eternity in Carrara marble on Trajan's Column in Rome.
Once the Roman Emperor Aurelian evacuated Roman troops and civilian administration from Dacia in the 3rd century, a series of Germanic and other tribes attacked the region. The invading tribes: Goths, Taifals, Bastarns, Carpi, Herules, and Vandals, settled there. However, they were displaced by Attila the Hun (the first Hungarian king) and his people towards the end of the 4th century.
When Attila died in the middle of the 5th century, Dacia and whatever remained of Cluj fell into the hands of the Gepids. These were farmers who followed Arian Christianity, and developed connections with the Eastern Roman Empire. Not for long though, as nomadic tribes, the Avars (possibly from what is now Chechnya), invaded in the mid-6th century. The Avars, Slavs, and Bulgars controlled the region until the Balkan, Romance-speaking, Vlachs (a.k.a. the Wallachians) took their turn towards the end of the 9th century.
The 10th century brought the Magyars (Hungarians). The Principality of Hungary was established, with a small town emerging on the ruins of the Roman settlement of Napoca (Cluj). In 1000 AD, Stephen I of Hungary was crowned as the first king. The area adopted Christianity with the Diocese of Transylvania established soon afterwards.
The modern city, which is now Cluj-Napoca, was founded by German settlers. They were Transylvanian Saxons, and called the city Clusenburg (Klausenburg, or Cluj) in the 13th Century. It remained largely a Hungarian or Austro-Hungarian city until the 24th of December 1918 when it was seized by Romanian forces, ending Hungarian rule. The Hungarians briefly re-established sovereignty in 1940, before Cluj and the whole of Transylvania was occupied by the Germans. Subsequently, it was captured by Romanian and Soviet forces in 1944.
The Communist dictator, Nicolae Ceaușescu, chose to re-name Cluj in 1974 to Cluj-Napoca. He added the Roman name 'Napoca' to stress Romanian claims to Transylvania, based on the theory of Daco-Roman continuity. This argued that the Romanian population are descended from Daco-Romans. Thus, Transylvania should never return to Hungarian rule.
I told you that Romania had a long and complex history, but enough's enough. Back to our trip…
A Wizz Air flight (yes, seriously!) from Birmingham to the Avram Iancu International Airport at Cluj took us just over two and a half hours. Very straightforward, made easier by travelling with a small backpack each so no messing around waiting for baggage reclaim.
First impressions, once we'd left airside were… wow, it's hot, and where's the loo! Following a very welcome coffee, we set off walking towards la Pensiunea Déjà Vu, our lodgings for the duration. The area close to the airport was flat and, at first glance, not dissimilar to south-eastern Turkey. A mix of commercial, light-industrial, and residential properties all jumbled up together, hot and dusty, with flowers everywhere—in gardens, along the roadside, and popping up through the broken 'pavements'. The biggest difference is churches—lots and lots of churches.
We had already studied the route from the airport to where we were staying. This suggested that it should take us around 55 minutes to walk. OK, it was pretty warm, but no problem… except that the estimate was utter codswallop. An hour and a half later, and by now very sweaty and overheated indeed, we realised that we were still nowhere near, so gave up and flagged down a taxi.
Even then it took us another half an hour or so by car, as the traffic through the narrow streets was a challenge to say the least. However, we got a guided tour of sorts along the way, as our lovely driver was proud of his city and keen to practice his English (a lot better than our Romanian). We were very pleasantly surprised when we asked the cost. He told us it was 17.5 lei, about £3.50. Amazing!
Pulling up outside la Pensiunea Déjà Vu is an experience in itself. In what appears to be an upmarket area, the building is a riot of colour in the Art Nouveau style, inspired by the architecture of Gaudi and Hundertwasser. To be honest, it looks for all the world like you've just arrived at the Brothers Grimm's Gingerbread House from Hansel and Gretel. As I can't find words to describe it, or a decent photo to show you, I'd urge you to look at their website: http://deja-vu.ro Inside, the extraordinary décor continues, with 19th-century furniture and quirky features everywhere you look.
The staff were great, and we were welcomed with a coffee and a big glass of sparkling water each. Then we were brought a plate of little chocolate wafers. What could be nicer than to sit outside in the sunshine on the tree-lined street, watching the neighbourhood ladies walking their pampered pooches, and the kids coming home from school.
Once we'd got our breath back, we decided to walk into the city and find somewhere for an evening meal. We were only a short walk away from the Someșul Mic River and as we reached its banks, we spotted the curvaceously impressive Cluj Arena. This is a UEFA Elite stadium and home to FC Universitatea Cluj (U Cluj) for you footie fans. It's multi-purpose venue, used for track and field events, rugby union games, and concerts. The first band to play at the newly opened Arena was the Scorpions, who played to a packed house on 8th October 2011.
We wandered along the riverside, watching fish darting in the broad, fast-flowing waters, then crossed the river into Parcul Central Simion Barnutiu (Central Park). This is a sculpture-filled green space established in 1827 by the Hungarian Women's Welfare Association (Jóltevő Asszonyi Egyesület) to provide recreation, a 'walking place' close to the city centre. The pathways meander through beautiful mature trees, some with hammocks strung between them, and the park is well-used by families and students alike. There are birds galore, an outdoor gym, a boating lake, fountains, and at least one restaurant.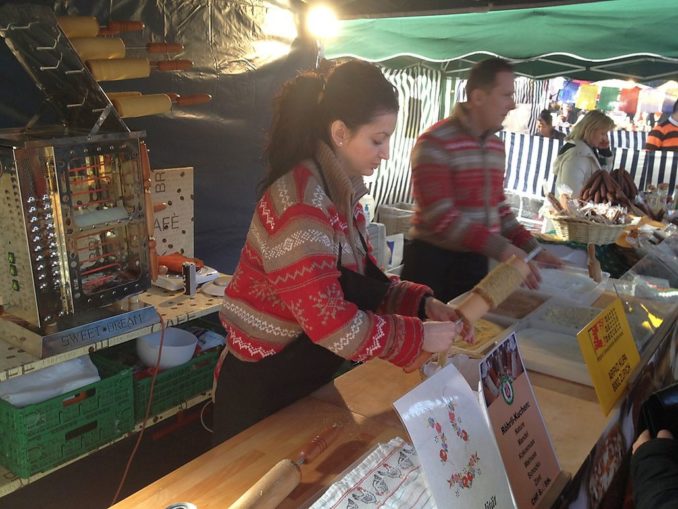 Countless stalls sell Kürtőskalács (sugar-dusted Transylvanian pastries known as 'chimney cakes'), ice cream, sweetcorn, and more. But a recce and dinner is what we want this evening, so onwards towards the old city, stopping at the tiny, but delightful, Flowers Tea House for a refreshing cuppa on the way.
We get our bearings, largely by heading to the Piața Unirii (the main square) since the tower of St. Michael's Church, with its gleaming golden cross, is the highest in Romania—a perfect landmark to return to. Second in size only to the Black Church of Brașov, St. Michael's Church is a Gothic behemoth, dominating the square and forming the perfect backdrop to the larger than life-sized statue of the 15th-century Matthias Corvinus, King of Hungary.
The architecture in Cluj really is spectacular, and ranges from Renaissance and Baroque to Gothic and Art Nouveau to the Eclectic and Ultra-modern. In the warmth of the late afternoon sun, it's simply stunning.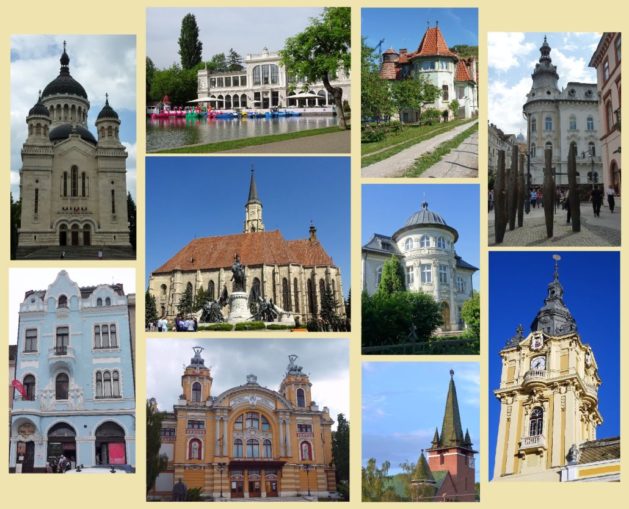 As we wandered, we made a rough plan for the next day. We also looked around for somewhere to eat tonight, and something hearty and savoury sounds good. A very tasty beef and venison burger with cheese and bacon, served with grilled vegetables. Delicious, if not exactly a Romanian speciality. But it had been a long day, so we were quite happy to go for something familiar.
Now getting more than a little tired, we began to amble back home through the park in the fading light, only to be captivated by our first Transylvanian bats! Romania has one of the most important and diverse bat populations in Europe. Indeed, two of the biggest bat colonies in Europe can be found in Romania, each of which numbers in the region of 100,000 bats. There are thirty-two species of Romanian bat, grouped into ten genera, with colonies sheltering in caves, under bridges, in stadia, and in buildings.
Eight of these have been identified in Cluj, including the particolored bat (Vespertilio murinus), serotine bats (Eptesicus serotinus), pond myotis (Myotis dasycneme), the European greater myotis (Myotis myotis) and the brown big-eared bat (Plecotus auritus). Heaven only knows which type we saw, but delightful they were, swooping around the trees and lamp posts, dipping down to the river's surface.
Replete and happy, we sauntered back to the Déjà Vu, for an agreeably comfortable night's sleep. Next morning's breakfast was a fabulous spread, with various Romanian specialities, vegetable dips and salads, polenta with tiny forest mushrooms, a selection of meats and cheeses, bread, honey, yoghurt, and eggs, all washed down with strong black coffee for Mr S and a herbal tea (linden flower?) for me.
We'd decided to join a walking tour later in the evening once the heat of the day had lessened. In the meantime, we had hours to wander by ourselves, with fascinating streets and alleyways to explore and lots to see. We happily got lost in the centre of the city, amazed at the wealth of different architecture and the sounds and smells, making mental notes of places we want to see again. We found ourselves back at the Piata Unirii, and a coffee break beckoned. We remembered that we'd seen an interesting looking café as we strolled along the broad Bulevardul Eroilor (Heroes' Avenue). Great, so off we stopped at the slightly zany Tucano, with their 'Love.Peace.Coffee.' philosophy, for coffee and a slice of delicious cheesecake.
As quirky and interesting as the interior was, it was far too nice a day to stay inside, so we sat outside under the huge canvas shades watching the world go by. We were aware that something must be going on up at the square, but weren't sure quite what, until a somewhat ramshackle military band marched past, playing as they went. Intrigued, we quickly finished out coffee and followed. On the way, we passed an impressive copy of the Roman bronze statue, the Capitoline Wolf suckling Romulus and Remus.
Like Pied Pipers, along the road the band led us, back to the Piata Unirii. When we got there, the place was awash with uniforms of all colours, decoration, and fit (some decidedly scruffy!). Many bore an impressive array of military medals and decorations. The Poliția Română and Pompieri Română (Police and Fire Services), assorted branches of the Romanian Armed Forces (Land, Sea and Air) and a few complete unknowns, displayed a surprising variety of fearsome-looking weaponry.
We had apparently stumbled across the dress rehearsal for the following day's celebration of Europe Day. What looked like a group of young Police cadets, each with a large flag from one or other of the European countries, was shuffled into place and lined up in front of the statue of King of Hungary, Matthias Corvinus (who was born in Cluj, then called Kolozsvár, in 1443).
Quite a spectacle, so we watched for a while. But to be honest, not understanding what was going on and with an apparent level of disorganisation of incredible proportions, we decided it was time to go and explore.
In fact, the real thing which took place the next day was infinitely more impressive. Not only were the same array of forces involved, but the press, a choir, and local dignitaries were on show. It attracted a large, enthusiastic audience. To my everlasting shame I was made an offer I could not refuse (though I tried to). My failure was doubtless something to do with GQ. I was handed a bloody EU flag and exhorted to wave it, much to the amusement of Mr S. He now has strict orders never to let that photo see the light of day!
We had already decided to visit the nearby Transfiguration Cathedral, also known as the Minorites' Church, on Bulevardul Eroilor. A Greek Orthodox Cathedral built in the baroque style, which dates from 1778-79, it was partly financed by the Empress Maria Theresa of Austria. Stepping through the doorway out of the bright sunlight, the first impression is of a rather dark and brooding interior.
It is not immediately as impressive as some of the other churches in the city. The Romanian Orthodox church of the Dormition of the Theotokos Cathedral, with its massive dome (inspired by the Byzantine Hagia Sophia in Istanbul), the four Romanian Brâncovenesc-style towers, and stunning interior murals takes some beating. However, it is a peaceful space, and obviously much loved and well-used.
It is home to some beautiful stained glass, an exquisite Venetian glass chandelier, and ceiling murals painted by Ferenc Lohr in 1908. Not the easiest space in which to take photographs, so these do not really do it justice.
We had planned our next day well in advance of our trip to Cluj. This was a visit to the Museum of Pharmacy, known as the Hintz House. I had read quite a bit about this before we came to Cluj but you, my dear Puffins, will have to wait until Part Two to find out more about it. It's worth the wait!

© SharpieType301 2021

The Goodnight Vienna Audio file