Everything in the garden being as rosy as it could be for the time of year, and our glorious leaders deigning to allow us the limited freedom to widen our small horizons, we decided we should maybe have a short holiday and support a couple of British businesses with our hard earned. A trip to the seaside seemed in order. A quick search on the old Interweb, instigated by the daughter, & a couple of e mails later (technology's great, innit?) she'd located a small cottage in Amble for a 3 night "mid-week" break. Amble, for those of you that don't know, is a small harbour town on the North East coast. In recent years it's had its tough times but we were attracted by the close location of a number of excellent beaches (or so the blurb went) and the resurgence of its small fishing industry. The weather was set fair when we set off and the forecast was for more of the same over the coming day so we left home with a sense of real anticipation. First stop on our rather circuitous route was to be Bamburgh. My daughter, as well travelled as she is, had never visited the North East outside of Gateshead and Durham and she wanted to visit this small town, primarily to see the castle, which is an imposing building holding a prominent position overlooking The North Sea. As with many attractions at the moment, the really interesting bits are closed to the public, but we took the opportunity to have a nice walk along the beach and eat our picnic amongst the dunes. Sand and all.
We left Bamburgh and traveled south along the coast road, past Beadnell and through Seahouses (the home of the Farne Island boat trips), Craster, Alnmouth and Warkworth before arriving in Amble. Although narrow in places and with its fair share of bends this road offers some excellent sea views and any number of places where you can stop, have a walk and get a pint with a bite to eat if you fancy it. The cottage was fine, a refurbished two up two down within a 5 minute walk of the quayside. We got settled in, had a beer and rang The Old Boathouse to book a table for dinner. I love fish and, as I previously noted, Amble has a growing reputation for the quality of seafood it offers to visitors. The Old Boathouse and its sister restaurant, The Fish Shack, offer a wide range of freshly caught fish with a menu mostly dependent on what has been landed from their own boat, The Nimrod. I chose the sea bass with asparagus salad and salt roast spuds, Mrs. C had an excellent fish supper and the daughter chose the half lobster, all washed down with a very acceptable Kiwi Sauvignon. Not a cheap meal, but the quality is excellent and the service is both friendly and understated. Highly recommended, if you're up that way and you enjoy that sort of thing.
We wandered about after we'd eaten, although there was little else open and not a pub in sight, taking in the sea air and just enjoying this little vestige of freedom. As the sun began to set over the distant Pennines the daughter took this rather evocative photo. I'd left home intending to get up early on the Tuesday and take a picture of the sunrise for your delectation, but I forgot my camera. It's an age thing. I fell asleep hoping that the tomato plants weren't missing me too much and that I hadn't over watered them as compensation for leaving them to fend for themselves.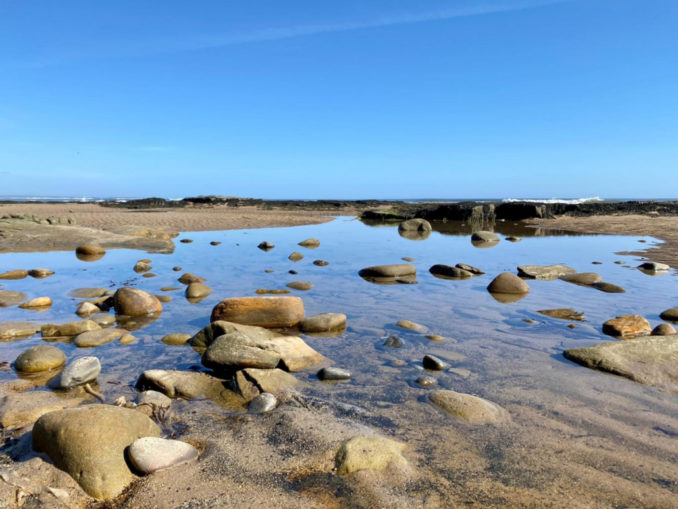 Tuesday dawned fair if a little chilly. I took the dog for an early morning stroll along the quay and had a "bit of crack" with a couple of fishermen, they seemed reasonably happy with their lot, catches were good and prices were fair. I left them to their endeavours, walked back to the digs via the small beach at the harbour mouth and contemplated what was going to be a full day. We walked to Warkworth and took the path along the river to the 14th century gateway and bridge, which is now closed to motorised traffic. A fine example of the stonemasons art. From the bridge it's about a mile to the wide sandy beach which seems to stretch for miles in either direction. We walked a goodly distance along it before retracing our steps and having lunch at Beatrams. The afternoon saw us make a trip to Alnmouth for another walk before returning to Amble to eat Italian ice cream & buy some excellent fresh dressed crab for our evening repast, again from the quayside, before spending a relaxing evening getting pleasantly drunk and playing Scrabble & Mexican Train dominoes. NB. the majority of the beaches have excellent tide pools to investigate, this one I think is at Embleton. They aren't teeming with life, but who doesn't love to turn over a rock in a tide pool?
We'd missed a trick. Although it doesn't look it from the photo the stiffish northerly breeze had whipped up a bit of a chop for our trip out to Coquet Island for a Puffin watch. On Tuesday The North Sea had been like a mill pond. I'd visited The Farne Islands previously (see the archive) and would have done so again, but landings on any of the bird colonies are currently suspended. Coquet is a smaller island which is home to a large Puffin colony and a wide range of Terns, including Roseate, other sea birds and a small seal colony. Landing isn't permitted at any time. The island is owned by the Duke of Northumberland, it was a recent ancestor who insisted that the lighthouse and attached buildings be castellated. If you do want to see some Puffins I'd recommend taking one of the trips from Seahouses when restrictions are lifted, although we did managed to view quite a number flying backwards & forwards to and from the island. Mrs. C didn't appreciate the swell at all, I doubt she'll ever get in another boat, ever, if she can possibly avoid it. I enjoyed it. In the afternoon we had a walk on Embleton Beach, another lovely spot to visit. I partook of a pint of Seahorses, brewed at the side of The Ship pub, which stands at the head of a quadrangle of white painted cottages just above the beach. We're seriously considering returning there, but what little accommodation there is gets booked up very quickly. It's easy to see why. We gave the fish a miss and bought some excellent pies from The Amble Butcher for our dinner. All tired after our exertions we took a short walk along Druridge Bay beach, before retiring for a well earned early night. A real downside of Lockdown? The daughter has honed her Scrabble skills to a fine art. I've consistently had the beating of her for over 20 years, but that period of history is now sadly over. Bloody silly two letter words!
I'd never visited Whitley Bay and I suppose I'd fallen into the trap of believing it to be a typical, run down, northern seaside town. We arrived there late morning, after first visiting Cresswell, another stunning beach and I was pleasantly surprised, to say the least. We availed ourselves of the free parking at the north end of the town (above the lighthouse) and set off to walk the long sweeping promenade. There's so much work going on to improve the facilities and, for a seaside town it's very clean and virtually litter free. Plenty of public toilets too, almost a step back in time. I'm guessing a visiting councillor from Brighton would have apoplexy, free parking, graffiti free walls, plentiful seating, excellent lighting and a welcome for dogs. All in all, although we were only there for a couple of hours I'd say it's well worth a visit. Along with its bracing atmosphere and welcoming vibe it has several excellent fish & chip shops (including Fishermans Bay, another highly recommended) and an Ice Cream Parlour, Di Meo's, which has won a well deserved raft of prizes for its Italian Gelato. One of the things that struck me about The North East in general and Whitley Bay in particular was the very refreshing lack of outdoor mask wearing, I hardly saw a one, which cheered me up no end. By mid afternoon I was "panching", we'd had a very nice break & we'd walked miles along some of England's most wonderful, undisturbed coastline but I had 30 odd tomato plants to tend too. Time for the 2 hour drive home and a return to my brand of reality.
Some of the plants looked a little drab, especially the ones in the smaller pots, but a drink soon livened them up. I decided not to wait and ferried them all round to the greenhouse, which Dave had kindly been keeping an eye on for me, to give them time to acclimatise before planting out. A flaw in the plan soon became obvious, although the new cold frame was designed to be able to handle any number of plants we hadn't made it deep enough. A "yawk up" being required, I put a 3 foot cane in each corner and draped over a decent fleece, to protect against the ongoing frosty nights.
I gave them 2 days, removing the fleece during the day and replacing at night, before getting around to planting out on Sunday (25/04). The first job on this quite critical day is to get the pots well soaked, which makes the plants easier to handle and mitigates the shock (or so I was told) of moving the plants to their new environment. A nice sunny day helps, although there was a cold breeze the sun, assisted in no small measure by the expanse of glass soon warms the soil up.
With my plants soaking (but not drowning) I set about making the holes down to manure level, as expected the manure's rotted down well and lost its acidic aroma. Although not the greatest of pictures this tool, yet another "yawk up", does the job it was designed and made for perfectly. Once I've dug the holes I put a stone in the bottom, to keep the roots from direct contact with the manure and to hold down the knot in the support string, and fill each hole with water. I don't use water straight from the tap. I take it from the orange tub, where it's been stood for a week to take the chill off. I use a string line to keep the holes almost straight, for aesthetics as much as anything else.
Half an hour of kneeling and standing, carefully removing each plant from its pot and gently packing the soil around the still fragile stems saw 30 tomato plants safely planted. I gave them a final little drink and myself a little pat on the back. You may be asking; "All well and good, but what about all those weeds"? Never fear, we'll get onto them another day. Believe me, without a physical intervention they're going nowhere. While I'd been carefully applying myself to the job at hand the rest of the family had been off bagging Wainrights. As much as I enjoy my fell walking and would have loved to be with them, I was pretty satisfied with what I'd achieved. There's always another day, like the weeds, the fells aren't going anywhere.
Just to prove I'm not terminally obsessed with the "Solanum Lycopersicum" (look it up), I've been getting some other plants underway. There's a bit of a *pot luck, dogs breakfast* going on here, but we have the makings of 30 chili and sweet pepper plants of different sizes and types, some peas and a half dozen rainbow chard. The two courgettes and the cucumber, out of shot, will be planted out in the coming week.
When I got home the girls still weren't back, so I decided to take the dog for a stroll around the block as she'd been on her own all morning. Fortuitously I'd remembered to put a fiver in my pocket and, as my route took me past the pub, where the sun was shining on an empty outside table, I treated myself to a pint of lager beer, a rare thing for me to be drinking but it went down a treat. I finished my pint, went home & showered and sat down to have a bit of a relax when the intrepid ramblers returned home, ready, they said, for a pint of cider. "Would you care to join us" they enquired? My arm firmly up my back, what could I say but "of course" and off we went, complete with a very happy dog, for two more pints of strong lager. Three pints of 4.5% beer of an afternoon is plenty for me these days and I have to confess to having to take a nap. I didn't forget to nip back round to the greenhouse before dark to shut the vents and put the toms to bed. What a week!
Next time: weeding, dealing with weeds, killing weeds and more of the same….

© Colin Cross 2021

The Goodnight Vienna Audio file