Whenever anybody says Britain has the best TV or the best health service in the world, I tend to bridle. I have seen a fair bit of TV overseas, and have found it much the same everywhere, quite often literally the same as the dependence on US imports is so heavy. Same with hospitals — half the treatments are American — though health systems are harder to compare. (But I will say this for Britain: it does have longer waiting times than anywhere I have been seen to).
There is however one area where we really do lead the world. England — specifically England — has the best churches. Cologne and Notre Dame are great cathedrals, of course. But nowhere have I seen religious architecture merge so beautifully into its landscape as in England. Where can compare with Durham on its crag? Or Worcester by the Severn? Or Salisbury from the surrounding downs? All Scandinavia has not one cathedral to compare with any of these. Even our ruins, like Fountains, Rievaulx and Easby on the banks of the Swale, are places of unforgettable wonder. Let us not forget the lesser jewels, the Romsey Abbeys and Beverley Ministers, unobtrusively uplifting their towns, and most of all the humble parish churches scattered across the countryside, guardians of faith and tradition for thousands of communities, their towers great mooring posts in these times of constant and mostly unwelcome flux.
I'm not alone in this appreciation, and for that reason it is pretty hard to find anything new to say about English churches. This week, I'm going to have a bash. As usual, I'm off the beaten track, looking out for the curiosities. First up is Steetley.
Steetley is a hamlet southwest of an oddly named village, Rhodesia, just outside Worksop. I passed through it on a recent winter ride, on a gloriously fine but misty morning. The place is so minor, a group of cottages at a junction, that its name did not appear even on my one-inch map. I had stopped to ask the way of an elderly couple stripping ivy off an old stone wall. I only noticed the chapel, which was hidden behind a screen of trees, as I approached. It had an apse, an uncommon though not rare feature. But there was something else about it. At the recommendation of the couple I walked around it. The entrance of this little house of worship had a multiply inset Romanesque arch with some very ancient stone latticing above. It looked like superb Norman work, a little find that would give me a lift for the next fifteen minutes on the road.
On the way out, I mentioned it to the old pair stripping ivy. "That portal," the man said, "is unique in Europe." I thought he was exaggerating, but looking it up later I found the opposite — he had actually understated it. Steetley chapel is tiny, remote and much restored, but it is the "most complete and most beautiful" specimen of Norman work in Europe, which means in existence. I was sceptical on reading that, and still am to be honest, but if you want to pursue it, here is the website making this claim: http://ecwst.com/index.php/about-us-whitwell-steetley/our-churches-all-saints-chapel-steetley/. Either way, worth a quick visit.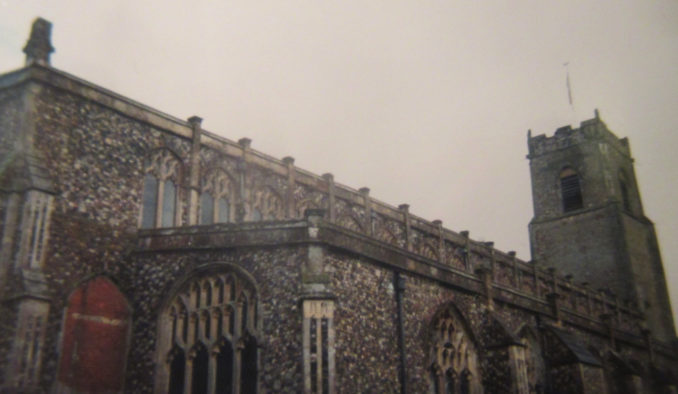 Blythburgh
Nicknamed the "cathedral of the marshes," Blythburgh is well-known to ecclesiastical buffs, and would be well-known to everybody if it were not so out of the way. But this stunning flint structure rising out of a bleak stretch of the Suffolk coast requires a real effort to get to.
With its clerestory windows ablaze in the dying sun, it was an even more awe-inspiring spectacle at sunset, which is when I passed it, all of 23 years ago. A greater wonder perhaps is its mere survival. With only a tiny hamlet to support it, Blythburgh church has long led a precarious existence. William Dowsing, Cromwell's "Parliamentary Visitor for Demolishing the Superstitious Pictures and Ornaments of Churches," gave it a particularly thorough going over. In his journal, the Protector's official church vandal catalogues the damage: "I brake down 3 orate pro animabus" — whatever they were — "and gave order to take down above 200 more pictures." In 1880, it was closed down altogether. Since restored, it is now one of the finest flint buildings in England. Which, again, means in existence, since, as far as I know, nobody else built much in flint.
Why was such a huge house of worship built in the first place? Blythburgh wasn't always a hamlet. In mediaeval times, perhaps 4,000 people lived there and it was an important port. Like nearby Dunwich, the town that dribbled into the North Sea, it was undone by the elements. Its river silted up, and its fishing and trade died. At the local White Hart, the landlord told me he sometimes dug up bones in the garden, from a lost cemetery.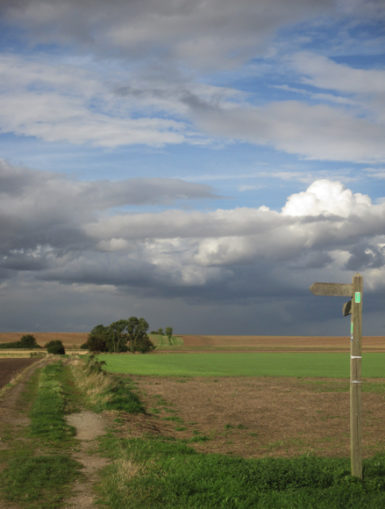 Epworth
OK, I'm cheating a bit here. Epworth is notable not for its church, but its old rectory. Epworth is the "capital" of the Isle of Axholme, a drained fenland area near Doncaster. It is a small, workaday Lincolnshire market town, but through the person of an eighteenth-century rector's son, changed the English-speaking world. That son was John Wesley. The building he was brought up in still stands, a magnificent Queen Anne manor house. If it were just the coincidence of his being born here, I probably wouldn't have bothered mentioning Epworth Old Rectory. But the building itself played a critical role in Wesley's formative years: the infant Wesley was saved from a house-fire by being tossed down from an upper storey window, a rescue he came to view as divine intervention. This early brush with death set him on his path in later life. The rest is history, and boy, is there a lot of it — ultimately every Methodist Chapel in the country owes its origins to Wesley, as well as numerous early political movements. Queen Anne, by the way, immediately preceded, and is kind of no-frills version of, the Georgian style, the most celebrated architectural style in English history.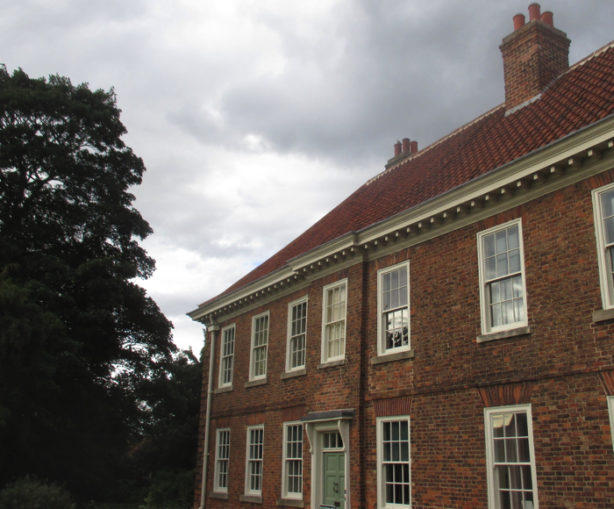 There are dozens of other churches I could honourably mention here: Stow in Lincolnshire, a Norman minister among the beetroot fields; St. Cedd's, a Saxon church on the Essex coast (I already have mentioned that one on Going Postal), St Swithun's in Retford, which I like simply for being such a superb example of the Perpendicular, or charming Radnage in the Chilterns, where, next to the church brochure, you can also view the detailed and carefully typed-out version of the house diaries of an 18th-century rector (I spent 90 minutes there).
But I am going to end with St Nicholas at Stillington, an unremarkable village church with stout clock tower, a church like hundreds of others in lowland Yorkshire. The reason I mention it is not the church itself, but the conversation I had under it, with an old parishioner. As I stood admiring it on its bank by the road, he told me about the various jobs he had had in the village over the years. He had begun as a builder's apprentice, had gone to war, resumed the building trade on his return, then went into the poultry business, then opened an antiques store, then bought a farm and bred cattle. "I have never worn a watch," he concluded, "because whatever work I was doing, throughout my life, I could always read the time off the church tower." I had just flown back on holiday from a copy-editing job in one of the neon-lit, 24-hour cities of the Far East. I could not have had a more different lifestyle, and certainly did not hanker to tramp about cowsheds in North Yorkshire. Yet somehow I felt a twinge of envy. And, years later, for better or worse, I did come back. But that is another story.
For my free downloadable pdf travel books on Europe and East Asia, please visit this website: https://www.itabibito.com/.

© text & photography Joe Slater 2021

The Goodnight Vienna Audio file