QWERTY – Why?
Sit down at your computer (or typewriter) and type a few lines. You can work out your speed and efficiency fairly easily – you have a rough knowledge of where the keys are and where your fingers need to go. Now try and type out "qwerty." Feels strangely awkward? Which fingers should I use? Just one digit bouncing along the six keys from left to right or should I use both hands? "QWERTY" – It feels odd like a child who hasn't been practicing their C major scale and doesn't know how to get the fingers of their hand to flow over the eight keys.
So that got me thinking – why is the QWERTY keyboard set up that way?
The first proposal for a typewriter was awarded an English patent (No. 395) on 7th January 1714 to inventor Henry Mill. The patent for "Impressing Writing on Parchment" made reference to "an artificial machine or method for the impressing or transcribing of letters singly or progressively one after another, as in writing, whereby all writings whatsoever may be engrossed in paper or parchment so neat and exact as not to be distinguished from print."
Back then, English Patent Laws did not require the inventor to include drawings of their work – the application could be made in simple narrative. We don't know what Mills had in mind for his design and it seems his career (as Engineer in Chief of the New River Water Works Company in Northampton) left him with little time to refine the invention; in fact it is unclear whether there ever was a physical, working prototype behind Mill's application or whether it was simply a theoretical proposition. Other historians suggest that, rather than pressing a key into the page to create the imprint, Mill's invention was more aligned to using embossing tape, which would leave a raised print.
Over the next century, many mechanical writing machines were developed. One of the earliest documented was a mechanical typing machine invented by Pellegrino Turri – an Italian inventor – at the turn of the 19th Century. Little is known about this machine however evidence suggests Turri invented it for his blind friend Countess Carolina Fantoni da Fivizzano. Letters written using that machine survive to this day.
The exact path to the typewriter (and therefore the keyboard) that we know today is unclear. The Burt typographer, patented in the US (No 5581X) on 23rd July 1829, was a mechanical device, worked by hand, to create letter print on to paper however American inventor Christopher Latham Sholes is believed to be the one who made the commercially successful machine. Whether this was entirely of his own invention, or influenced by the work of others (Frank Haven Hall, Samuel W. Soule, Carlos Glidden, Giuseppe Ravizza, John Pratt) is unclear however it does appear that the machine finally patented in 1868 (Letters Patent No. 79265 and 79,868) was a collaboration between Sholes, Glidden and Soule. The models built to support the two patents still exist today and are part of the Smithsonian Institution in Washington.
But how does that help to answer my question – why are the keys arranged in the pattern that we have today?
The first keyboard built by Sholes, Soule and Glidden (who seems to have taken the role of funding partner) resembled a piano keyboard with black and white keys set out in two rows. The first row of ivory keys set out 3 5 7 9 followed by capital letters N to Z in alphabetical order. The second row of ebony keys set out 2 4 6 8 followed by A to M, again capitals, in alphabetical order. On this second row, the digits and letters were separated by a full stop. The only punctuation seemingly necessary! In fact, in the first design, even the 1 and 0 (zero) were omitted because the capitals I and O were deemed to be adequate substitutes!
Sholes, Soule and Glidden wrote many hundreds of letters using their machine. One of these was to James Densmore of Pennsylvania – businessman, inventor and vegetarian (surviving on a diet of predominantly apples.)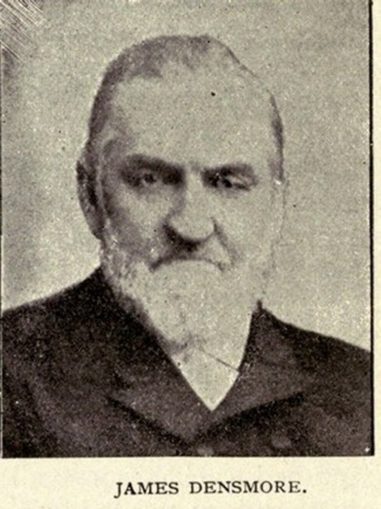 Excited by the potential profitability of the machine, Densmore immediately invested in the product, taking a quarter share of the patent in return for covering all expenses incurred by the trio of investors to date. When Densmore was finally able to examine the machine for himself he declared it was good for nothing in its current form and encouraged the inventors to improve their machine. Soule and Glidden evidently lost enthusiasm for the project leaving Sholes to continue his refinement after refinement – with Densmore giving the much needed encouragement. Machine after machine was produced however, when put to use, it would break down showing yet another defect.
Finally, after dozens of versions, the machine was finally perfected. Sholes and Densmore approached E.Remington and Sons – manufacturers of firearms, sewing machines and farm tools – asking for their final version to be tested by their expert mechanics. On 1st March 1873, a contract was signed for the manufacture of the machine by the company.
Sholes and Densmore's final test model now forms part of the historical collection at the home office of the Remington Typewriter Company in New York. However this bears little resemblance to the machine which was finally produced once the skilled Remington engineers had had their way with the model. Not only was the machine now standing on a table, which has obvious links to the sewing machine division of the Remington business, it also had a foot pedal which operated the carriage return function.
However we return to the arrangement of the keys. As printers, both Densmore and Sholes were familiar with a non-alphabetical arrangement of letters in the printers' case though it wasn't that arrangement that they' adopted. The truth is that many of the mechanical difficulties which Sholes had struggled to resolve in his many iterations and revisions were related to mechanical difficulties and crashing of the type bars as they collided and jammed together at the printing point. Sholes would therefore spend many hours testing the arrangement of letters which would reduce this clash. The keyboard adopted on Model 1 included a little more punctuation than that lonely full stop although it was another five years before the shift key was introduced on the 1878 Model 2 Remington – the first machine to write in both capitals and lower case.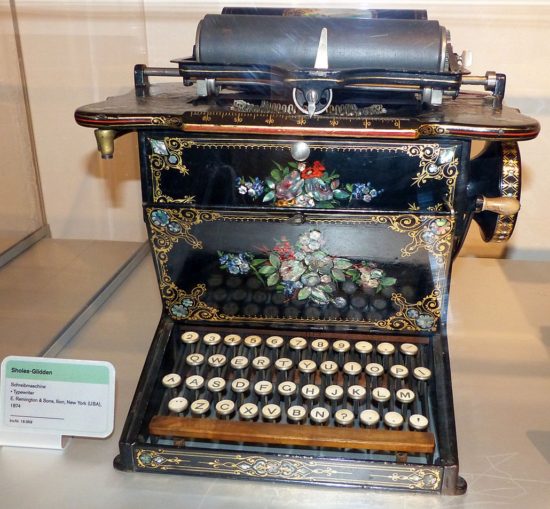 So the answer is simply that – the QWERTY key board was developed because it separated out frequently used pairs of letters which minimized those mechanical clashes and jams. It's nothing to do with our fingers – the design is linked to mechanical efficiency of the keys. Other keyboard layouts have since been invented such as the Dvorak keyboard (patented 1936) which, it is claimed, requires less finger motion, increases typing speed and reduces repetitive strain injuries. However the QWERTY remains the most popular layout on devices of many types throughout the English speaking world.
Closing in Scholes' own words – written in one of the last letters he ever wrote (or perhaps typed!)
"Whatever I may have felt in the early days of the value of the typewriter, it is obviously a blessing to mankind, and especially to womankind. I am glad I had something to do with it. I builded wiser than I knew, and the world has the benefit of it."
(Story of the Typewriter 1873-1923 Publisher Herkimer County Historical Society (1923) Herkimer, NY)

© Hamster Wheel 2020

The Goodnight Vienna Audio file