I adopted Pepita five years ago. She was five at the time. The local vet, who is yet another ghey ultra conservative, told me that a woman he knew had just got divorced and wanted to part with her female miniature dachshund. I went to meet the woman and came back with the dog in my arms. The woman had given her a pretentious name. Have you also noticed that those who intend to abandon their dogs always start with giving them snobbish names? My dog is anything but a snob, so off went the hoity-toity name and Pepita she became.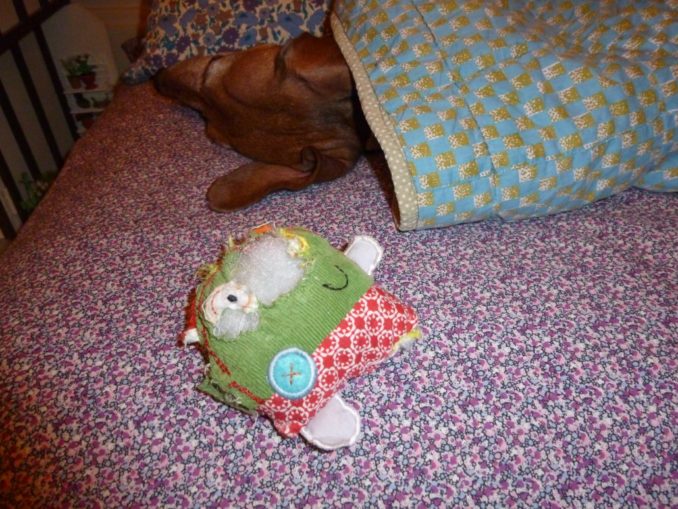 Pepita proved a fun-loving little dog, at the same time uncomplicated and mischievous. She was emaciated when she first came here, a real shame, but her appetite proved so healthy that she soon gained weight, going from extremely thin to slim and elegant in just a few months. She is also quite a good-time girl. Shortly after her arrival, liberal friends brought a bottle of wine. Because I am a bit medieval, I serve wine in silver tumblers, one of which belonged to my great-grandmother, born in 1858. I believe it enhances the taste, but it is probably just my imagination. About ten minutes after the wine had been poured, we caught Pepita blithely lapping up rosé out of a tumbler. Because she is such a velcro dog, always demanding cuddles and attention when I have to work, I bought her a small cuddly toy from a nearby charity shop. Normally, I am against charity shops as they only benefit parasites, but they can sometimes be useful. Relatively speaking.
To my amazement, cute, sweet-looking Pepita morphed into a fierce, ferocious and high-maintenance dog. Perhaps, cuddly toys taste of wine. She ministered to that first one with the same kindness that groomed, Stockholm syndromed housewife, Shameless Bubblegum, ministered to her Yazidi slaves. After barely ten minutes, the toy lay unrecognisable, earless, legless, eyeless, tailless, its stuffing all out on the side. A carnage worthy of Jack the Ripper! I reproached Pepita with her cruelty, comparing her to ISIS. Until then, I did not know dogs could lie as shamelessly as humans can. She gave me an innocent, even shocked look, as if she had done absolutely nothing wrong. Yet, there was a little artful flame dancing in her eyes, which showed she knew very well she had behaved horribly and, moreover, felt no remorse whatsoever. It was then I realised that my Pepita was an astute politician.
After Pepita had got through three toys in so many days, I got the idea to name them after loathsome politicians or disgusting celebrities and photograph the results of her tender loving care. I was of course spoilt for choice as we are unfortunately saddled with the most despicable elite in several centuries.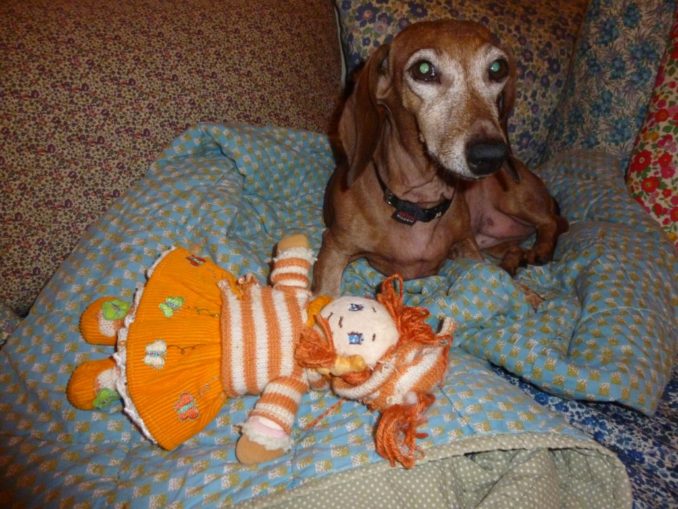 I confess it gave me a mean sort of pleasure to imagine the worst German chancellor since 1945 or the most inept prime minister Britain has ever had lying ripped open on the sofa. The metaphor was also fitting: those people are nothing but straw-filled puppets, deceptive outer covers with nothing remotely human inside. Tiny but resilient Pepita is a dog who does me proud. Rather than wallowing in victimhood, she bites back. Hard.
© Doxie 2020

The Goodnight Vienna Audio file